Toby's NFL Week 5 Betting Preview
TOBY'S NFL WEEK 5 BETTING PREVIEW – Ok so I was wildly off on predicting exactly how the Thursday game would go but I did take Chicago -6, so as Linkin Park once said – in the end, it doesn't even matter. 1-0. Hope nobody bet the under.
I'm not sure what to think of the Bears right now, as this is back to back weeks that they've looked somewhat impressive, though it was also back to back weeks against mediocre-to-horrible defenses. DJ Moore has looked spectacular, and maybe it was as simple as getting Chase Claypool 110% out of the picture to turn this around.
As for the Redskins  – the personnel management of this team is absurd. They have two genuinely good receivers in Terry McLaurin and Jahan Dotson yet they are running almost an entire quarter with Curtis Samuel and Byron Pringle in those spots. The Sam Howell Experiment does not seem to be working. I know it's early, but he's just running head-first into sacks, going into turbo-checkdown mode, throwing a drag to a backup tight end on 4th and 18 (!!!); it's just not looking good.  
I thought that Sam Howell did look pretty good at UNC, but do you know what my number one knock against him was? It was nothing about his actual play, he just physically looked like Baker Mayfield. Like, his face looks like Baker Mayfield's face, and he's short and stout for a QB. And look at him now, just Baker Mayfield-ing all over the field while the WR's roll their eyes.
And yes, I know, we're on year 5 of "is Baker Mayfield good now????" and I'm not ready for it, though I will say that I have found the good bad team of 2023, and it's Tampa Bay. My model picked up on it going into week 2 and I didn't want to trust it, but it was right and here we are. They are on BYE so we'll go into more detail on that next week.
Let's survey the Week 5 landscape.
Week 5 Projections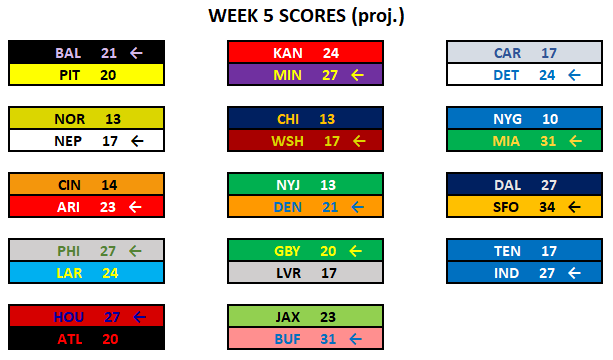 Week 5 Bets Ranked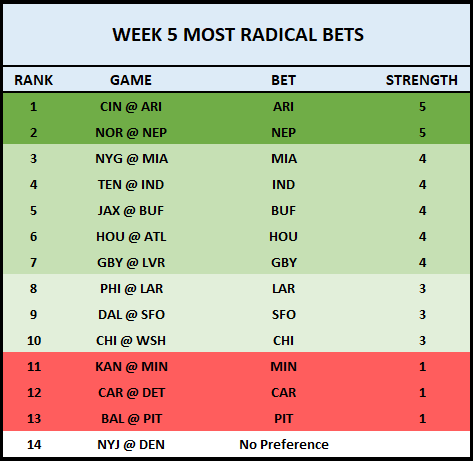 Week 5 Lines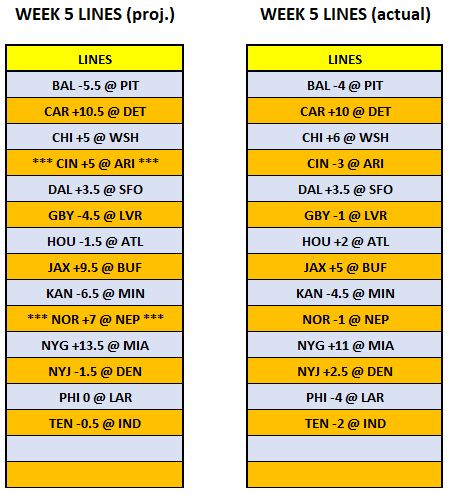 Hey guess what I like most of this week's games again, isn't life grand? That being said, two home 'dogs stand out to me.

TIER ONE GAMES
CINCINNATI @ ARIZONA +3
Projected Spread:        Arizona -5
Projected Result:         Arizona 23 – Cincinnati 14
Speaking of good bad teams, Arizona has clearly shown that they are not the magnesium fire that we had anticipated before the season. Do you know who is? Cincinnati!
How on Earth are the Bengals giving three points on the road to the Cardinals?? This team was down 21-16 to San Francisco last week going into the 4th quarter. They are legit. Meanwhile, Joe Burrow has evil spirits haunting his calf and he's about a month into a David Klingler impression.
This line doesn't make any sense to me.
NEW ORLEANS @ NEW ENGLAND +1
Projected Spread:        New England -7
Projected Result:         New England 17 – New Orleans 13
This line makes a bit more sense than the previous one but still, my model HATES the Saints and I don't think Derek Carr is going to be able to 22-of-27-for-136-yards his way to a win this week in Foxboro. At least Jameis Winston is fun, can we just do that to make this team watchable?
The Patriots have been almost as bad and Mac Jones is playing his way into the Arena League but at least they have a defense, and they have Belichick, and they are a home underdog. Both of these teams are terrible so I'll take the team that is playing at home, getting a point and not being led by Dennis Allen.

TIER TWO GAMES
NY GIANTS @ MIAMI -11
Projected Spread:        Miami -13.5
Projected Result:         Miami 31 – New York 10
Miami had a rough outing last week but they are still a good team. New York is an objectively terrible team. Sure, something weird could happen here, but I'm not betting on it. Miami SHOULD blow the doors off of the Giants.
TENNESSEE @ INDIANAPOLIS +2
Projected Spread:        Indianapolis +0.5
Projected Result:         Indianapolis 27 – Tennessee 17
Another game with a terrible team getting points on the road. I don't think this one is as egregious as the first two but I'm still betting on the Colts to handle the aerial circus of Ryan Tannehill and the Titans.
JACKSONVILLE @ BUFFALO -5
Projected Spread:        Buffalo -9.5
Projected Result:         Buffalo 31 – Jacksonville 23
Buffalo is currently the number one team in my power rankings, as their week 1 loss is looking more and more like a blip, especially after they shredded the Dolphins last week. This week they host another Florida team and I'm confident that they'll win by at least a TD.
HOUSTON +2 @ ATLANTA
Projected Spread:        Houston -1.5
Projected Result:         Houston 27 – Atlanta 20
I'll take the Houston Comets over the Falcons as long as they continue to remain committed to Desmond Ridder. CJ Stroud is legit and he's elevating everyone in that offense. Ridder meanwhile is kidnapping everyone in the Falcons offense and locking them in a basement.
GREEN BAY -1 @ LAS VEGAS
Projected Spread:        Green Bay -4.5
Projected Result:         Green Bay 20 – Las Vegas 17
I don't care who's starting for the Raiders, Green Bay should be getting more points in this one. The Raiders are a terrible team playing in a stadium with no discernable homefield advantage. In fact, this may feel more like an indoor Lambeau than anything.

THE REST
I don't hate these games as much as my rankings indicate. In fact I'll probably bet on a few of them.
PHILADELPHIA @ LA RAMS +4
Projected Spread:        Pick 'em
Projected Result:         Philadelphia 27 – Los Angeles 24
Philly is 4-0 but in my opinion it is not a very impressive 4-0, as they just don't look right after the first month. They remind me of one of those cartoon characters carrying a tray of food and slipping all over the place, somehow keeping their balance out for comedic value.
Now they have to go across the country to face the surprising Rams. How long can they keep this up?
Honestly, I probably don't have enough homefield advantage baked into this one.
DALLAS @ SAN FRANCISCO -3.5
Projected Spread:        San Francisco -3.5
Projected Result:         San Francisco 34 – Dallas 27
Easily the game of the week at this juncture, as both of these teams are going to face an actual top team for the first time this season. Dallas is very good, but according to my numbers, San Francisco is just better.
I'd like this a lot more at -3, so hold off until Sunday morning to bet this one if you like it.
CHICAGO +6 @ WASHINGTON
Projected Spread:        Chicago +5
Projected Result:         Washington 17 – Chicago 13
Actual Result:                Chicago 40 –  Washington 20
Covered this one yesterday, so no need to go into a lot of detail here. Terrible projection from me but I did pick the right team, and it really doesn't matter how much they cover the spread by, just that they cover it.
THE REST
I suggest that you save your money. However, if you think it's too environmentally unfriendly to simply burn your money, feel free to bet it on these games. Gun to my head picks are in green text.
KANSAS CITY @ 
MINNESOTA +4.5
Kansas City kind of does this, where they win games but don't always look impressive doing so. Still, the projection I have here seems wild to me, as I have the Vikings winning outright. I don't want to bet on that but I may bet on the Vikings and the points.
CAROLINA +10 @  DETROIT
Detroit is so much better than Carolina but my model is shook by the 10-point spread. Not touching this one.
BALTIMORE @  PITTSBURGH +4  
Pittsburgh sucks, and the Ravens are good. I'm just banking on this matchup always being close and taking the points. I'll probably bet this one too.
NY JETS @  DENVER -2.5
I don't know why my model is projecting Denver to win by 8 here, as I have them as the worst team in the league. Maybe they moved this game onto the top of a mountain? Zach Wilson had 3 good drives and lost the game on a fumbled snap, so he's good now.
Dak Prescott just threw an incompletion and he's holding the Cowboys back. It pays to get drafted in the top 5, I guess.
SURVIVOR PICK
Jacksonville
San Francisco
Buffalo
LA Chargers
The Chargers Chargered last week and almost lost a game that they dominated, but fortunately Brandon Staley wasn't able to snatch this defeat from the jaws of victory. I'm glad I don't have to put my fate in his hands again.
This week the overwhelming consensus picks are Miami at home over the Giants and Detroit at home over the Panthers. Now, I don't blame you if you want to ride with Miami (or I guess even Detroit), but I'm going to stick to my guns here and avoid these games. If I'm able to scrape by, I'll be able to use the Dolphins in the future while everyone else is racking their brains over some tough matchups.
I also have a rule where I never ever EVER take Detroit, either to win or to lose. I have lost so many survivor pools on them one way or another, and I don't want to traumatize myself again this early in the season.
What does that leave me to pick from? Unfortunately I've used Buffalo so I can't ride with the Bills. I considered Washington last night and I'm glad I didn't take them. I'm considering Green Bay at Las Vegas, Baltimore at Pittsburgh, and…and maybe Kansas City at Minnesota? Three road teams!
Man I'm overthinking this. Oh well, rules are rules.
I have Baltimore as a significantly better team than Pittsburgh in a vacuum, so I'm going to take them on the road to beat the sad-sack Steelers. The Steelers own Lamar Jackson but they owned him in 2019 and still lost because they were a dumpster-fire offense led by Mason Rudolph. They might be even worse now.
Give me the Ravens.