Toby Wreathway's NFL Week 4 Betting Preview
NFL WEEK 4 BETTING PREVIEW – Saddle up partners, it's week 4!
Week 4 Projections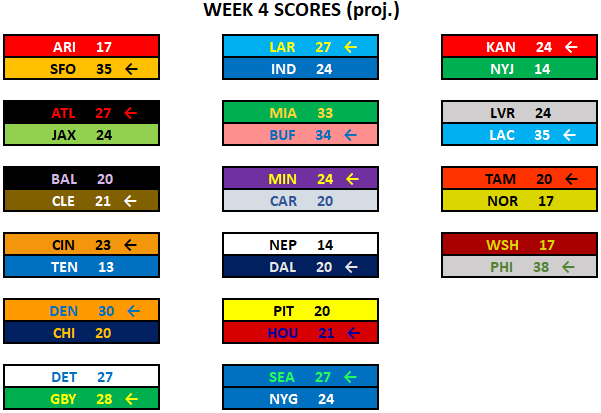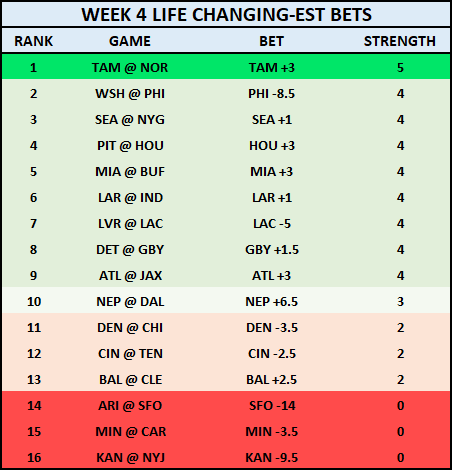 Looks like a sea of green this week. Hopefully we will also see some green. Hahaha, get it?
Alright let's go bargain hunting.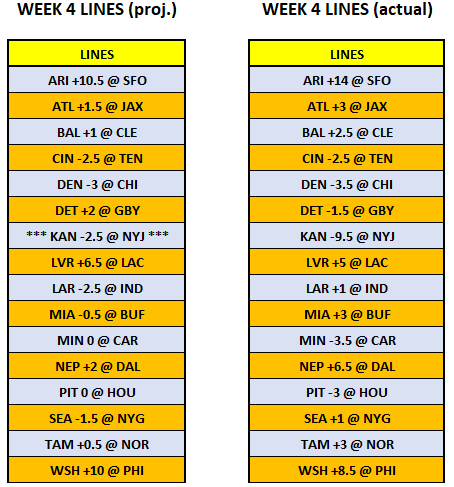 Sooo the only bet I'm considering to be a massive value is NYJ +9.5 and yeah, I don't want part of that clearance. That's a sale that even my wife could resist (*rimshot*). In fact, that game is my single least favorite to bet on this week.
NYJ +9.5 doesn't sound reasonable at all but KC giving 9.5 is also not something I want to stake myself to. If you like NYJ to cover in this one you may as well wait until the weekend to see if it gets to +10.
Let's talk about all of the games that I do like, none of which will be tarnished by Zach Wilson.

TIER ONE GAME
TAMPA BAY +3
@ NEW ORLEANS
Projected Spread: Tampa Bay +0.5
Projected Result: Tampa Bay 20 – New Orleans 17
I consider these two teams a lot more even than Vegas does, apparently. I don't know if the Saints will be starting Derek Carr or Jameis Winston but in the end, what difference does it make? Derek Carr may be death by 1,000 cuts to Jameis Winston's "swan diving off of a building into traffic", but you're still dying either way. Plus I doubt the Bucs are too concerned about having to travel to the Swamp Dome to play the Saints.

TIER TWO GAMES
WASHINGTON @ PHILADELPHIA -8.5
Projected Spread:        Philadelphia -10
Projected Result:         Philadelphia 38 – Washington 17
This one boils down to being pretty sure that Philly is still good and pretty sure that Washington is not good.
SEATTLE +1 @ NY GIANTS
Projected Spread:        Seattle -1
Projected Result:         Seattle 27 – New York 24
The only reasons to take this are 1) you are concerned that the Seahawks have to fly cross-country to play it or 2) you are a Giants fan and part of one of the league's most delusional fanbases. I have a decent homefield advantage built in for the Giants, and I still like Seattle to continue beating bad teams.
This game is the Monday nighter which in theory dilutes the travel disadvantage somewhat.
PITTSBURGH @ HOUSTON +3
Projected Spread:        Pick 'em
Projected Result:         Houston 21 – Pittsburgh 20
CJ Stroud is quickly showing that he is legit, and he may throw for 500 yards against the Steelers. Particularly if they remain steadfast on playing Levi Wallace over Joey Porter the Younger.
Pittsburgh has done nothing to suggest to me that they should be favored by three points in this game. I wouldn't be surprised if this one moves to 2 or 2.5 by kickoff.
MIAMI +3 @ BUFFALO
Projected Spread:        Miami -0.5
Projected Result:         Buffalo 34 – Miami 33
I'm trying not to react to Miami blowing the doors off of Denver last week, but even so I still think that giving them 3 points in Buffalo is too much, at least in September.
Plus, Orchard Park just sounds like a pleasant place to play. They should rename the town to something more intimidating, like Infinite Pain or Still Part of Buffalo.
LA RAMS +1
@ INDIANAPOLIS
Projected Spread:        Los Angeles -2.5
Projected Result:         Los Angeles 27 – Indianapolis 24
I think this is the overreaction that I was hoping for after Indy beat Baltimore in Week 3. This one is also being pulled closer by a significant home field advantage with LA playing an early game on the East Coast, particularly after having just played a Monday night game in Cincinnati.
Tough break.
The tougher break will be for those who bet their money on the Colts.
LAS VEGAS @ LA CHARGERS -5
Projected Spread:        Los Angeles -6.5
Projected Result:         Los Angeles 35 – Las Vegas 24
Jimmy G is less good when he isn't throwing to a fleet of wide open All-Pros. Just one All-Pro in this receiver group? How is any QB supposed to succeed with only one generational talent to throw to?
Well, to be fair, the specter of Josh McDaniels looming over things probably does stack the deck against Mr. G.
I expect the Chargers to beat the brakes off of the Raiders unless, of course, Brandon Staley decides to remove the brakes entirely prior to kickoff.
DETROIT @ GREEN BAY +1.5
Projected Spread:        Green Bay -2
Projected Result:         Green Bay 28 – Detroit 27
This one is pretty simple, as the Packers are slight underdogs at home in a game where I think they should be a slight favorite.
ATLANTA +3
@ JACKSONVILLE
Projected Spread:        Atlanta +1.5
Projected Result:         Atlanta 27 – Jacksonville 24
Dang, we bettin' errything this week. I hate the Falcons, I hate watching them, I hate their dumb stadium (at least we don't have to see it this week), I hate knowing they exist, and I don't want to watch Desmond Ridder take a single snap.
But I also hate what the Jags have shown through three weeks. No, I am not going to hate watch this one.

THE REST
I suggest that you save your money. However, if you think it's too environmentally unfriendly to simply burn your money, feel free to bet it on these games. Gun to my head picks are in green text.
NEW ENGLAND +6.5
@  DALLAS
If I would have hurried and gotten this out a day earlier I could have gotten New England at +7. It's still a big spread but +6.5 is infinitely less appealing than +7 and in general I do not like teasers.
DENVER -3.5
@  CHICAGO
I know Denver gave up 70 last week but I don't care if they gave up 100, I'm still not taking the Bears over anybody right now.
CINCINNATI -2.5 @  TENNESSEE
Loving the road favorites this week, but that's what happens when they get to play against teams like Chicago and Tennessee.
BALTIMORE +2.5
@  CLEVELAND
Cleveland's defense has been playing lights out but until proven otherwise, I'm almost always going to take a divisional underdog against them.
ARIZONA @ SAN FRANCISCO -14
San Fran keeps getting victimized by their ginormous point spreads. On top of that, Arizona is the official frisky team of the first 3 weeks. I'm staying away.
MINNESOTA -3.5 @  CAROLINA
Could have gotten this one without the hook yesterday at -3. At -3.5? There are just a boatload of games I'd rather bet on.
KANSAS CITY -9.5
@  NEW YORK JETS
Another one like Minnesota/Carolina…I am predicting it pretty much exactly at the spread and I just don't want any part of it.
SURVIVOR PICK
Jacksonville
San Francisco
Buffalo
Two of the consensus top three got knocked out last week, with Dallas and Jacksonville taking the L. This week, San Francisco is easily the consensus pick, with over a third of entrants riding the 49ers against Arizona. If you've taken my advice, you've already used San Francisco and so you don't have to worry about that this week.
This week for me it's coming down to either Kansas City, LA Chargers or Dallas. The Chargers and Cowboys are both high value picks (IF they win, of course), as both are below a 5% selection rate as of mid-week.
More people are taking Minnesota, which to me is ludicrous.
Kansas City meanwhile is clocking in at just under 20% and is going on the road this week. Even if they took a bus to the Meadowlands, I still don't think they are going to lose to Zach Wilson.
That being said, I need a lot of wild things to happen to win one of these, so I'm actually going to do it. I'm going to take the Chargers this week to beat the Raiders at home. At least I can stop writing this part if they lose, I guess. Go Bolts.