NFL Week 7: Picks and Predictions for Every Game
NFL WEEK 7: PICKS AND PREDICTIONS FOR EVERY GAME – "El Oracle" is back! Actually you can call me L Oracle after another losing week makes it two in a row. Quickly barreling towards "fade Toby" territory but hey, as long as I'm useful.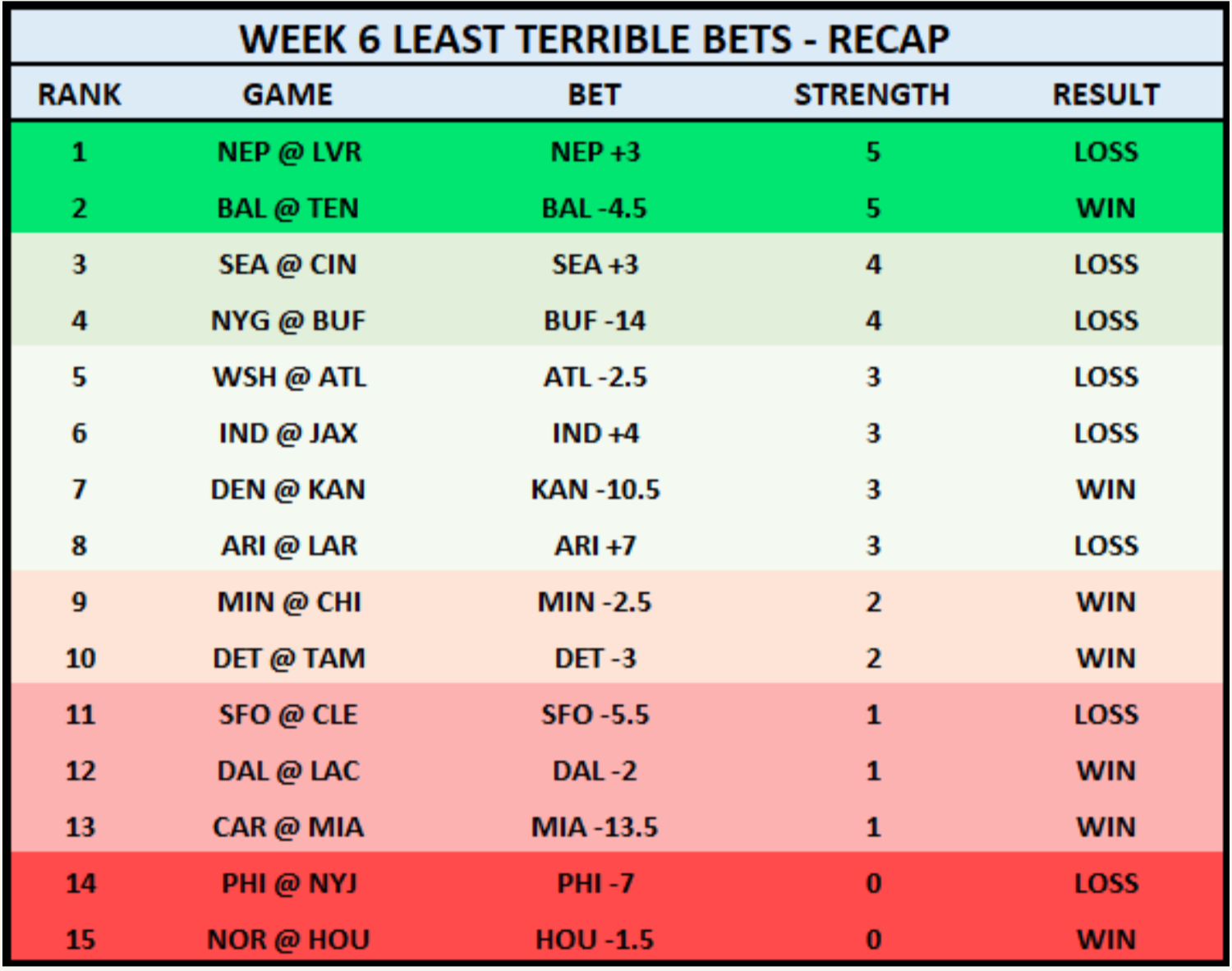 ---
Week 6 All Games: 7-8
All Games Season Total: 48-44-1
Week 6 "Green" Games: 1-4
Green Games Season Total: 20-21
I said I was counting San Francisco as a green game and I'm not going to pretend I didn't.
At least Baltimore won, after doing all that they possibly could to give away yet another game. Something is very, very weird with that team, so naturally I'll probably keep betting on them.
To my credit, I did mention the Jets-Eagles game looked exceptionally prone to being an upset special and lo and behold, the Eagles mailed it in just a little bit too much and it finally cost them.
I understand that Jalen Hurts is a student of history and all that but there's no need to pay homage to Carson Wentz like he did on that pick 6.
Week 6 Prediction Accuracy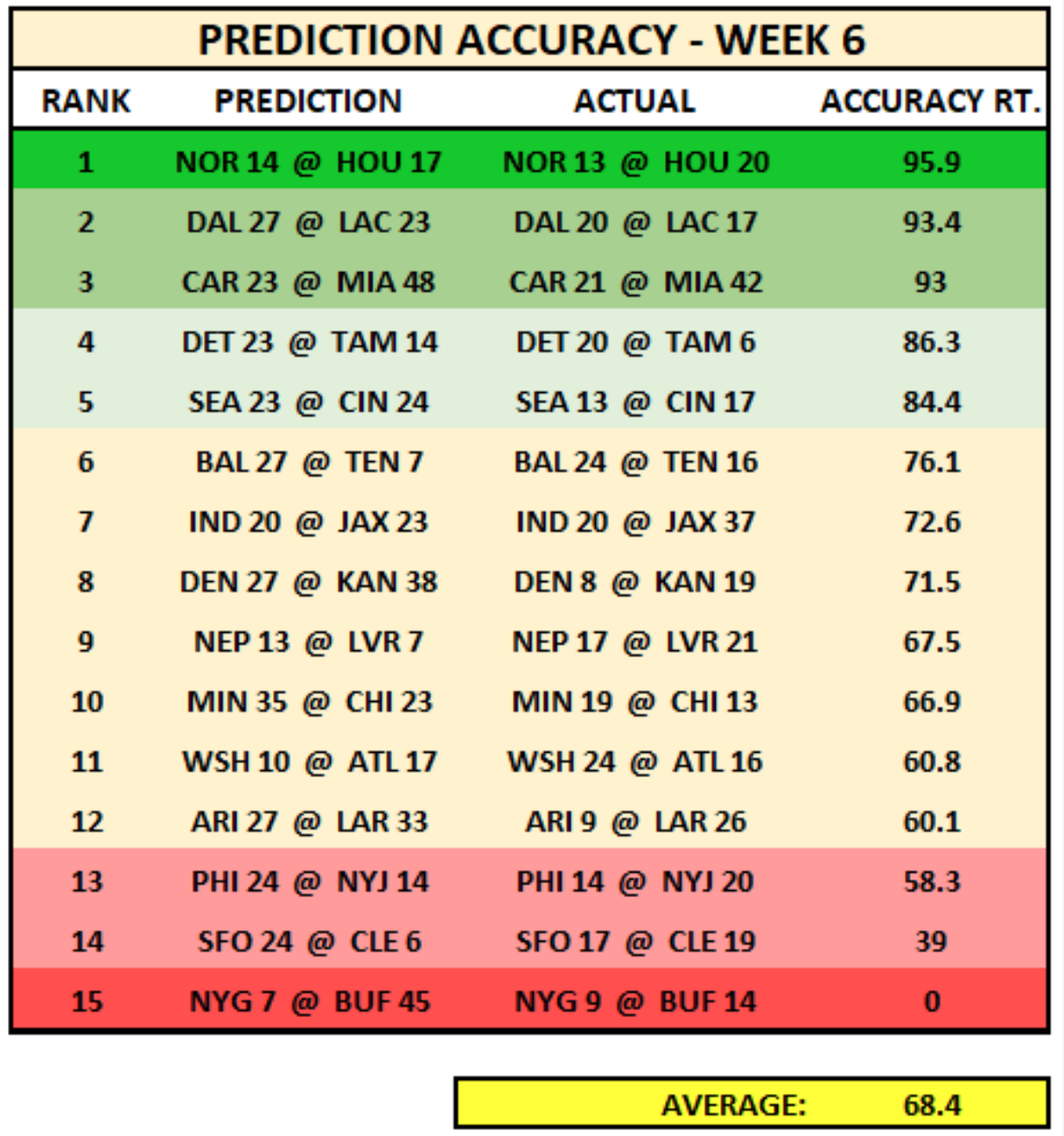 I think this is actually the most accurate overall predictions that I've had yet for any single week; definitely some misses – particularly Buffalo, but who expected that result – but I was on the wrong side of too many of the closer games.
Thanks Mac Jones for safety-ing your team across the +3 spread, brilliant game management there.
A few takeaways:
Yes, Detroit is good, and I had them winning this game relatively handily. But Tampa Bay is also still good (for now at least) and if not for Baker Mayfield missing on like three or four potential big plays/TDs, that game may have looked a bit closer than the score. I'm not saying this to knock Detroit, I'm saying to consider Tampa as a potential value in future weeks.
I'm done with New England. This team sucks, Belichick has wheeled-and-dealed himself into a CFL roster, and Mac Jones plays like he thinks he's Steve Young or something.
What are the excuses for Derek Carr now? This team was better with Andy Dalton. 350+ yards and 13 points is prime Kirk Cousins energy.
Buffalo sleepwalking through the Sunday Night game was surprising but perhaps to be expected given they were coming off a London week. Tennessee took their bye this week but Baltimore did not, so I'm going to be factoring in a bit of a travel lag into Baltimore's metrics this week.
Dallas and the LA Chargers are coached so poorly that they are nearly unwatchable at times. Dallas's offense is like an elite version of Pittsburgh. They have a bye this week but with so many teams struggling to score this year, I'm going to lower scores overall this week.
Arizona is now a bad team. RIP Frisky Cardinals.
Week 7
On to week 7. Need a good week in the worst way.
Week 7 Projections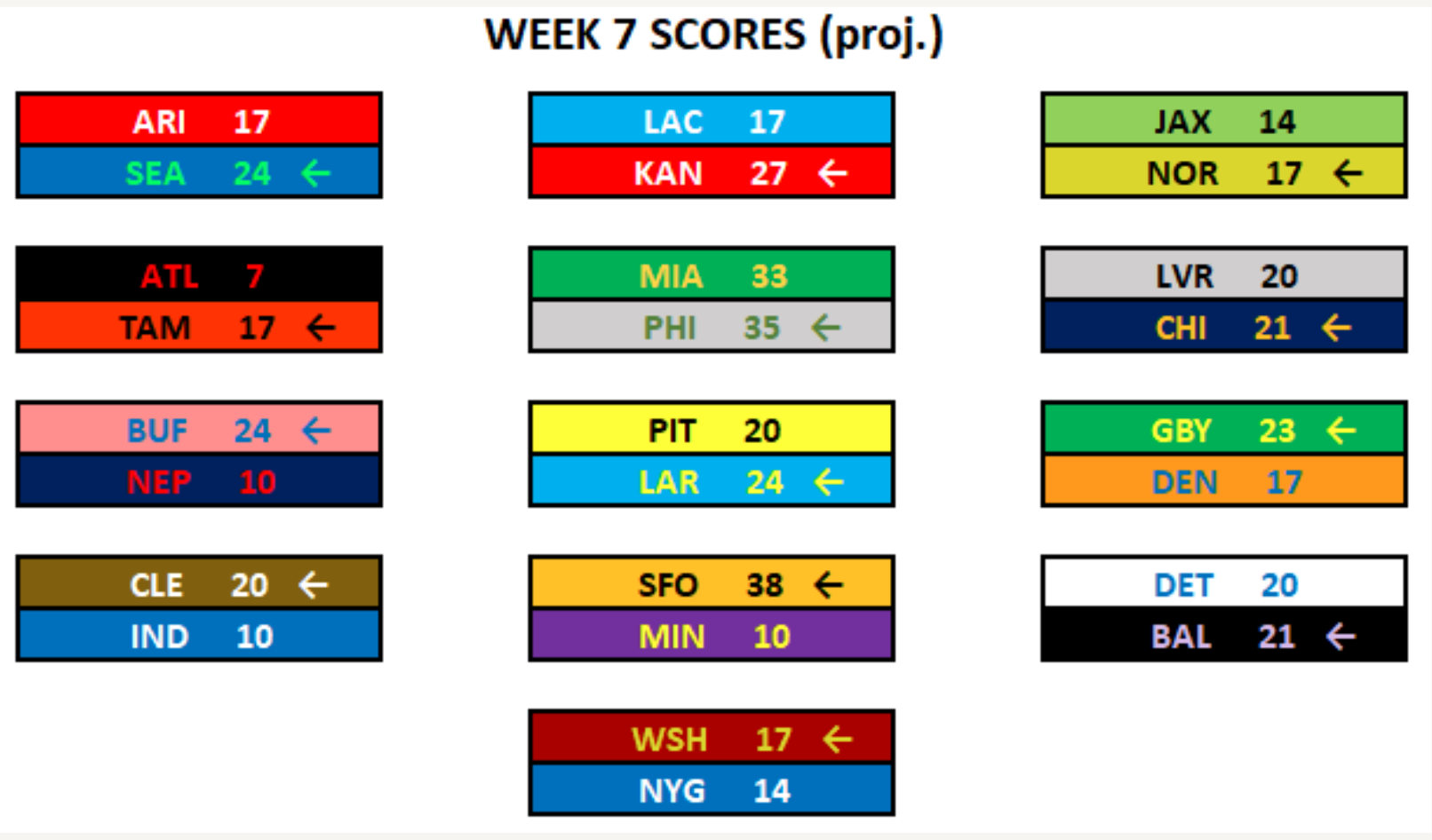 Week 7 Best Bets Ranked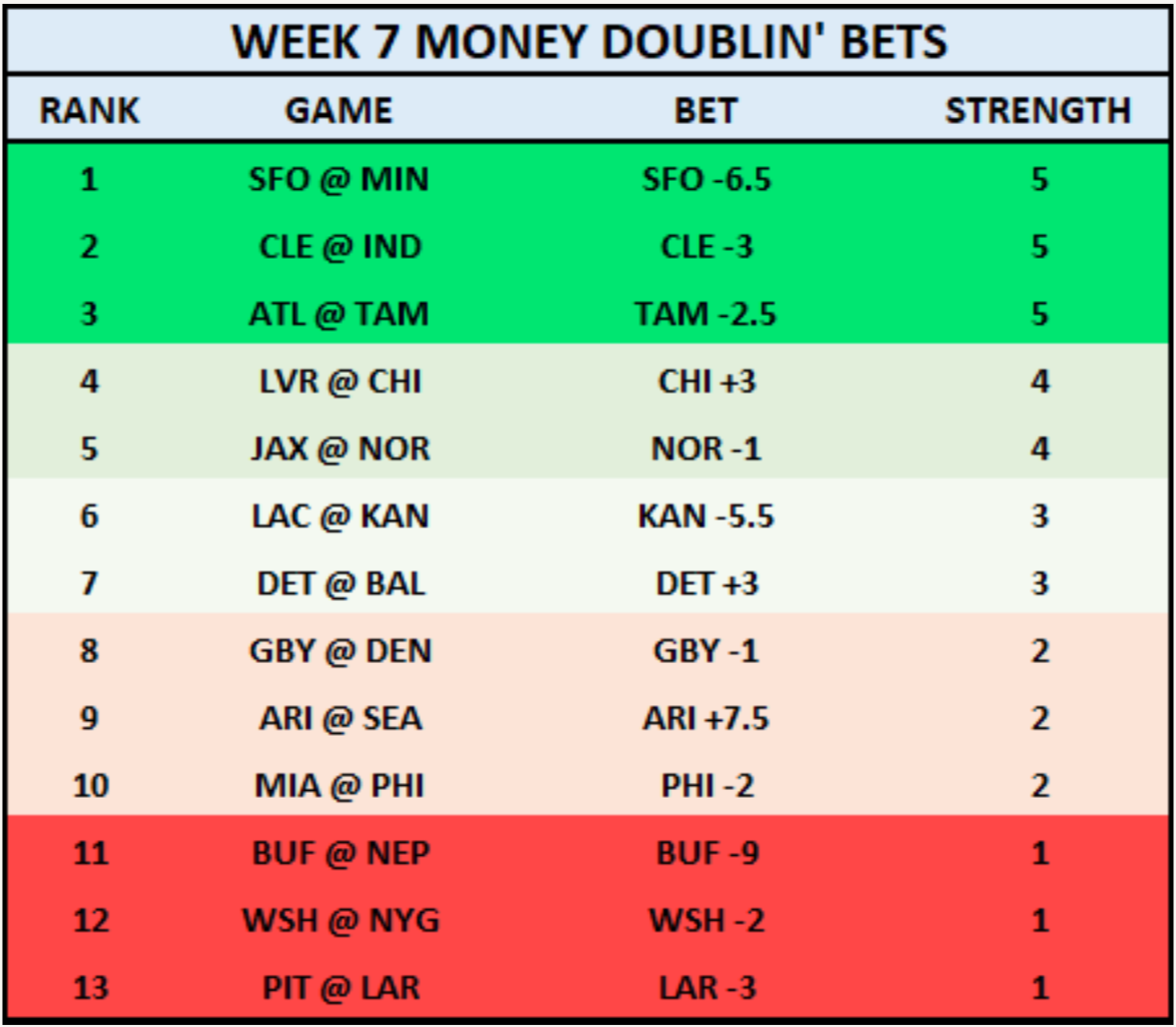 I've changed the way these bets are valued from my previous method; I believe that I was putting too much stock in the difference between actual spreads and what I predicted for each line. I'm still using it, it's just being weighted much lower now.
Week 7 Power Rankings

Note that power rankings do not account for injury and do not factor into score projections. AOL Instant Messenger still has not responded to multiple requests to sponsor this segment.

Weird Bounces
As I noted last week, the game that according to essentially my "weird bounce" rankings would be the most likely upset was Jets/Eagles. 2nd most likely was Browns/Niners. So I'll put my back into it this week. In week 7, the Game of Inches rankings suggest that you should be wary of weird bounces in the following games:
JAGS @ SAINTS

– New Orleans remains number one in my Weird Bounce metrics. Jacksonville is 20

th

. The weird bounce spread in this game if off the charts.

CHARGERS @ CHIEFS

– I don't know how the Chargers are anything but dead last in this metric, but here we are.

PATS @ BILLS

– Really not surprising, though New England is probably too bad to take advantage of it.
TIER ONE GAMES
SAN FRANCISCO -6.5 @ MINNESOTA
Power Ranks: San Francisco 1st, Minnesota 19th
Projected Result: San Francisco 38 – Minnesota 10
So yeah, I'm not putting much stock into San Francisco's surprising loss in Cleveland last week. Cleveland has the best defense in the entire league, and they still needed the Niners to miss a late field goal to hang on and win that one.
Minnesota meanwhile has 11 guys in uniform. That's about all I can say about their defense. Weather won't be a factor, either….I'm all over this one. Even the weird bounces favor San Fran.
I'm assuming McCaffrey plays but even if he doesn't, I doubt he's worth like 30 points.
CLEVELAND -3
@ INDIANAPOLIS
Power Ranks: Cleveland 7th, Indianapolis 16th
Projected Result: Cleveland 20 – Indianapolis 10 
You really have to hand it to the Browns after they just dominated the previously unstoppable 49er offense last Sunday.
Speaking of handing it to them, Deshaun Watson is also expected to be back this week. That hasn't really been a cause for celebration in the last three years, but when you've had to resort to starting Dorian Thompson-Laterounder and PJ Walker in his absence, it becomes a massive upgrade.
My fear with Indy was that they would suffer due to the change in playstyle that would result from swapping in Gardner Minshew for Anthony Richardson and that seems to be the case after one week. They are 16th and falling in my ranks.
ATLANTA @ TAMPA -2.5
Power Ranks: Tampa 15th, Atlanta 21st
Projected Result: Tampa Bay 17 – Atlanta 7 
I bet this game last week with Tampa giving 2.5 points, expecting the line to potentially change after the week 6 games…but it has not. Doesn't matter, I'm just fine getting the Bucs and the hook.
Atlanta is just absolutely unwatchable with Desmond Ridder but Arthur Smith seems dead-set on forcing this upon viewers. I fear that the Deep State is somehow involved.
TIER TWO GAMES
LAS VEGAS @ CHICAGO +3
Power Ranks: Chicago 29th, Las Vegas 30th
Projected Result: Chicago 21 – Las Vegas 20
This one I don't understand but this is what the numbers are telling me, so I guess I'll ride.
Chicago is starting something called a Tyler Bagent in this game, but I guess their offense has been so bad that the expected downgrade barely moves the needle. The Raiders should be shipped to a different continent.
JACKSONVILLE @ NEW ORLEANS -1
Power Ranks: New Orleans 11th, Jacksonville 12th
Projected Result: New Orleans 17 – Jacksonville 14
Thursday Night Football sees a hobbled Trevor Lawrence limping into New Orleans to face the Saints and their explosive offense, nicknamed the "Boredom on Bourbon Street".
Or, will we get to see a healthy-as-an-ox CJ Beathard? Either way I've given the Jaguars a bit of a downgrade and it's just enough to favor the Saints in a game that I absolutely, positively will not watch a second of. My safe word is "no".

BORDERLINE BETS
LA CHARGERS @ KANSAS CITY -5.5
Power Ranks: Kansas City 6th, Los Angeles 14th
Projected Result: Kansas City 27 – Los Angeles 17
Justin Herbert's hangover should wear off by the time this game kicks off, but I don't think it's going to be enough to hang with the Chiefs at Arrowhead.
DETROIT +3
@ BALTIMORE
Power Ranks: Detroit 2nd, Baltimore 3rd         
Projected Result: Baltimore 21 – Detroit 20 
If the Ravens hadn't just flown back from London, I would favor them ever-so-slightly in this one. But they did, and I'm sure their little wings must be so tired. Detroit has a chance to make a real statement in this one.
THE REST
I suggest that you save your money. However, if you think it's too environmentally unfriendly to simply burn it, feel free to bet it on these games. Gun to my head picks are in green text. 
GREEN BAY -1 @ DENVER
Green Bay has looked iffy for a few weeks and now they get to go and play the Broncos on top of a mountain. But do you know what else is a mountain?
The list of teams I have ranked ahead of Denver, the absolute worst team in the entire NFL by my rankings. 
ARIZONA +7.5 @ SEATTLE
I don't know what to think of Seattle, as they really did not seem to want to win that game in Cincinnati last week. I do know what to think of Arizona, and what I think is that they are bad. But 7.5 points is a lot and if I had to, I'd take them.
MIAMI @  PHILADELPHIA -2
I'm predicting that this game is going to be an absolute barnburner. I just don't want to bet on either side of it.
BUFFALO -9 @ NEW ENGLAND
I think Buffalo takes care of Mac Osweiler and the Patriots rather easily. I do not have a lot of confidence that they win by double digits, however.
In particular, Buffalo is one of the worst defenses in the league against the run, and that seems to be New England's only hope. Belichick's probably going to go into clock-killing mode in the middle of the first quarter.
WASHINGTON -2
@  NY GIANTS
The internets seem to be full of people defending Sam Howell. Sam Howell has great numbers! Look at his completion percentage! Dog, I've watched Sam Howell too much this year, and he damn sure better be completing most of his passes.
This guy lives to throw 3 yards to his #4 receiver. He starts picking up big chunks against soft coverage once he gets his team to a two-score deficit. And even when they are winning wire-to-wire, it's just not impressive. Atlanta and Desmond "Good" Riddance had no business being in that game last week, but Howell wanted it that way.
I really thought Sam Howell would impress this season, but so far I'm getting massive 2015 Blake Bortles vibes.
As for the Giants, I'm going to assume that Danny "Shouldn't Have Even Paid Him A" Dimes will be back taking sacks and fumbling this week. If the Giants have to go with Tyrod Taylor I may actually bet on them to win like, 13-12 or something. 
PITTSBURGH @  
LA RAMS -3
It's going to be be a home game for the Steelers! Great, the Rams can get a road win. 
SURVIVOR PICK
I still have one entry remaining, and until I lose with that one I'm going to keep up the Survivor segment. This week, the large majority of people – more than 50%!!! – are on Seattle, which seems dicey to say the least. If the Cardinals can win a game that seems reasonably winnable for them, it's going to decimate these pools.
So I'm not taking Seattle. Well, who is it gonna be then?
The largest point differential I'm projecting this week is for San Francisco over Minnesota, but pretty much nobody still has the Niners available and so that one's out. Second is Buffalo at New England, and same thing there. Do I trust the Browns to beat the Colts? I mean…no, I really don't. Do I take the Bucs? Ehhhh I don't know.
I guess that leaves the Rams, who host the Steelers and only need to win a race to 14 points to wrap this one up. This is where these things start to get fun.