Steelers at Rams Expert Pick – October 22, 2023
STEELERS AT RAMS EXPERT PICK – OCTOBER 22, 2023 – The Pittsburgh Steelers (3-2) travel to the west coast to take on the Los Angeles Rams (3-3). Coach Mike Tomlin has a career 12-4 record coming off a bye week, with the team winning six in a row after resting. Before you load up the money line bet on the Steelers, they also sport a 3-7 record under Tomlin when flying to play on the West Coast.
The Odds
Matchup

Open

Spread

Points

Moneyline

Pittsburgh Steelers

(3-2 SU, 3-2-0 ATS)

+3.5

+3

O44

+140

Los Angeles Rams

(3-3-0 SU, 4-1-1 ATS)

-3.5

-3

U44

-166
Kickoff
When: Sunday, October 22nd at 1 p.m. EDT
Where: SoFi Stadium, Inglewood, Calif.
TV: Fox
Public Bets: 74% on Los Angeles
Public Money: 71% on Los Angeles
Odds courtesy of DraftKings, as of October 7, 2023

Scouting the Steelers
The Steelers share the lead for first place in the AFC North after a comeback 17-10 victory over the Baltimore Ravens in Week 5. This might be fool's gold, as they rank in the bottom third in almost every meaningful offensive category. They have the fewest red zone plays in the NFL and have not rushed for a touchdown.
The fans' frustration with offensive coordinator Matt Canada reached its peak as chants for his removal were heard during a hockey game between the Pittsburgh Penguins and the Washington Capitals — in Washington.
Tomlin can't ignore the pressure being levied by the media and fans. During his Tuesday press conference, he responded, "We realize that we've absorbed some negativity based on performance. We're men enough to absorb that negativity and stay singularly focused on what's required to change it, and that is work. We're not interested in assigning blame or making excuses, we're just singularly focused on getting better, and we're going to continue to do that. This Sunday is an opportunity to show progress in that regard."
Tomlin decided to stay the course and use the bye week to get healthier and work to correct the issues plaguing this offense.
"Rest assured that every team in the National Football League delves into self-analysis during bye weeks, and they come through and look critically at every component of what it is that they do — whether it's strategy or schematics, the division of labor or the development of individual players," Tomlin explained. "We didn't do anything cutting edge or unique in that regard. Just rest assured we did our due diligence."
Steelers' Offense Getting Healthier
This is the week Canada's offense must show improvement. The Steelers return key starters, with tackle Dan Moore Jr., guard James Daniels, punter Pressley Harvin III and wideout Diontae Johnson all back from injury.
Quarterback Kenny Pickett will welcome the return of his top receiver. While receiver George Pickens has been impressive, there is no doubt the return of Johnson and his elite route running ability should open up the offense. Tomlin and general manager Omar Khan are also watching Pickett with a close eye. Last year's first round draft pick has struggled in most of his 17 NFL starts. He might exude a "clutch gene", but they need to see that he can be effective for an entire game.
Canada spoke about the need to get Pickett off to a fast start: "Love to. We'd love to do that. Obviously, there's — we're looking at trying to win games, and at those points in time, Kenny steps up and has made some huge plays throughout his career here. He's played 17 games now, whatever it is. I think he's made those plays in big moments. Certainly, the reason that he was drafted, so the reason that he's the starter, and I think we'll continue to do that, and certainly we have to start faster and play better and all those things you're mentioning. How we get to that point is a work in progress, trying to find it with everybody."
Pickett had hoped to have tight end Pat Freiermuth back this week after missing several weeks, but he aggravated his knee injury in practice and is now on injured reserve. There was a sense of relief on the defense as star edge linebacker T.J. Watt was held out of practice on Thursday with a heel injury. He practiced Friday and will play.

Scouting the Rams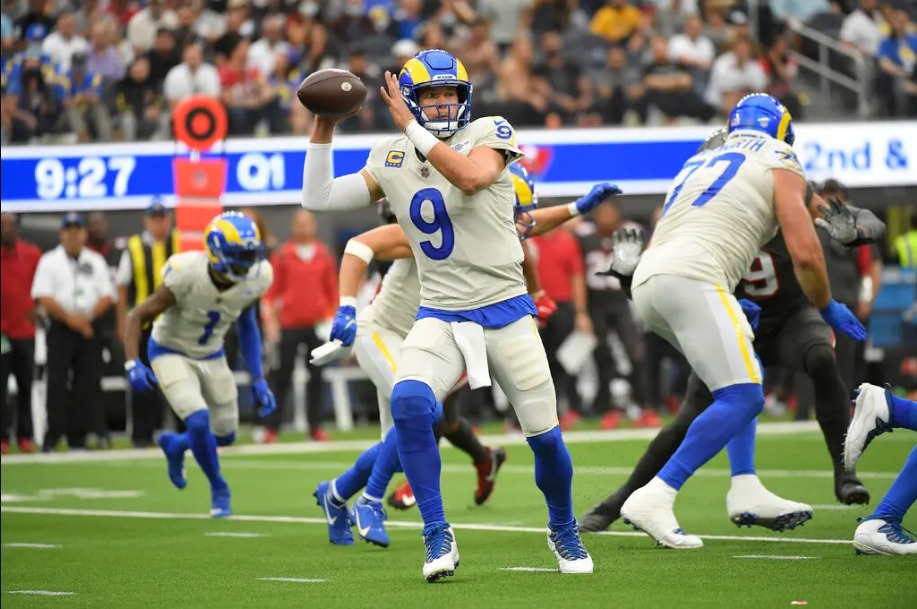 The Rams will rely heavily on the passing game, with running backs Kyren Williams (ankle) and Ronnie Rivers (knee, IR) both out. Quarterback Matthew Stafford will look to target Cooper Kupp, who has impressed since returning from injured reserve, and rookie phenom Puka Nacua.
The offensive line played well last week in a 26-9 home victory over the Arizona Cardinals. Right guard Kevin Dotson faces his old team and its vaunted pass rush.
Keep an eye out on the situation with cornerback Derion Kendrick, who was arrested Monday and faces two misdemeanor gun charges. He practiced Friday and coach Sean McVay isn't ruling him out for Sunday. If he is ruled out, rookie Tre Tomlinson and Duke Shelley will see increased roles.
All-everything defensive lineman Aaron Donald faces his hometown team for the third time, looking for his first win against the Black and Gold. Donald and the defensive line will key on stopping a running game that Tomlin desperately wants to get on track. Making the Steelers a one-dimensional offense would bode well for them, as Pickett has completed just 60% of his passes, which puts him 30th in the league.
The Pick
This will be the week Kenny Pickett and the offense show out and score over 25 points and amass over 400 yards on offense. The Rams aren't going to slow down against a Steelers defense that ranks 30th giving up 389 yards per game. Jump on the OVER for this game, as the opportunistic Pittsburgh defense will have a scoring play.
While the Steelers offense should finally show up, it will be the defense that can't handle the Rams passing attack. Stafford continues his resurgence and receivers Cupp and Nakua will wreak havoc on their secondary.
Rams win 31-27.
Mitch's Pick

  Rams -3

  Over 44