Flying with the Flock: Ravens vs. Lions Preview
FLYING WITH THE FLOCK: RAVENS VS. LIONS PREVIEW — There's nothing inconspicuous about this matchup. The Lions have the best record in the NFL, they're a fixture of the top-five in every pundit's power rankings, and Fox's A-team will be on the call. In short, Baltimore won't overlook this opponent.
Detroit Has a Winner?
The Lions are arguably the hottest team in football, winning their last four games by an average of 15 points. It's no wonder their offense ranks in the top five of nearly every major statistical category. The marriage of impressive talent and excellent coaching makes them among the league's most fun units to watch. They exemplify what it means to be able to win in multiple ways, but they're deadliest with an effective run game.
Whether David Montgomery and Jahmyr Gibbs are chugging or not, they force opponents to respect the run fake. Detroit is tied for second in the league in their use of play-action. This opens up the field for Detroit's 1980s weapons chest of skill players, so excessive it would make Rambo blush.
Amon-Ra St. Brown has continued to dominate out of the slot. Rookie tight end Sam LaPorta appears to be a home run selection in the second round. But Jameson Williams has a chance to add a whole new dimension to the unit.
Watch Out For Williams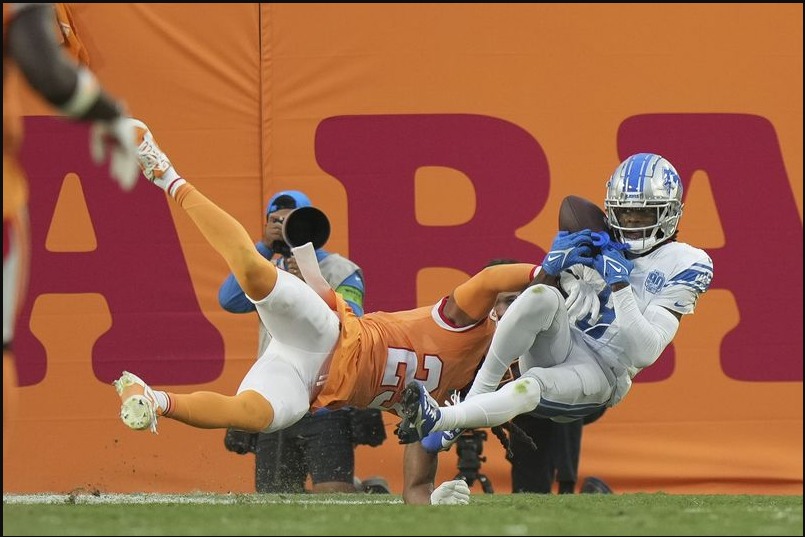 Had he not suffered a devastating ACL tear late in his junior season at Alabama, Williams would've been the first receiver drafted in a class with Garrett Wilson, Chris Olave, and Drake London. But to this point, the Williams experience has delivered more frustration than elation.
It's almost hard to have a worse start to a career than his. Between the aforementioned injury and a gambling suspension, he's missed nearly three times as many games as he's played in as a pro. But last week he flashed, scoring from 45 yards out on an acrobatic diving catch. If he can continue to develop and consistently stretch defenses with his speed, this Lions offense can become hilariously good.

Two Options
So how does Baltimore defend this? Realistically, the Ravens can only hope to contain the offense. As I said, it's pick your poison. Sell out to defend a top-ten run game, and you'll get torn apart by Goff on play-action. Or choose to die a slow death as the Lions churn out tough yards with their elite offensive line.
The reality won't be purely binary, but the Ravens defense has its work cut out for it. That said, Mike MacDonald has proved he can be trusted to deliver an effective game plan, and Roquan Smith and the rest of the defense will execute at a high level.
On Lamar's Shoulders
Detroit could put up some major points in this one, so the pressure falls on the Ravens offense to deliver in a way that it hasn't all season. Even in the offense's best performances, against Cleveland and Cincinnati, the Ravens have failed to consistently apply pressure.
They face a Detroit defense that by my estimation is overperforming. The Lions have taken care of business against some lesser quarterbacks over the past four weeks, but I'm not ready to respect them as the top-ten defense that the statistics suggest. If they're able to shut down a Lamar Jackson-led offense, I'll be happy to re-assess. To win this one, Baltimore will likely have to break the 30-point ceiling that's contained it all year.

Final Thoughts
Both teams feel as though they're in need of a statement win. The Lions impressed in week one against a Kelce-less Chiefs team, but they have yet to beat another team with a winning record. The Ravens, on the other hand, can atone for losses against teams they should have beaten, by stealing a game.
A convincing win would shoot Baltimore up the power rankings and establish them as Super Bowl contenders. But a loss would drop the Ravens into the identity-less conglomeration of 4-3 teams. The last time these two teams played, it came down to some Tucker magic. I trust the magician to deliver once again.
Prediction: Ravens 33, Lions 31