Nate: We're still struggling to find some consistency with our picks around here, but optimism remains high. With an absolutely massive slate to go through, I've gone ahead and selected a bunch you've probably not spent any time thinking about, including our marquee matchup between the Kansas Jayhawks and the Duke Blue Devils. And for that, I am jealous of you. As usual, Jack will be here to tell me when I'm making a dumb square bet, while offering suspect betting advice. Keep an eye out for that Thursday game, so we can start making money before the big slate on Saturday. Onto the picks!
Jack: Nate may think my advice is suspect, but I wasn't the one who recommended you take BYU at +3 on the road against Backyard Bo. Do I make mistakes? Sure. Do I love the Hoosiers (3-0) too much? Possibly. But am I committed to constantly going 5-7 while having an absolutely extraordinary Saturday grinding on games for fourteen hours? Yes sir. Don't take all of my advice. Just my Kansas takes. 
Check out our standing thru Week 3 here. 
(All odds current as of 9/21 and courtesy of DraftKings)
West Virginia at Virginia Tech (+1.5)
Thursday 9/22 7:30 PM EST ESPN
Nate: College football is back on Thursdays to compete against what should be a rather boring and gross NFL game between the Browns and Steelers. This game starts a little bit earlier and will provide some much needed respite when you get tired of watching those two teams punt the ball. 
I'll start off by saying, I'm not sure why West Virginia is favored in this game. It doesn't make any sense to me. I grabbed VT early in the week at +3, and I still think there is value with them getting points. This is essentially a play against the Mountaineers defense which has been dreadful this season, and it's been combined with less than stellar play from quarterback J.T. Daniels. I'm not in love with this Hokies team, and they have played some very ugly games thus far into the season, but I do think their defense will challenge West Virginia. 
Take the points in a game in which the wrong team is favored. Go Hokies.  Pick: Virginia Tech +1.5
Jack: I get the sense that this line suffers from the fact the Hokies (2-1) haven't played anybody. Their defense is averaging about 12 points per game, but their opponents have been Old Dominion, Boston College, and Wofford. On the other side, West Virginia (1-2) has given up 100 points through three games. They held Towson to seven, so that's good. The Mountaineers have a horrific defense and handed Kansas (3-0) their third win in as many weeks last week. This game hinges on your belief that the Mountaineers suck, which they probably do. Take the points. Pick: Virginia Tech +1.5
Let's run it back @Bryceduke22 🤩

📺: @accnetwork | 📱: https://t.co/0xTPoC2JDV pic.twitter.com/bmPutWRum4

— Virginia Tech Football (@HokiesFB) September 17, 2022
Duke at Kansas (-7.5)
Saturday 9/24 12:00 PM EST Fox Sports 1
Nate: Welcome to the football edition of a game we'd all be frothing over if this was basketball season. This isn't nearly as exciting in a football context, but hey, we're still getting a battle of two undefeated squads heading into this showdown on Saturday.
Everyone in the world seems to be hopping on the Kansas bandwagon, and I'm just not there yet. I've been losing money fading this team, and I will continue to do so for as long as it takes to win a game. Kansas has surprised in two games against decent teams, but their defense is still giving up some points. They are terrible in almost defensive category except redzone efficiency and turnovers. Both of those metrics tend to be more random and less predictive than others, and they will likely regress due to the pitiful numbers that tell us more about their defense as a whole. 
Now, Kansas has been good offensively, but I think Duke can scheme up a way to slow them down. Duke will want to run the ball a ton and grind the clock. This is a good time to sell on this Kansas team. They are a fun story, and Jalon Daniels has been nothing short of spectacular thus far, but I don't think they should be this big of a favorite here. Hold your nose, take Duke, and hope they can slow this game down. Pick: Duke +7.5
Jack: This game is one that I would normally stay away from, but Nate wants to play it so here we go. We'll do this one a little differently.
Reasons Duke Can Cover: Duke has an explosive offense that can put up points quickly. They like to move the ball quickly down the field and score points like every drive is a two minute drill. The defense has performed well enough to keep them in games so far this season. The win against Northwestern is truly impressive, because the Wildcats are not a trainwreck this year. They haven't upset anyone major like Kansas has, but trust that the defense can keep them in the game long enough for a quick score at the end of a backdoor cover. 
Reasons Kansas Can Cover: Kansas scores points. They have proved to the nation that their offense is the most effective in the nation, amassing 155 points in three games. Jalon Daniels is truly special. Through three games, he's thrown for 7 TDs, 1 INT, and 566 yards. He has a QBR north of 150 and when everyone thought Houston's defense would stifle him, he showed his stuff and hung 55 on the Cougars. His talent is complemented well with a strong running back room. The defense might give up the big play, but who cares when they outscore everyone by twenty. 
I could see both of these scenarios playing out, but I'm willing to take a flier on Jalon Daniels and bet that the home crowd's energy will match another major offensive game from the Jayhawks as they cruise to 4-0. Pick: Rock Chalk Jayhawk -7.5
🎬 Win Recap vs. Houston pic.twitter.com/hEWygFUanA

— Kansas Football (@KU_Football) September 21, 2022
Minnesota at Michigan State (+2.5 Even)
Saturday 9/24 3:30 PM EST Big Ten Network
Nate: This game has already pissed me off because I have to leave my house to go watch this in a horrible Reno dive bar where I might barely have enough street cred to get them to actually change a channel to watch this. This is a game where DK doesn't want to move onto a key number so if you want to play Minnesota you have to lay a little bit more than just 2.5 points since the odds are -120 as well. Sportsbooks often do this in the NFL – but not as often in college – to avoid moving on to a key number that can cause an avalanche of action, so they fiddle with the odds to try and encourage better to take the even money with Michigan State +2.5.
Where this stands currently, I'm fine taking Minnesota -2.5 still, but if this line wanders up past 3, then you have to take a hard look at Michigan State. Confused yet? Yeah, me too. I played Minnesota in this game when they were -1 and I still think they are the right side at this number (be sure to shop around though, maybe your sportsbook is different). Minnesota hasn't had to show much as they've played a trio of horrible teams leading up to this, so they're facing a big step up in competition. 
The reason I like this matchup is because Minnesota wants to pound the ball with Mo Ibrahim, and they should be able to against a Spartan defense that has been losing players to injury at linebacker and on the defensive line. Michigan State profiles as strong against the run, but the injuries have to start catching up with them at some point. Minnesota doesn't really have a team that can exploit Sparty's secondary, especially after losing stud receiver Chris Autman-Bell, but I don't think they'll need to. Pick: Minnesota -2.5 (-120)
Jack: Unlike Nate, I have the BIG Ten network on my cable package so I don't have to venture to a bar to root for the Golden Gophers. I've been on Minnesota since the beginning of the season as a good value bet to win the BIG Ten West. I still believe this through three games, simply because they have a lot of offensive weapons in a conference that tends to be anemic on the offensive side of the ball.
Anyone who watches middle-of-the-pack programs will tell you that it's  always a good sign when your team beats a smaller program by 50 points and Minnesota seems to be doing that week in and week out. On the other side of the ball are the Spartans, who are reeling with injuries and coming off an embarrassing loss to Washington on primetime, This line might be a bit of an overreaction. Last week Michigan State was a top 15 team. Now they're dogs at home. I can't trust them enough to pick them, but Nate and I might be on the square side of this one. Pick: Minnesota -2.5 (-120)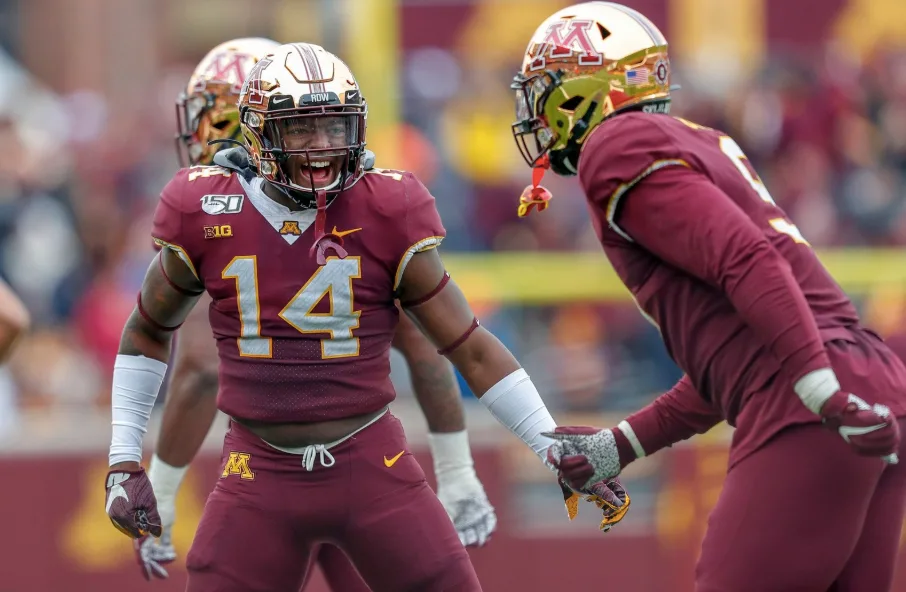 #7 USC at Oregon State (+6)
Saturday 9/24 9:30 PM EST Pac-12 Network
Nate: This is another game on one of those weird channels you probably don't have at home, but if you're at your neighborhood sports bar, maybe you can get the bartender to turn it on after you've had about six Miller Lites.
This is actually a fun game against two teams who have been covering machines to start the season. The talk of college football is the absolutely electric offense that USC has put on the field in Lincoln Riley's first year at the helm. They've put up 152 points in three games and are statistically great in basically every category or by any metric. This team will score against an Oregon State team that struggles to generate pressure in passing situations.
However, I still like the Beavers here. This is another team that isn't sexy, but I think can hang around. This team wants to run the ball and they do it well and often. USC has trouble against the rush, and I think that is something that will be exploited here. Oregon State will move the ball methodically down the field using their efficient running game which keeps them alive here. The whole world and entire sports media narrative is staring at a Trojan revival, so we go the other way. PIck: Oregon State +6
Jack: Nate is going to be about 12 Miller Lites deep and four shots in when this game is over at midnight and he'll completely forget he took Oregon State until he looks bleary eyed at his phone in the morning and realizes he lost the best.
Look, I love Oregon State. This is another team I was early on. I was the only analyst on this website full of boobs who picked them to cover against Boise State. I picked them to win the PAC-12 because I loved the odds, which you can read about here. 
But the Beavers haven't really played anyone substantial and USC has been demolishing everyone. Caleb Williams is a legitimate threat to win the Heisman. Lincoln Riley has this team absolutely humming. I think they demolish Oregon State on the road and Nate cries into his IPA while watching another wager fall flat. Pick: USC -6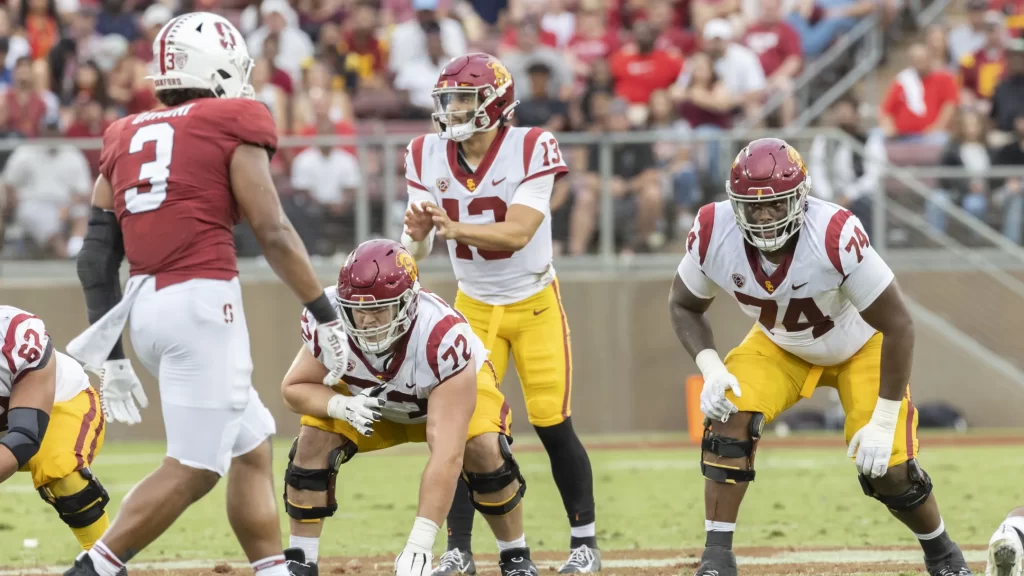 Missouri at Auburn (-7, o/u 51.5)
Saturday 9/24 12:00 PM EST ESPN
Nate: Time to talk totals. I can't do this column without throwing at least one in because it's been about the only thing I've done well this season. Auburn has been a complete disaster offensively and got mauled by Penn State last week 41-12, they don't move the ball very effectively and have trouble holding onto it when they do have it. Mizzou isn't setting the world on fire with their offense either. They struggle to contain the run, which Auburn should be looking to establish here early and often. This team has also been opportunistic in forcing turnovers, so protecting the ball figures to be of major importance for Auburn. 
The thing is, both of these teams would prefer to play at a fairly quick pace, if possible, but because they both profile as teams who would prefer to run and grind, we are seeing a relatively low total. I'm not sure Auburn can stop Mizzou, and the only time Missouri played a team with a semblance of a run game they got destroyed by K-State 40-12 when they erupted for 235 yards on the ground. 
I'm not buying this low total. Take the over here. Pick: Over 51.5
Jack: The reason to download DraftKings is to take a fun activity (watching sports) and raise the stakes so that it's even more engaging. When you are laying cash on Missouri/Auburn, it's no longer a hobby. It's a sickness. Don't bet on this game. You have better things to do. Watch the Kansas game. #NateNeeds Help. No Pick
#20 Florida at #11 Tennessee (-10.5, o/u 62)
Saturday 9/24 3:30 PM EST CBS
Nate: If you've made it this far into reading our weekly column, it may surprise you to see an actual ranked matchup buried at the bottom here (yes, yes we love Kansas vs. Duke) but that's exactly what we've got when #20 Florida heads to Knoxville to take on #11 Tennessee. Tennessee plays at an absolutely blistering pace on offense. They led the country last year in plays per minute and are right in the conversation again this year. Hendon Hooker has been spectacular at the helm for the Vols as well. 
The same cannot be said for the Gators on offense. Anthony Richardson has been an unmitigated disaster throwing the football, but he's helped win some games with his legs. He's also helped by two other outstanding backs in Johnson and Etienne. All of this is to say that Florida can move the ball explosively and well on the ground, which could pose problems for a Tennessee team that struggles to defend the run.
Florida will get some big chunks on the ground, and Hendon Hooker should keep doing his thing moving the ball on the ground and through the air with the Vols. Tennessee would prefer to turn this into a track meet and if Florida gets down early, I suspect they'll be forced to oblige them. This game feels like a shootout because of the tempo the Vols want to play with and the bad matchup for their defense against Florida's ground game. Take the over here and root for points. Pick: Over 62
Jack: Now this is my kind of game! Two ranked SEC teams that probably suck! 
After Week 1, I thought you could play with some Heisman futures for Anthony Richardson. I was wrong. After Week 2, I thought Tennessee would lose to Pitt. I was wrong. I don't have a good feel for this game, but as a lifelong SEC fan, I can tell you a one thing: the Vols don't show up in big games.
Everyone in Knoxville thinks it's 1998. It's not. I don't think Florida is very good, but the Vols will find a way to screw this up and push it into 4 OTs and escape with a FG (if they're lucky). 10.5 points is such a gift in a bitter rivalry. Take the points. The Vols won't disappoint. Pick: Gators +10.5
Tune in to the Godzilla Wins Radio Show – Saturday at 9:00 AM!
ADVERTISEMENT
Download 
DraftKings Sports-Book APP
 now and use PROMO CODE GODZILLA when you sign up! GODZILLA gives you the best deals in America!  Must be 21 or older, Virginia only. Bonus issued as free bets. 1 early win token is issued at opt-in, money line bets only. Deposit and wagering restrictions apply. Eligibility and terms at DraftKings.com/football-terms. If you or someone you know has a gambling problem, call the Virginia Problem Gambling Helpline at 888-532-3500.