By: Jack Fredericks (He/Him/His)
Note: This article was written prior to Week 0. Odds may have changed since then. 
The hardest working Big Ten fan I've ever known lived on the West Coast. He dedicated every Saturday in the fall to Big Ten football, which meant he had to get up at 7 am to start drinking in anticipation of the Northwestern/Minnesota game, which started at like 7:30.  By two in the afternoon, with a head full of Malort, he'd hop on his bicycle and pedal back to his house. He'd hum the Boilermaker fight song while dreaming of the Outback Bowl. One sleepy Saturday with snow collecting quietly on the road, he crashed head first into a parked U-HAUL. I hope he quit drinking. Don't question the Big Ten fan's commitment to adrenaline. There's nothing casual about these guys. 
Michigan rode an impressive defense and a mature offense to their first Big Ten championship since the Iraq War and earned a rightful spot in the CFB Playoff where they were trounced by their much maligned neighbors down South. Big Blue enters the season as underdogs. Oddsmakers love historical context and the Buckeyes have proven to be the safest bet to take the conference. Your analyst today, Jack Fredericks (aka the Mississippi Marxist), sees a lot of ways to have fun with these futures, especially with some of the divisional odds. Nobody ever knows what's going to happen in the Big Ten West and we can find a lot of value in some of these teams that may be overlooked. Run to the ATM and ask the bank to clear your limit for the day. We'll help you spend some of that IRA fund.
Odds to win the BIG TEN 

Ohio State -215

Michigan +600

Wisconsin +1100

Penn State +1500

Iowa +2000

Nebraska +2200

Minnesota +2800

Michigan State +2800

Purdue +3000

Maryland +15000

Illinois +15000

Indiana +30000

Northwestern +40000

Rutgers +50000
Odds brought to you by DraftKings
BIG TEN EAST
Odds to win the BIG TEN East

Ohio State -340

Michigan +425

Penn State +900

Michigan State +1800

Maryland +8000

Indiana +12000

Rutgers +20000
Odds brought to you by DraftKings
OHIO STATE 
Odds to Win Conference: -215
Odds to Win Division: -340
The Buckeyes remain the clear favorite and the media darling to sweep the Big Ten, take the conference, and find themselves in the CFB Playoff. CJ Stroud is a Heisman favorite and Jaxon Smith-Njigba is poised to have a breakout year as the team's #1 option. Some are worried about the front seven on both sides of the ball, but I'm betting they can handle most of the competition in the Big Ten. This is one of the most talented teams in football. If they beat up on the Irish, they'll be clear favorites by Week 2. Too bad these odds stink! I want to have so much riding on an underdog that I can't feel my nose. I'd be foolish not to pick the Buckeyes to win the conference, which is why I'm riding with the Gophers all season (keep reading).
MICHIGAN (AKA MEEECH-A-GAN)
Odds to Win Conference: +600
Odds to Win Division: +425
Inconsistency is the fear here. Michigan finally broke through last year with an impressive run game and two universe-altering defensive ends. Some of that has disappeared (including the ends), but the people who actually watch the Big Ten tell me that the Wolverines' transfers at tailback should make an impact. Everyone worries about quarterback play in Ann Arbor. Their schedule is pretty soft unless you believe Penn State and Indiana to be a threat. 6/1 odds to win the division is pretty fun and you can feel confident that your play will still be cooking when the leaves turn. I'd take the odds to win the conference and save my money on the division.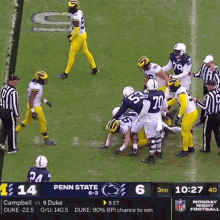 PENN STATE
Odds to Win Conference: +1500
Odds to Win Division: +900
It's amazing to think that James Franklin has been at Penn State nine years. The result? Mediocrity. My favorite thing Franklin did last year was refuse to release a depth chart. Way to keep the play-by-lay guys on their toes! I haven't talked to Nate about this, but I bet he loves the Nittany Lions: Clifford is a reliable quarterback, Curtis Jacobs is a stud at linebacker, the secondary features some NFL talent. This is one of those teams that everyone can see value in at 15/1. I worry about their offensive line and Franklin seems to be going backwards. I'll pass. 
MICHIGAN STATE
Odds to Win Conference: +2800
Odds to Win Division: +1800
The Spartans have a lot to be excited about. Mel Tucker seems poised for a breakout year after going 11-12 in his first two seasons. Payton Thorne is a legitimate quarterback who can cut down on the mistakes. They love what they have in their tailback, Jalen Berger. The defensive front seven should make an impact. You could take the odds and you might hit. I like some of the other teams in the East a little better, because I'm worried about the secondary. All the homers keep saying "the secondary has to be better," which is like when I mutter to myself, "the water heater has to be replaced." Ain't gonna happen. These guys will lose a bunch of games 56-50. 
MARYLAND
Odds to Win Conference: +15000
Odds to Win Division: +8000
Nobody thinks Maryland is any good. They'll be ripe for an upset at some point in October, so watch the spreads, but I'm not wasting money on long odds to upset the mean. 
INDIANA (AKA HOOSIERS)
Odds to Win Conference: +30000
Odds to Win Division: +12000
Give me the Hoosiers all day. After an incredible 2020, the team imploded in 2021 and fired everyone except Tom Allen. We all love Allen and they've brought in a pretty successful OC in Nick Sheridan. Another reason to love the Hoosiers? The quarterback. My man Conor Bazelak used to play in the SEC so you know he's solid. They lost a lot on defense, including their team captain, Micah McFadden, but they found some answers in the transfer portal. Their schedule is brutal, but I still think they are way underrated after the circus in 2021. Take the odds, especially if you just got out of a relationship, and ride out all these high leverage games against ranked opponents. You'll feel alive for the first time in months. 
RUTGERS
Odds to Win Conference: +50000
Odds to Win Division: +20000
Rutgers continues to flounder in a power five conference. I still miss the days when Greg Schiano disrupted the Big East on Thursday nights. Now the only thing that guy is disrupting is a hero while sitting on the Jersey turnpike. 
BIG TEN WEST
Odds to win the BIG TEN West

Wisconsin +190

Nebraska +360

Iowa +400

Minnesota +450

Purdue +600

Illinois +2800

Northwestern +8000
Odds brought to you by DraftKings
WISCONSIN
Odds to Win Conference: +1100
Odds to Win Division: +190
The Badgers had the most statistically dominant defense in school history last year. The team's run defense in particular is nasty. The issues in 2021 started on the offensive side, where an anemic passing game and a lackluster approach to the run combined to form an outdated offense and led to four disappointing losses. Paul Chryst made some major changes this year, including the hire of former Baltimore Ravens tight ends coach, Bobby Engram, as the new offensive coordinator. All this analysis boils down to one simple question: do you trust Graham Mertz? The answer should be no, because he stinks. I wouldn't even take the small odds to win the West. These guys will end up 7-5 while Mertz throws 14 interceptions. 
NEBRASKA
Odds to Win Conference: +2200
Odds to Win Division: +360
Nebraska always seems to get a pass. This team went 3-9 last year. Their quarterback transferred to Kansas State and now they have an exciting three-way quarterback battle with a guy named Chubba. Not good. These bozos are going to get trounced by Oklahoma in September and give up. Saul Goodman wouldn't take these odds. Get out now. 
IOWA
Odds to Win Conference: +2000
Odds to Win Division: +400
Here's another team with no shot. The Hawkeyes don't have a quarterback. They finished 13th in the conference in offense last year. The offensive line is a mess. Nobody knows how they won ten games. Purdue embarrassed the defense. They lost in the Vrbo Citrus Bowl. I don't even know what a Vrbo is. Pass on the Hawkeyes and I'd take the under for the win total (7.5). They're going to stink. Don't be fooled by the name brand. Cigarettes will still kill you even if you call them Lucky. 
MINNESOTA
Odds to Win Conference: +2800
Odds to Win Division: +450
What to do with the Gophers? This team won a lot of games last year. They were in the conversation for a Big Ten championship and you get 28/1 on conference championship odds. The Big Ten is a weird place. This is my anything-can-happen pick. Tanner Morgan is in his fifth season as the Gophers' quarterback. They are returning a ton of weapons on offense, including a promising tailback in Mohamad Ibrahim, who was hurt last year. I don't even care about the defense because these jokers are going to outscore everyone. Give me 28/1 for the conference championship. 4.5/1 for the division. I'll take the over on 7.5 wins. Give me Tanner Morgan's odds on winning the Heisman. I'll also take the 8/1 odds that I sublet an apartment in downtown Minneapolis by November. GOPHERS BABY!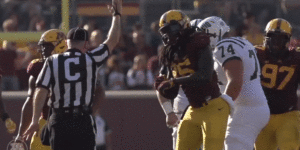 PURDUE
Odds to Win Conference: +3000
Odds to Win Division: +600
Purdue finished 8-4 overall last year with some impressive wins. They open the season with a really interesting game against Penn State. Aidan O'Connell is in his sixth season at Purdue. The offensive line isn't stellar, but they have some workable pieces to function around their all-star center. They lost their best two options at wide receiver, but they have some good tight ends and, for a team that passes the ball effectively, they can make it work. I love the defensive pass rush. I'll take the 6/1 odds to win the West. At the very least, I can throw something at my television when they lose to Penn State by a thousand.  
ILLINOIS
Odds to Win Conference: +1500
Odds to Win Division: +2800
Illinois can't seem to find a quarterback. Some people like Tommy DeVito but this offensive line is absolutely miserable. Chase Brown ran for over 1,000 yards last year, but that's not going to get you nine wins in the Big Ten. I bet Nate can talk himself into those 28/1 odds to win a weak division. I don't think Bret Beleima is any good. I'd rather save my money for the Gophers. 
NORTHWESTERN
Odds to Win Conference: +40000
Odds to Win Division: +8000
I love a good Northwestern run. Every few years they sniff a top 25 appearance before losing to Indiana on a brisk November at dawn. Still, 400/1? Those are some fun odds. I'll spot you $10.
ADVERTISEMENT
Download DraftKings Sports-Book APP now and use PROMO CODE GODZILLA when you sign up! GODZILLA gives you the best deals in America!  If you or someone you know has a gambling problem, call the Problem Gambling Helpline at 888-532-3500.