By: Jack Fredericks (He/Him/His)
The news this summer of USC and UCLA opting to join the Big Ten has sent the PAC-12 in scramble mode, as they begin the process of expanding to replace two major programs. The PAC-12 is often maligned for bad football, conference mismanagement, and overall apathy, but anyone who has been watching college football closely knows that this is a great conference. I'm sad to see USC and UCLA leave and hope some of these storied rivalries (The Civil War; The Apple Cup, Cal/Stanford) are protected. 
This year marks even more changes for the PAC-12. The conference tossed the North/South division in favor of a BCS-era all-out conference smackdown. This provides some interesting betting angles, but also minimizes the chances that a sleeper team with long odds will sneak its way into the championship game. However, Vegas doesn't see a clear favorite and your analysts today believe there's value to be found. Make sure to watch a lot of PAC-12 football this year. It's going to be fun. 
PAC-12 Odds to Win the Conference

USC +225

Utah +225

Oregon +280

UCLA +900

Washington +1400

Oregon State +2500

Arizona State +2800

Washington State +4500

Cal +6000

Stanford +9000

Colorado +25000

Arizona +25000
Odds brought to you by DraftKings
USC
Odds to Win the Conference: +225
The odds on USC would be lower if they didn't snake one of the most successful and dynamic coaches in college football, along with a bunch of his assistants. Lincoln Riley brings an incredible offense with tons of talent to Los Angeles. The team starts with QB Caleb Williams, who many believe to be on the Bryce Young-leve of talent. There are weapons all over the field and this team is going to pass, pass, pass. If the O-line can hold up (always an important question to ask), the Trojans are poised to be in the conversation in November. The defense looks to be formidable on the front line, but the linebackers and secondary are going to have to step up. They also dodge Oregon on the schedule this year. My biggest problem is the odds. This is a little better than 2/1, but if I'm going with small odds, I'd rather look at the Utes. Sorry, Trojans.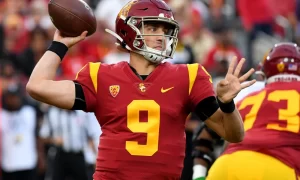 UTAH
Odds to Win the Conference: +225
This is a sexy pick to win the conference. Their schedule is brutal, including a huge game this Saturday against the Florida Gators. I think the Utes are going to live and die by their defense. They lost two major linebackers last year, but were absolutely unstoppable against the run. We've seen teams like Utah and OK State experience success when they can mount an impressive defense in a pass-heavy conference. The offense will score points, but I'm still not convinced that the odds are worth hammering the ticket. This is my pick to win the PAC-12, but I'd rather find some value in a few teams with long odds. I need the euphoria of Oregon State ripping off six straight at 25/1 more than I need the money. Pass 
OREGON
Odds to Win the Conference: +280
These odds suck for a team hoping Bo Nix can win 11 games. I love that the Ducks brought in OC Kenny Dillingham. I saw his Memphis teams in person multiple times. They absolutely frustrated good defenses and racked up a ton of yards in the process. Another reason to like this team is the defense, which is led by a powerful core set of linebackers. As with Utah, I'm very high on good, disciplined defenses running roughshod on pass-heavy conferences. I just don't think they have enough to take the conference. An annihilation at the hands of the Bulldawgs will not help morale and here's the real issue: since 2016, Oregon has lost one game to a team with a losing record. No thanks. 
WASHINGTON
Odds to Win the Conference: +1400
This is where Vegas starts to separate the pack and the odds become much more interesting. The Huskies saw a disastrous season in 2021 where they lost to an FCS team after forgetting to score a touchdown all game. Kalen DeBoer has been hired to clean up the mess and he worked the transfer portal to find a few quarterbacks who could start a bidding war for the starting job. My bet is on Michael Penix Jr., who played for DeBoer when he was OC at Indiana. Penix, Jr. went 12-5 with the Hoosiers and should have a lot of firepower to work with at the receiving core. The defense leaves much to be desired. They aren't really big enough and the secondary is a mess. I think this team will be good, but it's hard to go from losing to an FCS school to winning the conference. However, their horrible year has the over/under win total at 7.5 games. I'm guessing they can win 8. Bet Washington +7.5 on total wins. 
OREGON STATE
Odds to Win the Conference: +2500
What's to like about the Beavers? Everything, champ! Head coach Jonathan Smith is in his fifth year on the job, which lends stability to the program. Dual threat quarterback Chance Nolan fits very well with the run-first offense. The front seven on both sides of the ball will be very effective. I'm taking a flier that the secondary will at least look serviceable. The downside? Brutal schedule. They begin the season with Boise State. Never fun. They play USC and Utah back-to-back. They end the season with the Ducks. And yet, and yet….25/1 odds! If you've been reading my analysis of the different conferences with a careful eye, you've noticed I love odds that fall in the twenties. You don't have to lay that much down and you get to ride out a big time future for at least five weeks before it all falls apart. Give me the Beavers in 2022. Bet Oregon State to win the PAC-12 at +2500.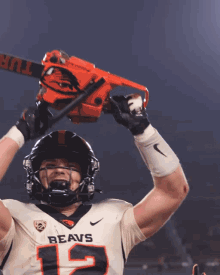 ARIZONA STATE
Odds to Win the Conference: +2800
We love those 28/1 odds. It says, hey, it probably won't happen, but you'll feeling good staring at the ticket after a week one win. Too bad the Sun Devils are a mess! I can't believe these odds aren't lower. NCAA investigation, mass exodus of the coaching staff, transfer portal disaster. Herm is barely holding onto the job here. The team is over/under six total wins for the year. Take the under. Bet Arizona State -6 total wins. 
WASHINGTON STATE
Odds to Win the Conference: +4500
This team hasn't seen anything interesting happen since Mike Leach bailed for Starkville. Cameron Ward is a good pro-style passer and the D-Line should be able to create pressure for some of these fun-and-gun QBs. It's still not enough to take 45/1 odds to win the conference. Good luck in the Alamo Bowl!
CAL
Odds to Win the Conference: +6000
I've been to a Cal game before. The stadium is walking distance from a strip of bars that sell high priced IPAs. The ritual seemed to drink as many of those as possible, walk to the stadium, and then leave by halftime. Stay at the bars. 
STANFORD 
Odds to Win the Conference: +9000
Maybe Elon Musk will try to buy Stanford and hire Donald Trump to coach the golf team. Save your money. 
COLORADO
Odds to Win the Conference: +25000
Twenty-two players transferred and head coach Karl Dorrell fired eighty percent of his assistants, which seems like something you do right before you get canned. They'll get creamed by Minnesota early in the season and give up. Hard pass. 
ARIZONA
Odds to Win the Conference: +25000
Is Arizona going to be bad? Yes. Vegas has the over/under win total at 3. I'm hoping they upset Mississippi State and inch ever so closely to 4 wins. Give me Arizona over 3 wins all day baby! Bet Arizona +3 total wins.