Jack: It's been a long 72 hours since we've seen an NFL game and we're ready for our next fix! Thursday Night Football brings us a matchup between two teams that nobody can figure out. The Steelers (1-1) handed the Bengals (0-2) their first loss in Week 1 before an anemic performance against the Pats (1-1) in Week 2. The Browns (1-1) lost to the Jets (1-1) last week in spectacular fashion. We're ready for more Amazon Prime streaming nightmares in a boring TNF game that you'll probably shut off before halftime! Good luck!
Nate: Another midweek money-making opportunity. Tonight we have college and NFL, so be sure to check "Nate's College Pick Six" on the site for thoughts on tonight's WVU/VT game. We're continuing to stay strong with the picks while everyone flounders around us. Let's get right to it.
(Odds as of 9/22 and courtesy of DraftKings)
Pittsburgh Steelers at Cleveland Browns (-4) (O/U 38)
How To Watch: 8:15 EST, Amazon Prime Video
Jack: I'm 2-0 on TNF so far this week, so stick with me for all your odds and favorites. The smart money suggests that the Steelers are a good pick here. They've overperformed during the first two games of the season. If it wasn't for a muffed punt last week, they could be 2-0. The Steelers want to control the clock and wear down the defense with the run. This helps minimize mistakes for current QB train wreck, Mitch Trubisky. Tomlin is a beast when he's an underdog and a division rival game during primetime figures to be close. You might be thinking: take the points.
Here's my problem: Myles Garrett. The Browns are expecting to have their leading pass rusher for this game and he should have a major impact on the run game. If the Steelers can't control the line of scrimmage and pound the rock, they'll have to rely on Trubisky to make some plays. Trubisky doesn't make plays.
I watched most of the Browns/Jets game last Sunday. Even though the Browns' performance was overshadowed by an epic meltdown, Jacoby Brissett looked great. I get the sense he has the locker room. He can make plays with his legs, doesn't make horrible decisions, and knows how to win.
Brissett has completed 65% of his passes for 376 yards so far this season. He's only thrown 2 TDs but have kept the interceptions down as well. Look for Brissett to have a big game and the Browns defense to control the line of scrimmage. Pick: Browns -4.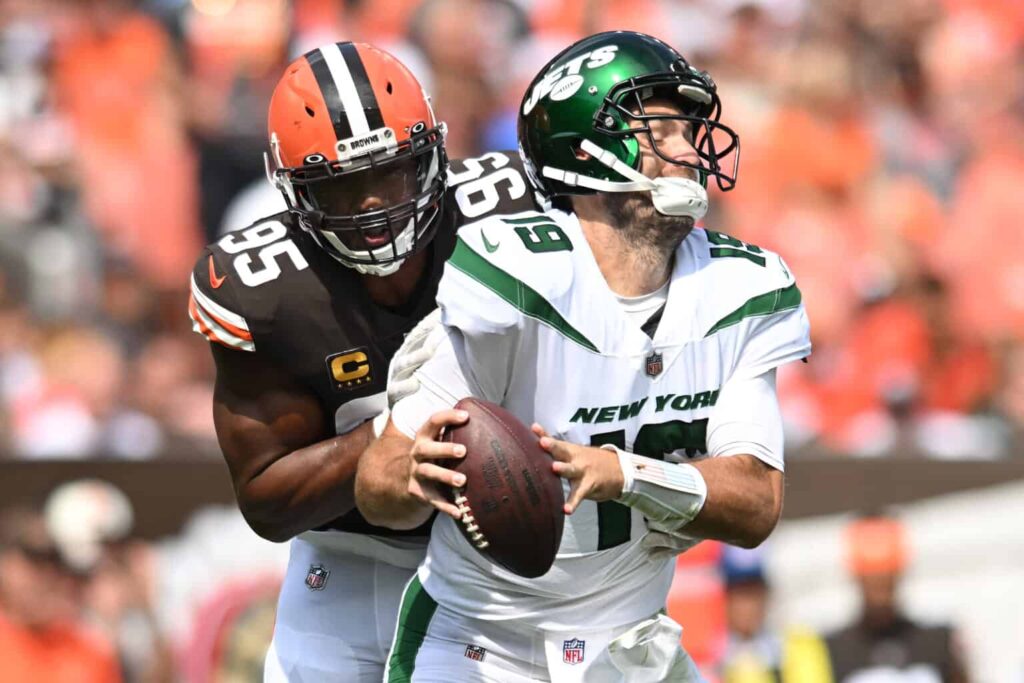 Nate: This is another Tomlin underdog spot. Yes, the Steelers did me dirty last week. I'm willing to forgive them and try again. This is a great spot for the Steelers against the Browns.
This is also Mitch Trubisky playing against Jacoby Brissett in prime time with two solid defenses on the field. The total is already low, but this could be big ugly to watch. Take the Steelers and the under in what probably shapes up to be an ugly rock fight . Pick: Steelers +4, under 38.
Really impressed with Dan Moore's performance against the Patriots. He's a lot more comfortable with his independent hand strike than he was during the preseason. Big matchup tonight against Myles Garrett. #Steelers pic.twitter.com/uz8VeZPweH

— Alex Kozora (@Alex_Kozora) September 22, 2022
John: Can the Browns look any more pathetic than they did on Sunday at home? The Browns have a great defense. So does Pittsburgh. This is an inter-divisional rivalry that somebody wins by a field goal.
Truth be told, Trubisky has looked better than we thought and the Steelers D has risen to the occasion. I like the Steelers to win outright. I'm taking the 4. Pick: Steelers +4.
Tune in to the Godzilla Wins Radio Show – Saturday at 9:00 AM!
ADVERTISEMENT
Download 
DraftKings Sports-Book APP
 now and use PROMO CODE GODZILLA when you sign up! GODZILLA gives you the best deals in America!  Must be 21 or older, Virginia only. Bonus issued as free bets. 1 early win token is issued at opt-in, money line bets only. Deposit and wagering restrictions apply. Eligibility and terms at DraftKings.com/football-terms. If you or someone you know has a gambling problem, call the Virginia Problem Gambling Helpline at 888-532-3500.