Las Vegas Aces vs. Minnesota Lynx: Expert Pick – July 9, 2023
LAS VEGAS ACES VS MINNESOTA LYNX EXPERT PICK – JULY 9, 2023 – Greetings and salutations basketball fans. Welcome back to our weekend WNBA coverage here at Godzilla Wins.
After my earlier look at the Mystics vs. Sun, one of today's late games sees the Minnesota Lynx (9-9) taking on the defending champions Las Vegas Aces (16-2).
Can the team that is tied for the second-best record in the western conference hand the league's top team its second straight loss? We'll delve into that soon enough, but first, an information rush…
Tipoff
When: Sunday, July 9, 2023 at 7:00 PM ET
Where: Target Center, Minneapolis, MN
TV: BSN and Fox Networks
All odds courtesy of DraftKings as of July 9, 2023.

Las Vegas Aces vs Minnesota Lynx – Season Trends
The Las Vegas Aces have been the hottest team in the league all season. They posted wins in the first seven games and have several MVP contenders in their ranks.
Defending Champs Have It Working at Both Ends of The Floor
And after a 94-77 setback against the Connecticut Sun on June 8, the Aces reeled off nine straight wins. But the Dallas Wings ended the Aces' impressive winning streak, defeating Las Vegas by an 80-78 margin on Friday night:
There isn't much not to like about the Aces at either end of the floor. Here is a look at what they are doing from an offensive perspective.
92.6 points per game (1st)
21.9 assists (2nd)
114.9 points per 100 possessions (1st)
49.8 percent shooting (1st)
37.7 percent 3-point shooting (2nd)
Additionally, their Point Differential currently stands at a league-best of +14.1. And the narrative is just as good when looking at the Aces' defensive metrics:
Scoring defense: 78.4 PPG (2nd)
Defensive Rating: 97.3 points per 100 possessions (2nd)
Opponent Shooting: 41.8 percent (2nd)
Opponent 3-point shooting: 33 percent (5th)
Steals: 7.7 (3rd)
Minnesota on a Streak, but not Invincible
Although Minnesota is a .500 ball club, they have been HOT as of late, posting wins in each of their last five outings. This includes a 75-64 win over the Phoenix Mercury. Napheesa Collier paced the Lynx with 12 points, 12 boards, and five dimes. All were team-highs.
Meanwhile, the Lynx do not match up very well on either end of the court.
Scoring: 79.9 PPG (8th)
Rating: 101.4 points per 100 possessions (7th)
Shooting: 41.2 percent (11th)
3-point shooting: 30.9 percent (11th)
Opponent Shooting: 44 percent (8th)
Opponent 3-point shooting: 35.7 percent (9th)
Based on the numbers, it is conceivable that the Aces could win this one in a convincing fashion.

The Picks
Yesterday, I correctly picked that the Seattle Storm would cover the spread against the New York Liberty. And once again, I am going with the underdog to cover. Here's why.
The Spread
The Las Vegas Aces come into this matchup as 14-point favorites. Full disclosure, I am NOT a fan of a double-digit point spread. I have a 2-2 mark when picking games with larger spreads. But the numbers don't lie:
Las Vegas is 2-5 ATS in its last seven road contests.
The Aces are 3-9 ATS in their last 12 games following an SU loss.
Minnesota is a perfect 4-0 ATS in its last four games following an ATS victory.
The Lynx are 8-2 ATS in their last 10 games when playing one day of rest.
In their last seven games against teams with a winning record, the Lynx are 5-2 ATS.
Minnesota are 27-11 ATS in their last 38 games against western conference opponents.
Prediction: Minnesota Lynx (+14)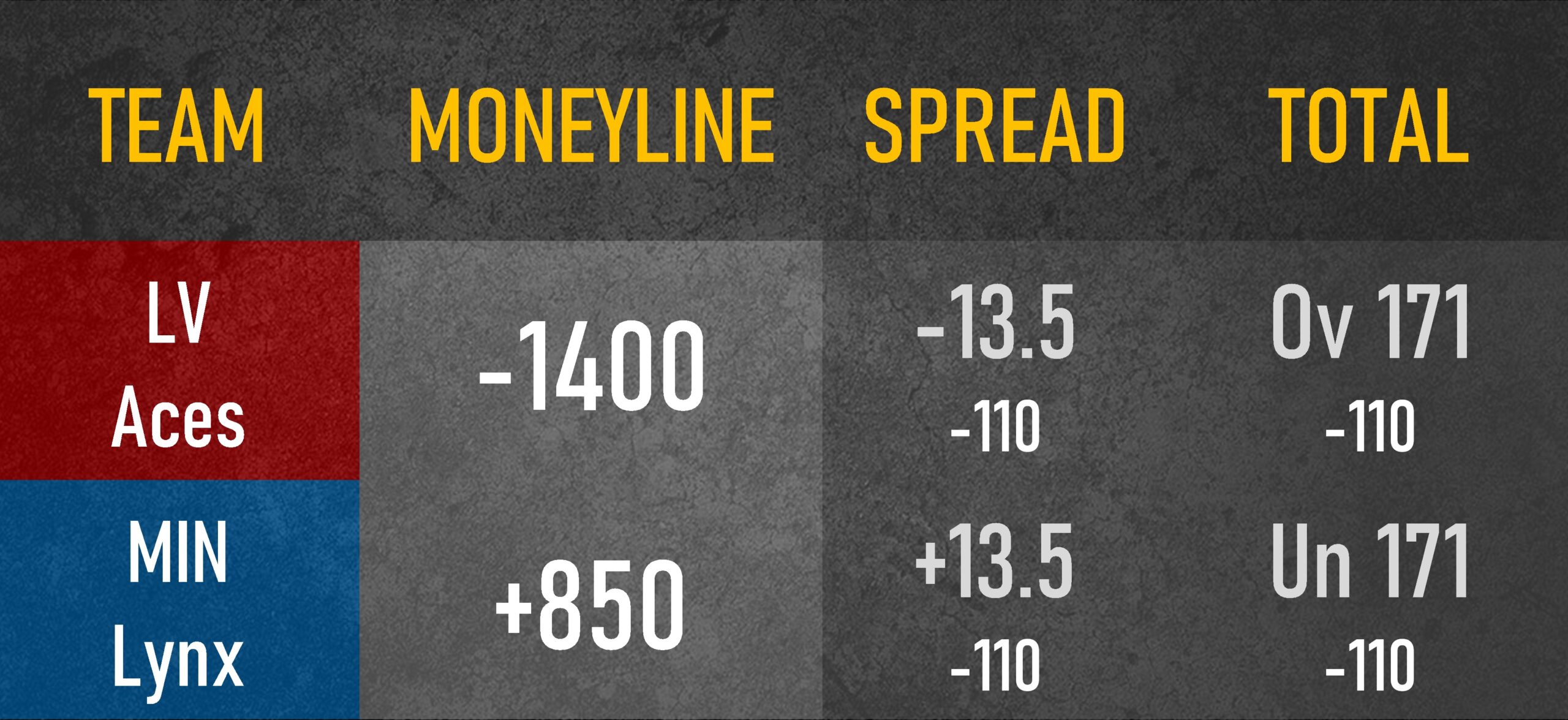 Table provided by editorial staff.
Over/Under
As shown above, the projected over/under total for this contest is 171. Here are some trends that suggest why going with the OVER may be the smart play.
The OVER total has it in 10 of the last 13 road games for Las Vegas.
The OVER has a 3-0-2 record the last five times these teams have clashed in Minnesota.
In Minnesota's last five games, the OVER has cashed in four times (4-1).
The OVER is 9-4 for Minnesota in the last 13 contests they have played on one day of rest.
In Minnesota's last 30 games against western conference opponents, the OVER total has prevailed 19 times (19-9-2).
Prediction: OVER 171 points
Player Prop Bet
My key player to watch in this contest is Las Vegas Aces forward A'ja Wilson. She currently has -115 odds of scoring more than 19.5 points and -115 odds of scoring less than 19.5 points.
Here's a breakdown of her selected prices for this game.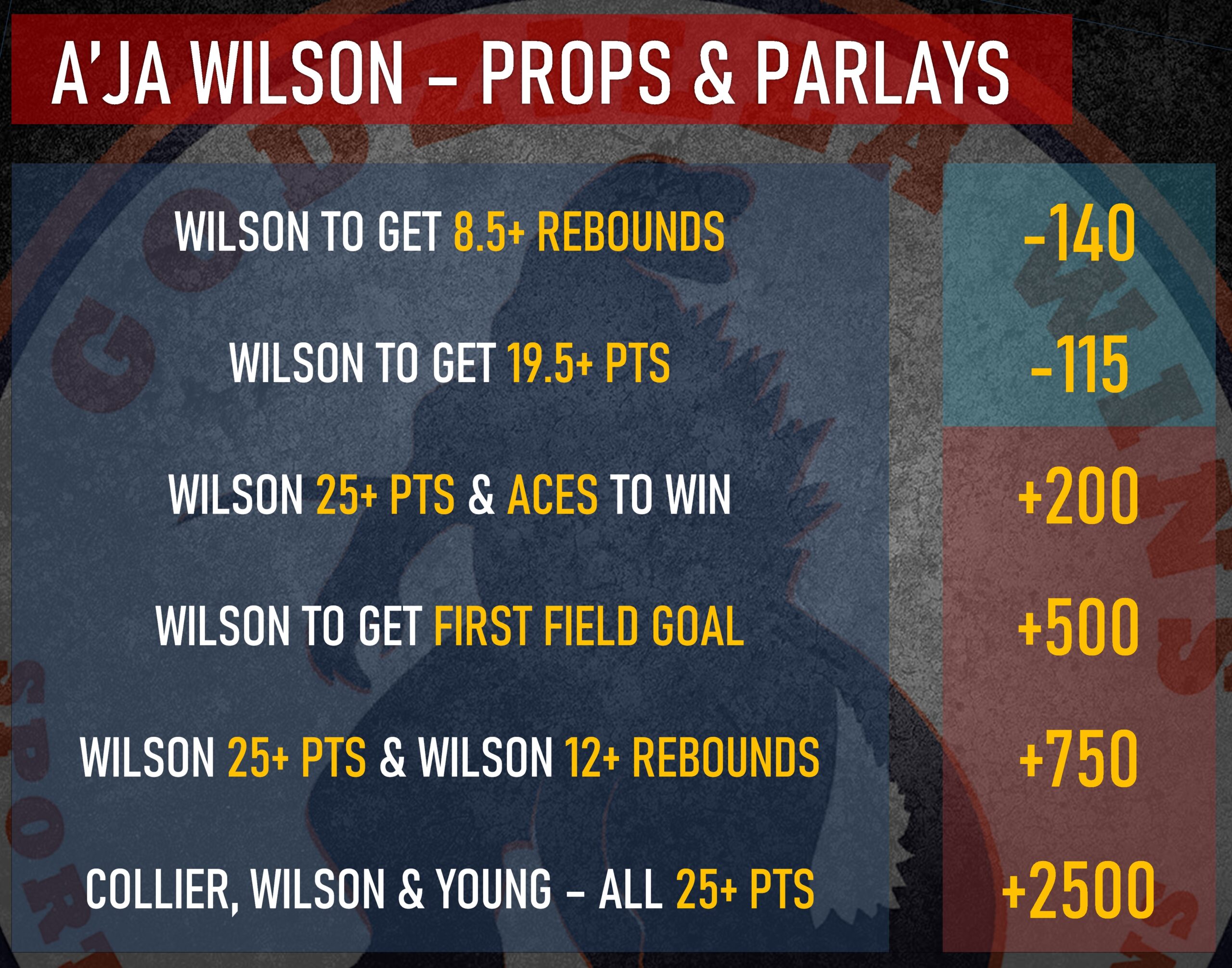 Wilson is currently averaging 19.7 points per contest. This is the third-highest scoring average of her WNBA career.
And since she has posted 20-plus points in five of her past seven outings, I am going with the OVER here.
Prediction: A'ja Wilson OVER 19.5 points
James's Picks
Minnesota Lynx (+14)
OVER 171 points
A'ja Wilson OVER 19.5 points