WNBA MVP Futures: Best Odds and Picks – July 2023
WNBA MVP FUTURES BEST ODDS AND PICKS – JULY 2023 – The WNBA season has reached the halfway mark, which makes for a good time for us to discuss the frontrunners in the league's MVP race.
Our previous article about MVP contenders included Elena Delle Donne, A'ja Wilson, and Breanna Stewart. Is this trio of players still on track to take home the league MVP award? Or have the odds changed drastically?
To answer that question… not really. Two names from June do not budge, but we start off with a newcomer to the mix.
WNBA MVP Futures – July 2023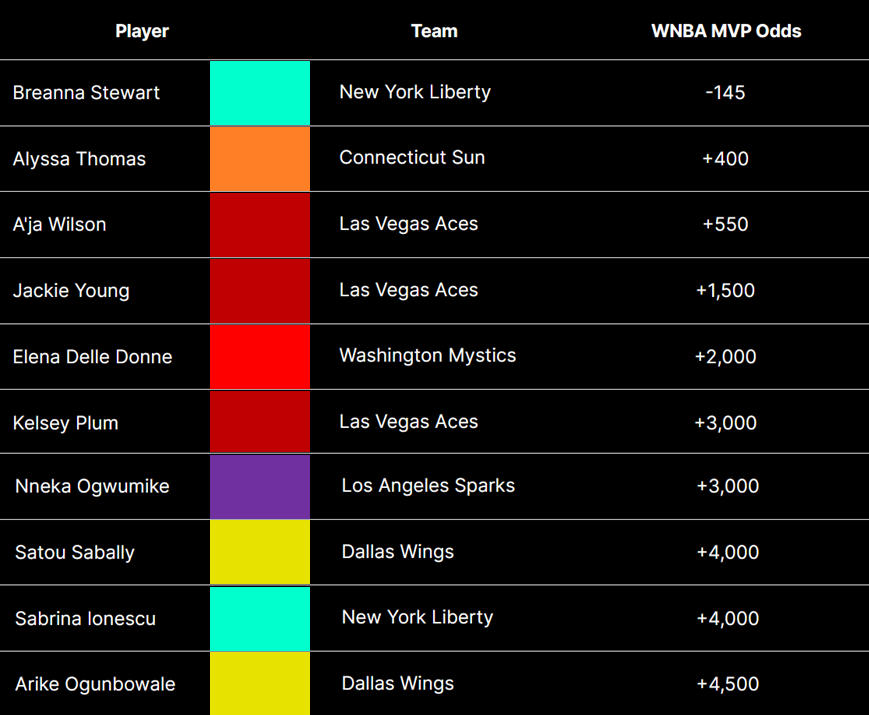 Odds table provided by editorial staff.
Alyssa Thomas
Although we do not hear too much about Thomas, she is quietly putting together another solid season for the Connecticut Sun (13-5) who are tied for the best record in the eastern conference.
In the team's recent 97-73 win against the Seattle Storm on Thursday night, she finished with a stat line of 16 points (on 7-for-11 shooting) to go along with five rebounds, seven assists, one block, and three steals in just 23 minutes of action.
One of her noteworthy performances took place in a losing effort against the Atlanta Dream:
She scored 23 points, six rebounds, seven assists, and three steals.
Thomas was also named the Eastern Conference Player of the Month in June. During that stretch, her per-contest averages were:
14.6 points
9.5 rebounds
9.3 assists
2.4 steals
She tallied three triple-doubles, giving her five for her career. She is now the league's all-time regular-season leader in this category.
The veteran forward has had six outings in which she has had 15 points, five assists, and five rebounds. Additionally, Thomas had nine games where she registered three steals.
On the season, Thomas is averaging 14.5 points per contest, which is the third-highest average on the Sun's roster. She is also posting career-highs in rebounds (9.8), assists (8.1), and steals (2.2).
While Thomas has been flying under the radar thus far, that will not be the case if she can maintain her level of play down the stretch.

A'ja Wilson
Staying put from last month, Wilson continues to hold down our personal No. 2 spot in the MVP race, despite currently commanding longer odds than Thomas.
On the season, Wilson is averaging 19.8 points per contest, which marks the fourth time in her six-year career she is scoring at least 18 points per outing. Wilson is also averaging career-highs in rebounds (9.5), blocks (2.1), and shooting efficiency (52 percent).
One of Wilson's marquee outings occurred on June 24. In that contest, she tallied a double-double that included 28 points, 10 rebounds, three assists, and two blocks:
Thanks to Wilson's 28-point production, along with a balanced attack that saw all five starters score in double figures, the Las Vegas Aces went on to win the game 101-88.
And while the Aces were handed their second loss on the season at the hands of the Dallas Wings on Friday night, I expect Wilson to remain a constant in the conversation for the MVP award.

Breanna Stewart
For the second straight month, the former MVP – Breanna Stewart – still has the best MVP odds. After spending the first six seasons of her career with the Seattle Storm, Stewart opted to join the New York Liberty during the offseason.
But despite joining a new team, her production has not been affected. In fact, she is averaging career-highs in several key metrics:
23.3 points
9.9 rebounds
1.7 steals
Stewart leads the Liberty in all three categories, while the latter represents a joint career-high.
One of Stewart's best outings took place against the Phoenix Mercury on Wednesday night. In that game, she finished with a jaw-dropping 43 points to go along with 12 boards, six assists, and two steals.
Despite losing a 20-point lead, Stewart and the Liberty escaped with a 99-95 win:
This 43-point outburst could not have come at a better time for Stewart, as he had been held to 20 points or less in five of her previous eight games.
The Liberty are tied for the second-best record in the WNBA and the addition of Stewart has contributed to the team's early success. Barring some kind of unforeseen drop-off, Stewart should remain a heavy favorite in this category.