Atlanta Dream vs Chicago Sky: Expert Pick – July 9, 2023
ATLANTA DREAM VS CHICAGO SKY EXPERT PICK – JULY 9, 2023 – Happy Sunday basketball fans. Welcome back to our weekend WNBA coverage here at Godzilla Wins.
After my earlier game previews (Mystics vs. Sun and Aces vs. Lynx) the last game on today's schedule features the Atlanta Dream (9-8) taking on my beloved Chicago Sky (8-10) in a battle between two teams that are in the lower half of the eastern conference bracket.
Here is a look at which team has the edge going into this matchup and why.
Tipoff
When: Sunday, July 9, 2023 at 8:00 PM ET
Where: Wintrust Arena, Chicago, IL
TV: MARQ and BSSE
All odds shown are courtesy of DraftKings as of July 9, 2023

Atlanta Dream vs Chicago Sky – Season Trends
These two teams are polar opposites of each other in terms of offense and defensive metrics. However, the Dream are trending in the right direction as of late.
Atlanta Dream are in The Gray of Health
The Atlanta Dream won just five times across their first 13 games. Not exactly anything for the fanbase to be excited about, right? Flash forward to the present moment, and Atlanta go into this clash after posting wins in each of their previous four contests.
This includes an 82-68 win over the Sky on Friday night:
Impressively, Allisha Gray led all scorers with 21 points to go along with five boards, three dimes, and three steals. And although Atlanta got off to a rough start, do not let that fool you. This team is ranked third in scoring (86.6 PPG) and has the sixth-best offense in the WNBA.
Yet, it's at the other end of the floor where the narrative becomes a bit problematic, as the Dream are ranked last in scoring defense (allowing 87.6 PPG). They also have the eighth-best defensive rating in the association (104.7 points per 100 possessions).
Chicago Sky Stock Rising of Late Despite Scoring Struggles
Just like Atlanta, Chicago got off to a slow start as well, winning only five of its first 14 games. That is the bad news. The good news is they have won three of their last four contests. Chicago had its three-game winning streak snapped by the team they will be facing for the second time in as many games.
The game was close heading into the final frame, but the Dream outscored the Sky by a 23-10 margin. In that game-changing fourth quarter, Chicago shot a woeful 2-for-13 from the floor while committing three turnovers. Not a recipe for success by any means.
Kahleah Copper led Chicago with 16 points, six rebounds, and three assists. Marina Mabrey contributed 14 points, four rebounds and three assists in a losing effort. Chicago is also ranked near the bottom of the league in both scoring (11th) and efficiency (10th). But unlike their counterpart, the Sky gets after it on defense.
They have the fifth-best scoring defense (allowing 81.3 PPG) and they have the six-best defensive rating – allowing 102.9 points per 100 possessions.It should also be noted that Chicago is limiting the opposition to 32.2 percent shooting from beyond the arc – the third-lowest percentage in the league.

The Picks
Chicago is a 1.5-point favorite in this matchup. But here is why I expect the Dream to cover.
The Spread
These two teams have played each other twice, with Atlanta winning both times and covering the respective spread in both games.
Atlanta is 5-1 ATS in their last six contests following an ATS win.
The Dream are impressive 6-2 ATS in their last eight road games.
In their last seven encounters against eastern conference teams, the Dream are 5-2 ATS.
Atlanta is 5-1 ATS in the six games it has played on the road against Chicago.
Chicago is just 1-4-2 ATS in its last seven games against eastern conference opponents.
Prediction: Atlanta Dream (+1.5)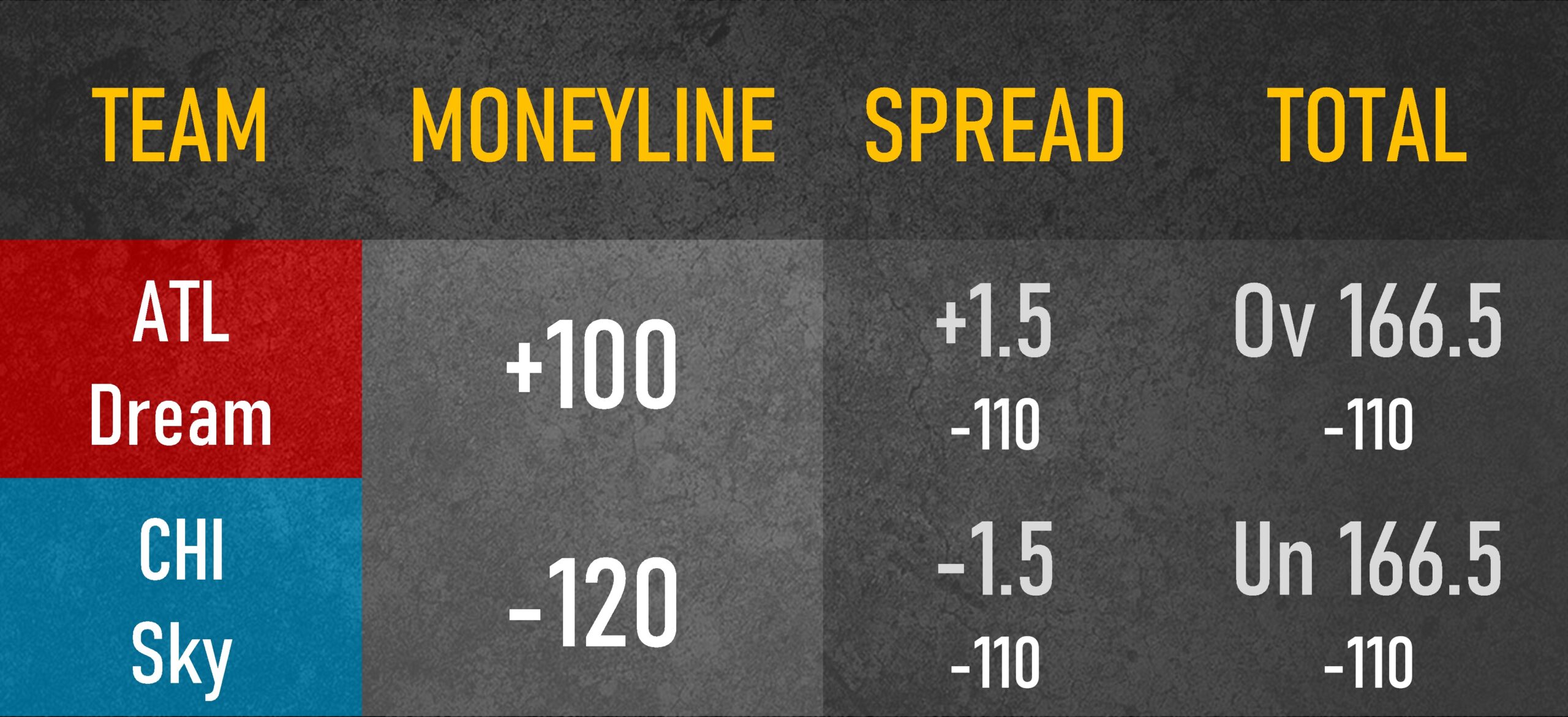 Over/Under
The projected over/under total is 169.5. The two teams are on a combined 164.7 points per game average, and in their last five head-to-head meetings, the teams have combined for a scoring average of 161.4 points per contest.
But here are a few trends that suggest why the OVER could be the wise play:
The OVER has hit in each of Atlanta's last five games that were played on a Sunday.
The OVER has prevailed five times in the Dream's last six games overall and in their last six games against eastern conference opponents.
In Atlanta's last nine games following an ATS win, the OVER total has cashed in seven times.
On the flip side of the equation, the OVER has hit in each of the last five games Chicago has played on one day of rest.
The OVER is 5-1 for Chicago in its last six games that were played on a Sunday.
The OVER has hit eight times for the Sky in their last 11 games against teams with a winning record. The Dream are 9-8 on the season.
In Chicago's last seven games against eastern conference opponents, The OVER has it for Chicago in five of those games.
Prediction: OVER 169.5 points
Player Prop Bet
My key player to watch in this contest is Atlanta Dream guard Allisha Gray. She currently has -115 odds to score more than and less than 18.5 points.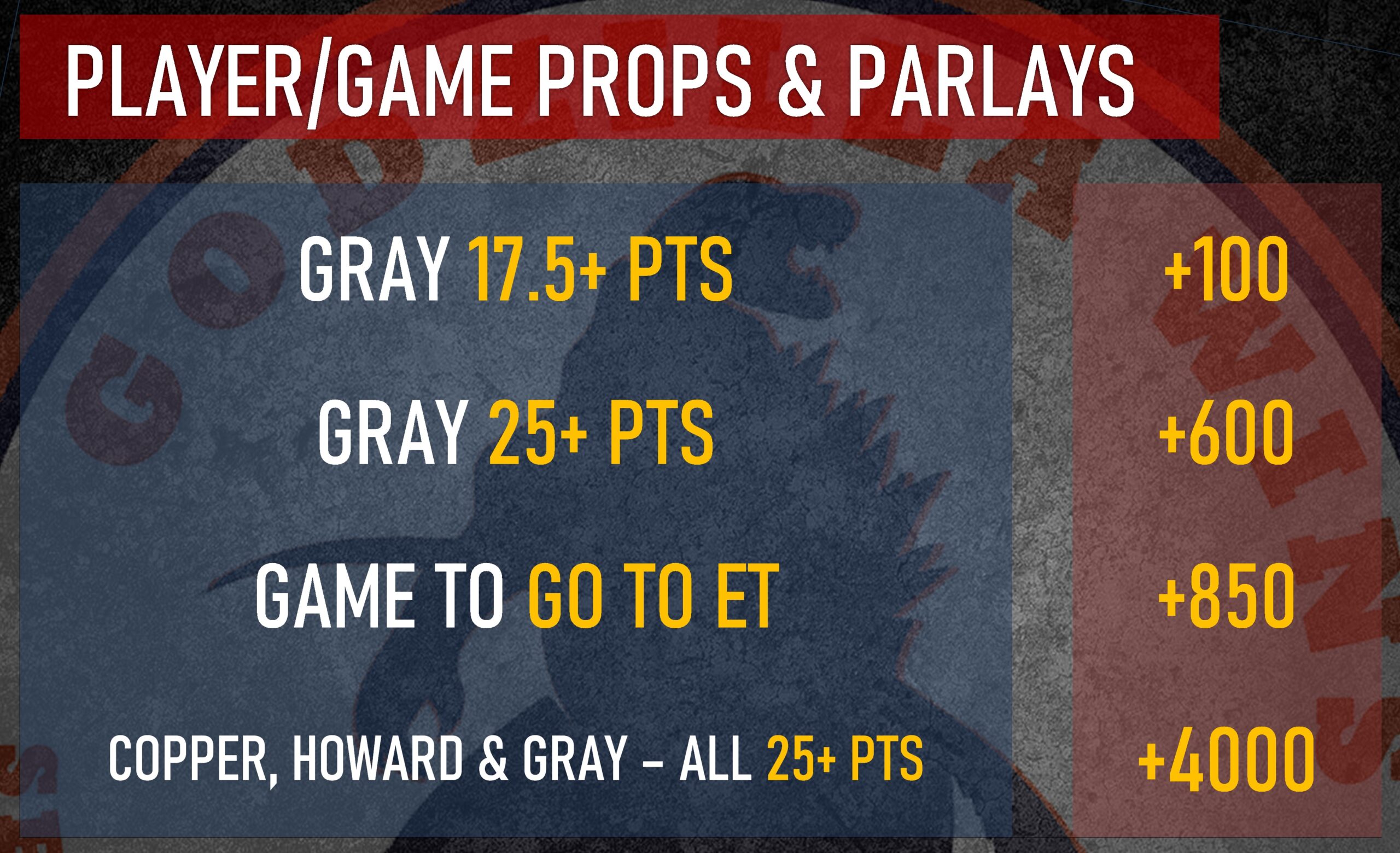 In her first year with the Dream, Gray is averaging 18.5 points, 5.0 rebounds, and 3.1 assists per contest. The points and assists are both career highs.
Furthermore, Gray has scored 17+ points in five of her last six outings. With that in mind, I am going with the OVER here.
Prediction: Allisha Gray OVER 18.5 points
James's Picks
Atlanta Dream (+1.5)
OVER 169.5 points
Allisha Gray OVER 18.5 points