Seattle Storm vs. New York Liberty: Expert Pick – July 8, 2023
SEATTLE STORM VS. NEW YORK LIBERTY EXPERT PICK – JULY 8, 2023 – Greetings basketball fans. Welcome back to our weekend WNBA coverage here at Godzilla. Unfortunately, there is only one game on the slate for Saturday. That contest features the Seattle Storm (4-13) taking on the New York Liberty (12-4).
Can the team with the second-worst record in the western conference stand toe-to-toe with the team that is tied for the best record in the eastern conference? Read on to see which team has the edge going into this matchup.
Tipoff
When: Saturday, July 8, 2023 at 2:00 PM ET
Where: Barclays Center, Brooklyn, NY
TV: ESPN
All odds shown are courtesy of DraftKings as of July 8, 2023

Seattle Storm vs. New York Liberty – Season Trends
What we have here is a classic case of two teams going in opposite directions. And as you have probably guessed from their win-loss total, the Storm come into this matchup looking like a hot mess on multiple fronts.
Seattle suffering up front
After notching a 97-74 victory against the Phoenix Mercury back on June 24, they have dropped each of their last four contests. This includes a pair of back-to-back losses to the New York Liberty (81-66) and the Connecticut Sun (93-73) on Thursday night.
Jewell Loyd – the WNBA's leading scorer – put up a team-high 22 points on 6-for-13 shooting. Kia Nurse tallied 11 points and four assists. But they were the only Seattle players that reached double figures.
Given Seattle's struggles this season, it would be reasonable to say this squad does not make the grade at either end of the court. The Storm are ranked ninth in scoring (79.0 PPG) and dead last in offensive efficiency. Furthermore, Seattle shoots 39.6 percent from the field. This is the lowest field-goal percentage in the association.
Defensive woes also hurting Seattle
Seattle is ranked 10th in both scoring defense (allowing 86.4 PPG) and defensive rating (107.0 points per 100 possessions). To hammer the point home even further, opponents are shooting 47.1 percent against Seattle – which as you probably guessed – is the worst mark in the WNBA.
Nothing short of divine intervention can help this team come out on top here. We're talking 'Miracle on Ice' territory.
Meanwhile, the Liberty are probably the last team Seattle wants to see right now. New York has won four of its past five contests. This includes an 81-66 win over Seattle on July 2 and a 99-95 win over the Phoenix Mercury on Wednesday night.
New York sharpening their knives
To nobody's surprise, Wednesday saw Breanna Stewart lead the way with 43 points (her second 40-point game of the season) to go along with 12 rebounds, six assists, and two blocks.
That excellent showing contributed to New York's currently second-best scoring average (87.8 PPG). On a similar strand, their 109.2 points per 100 possessions is the second-highest offensive rating in the league.
New York is also knocking down 46 percent of its overall shot attempts (second only to the Las Vegas Aces) and this team is shooting 38.1 percent from the land of 3. And New York's defense is solid as well, as they have the fourth-best scoring defense and defensive rating.
Could Seattle go downtown?
Everything points to a landslide for the Liberty. However, New York is ranked near the bottom of the league in opponent 3-point shooting percentage, as its opponents are shooting 36.6 percent.
Curiously, Seattle is ranked third in the league in this area, as it converts 36.5 percent of its attempts from long range. It looks like they're getting schooled anyway, so it's something for Seattle to consider.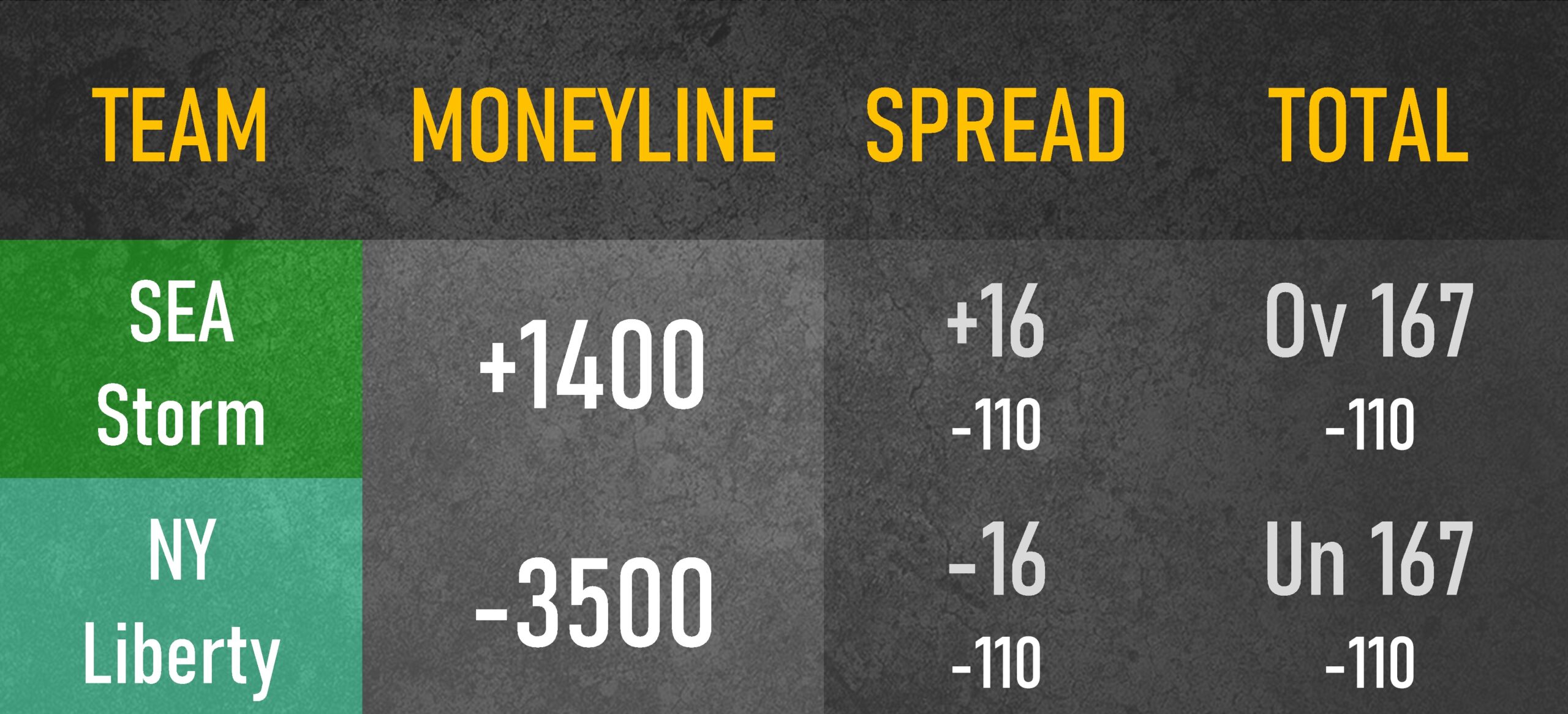 Table provided by editorial staff.
The Picks
That is one of several reasons I'm going with Seattle to cover the spread, despite their 15-point losing margin in the last head-to-head.
The Spread
There are also several other reasons to expect a more 'gracious' defeat for Seattle:
      New York is just 2-4 ATS in their last six home games.
      The Storm hold a 3-1-1 ATS in their last five games that were played on a Saturday.
      Seattle has won eight of its last 12 games against the spread when they play New York.
      In their last seven games on the road against New York, Seattle is an impressive 6-1 ATS.
Prediction (+15)
Over/Under
The projected over/under total is 167. Although the under total has hit in three of the past five encounters between these ball clubs, here are a few trends that suggest why the OVER may be the better option.
      The OVER total has prevailed five times in New York's last six contests.
      In New York's last six games at home, the OVER has cashed in four times.
      In four of New York's last six games against Seattle at home, the OVER has hit four times.
      The OVER is 13-6 for the Storm in their last 19 road games.
      In New York's last seven games against Western Conference teams, the OVER total has prevailed five times (5-2).
Prediction: OVER 167 points
Player Prop Bet
There was no player prop bet information available at the time of this writing. However, my key player to watch in this contest is Breanna Stewart.
If her projected scoring total is 24 points or less, go with the OVER. Sure, she has only topped 20 or more points in three of her last eight outings, but the Storm are crud in defense.

James's Picks
Seattle Storm (+16)
OVER 167 points
PPB: Breanna Stewart OVER 24 points