New York Liberty vs. Seattle Storm: Expert Pick – July 2, 2023
NEW YORK LIBERTY VS SEATTLE STORM EXPERT PICK – JULY 2, 2023 — Greetings basketball fans. Welcome back to our weekend WNBA coverage here at Godzilla Wins.
After my earlier look at the Sky vs. Fever, today's other late game sees the New York Liberty (10-4) taking on the Seattle Storm (4-11).
Does the team with the second-worst record in the western conference stand a chance against the team with the second-best record in the eastern conference?
Here is a look at which team has the edge going into this matchup.
New York Liberty vs. Seattle Storm – Key info
When: Sunday, July 2, 2023 at 6:00 PM ET
Where: Climate Pledge Arena, Seattle, WA
TV: CBS Sports Network, FOX13+, Prime Video, and YES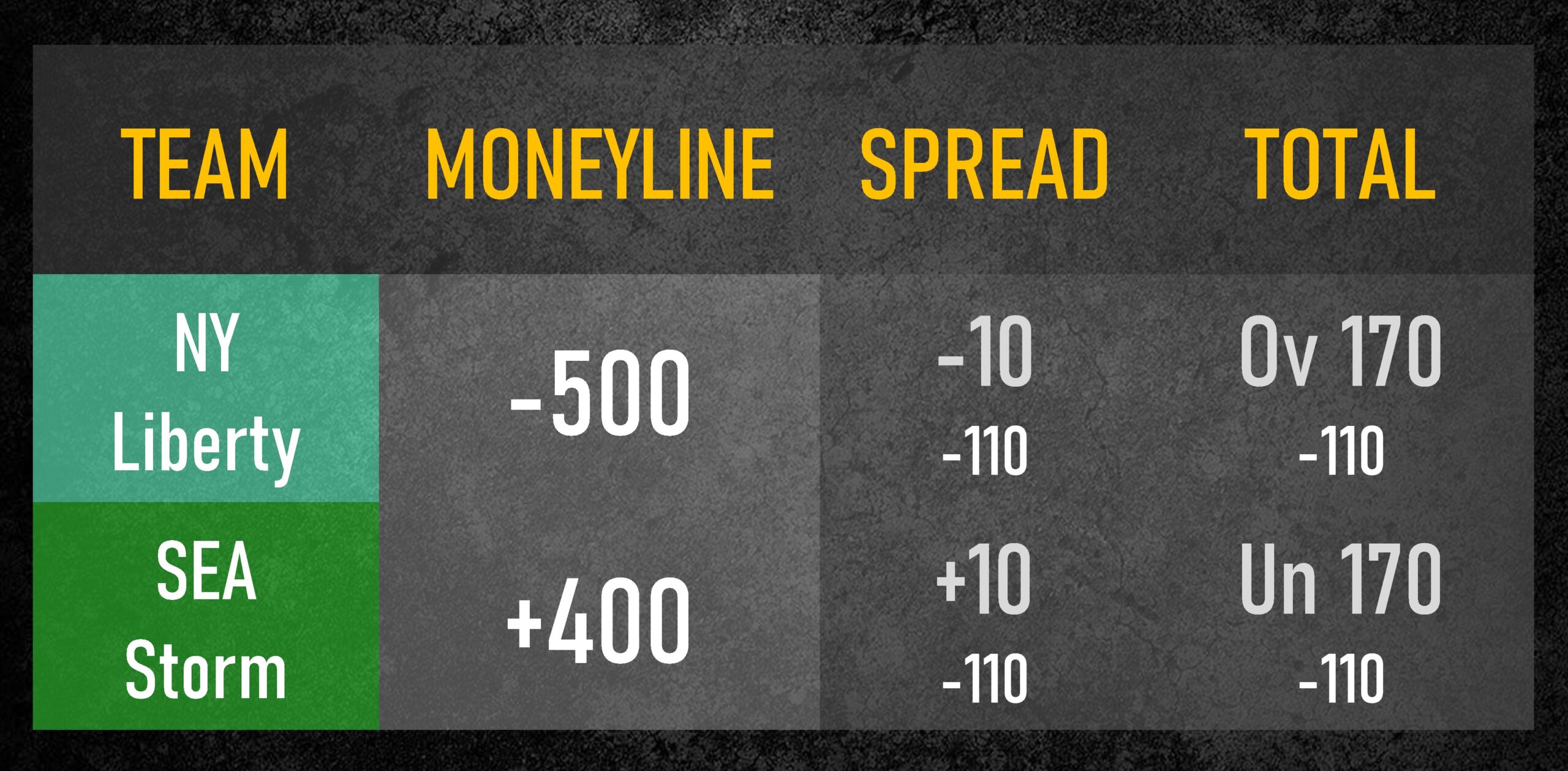 Odds courtesy of DraftKings as of July 2, 2023. Table provided by editorial staff.
Season Trends
The New York Liberty are playing some good basketball this season. They posted five wins across their first seven games. And they have duplicated that 5-2 record over the course of their most recent seven-game stretch as well. They have produced a pair of four-game winning streaks this season, and have yet to lose consecutive games.
In their most recent outing, the Liberty were defeated 98-81 on Friday. Breanna Stewart led the team's scoring attack with 16 points on 6-for-15 shooting from the floor. She also tallied five rebounds and three assists in a losing effort. If scoring is your thing, New York is a team that can hold its own against the best of them in this area. New York is ranked second in both scoring offense and offensive efficiency. Although they do not play as well from a defensive standpoint, the Liberty are ranked sixth, and fifth, respectively in scoring defense and defensive rating.
Storm struggles set to continue
Meanwhile, there isn't much to be overly excited about the Seattle Storm this season. They started off the season with four straight losses, before finally collecting their first win. Unfortunately, it appears that the win was an aberration rather than a sign of things to come, as the Storm have dropped four of their previous five contests. This includes a 99-97 OT loss to the Minnesota Lynx on Thursday night. Jewell Loyd led Seattle with a career-best 41 points along with nine rebounds and two assists.
Seattle is ranked seventh and ninth in scoring and offensive efficiency. The narrative gets a bit more grim at the other end of the floor. The Storm have the second-worst scoring defense in the association (86.3 PPG) and the eight-best defense rating, giving up 106.8 points per possession.

The Picks
Now that we have brought you up to speed on the season recap, it's time to get into the betting trends for this contest.
The Spread
The New York Liberty come into this game as a nine-point favorite. If you have followed any of my work on the site, you already know that I am not a fan of the huge spreads. Because of this fact, here is a look at some of the reasons why I am going with the Storm to cover the spread.
New York is 5-11 ATS in their last 16 games that were played on a Sunday.
The Liberty are 0-4 ATS in the last four games they played on two days of rest.
New York is just 3-8 ATS in its last 11 contests.
Seattle is 7-1 in its last eight instances in which they played on two days of rest.
The Storm are 7-3 ATS in the last 10 games they have faced teams in the eastern conference.
Prediction: Seattle Storm (+9)
Over/Under
The projected over/under total is 167.5. Let's look at why going with the OVER could be the best option.
The OVER has prevailed in each of the Liberty's last four games overall, and in each of their last four road games as well.
In New York's last six Sunday games, the OVER cashed in five times (5-1).
The OVER has hit for New York four times in the team's last five games against western conference opponents.
The OVER is a perfect 4-0 for Seattle the last four times they faced an opponent with a winning record. New York is 10-4 on the season.
In Seattle's last 10 games following an ATS loss, the OVER has cashed in nine of those games (9-1).
The OVER total has a 12-4 mark for Seattle in the last 16 times in which the team was coming off an ATS loss.
Lastly, the OVER is also 12-4 for Seattle in its last 16 games overall.
Prediction: OVER 167.5 points

Player Prop Bet
My player to watch in this contest is Seattle Storm guard Jewell Loyd. She currently has -105 odds to score more than 25.5 points and -125 odds of scoring less than 25.5 points.
In her ninth season with the Storm, Loyd is averaging career-highs in points (25.7), rebounds (4.8), and three-point shooting percentage as well (39.2).
Loyd has also eclipsed her projected scoring total in four of her last six outings. This includes that 41-point outing against the Minnesota Lynx on Thursday night.
Prediction: Jewell Loyd OVER 25.5 points
James's Predictions
Seattle Storm (+9)
OVER 167.5 points
PPB: Jewell Loyd OVER 25.5 points