Toby's Prayers are Answered as He Finally Wins a Bet
Needed that one. Garth Brooks once famously thanked God for unanswered prayers.
Not Toby – I desperately needed a week where, I don't know, I had more games right than wrong? That's a very low bar, but we  aren't asking for much over here. I just want to look like, I don't know, like I'm familiar with the NFL.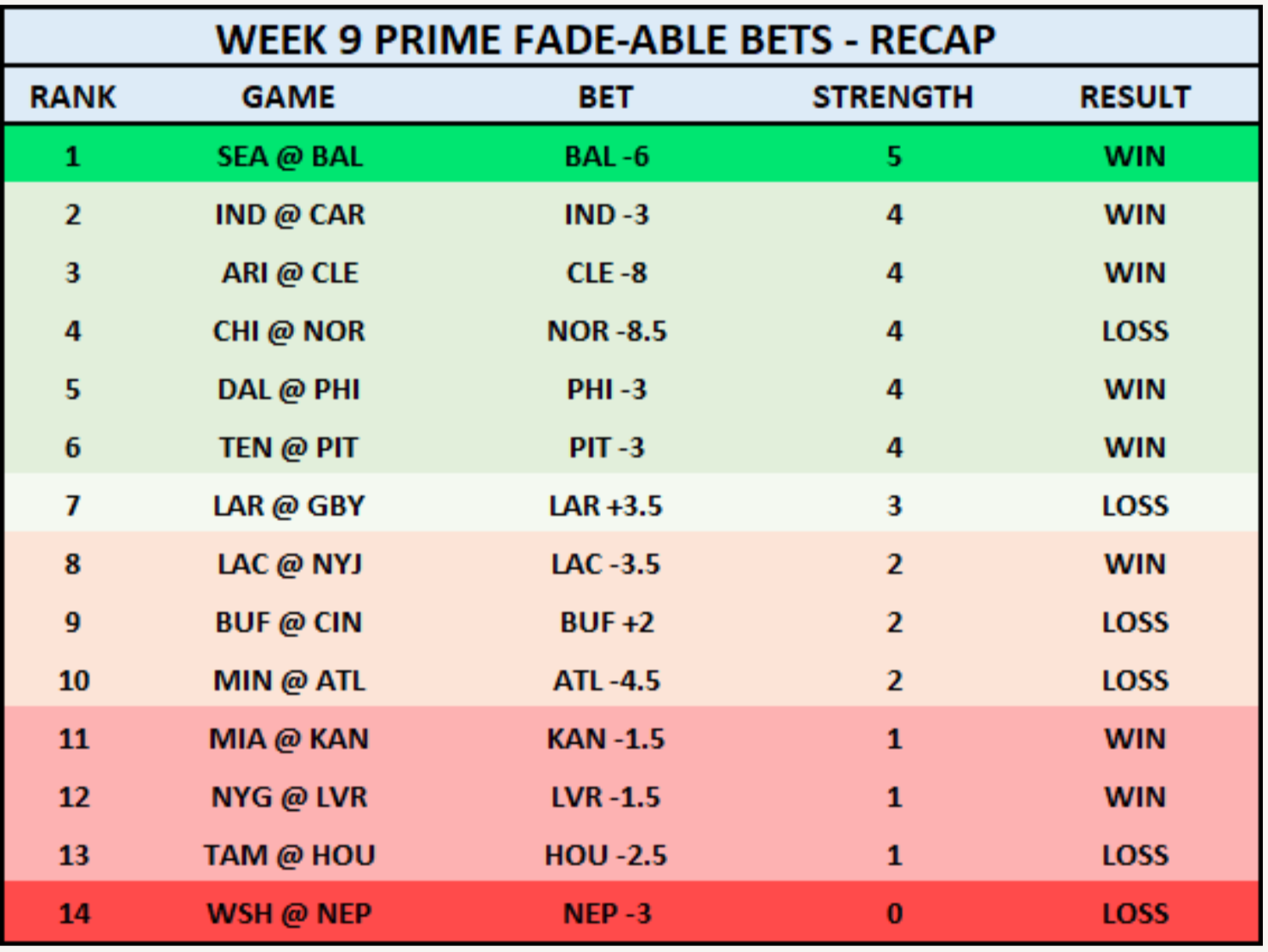 Week 9 All Games: 8-6
All Games Season Total: 65-70
---
Week 9 "Green" Games: 5-1
Green Games Season Total: 27-33
Started off well with the Steelers squeaking out a victory on Thursday and carried enough of that through the weekend to finish with a positive week.
However the top picks going 5-1 was really what I needed, and if that Saints kicker just hit the dumb field goal and held on for a 10-point victory, I would have hit my 6-team parlay and immediately boosted my betting account after the last few weeks cleaned it out. Curses, kicker! Houston choosing to take a knee rather than kick a meaningless XP to cover their 2.5 point spread also cost a lot of people. Kickers were taking it into their own hands this week.
Running through Last Week's Games
Titans @ Steelers
I'm quite content to consider this one a lucky guess, as this game was basically a toss-up and you can argue quite easily that the Titans outplayed the Steelers.
The Titans with Will Levis are a much different offense, while the Steelers continue to play 1995-style offense and live to convert 3rd and 4s. This team is infuriating.

Seahawks @ Ravens
Baltimore took over my number one spot in last week's power rankings, and this was probably the last week where you could get them on a clearly bad line. Ravens -6 was my only 5-star pick last week and this one was never in doubt.
Colts @ Panthers
A bet on the Colts being ok and the Panthers being bad. I like making bets on ok teams to beat terrible teams, and you should too.
Cardinals @ Browns
I wrote my preview last week when the line was Browns -8, and then by kickoff it had gotten up to something like 12 or 13.
Wouldn't have mattered, as I would have liked the Browns to cover a 20 point spread against Clayton Tune.
Bears @ Saints
Infuriating miss by the Saints kicker but if you wanted to argue that it would have been a lucky win, I wouldn't say you're wrong.
The Bears played better than an 8.5 point spread would suggest and were truly the right play for this game.
Cowboys @ Eagles
This one was basically the same thing as the Titans/Steelers game, a coin-flip that ended up going my way.
Note that the Cowboys did play well against a good team, which is something that they are often criticized for not doing and they certainly didn't help their case by getting stomped by the Niners.
Rams @ Packers
Alright, well – for the Cardinals/Browns game, all reports indicated Clayton Tune would start and I tookj them to heart. For this one, I had assumed Stafford would be ok all the way up until the actual game started.
Not only did he not, but the Rams just signed….Carson Wentz?!?! Would I have still taken the Rams if I had been planning on seeing Rypien? Yeah, I think so. But man, he played so poorly that he has made Carson Wentz a thing again.
Chargers @ Jets
Nothing to say about this one, I had it as an upset alert but still went with the Chargers. The Jets remain bafflingly committed to Zach Wilson.  
Bills @ Bengals
The Bengals continue to own the Bills, and I think it's safe to say that they are all the way back.
Vikings @ Falcons
This one surprised me quite a bit, especially after the Falcons started off with a bunch of turnovers defensively. Jaren Hall (!) was dicing them up before getting hurt, and then Josh Dobbs came in after being on the roster for like 6 minutes and took the Vikings to the win.

Arthur Smith becomes more insufferable every single week. The Falcons drafted a running back 7th overall for a running game specialist coach who refuses to use him and who will probably be fired after the season. This guy couldn't run a FedEx store.
Dolphins @ Chiefs
This one didn't go the way I predicted – I had a shootout while the actual game had the Chiefs racing out to a big early lead and then hanging on for dear life. Wins a win, I guess. 
Giants @ Raiders
This was a bet against Daniel Jones, without having to worry about Josh McDaniels screwing it up. And then it turned into a bet against Tommy DeVito! Lucky me.
Daniel Jones' injury means we're getting the Tommy DeVito or Matt Barkley Giants heading into Dallas to face a team that destroyed them at home, at full-strength. Let's see what Coach of the Year comes up with for this one. Probably going to scream his head off at a punter or something. He shouldn't, because he's really going to need that punter. 
Bucs @ Texans
Ok, first thing, CJ Stroud is the truth and it sure looks like the Panthers owner will regret overruling Frank Reich for a long time on that one. He will rue the day he took Bryce Young. Man, that day is gonna be rued so hard.
Second thing – come on Texans, just let your running back kick the XP so we can cover the spread. He already made a field goal! He can do it!
(I get why they didn't attempt it and I probably would have done the same thing) 
Redskins @ Patriots
My numbers had the Patriots covering this one but my head didn't believe the numbers at all and turns out that my head was right. The Patriots are awful. Let's send them to Germany this week!
---
Thursday Night Football Pick
CAROLINA +4 @ CHICAGO
 Projected Result: Carolina narrowly wins
Not sure why we're getting the Bears on a Thursday Night game again, but here you go, America! Justin Fields may or may not be back this week; I'm assuming he is. And it doesn't really have any effect on my prediction; their rush offense may be a bit stronger but Tyson Bagent acquitted himself quite nicely given his lack of pedigree so who cares.
Essentially this boils down to a rule I have for this Bears team….why are they favored against anybody? I might understand a point or two here just for home field advantage but getting four points? Why? I don't care how bad Carolina is, I'll take the Panthers and the points.