Toby's Week 10 NFL Picks and Previews for Every Game
TOBY'S WEEK 10 NFL PICKS AND PREVIEWS FOR EVERY GAME – I recapped the winning week I was worried might never come already and previewed this week's TNF winner, but now we're moving on to the meat of week 10. 
I didn't love a bunch of these at first sight, but my projection machine surprisingly likes quite a few this week.
Week 10 Projections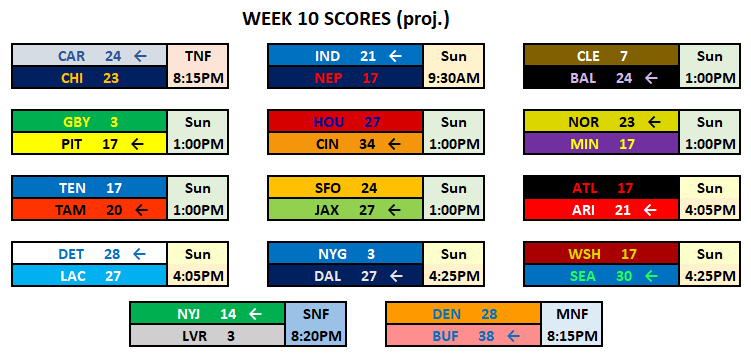 Week 10 Bets Ranked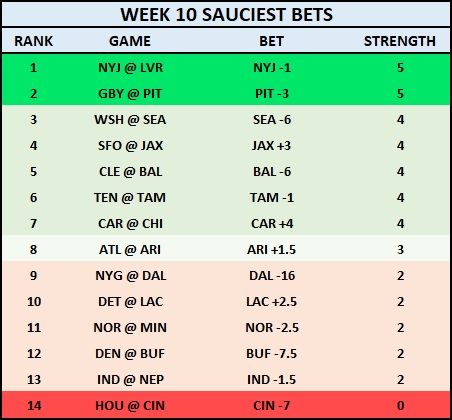 Upset Alert
Here are two games that look ripe for an upset:
BRONCOS @ BILLS

– And really, this does just seem like one of those games where something odd would happen.

JAGS vs. 49ERS – Accordingly, I'm predicting a Jaguars victory straight-up this week.

My actual number one game on this list is Giants at Dallas, but I'm just not willing to entertain it.
But if you are? Hell, throw something on the Giants moneyline. Bet your mortgage on it! What's the worst that can happen, you lose your house? Whatever, if you win you can buy two houses. Play life like Monopoly.
Before I get into the picks, here are the Week 10 NFL Power Rankings according to Tobias Sweetmoves Wreathway.
Week 10 Red Hot Power Rankings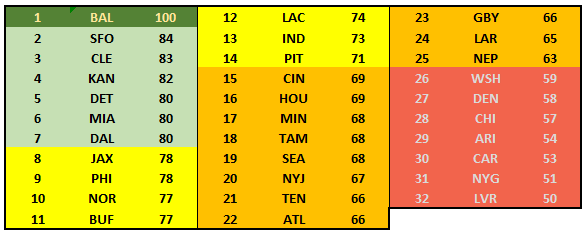 *Note: My Power Rankings are "to this point" rankings based purely on statistical performance metrics; they do not account for injury and are not my predictions going forward.
Baltimore took over the top spot going into week nine, but after their absolute destruction of the Seahawks, they now have a chokehold on the number one spot. People are finally starting to catch on to Baltimore being an elite team this year. As a Lamar Jackson/Greg Roman truther, I've been banging this drum for weeks now.
Lamar Jackson has always been awesome, and before this season, the Ravens were actively making things difficult for him with their scheme. Every time I read about how the Ravens built a system for him and he was lucky to get Greg Roman and all that, I just shook my head.
This isn't Josh Dobbs. Put him in a scheme where you could get your receivers into space and get them open and throw to them all over the field, and then just maybe you'll be able to beat defenses that sell out to stop your running game.
Before this season, I'd never seen a team have multiple receivers end up in the same area like Baltimore's. I have been on this hill since Jackson was at Louisville and I will take up permanent residence, live a hopefully long life, die on and then be buried on this hill. Future generations will visit this hill to pay respects. I'm getting carried away in metaphors again, somebody snap their fingers please.
TIER ONE GAMES
NY JETS -1
@ LAS VEGAS
Projected Result: Jets D puts the clamps on Vegas offense, Jets by at least a touchdown
This seems like a weird choice for top pick. I get that. The Jets?
The Zach Wilson-led Jets, who I malign at every given opportunity over the suddenly hot Raiders fresh off a coaching change?
Yep.
The Jets defense has been lights out again this season, and I think they are flying a bit under the radar based on how disappointing their season has turned out relative to expectations. But this defense is balling out. And now they are facing the awful Raiders offense, lead by Aidan O'Connell.
If any team is going to be able to handle AOC, it's going to be one of the New York teams. On top of that, Vegas has an atrocious defense that probably won't be able to take advantage of the gifts offered to them by Wilson. And they have virtually no homefield advantage.
I'm parlaying this one with the under.

GREEN BAY @ PITTSBURGH -3
Projected Result: Steelers D puts the clamps on Green Bay, Steelers by at least a TD
This one surprised me a bit, but now that I think about it, why wouldn't I predict this one the same as the Jets/Raiders game? I hate Green Bay this year and even in last week's win they struggled to score against a Rams team that was toothless offensively. The Steelers defense may not be as good as the Jets defense, but if there's any offense that the Steelers will look good when compared against, it would be the Jets.
Now, I have watched enough of both of these teams to know that they absolutely refuse to move the ball during the first half of games. This one could give us one the single ugliest 30 minutes of football since the 1970 merger. Arguably since the 1920s.
In fact, this game has 1922 Evansville Crimson Giants vs. Louisville Brecks written all over it, and who can forget that awful matchup? My great-grandfather used to tell me all about it. I had nightmares about Slats Dalrymple and Bill Slyker!
I don't know why he would do that to an impressionable young mind.
This game could be the Scorigami Holy Grail that finally gives us a 4-4 tie.  
TIER TWO GAMES
WASHINGTON @ SEATTLE -6
Projected Result: Seattle by two scores
I was hoping to get a bit of a discount on Seattle after their awful showing last week, however this spread looks about where I'd expect it. That being said, Seattle has a massive homefield defensive split and this is the one game this week that appears like it will be affected by weather. Washington has to fly cross country to throw 60 passes in eternal drizzle. 
If you are looking for a sneaky DFS play while everyone else loads up on Dallas, I don't think Seattle's defense is a bad option.
SAN FRANCISCO @ JACKSONVILLE +3
Projected Result: Jacksonville wins straight-up
I don't know if San Francisco has gotten their act together over their bye week, but this is more of a bet on Jacksonville at home rather than on the Niners being sloppy. If they are, that's a bonus. Any time you can get a good team at home on the East Coast, hosting a West Coast team playing the game at 10:00 am Pacific Time, it's generally a good idea to take that bet.
Seattle at Baltimore was a prime example of this just last week.
CLEVELAND @ BALTIMORE -6
Projected Result: Baltimore by two scores
This is a bet on Baltimore being awesome rather than a bet against Cleveland. I have Cleveland as my 3rd team overall so far and they still have the best defense in the NFL, according to my rankings. Unfortunately for them, Baltimore's defense is the 2nd best in the league and their offense is wildly better than Cleveland's.
Unless this is the week that Deshaun Watson finally remembers how to play, I don't see the Browns keeping up.  
TENNESSEE @ TAMPA BAY -1
Projected Result: Tampa by 3
Will Levis has looked better than I ever expected he would, but I'm not going to overreact just yet. I've given Tennessee a slight bump this week for their QB and passing offense, but it's still a rookie QB on the road.
Tampa has fallen a bit since I had them in the top 10 a month ago. They are still a decent team getting essentially a pick 'em here.
CAROLINA +4
@ CHICAGO
Projected Result: Carolina narrowly wins
Not sure why we're getting the Bears on a Thursday Night game again, but here you go, America! Justin Fields may or may not be back this week; I'm assuming he is. It doesn't really have any effect on my prediction; their rush offense may be a bit stronger, but Tyson Bagent acquitted himself quite nicely given his lack of pedigree so who cares.
Essentially this boils down to a rule I have for this Bears team: why are they favored against anybody?
I might understand a point or two here just for home field advantage but getting four points? Why? I don't care how bad Carolina is, I'll take the Panthers and the points.
TIER THREE GAME
ATLANTA @ ARIZONA +1.5
Projected Result: Arizona by a field goal
As much as I'd love to bet against Arthur Smith delivering a loss by next-day air, there's enough uncertainty to push it out of my top picks. It seems like Kyler Murray is set to start this game, but how good is he going to be?
Then again, Atlanta just lost at home to Josh Dobbs, so I'm sure they can manage to lose on the other side of the country this week.
THE REST
I suggest that you save your money. However, if you think it's too environmentally unfriendly to simply burn it, feel free to bet it on these games. Gun to my head picks are in green text.
NY GIANTS @ DALLAS -16
Maybe Dallas gets up 14-0 and just decides to take kneeldowns and go home? I know they managed to lose to Arizona but this Giants team is just beyond awful right now. Even with such a massive spread, this feels like a game I'll probably end up betting on.
DETROIT @
LA CHARGERS +2.5
I have this one going either way, so if I had to take one side I'd just take the points. Should be a fun game though. At minimum it will tell us a lot about the Lions.
NEW ORLEANS -2.5 @ MINNESOTA
New Orleans is playing better recently as they use Taysom Hill more and Derek Carr less. They also have the defense to make life difficult on the Vikings. I have a feeling this line will go over 3 before Sunday.
DENVER @ BUFFALO -7.5
The Bills are all over the place and that makes them tough to bet at -7.5. That being said they are generally decent and Denver is bad. They typically destroy the bad teams.
This is also my favorite over of the week (over 47), as these are two teams with bad defenses and the weather doesn't look like it's going to be a significant factor. Surprising for a November Monday night in Buffalo.
INDIANAPOLIS -1.5

vs NEW ENGLAND

Sure, New England is technically the home team, but this game is being played in Germany so who cares. I will take anybody but the Patriots at this point.
HOUSTON @ CINCINNATI -7
My numbers originally had Houston losing but covering the spread, but given that we've had four weeks of Cincinnati looking like we expected them to look, I had to adjust their offensive metrics accordingly.
I don't know if CJ Stroud can do it again, but even if he can, this defense just let Baker Mayfield and the Bucs put 37 on them last week. I'm just staying away from this one.