Toby Wreathway's NFL Week 1 Mega Preview
NFL WEEK 1 MEGA PREVIEW – Well, it's that time of year again, WNBA playoffs are about to begin! Oh and it's also NFL week 1. I'm going to focus more on the latter.
The first few weeks of the NFL season are the trickiest for me, as my projection models do not have any actual data and instead depend on my personal rankings for each team, so basically just vibes.
Week 1 is a total vibes-based projection but we're only talking about betting real money here. If you lose all of your bets you can just make more money and lose it again in week 2! We've been printing money for years man don't worry about it.
The way I like to look at these games, particularly early on in the season before I can get the scoring dialed in, is to use two separate projections – one for the game itself, and then another to determine what I *think* that the line should be.
So for example, I am predicting that Baltimore destroys Houston this week but I have that near the bottom of my list this week, just because the line seems a bit high for week 1 for these two teams, particularly with Baltimore completely changing their offense from the Greg Roman "let's split 5 receivers to one side and have them all run hitches" scheme to a more modern "let's use actual route combinations that make sense" style.
Might be some growing pains. (All lines are from DraftKings).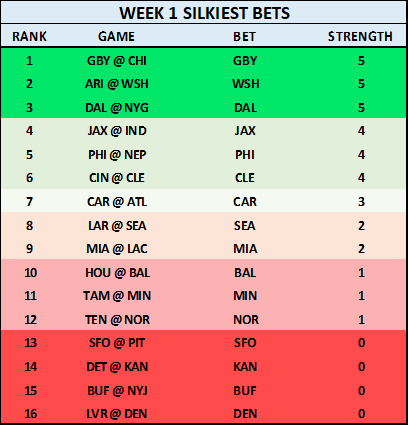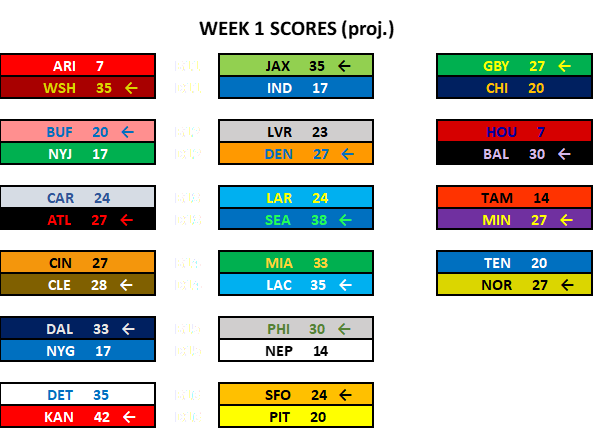 TIER ONE GAMES
Green Bay +1 at Chicago
Projected Spread: Green Bay -1.5
Projected Result:  Green Bay 27 – Chicago 20
I know people are afraid of Jordan Love, but after going through the motions last season with a  checked-out Aaron Rodgers who just wanted to throw to his friends, I think it really does matter that the team seems to actually like him.
That and he has looked pretty good in an admittedly small sample size over the last year. I think this offense is going to surprise some people this year, and it's loaded with "fantasy breakout" types.
Meanwhile, we've added DJ Moore to the 3-14 Chicago Bears.
Why are they favored in this one? It's a 2 hour drive from Green Bay to Chicago, are we worried about bus-lag? The Bears still only have like, 9 good players on their roster.
They didn't want to pay Roquan Smith, so they moved him and replaced him with a lesser player that ended up costing about the same amount of money. This team is just completely in love with making weird moves.
Now, I do like Justin Fields more than most people and I think they situation has been awful there and it's at least a little bit better now.
My issue is that his main flaw is that he's slow to react and I don't think that can really be significantly improved upon. I think he improved on it a little bit last year but as long as he keeps taking sacks and this offense decides to live in 3rd and 19 I'm going to continue to bet against them. This is my favorite week 1 bet by a few light years.
ARIZONA @ WASHINGTON -7
Projected Spread: Washington +10.5
Projected Result: Washington 35 – Arizona 7
I know I lead with the thing about big lines but in this case there is not a line big enough to get me off of this game. The Cardinals are starting who, Josh Dobbs?
We're being offered a chance to bet against a road team that is trying to lose on purpose, lead by a questionable first year head coach with all the charisma of a Customs agent. JOSH DOBBS come on man. This is a CFL team.
DALLAS -3.5 @ NEW YORK (NYG)
Projected Spread: Dallas -5.5
Projected Result: Dallas 33 – NYG 17
This one is an example of my model, which exists to minimize the effects of vibes and emotion, disagreeing with my vibes and emotion.
Dallas going to New York to play the Giants just seems like a close game and in that case I'd usually take the home dog and the points. But when I rank these two teams in a vacuum, I just have Dallas as a significantly better team.
I love Brian Daboll, but I do think New York gave a lot of people a false idea of how good this team truly is last year and I'm anticipating a bit of a crashing back to Earth in 2023.
On the other side, I am a habitual Dak Prescott defender and while I'm not the biggest fan of Mike McCarthy – his 2015 Packers offensive scheme should have been a felony – I don't think Kellen Moore was doing them any favors last year either so I'm not too concerned scheme-wise. Gonna trust my numbers for now, even though they are projecting Dallas to score….33?
TIER TWO GAMES
JACKSONVILLE -5 @ INDIANAPOLIS
Projected Spread: Jacksonville -6
Projected Result: Jacksonville 35 – Indianapolis 17
This really should be a "Tier 1" game, and by my personal gut feelings I much prefer it to taking Dallas. I think the Colts got the good Eagles coach this year, but, given this roster and given that Anthony Richardson is such a "cross your fingers and hope" projection, I can't imagine they seriously threaten to beat the Jags in his first career NFL game.
I was a bit of a Trevor Lawrence doubter coming out of Clemson but he showed last year that he's the truth and I don't think he'll have any problems dicing up the Colts inside the dome. This team's going to suck with or without Jonathan Taylor, so may as well bet against them before they start getting double-digit lines.
PHILADELPHIA -4 @ NEW ENGLAND
Projected Spread: Philadelphia -4.5
Projected Result: Philadelphia 30 – New England 14
In my opinion the Eagles still have the best roster in the NFL. And the Patriots still have Mac Jones throwing to like, 3 different versions of JuJu Smith-Schuster. You would need a divorce lawyer to get any separation out of this receiving corps.
That being said, I'm not as in love with this one as the projection would suggest, because I do think that the Super Bowl Hangover™ is real.
Maybe the Eagles will overcome it like the Chiefs and Bengals did, but I do think it's cause for concern. And of course Bill Belichick is always capable of dialing up some magic to keep this one close.
If only he were capable of allowing someone else to be the GM and actually putting good players onto his roster. I still cannot believe he drafted Tyquan Thornton over George Pickens….Bill chooses his receivers the same way that Lynyrd Skynyrd chose their pilots.
CINCINNATI @ CLEVELAND +2.5
Projected Spread: Pick 'em
Projected Result: Cleveland 28 – Cincinnati 27
I don't know why I'm getting this result but for whatever reason my numbers think that this game should be a pick 'em and thus it suggests taking Cleveland and the points.
Then again Cleveland is one of those "good on paper" teams and they seem to play the Bengals well – they have won 3 of the last 4 matchups between these two teams and were the last team beside Kansas City to beat Cincy last year. So let's roll with it and hope for a happy ending.
THE REST
What fun is living if you aren't betting every single NFL game?
CAROLINA +3.5 @ ATLANTA
Projected Spread: Carolina +1
Projected Result: Atlanta 27 – Carolina 24
I consider Carolina a slight value here, but it's still close enough that I don't love either team. If I had to bet on this game I'd probably go Over 39.5.
LA RAMS @ SEATTLE -5.5
Projected Spread: Seattle -5
Projected Result: Seattle 38 – LAR 24
This is a weird looking spread, but it's almost exactly where I would expect it to be.
I was the world's biggest Geno Smith defender prior to last season and I have the receipts to prove it, but I still can't make myself believe that the magic will carry over into year 2 until I see it. My projections have no such issues and see Seattle thrashing this joke of a Rams team.
MIAMI +3 @ LA CHARGERS
Projected Spread: Miami +2
Projected Result: LAC 35 – Miami 33
Not sure what's up with all these 33s popping up on the scoreboard – seeing a lot of safeties this week, I guess.
Anyway the lines on this one is also pretty much exactly where I would expect them to be based on my view of these teams and the result I get is pretty much entirely dependent on how much weight I put on the Dolphins having to fly cross-country.
I'm assuming they have a good flight and nobody decides to start doing calisthenics in the aisles.
HOUSTON @ BALTIMORE -10
Projected Spread: Houston +8
Projected Result: Baltimore 30 – Houston 7
I think this is an overreaction and I'm likely going to pick Baltimore in this game without hesitation, but there is some uncertainly as to what we will see from both teams.
Baltimore in particular may take a few weeks to break in their offense, but I just don't really see the Texans doing much offensively themselves.
TAMPA @ MINNESOTA -6
Projected Spread: Minnesota -3
Projected Result: Minnesota 27 – Tampa 14
Minnesota defends about as well as Freddie Mercury's immune system would defend against Ebola, so it's hard to trust them to cover any significant spread.
This week they are going against the resistable force of Tampa Bay, and I think they can manage limiting the Bucs to just over a Baker's dozen this week. Todd Bowles' teams just play to lose.
TENNESSEE @ NEW ORLEANS -3
Projected Spread: New Orleans -2.5
Projected Result: New Orleans 27 – Tennessee 20
New Orleans has a cakewalk of a schedule this year and it starts off with Ryan Tannehill's handoff circus coming to town. Tennessee plays just about everybody tough but this isn't that difficult of a spread to cover for the Saints.
I hope Michael Thomas stays healthy because there's nothing Derek Carr enjoys more than throwing 5 yard slants.
SAN FRANCISCO -2.5 @ PITTSBURGH
Projected Spread: San Francisco -1
Projected Result: San Francisco 24 – Pittsburgh 20
I really want to believe that the preseason hype is real and the Steelers will keep looking like a juggernaut once the regular season begins, but, until it happens, I'm not going to tread with caution.
The homer in me wants to take the Steelers and the points, but even though this is essentially a 10 am game for the Niners and it looks like Nick Bosa won't be making the trip, I can't ignore how good that roster is. Offenses like this do seem to just shred the Steelers.
DETROIT @ KANSAS CITY -6.5
Projected Spread: Kansas City -3.5
Projected Result: Kansas City 42 – Detroit 35
Obviously forget the spread and just take the over in this one. Even with Chris Jones this one looks like a shootout. Without him there's probably gonna be a lot of TDs and a few bored kickers.
EDIT: Since initially running these, Travis Kelce has hurt his middle-aged knee and while the Chiefs "believe" that the ACL is intact (so reassuring), he won't be playing on Thursday. While he is the 3rd most important Chief behind Mahomes and the aforementioned Jones, the magnitude of the gap between Mahomes and everyone else is bigger than Andy Reid and I'm not really shifting off of this prediction. He'll throw 4 TDs to Jeff McRandomguy if he has to.
BUFFALO -2.5 @ NEW YORK (NYJ)
Projected Spread: Pick 'em
Projected Result: Buffalo 20 – NY Jets 17
I have this game as a pick 'em but I'm not as high on the Jets as they may look on paper. Games aren't played on paper! They are played on synthetic fibers in the middle of New Jersey.
While something does feel weird about the Bills this year, I do think they win this game so I'll just hope they win by at least 3.
LAS VEGAS @ DENVER -4
Projected Spread: Denver -4
Projected Result: Denver 27 – Las Vegas 23
Both of these teams are complete wild cards so I'll just default to taking the home team that plays on top of a mountain.
SURVIVOR LEAGUE PICK
Survivor leagues are one of my favorite things to do and I've had a pretty good track record in them. For anyone unfamiliar, in survivor leagues you have to pick a winning team (straight up, not against the spread) each week, and once you pick a team you can not select them again. If your pick loses, you're out. I only have a few rules:
NEVER PICK THE CONSENSUS FAVORITE. One of these weeks they are going to lose, and everyone in the league is going out with them. There's no difference in finishing 2

nd

or last, and so I believe the best chances of winning are having mostly unique picks.

Don't save teams. My goal is to get to the next week, not to save a team for week 15 that I likely won't even get to use.

 

Don't pick Detroit. Everyone has a team that just blows up their survivor leagues or their own personal entries every year. For a lot of people it's Dallas. For me, it's Detroit. If I pick them, they lose. If I pick against them, they win. I try to avoid them at all costs.
Week 1 is the hardest week for obvious reasons, but I still try to stick to the rules. The consensus picks this week is Baltimore (34.3% selected on Yahoo), so I'm not taking them.
That leaves Washington (18.5%) available – I'd like to avoid them as well but I can't given the strength of Baltimore as a favorite and the fact that no one else is playing at home this week against Josh Dobbs. If Washington does slide into favorite territory, I'm going to roll with Jacksonville.
Alright let's win some currency.