Ole Miss vs. Tulane: Expert Pick and Prediction – September 9, 2023
OLE MISS VS. TULANE: EXPERT PICK AND PREDICTION – September 9, 2023 — Few people remember when this was a competitive rivalry, given how these programs have diverged since the SEC went to 12 teams.
Tulane used to play Ole Miss every year, but that ended after the 1992 season. Since the Green Wave's last victory in the series, the Rebels have won 10 straight, with Tulane rarely keeping the game within one score.
This one might be different. For one, Tulane's a much better team than it's been in past years.
The Green Wave knocked off USC to win the Cotton Bowl last year, and they have a four-year starter at quarterback in Michael Pratt. For another, Tulane gets to host Ole Miss in Yulman Stadium for the first time.
The Rebels had no problems going to New Orleans when this was a rivalry, but back then, Tulane played in the Superdome with little to no home-field advantage. The Green Wave built Yulman Stadium in 2013, and now the Rebels face a genuinely hostile environment.
However, the Tulane defense really hasn't seen the kind of SEC speed that comes into New Orleans.
The Rebels dominated their opener against Mercer, and although that was supposed to happen, it was still an impressive day for Jaxson Dart and friends. The Rebels did whatever they wanted, and it's hard to see that changing against a Tulane defense that has allowed 40 or more in three of its past four against Power 5 opposition.
The Odds
Matchup

Open

Spread

Points

Moneyline

Mississippi

(1-0 SU, 1-0-0 ATS)

-6

-7

O66.5

-310

Tulane

(1-0 SU, 1-0-0 ATS)

U63

+7

U66.5

+250
Kickoff
When: 
Saturday, September 9th at 3:30 pm EDT
Where:
Yulman Stadium, New Orleans
TV: 
ESPN2
Public Bets: 
87% on Mississippi
Public Money: 
99% on Mississippi
Odds courtesy of DraftKings, as of September 7th, 2023

Mississippi vs. Tulane In-Season Trends
Tulane has a tendency to keep things close against Power 5 opponents. The Green Wave have played seven of them over the past five years and gone 2-5 SU but 4-3 ATS.
That includes a five-point loss at Oklahoma in 2021, an overtime loss to Wake Forest in 2018 (the last time a Power 5 team came to New Orleans) and straight-up wins over Kansas State and USC last season.
Mississippi hasn't exactly kept things low-scoring away from home under Lane Kiffin. In 13 road games with Kiffin, the Rebels have seen 55 or more points scored on nine occasions, and they went over 65 three times last season. If Tulane does even close to its share of the scoring, this total is very reachable.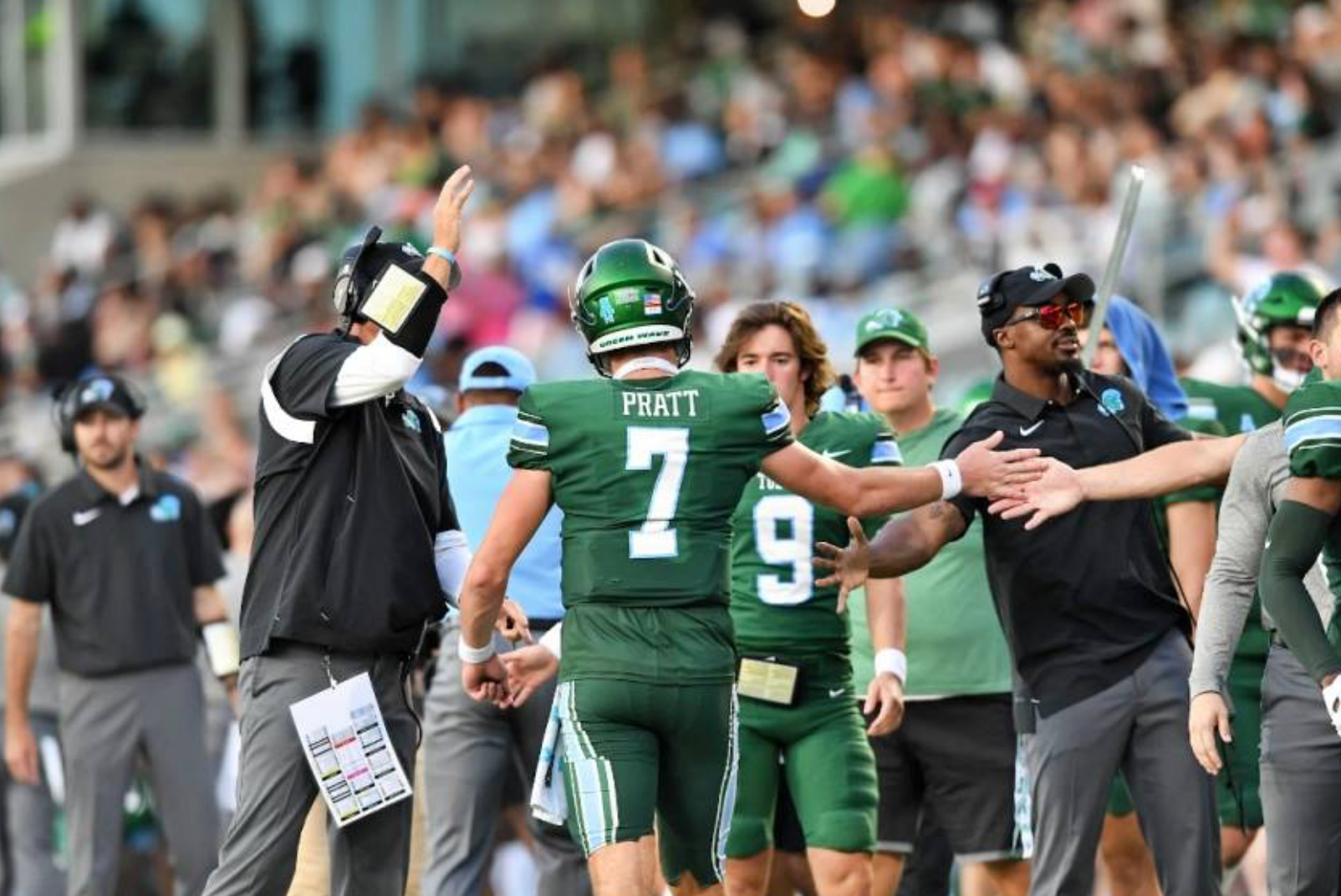 The Difference-Makers
This will be a test for Michael Pratt. Two years ago, Tulane and Pratt weren't able to keep up with Mississippi, losing by 40 points in Oxford. Pratt has improved every season and now holds a real command of Willie Fritz's offense, which should mean more points this time for Tulane.
Quinshon Judkins could become a big factor in this game at running back. The back averaged 5.7 yards per carry last season, and if he's consistently gaining yards, the Green Wave can't attack the weak Mississippi secondary.
Weather
The heat's going to be intense, with temperatures hitting 93 degrees on Saturday. Wind won't play much of a factor, but humidity probably will. It's likely to be a tough day for both defenses, as cramping and exhaustion will become a factor.
The Pick
Tulane has the offense to hang with Mississippi this time around. The Green Wave couldn't keep pace with the Rebels in 2021, and the result was a game that wasn't even close.
This time, Tulane's offense has grown quite a bit, but the defense is still likely to have its problems. With how the lines have moved, I'd wait a bit to see if you can get the Wave on the other side of the hook. That extra half point could make a huge difference in a game where whoever has the last possession is likely to win.
Dan's Picks

Tulane +7.5

Over 66.5