Bad Decisions
Note: I write this after the Ole Miss/Vanderbil game, where Ole Miss sadly advanced to 6-0. I'm very mad that Ole Miss is 6-0. They cannot win more than 8.5 games, or I bust my under wager and can toss that ticket in the bin. I thought maybe they'd lose to Vandy (I've seen that happen before), but they didn't, so now they need to lose four games in a row. Crap.
Part Three: 5-0
I want to talk about bad decisions.
I've made many bad decisions in my life, most born out of an impulsive nature and a slavery to dopamine. I once purchased a truck on impulse, bought a home on impulse, fired people on impulse, eaten tomato paste out of the can on impulse. I make impulsive decisions. That's why I run a gambling website.
Perhaps one of the most impulsive decisions one can make is booking a tattoo appointment. Nobody ever thinks too hard about a tattoo. People claim that the art has meaning, that the decision weighed on them for months, that they worked closely with their artist to pinpoint the artwork, to shape it, to make it theirs. 
I don't believe them. Every tattoo is dumb, including mine.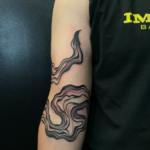 I took the day off of work the Friday before the Kentucky Wildcats (4-2) traveled to Oxford to take on the Ole Miss Rebels (6-0) in a matchup between two unbeaten teams that have over performed to this point in the season and have benefitted from relatively weak schedules. 
The tattoo shop is located in Memphis, and I had been working with the artist to come up with a good design that represented the Mississippi river. Yes, yes. There is a reason I chose a river, but it's a stupid reason. The real reason I sat in a chair for five hours enduring a hilarious amount of pain to permanently stain my arm with meaningless art is because I wanted to feel something, anything and because maybe the picture of the tattoo I posted on social media would make its way back to my ex and she'd think, wow!
Tattoos hurt. They hurt everywhere. They hurt more if they are near a joint. 
This tattoo hurt so much that the endorphins began firing off immediately. An hour into the experience I felt euphoric. Three hours in, I thought this is what men do. Five hours later, I wanted to go home. It was incredible and I plan to get five more within the year. 
Did it hurt? the tattoo artist asked. 
Yes, I said. It hurt so much. I want more of them, so I can feel that all the time. 
That's weird, she said. 
Is it? I asked.
Most people just say yes. 
You Suck
The tattoo artist told me not to take the tattoo into the sun. Tattoos are sensitive to sunlight. They need time to heal. You must care for them. 
I didn't tell her I had a date with a single season ticket at Vaught-Hemingway at 11:00 am the next morning. We aren't that close.
The next day, I wore a windbreaker to the game in order to keep the tattoo out of the sun. I parked in my normal lot ($30) and hustled to the game. The lot is about a twenty minute walk to the stadium, which usually gives me enough time to take the temperature of the crowd, assess how drunk they are, observe the visiting fans. 
The Wildcats travel well. As I crested the hill and the stadium came into full view, I was immediately surrounded by Kentucky fans. They dressed in blue shirts. Blue hats. Blue striped overalls. They carried their tickets, water, beer, babies, chanted "Go Big Blue," high-fived each other, jostled for position. The Cats were hyped. 
And why not? This felt like the most substantial Wildcats football game since Mark Stoops arrived. The Cats were ranked and playing a good team. They felt they could win. They knew it, in fact. 
We're going to win, a fan said. 
Yeah, probably so, I said. 
You're not confident? he asked. 
I don't really care, I said. 
You suck! he said. 
This was my first interaction with a Cats fan, but I noticed this type of vitriol all game from both sides. People get pretty fired up for their school. I saw Ole Miss lose to Jackson State, so I have transcended into a state of nirvana with the Rebels. Win or lose, I still have to go to work on Monday. I miss Jevan Snead.
I tried to explain this to another Cats fan in the restroom.
Dude, he said. 
What, I said. 
Who are you talking to?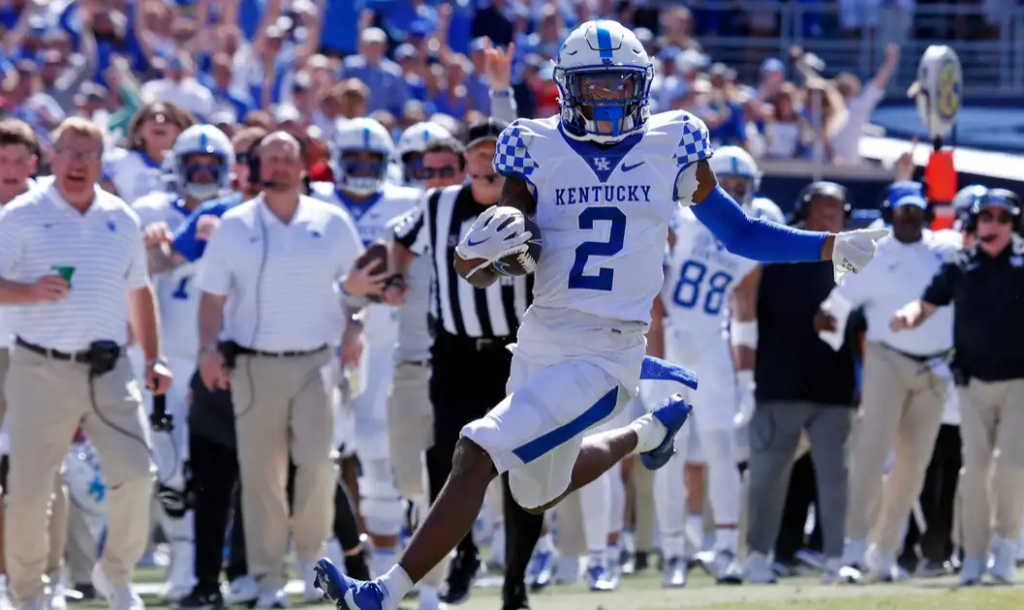 The Seat
I found my seat and nodded to some of the other season ticket holders I recognized. A few smiled. Progress. I set my two beers next to my feet and then immediately spilled one. Damn. 
Three Cats fans sat behind me. They were locked in. They commented on every play. Sometimes they would try to guess the offensive play before the snap. They'd say something like "they ran that in practice this week." Then the Cats would run a different play and they'd say, "good call." I liked them. They were my best chance at friendship for the three hours we spent together. 
The Ole Miss Offense
The Ole Miss offense looked functional during the first half. I worry about the offensive line, which struggles to create clear running lanes for Quinshon Judkins. To their credit, they did a tremendous job in the pass block, so this could just be my overall pessimism and wishful thinking (need to hit that under).
However, I feel like the Rebels struggle to win the game at the line of scrimmage every week and that they rely on the big play potential of their game-changing running back (Judkins) and their biggest threat at receiver: Jonathan Mingo. 
Rebels head coach Lane Kiffin likes to run the ball as a way to open up playbook later in the game. If we can't dominate the line of scrimmage, we struggle to establish the run and have to put too much on the shoulders of our young QB, Jaxson Dart.
Dart is good for one mistake per game, but they haven't been costly this year. His favorite target is quickly becoming Malik Heath, the Mississippi State transfer. Heath is an incredible athlete who can fight for the ball in the air, come down with it, make a move, and score. I love watching him play and can see why Dart targets him so much. 
Overall, the offense got it done on the backs of Judkins and Heath. They need to do a better job at the line of scrimmage if they want to compete with A&M and Alabama.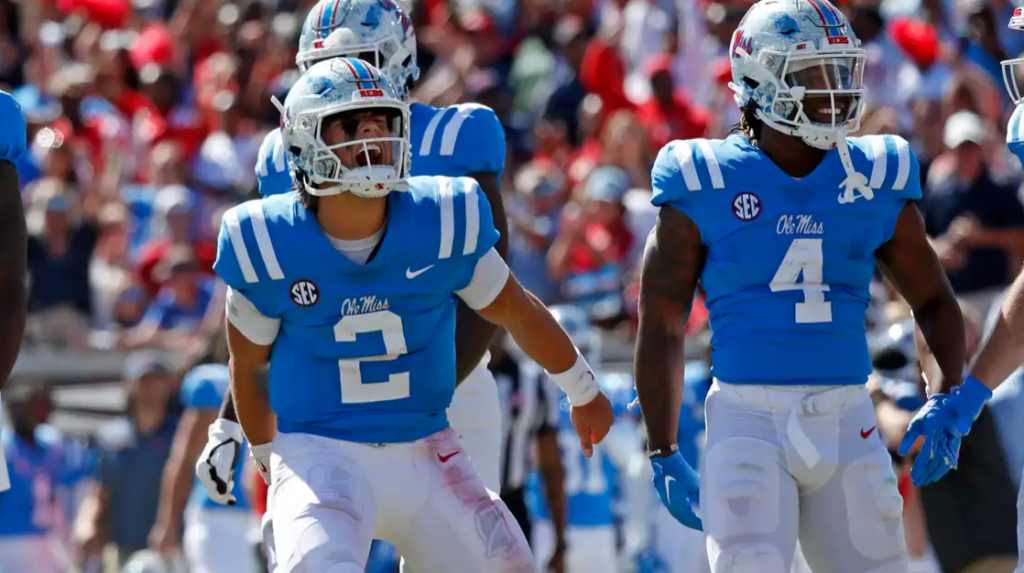 Toughness
The Cats fans behind me described everything their team did as tough. Anytime a Wildcats player did anything, the conversation would go like this:
He's tough, man.
Extremely tough. 
Might be the toughest kid on the team. 
What about [insert another random player]?
He's tough too. 
Early in the second quarter, a friend of mine took a photo of Will Levis' hand, which showed his index finger bent way back. He played through the injury, but a lot of his passes sailed high while he tried to get comfortable with the injury. 
I figured I'd show the text to the Wildcats fans behind me. Maybe we could be friends. 
Looks like Levis is hurt, I said.
Is that his finger?
Yeah.
He's tough, one of them said. 
He'll play through it, another said. 
This team is tough! a third said. 
Is that a tattoo? one of them asked. 
I had taken off my windbreaker in hopes someone would notice and give me a thumbs up. 
Yeah, I said. 
That's tough! he said.
You're tough! the other guy said. 
Maybe I should play for Kentucky, I said. 
What? 
The Ole Miss Defense
I turned back around and watched the rest of the game. I don't feel as pessimistic about our defensive line, as I do the offensive line. They seem to defend against the rush fairly well and they can create enough pressure on the quarterback to force a bad throw here or there. 
The linebacker room seems to be the most mature on the defense. They don't miss assignments and do a nice job keeping everyone focused. Kentucky struggled to get through the second level on the run and the pass. I've been impressed with the LB play all year. 
I worry more about the secondary. They don't always seem to be lined up right, are susceptible to the play fake, and give up big   plays. They arm tackle. There are times when I'm impressed with individual play, but as a unit I wish we could see more. 
Then again, I need them to start losing games, so maybe they're doing just fine.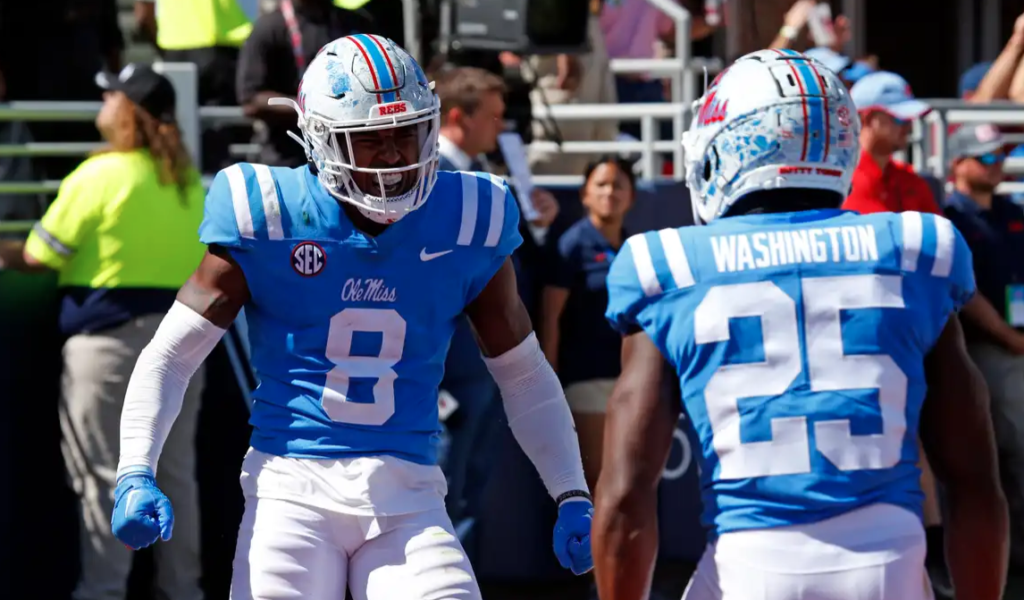 Cats Meltdown
The Wildcats lost the game after Will Levis fumbled twice within the last three minutes on game-winning drives. Levis is a pro-level QB, and he makes some incredible throws, but he couldn't seem to hold onto the football on Saturday. 
The first fumble came on a quarterback keeper where Levis dove for a first down, got knocked in the air, and dropped the ball. The Rebels recovered but failed to do much and had to punt. 
The Cats stormed down the field on their final drive after a massive run on the back of Barion Brown, who really could have scored. The next play, Jared Ivey created enough pressure to force a fumble as Levis dropped his arm back to throw. The Rebels recovered. The Vaught erupted. Cats fans left. 
I turned to my new friends. 
Tough loss, I said. 
So tough, they agreed. 
Cats fans became more and more agitated as they left the stadium. Fans picked fights with drunk Ole Miss undergrads. A baby cried as she was carried off by a mother dressed in blue striped overalls and a straw hat. A man dropped to his knees in the middle for the street and yell "Fuck" as his girlfriend kicked an empty beer. 
I understood their pain and frustration. Ole Miss has lost a lot of games that way. Cats fans felt like this was their year. They had to drive all the way to Mississippi to watch their team lose to a team that might not be any good. Incoherent undergrads taunted them with historical facts about William Faulkner. Hostility.
I also needed Ole Miss to lose that game. The math on this under wager doesn't work if Ole Miss keeps beating everyone. Maybe they'll lose to Auburn. Ha ha ha ha. 
I walked to a local bar and found a spot next to a Kentucky fan. 
I bought him a beer. 
I'm sorry, I said. 
Cool tattoo, he said. 
Ole Miss plays Auburn on October 15th.