The Sickness
Your crew of lovable losers are back with some heartsick picks on a weird slate of games. This article has everything:
Friday night delight? Check. 
Big Ten totals mania? Check. 
And we are tackling a tricky Ole Miss game that Jack is sure to hate.
We've been picking up some steam all over the board in recent weeks and I see no reason why that will change now. 
Weekly Poll
You can join in on the fun with our weekly poll where we highlight one game and canvas the public for their expert opinion. This week, we're taking on Jack's alma mater. Can Ole Miss cover? Click here to vote!
The Standings
| | | | | |
| --- | --- | --- | --- | --- |
| Thru Week 7 Records | Wins | Losses | Push | Winning % |
| Paul | 10 | 8 | 1 | 53% |
| Nate | 22 | 25 | 2 | 45% |
| Jack | 24 | 32 | 0 | 43% |
*You can read Paul's Week 8 picks here. 
UAB at Western Kentucky (-1.5) (o/u 58.5)
Kickoff: Friday 10/21, 8:00 PM EST CBS Sports Network
Nate: We're going back to the well with another Hilltopper game to start the weekend early.
We were half right last week when we cashed WKU -8 but we were wrong about the total, mostly because MTSU just sucks on offense. 
WKU continues to be an offensive machine, however, and that's where the value may be here. 
Hilltoppers are 4th in passing yards and 4th in completions through this point in the season. They are lighting up the board for more than 40 points per game. 
UAB is a hard team to pin down in that they are the most run-centric offense outside of the service academies. Typically service academies are under cashing machines for totals because of their propensity for long drives while the clock stays running. This UAB team can flat move the ball on the ground though, averaging almost 250 rushing yards per game. 
I think we can get over this total here with two very competent offenses on the field. WKU passes the ball so much that it negates the clock draining drives the Blazers may go on. Pick: Over 58.5
The Tale of Two Teams
Jack: The Hilltoppers burned me last week, because I was too chicken to lay the points. I'm a monster in the NFL (60% winning percentage) because I'm risk averse and hate laying points. Dogs cover. This isn't always the case in college football, though. Sometimes dogs are dogs because they suck.
The Hilltoppers are rightly favored in this game and Nate has been cashing those tickets all year long. The Hilltoppers are 16th in total offense in the country. They average 490 yards of total offense per game and 6.56 yards per play. The Hilltoppers have scored 33 touchdowns through the season (14th). They tear up the field on offense. 
UAB is a smidge worse, ranking 35th in offense averaging 449 yards per game and 6.91 yards per play. They've scored 25 touchdowns this season. That's because they run the ball. They call a passing play 34.93% of the time, which ranks 126th in the country. It's harder to get in the end zone if the team relies so much on a dominant run game.
I don't like the over as much as Nate, because UAB ranks 20th on defense. They give up 319 yards of total offense per game and average 4.73 yards per play. Here's the kicker, UAB's defense has played 405 snaps this year, which ranks in the top 20. 
I don't want to overlook UAB's defense unit here and take the over. I'm much more comfortable rolling with that Hilltopper and laying the points. There's a case to be made that UAB can hamper the Hilltopper offense, but will it be enough? I don't think so. Pick: Western Kentucky -1.5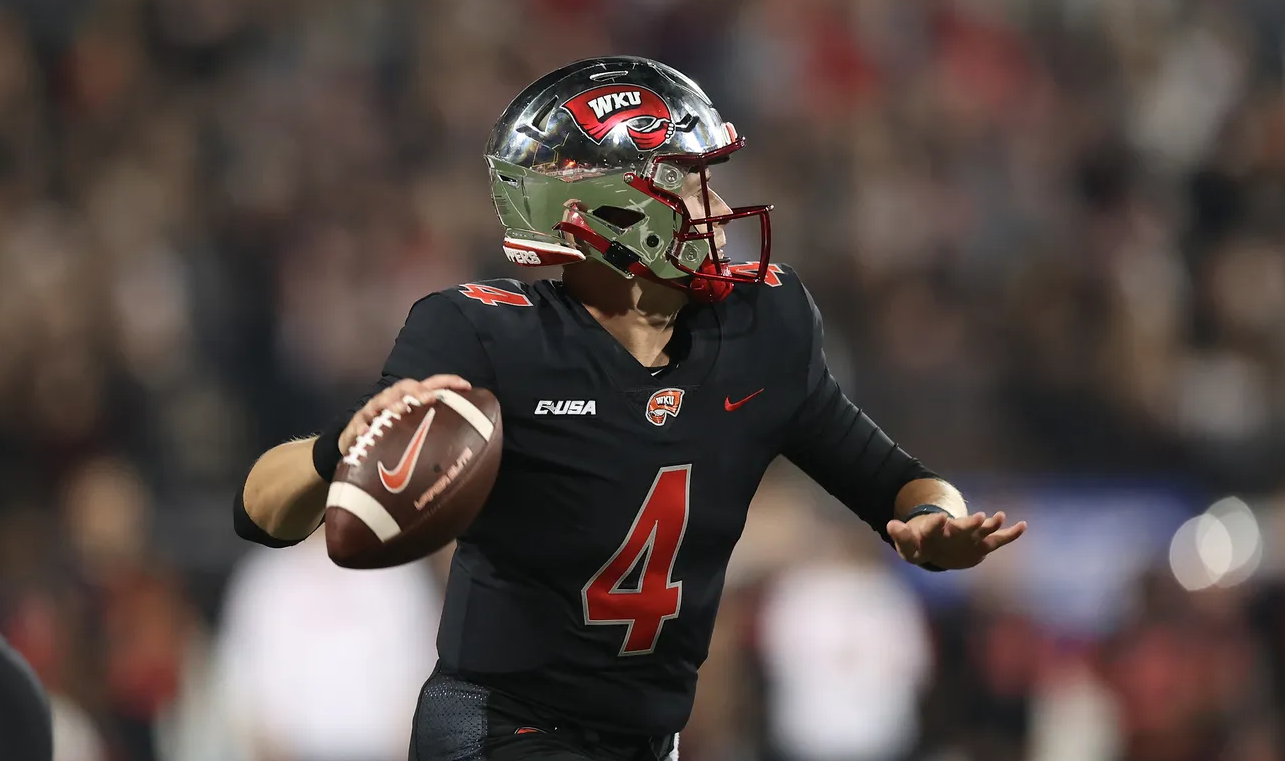 #21 Cincinnati at SMU (+3.5) (o/u 58.5)
Kickoff: Saturday 10/22, 12:00 PM EST ESPN
Nate: It's embarrassing for me to go on the radio now that we have our college half hour and wax philosophical about Toledo and UTSA, so I resolved to pick more ranked and big conference matchups when possible for the purposes of picks. 
It starts here with a Group of 5 showdown that should be pretty fun. 
Cincy got a breather last week and it was much needed as they dealt with a slew of injuries all over the field, so they should come back looking a little less banged up. 
On the surface, this game looks obvious: lay the points with the better team against a team that looks to be struggling at 3-3. 
That view doesn't take many factors into account though. SMU is a game team that has played a really difficult schedule and those three losses aren't anything to be ashamed about. 
The Bearcats on the other hand have played a schedule relatively devoid of much competition, and they haven't exactly been dominant in their wins. 
SMU runs a pass-heavy offense that should give Cincinnati some issues, as this isn't the same team that led them to lofty heights last year on the back of their defense. 
SMU does a good job protecting the quarterback and that should be the key in this game. 
Bank on another unusual performance from Cincinnati as they've consistently had periods in games where they've looked lost. SMU is the team to exploit this recurring issue. Pick: SMU +3.5
The Rankings
Jack: Let's go back to the rankings here. In terms of total offense, Cincinnati is ranked 47th, averaging 435.5 yards per game. SMU is ranked 15th in total offense, averaging 490.3 yards per game. SMU is 3-3, so that must mean their defense stinks, right? Yes, they stink. SMU is ranked 109th in terms of total defense, averaging almost 500 yards of offense. Cincinnati ranks 19th in total defense, giving up a mere 313 yards per game. 
Nate is absolutely right about the strength of schedule. PowerRankingsGuru ranks all strength of schedules in college football up to this point in the season. The Bearcats rank 109th in strength of schedule. Seven weeks into the season and they haven't played anyone good.
SMU is ranked 39th in strength of schedule. It makes for a boring column when Nate and I agree, but there's something fishy about that Cincinnati line. It should be -7. Take the points. You may see an upset. Pick: SMU +3.5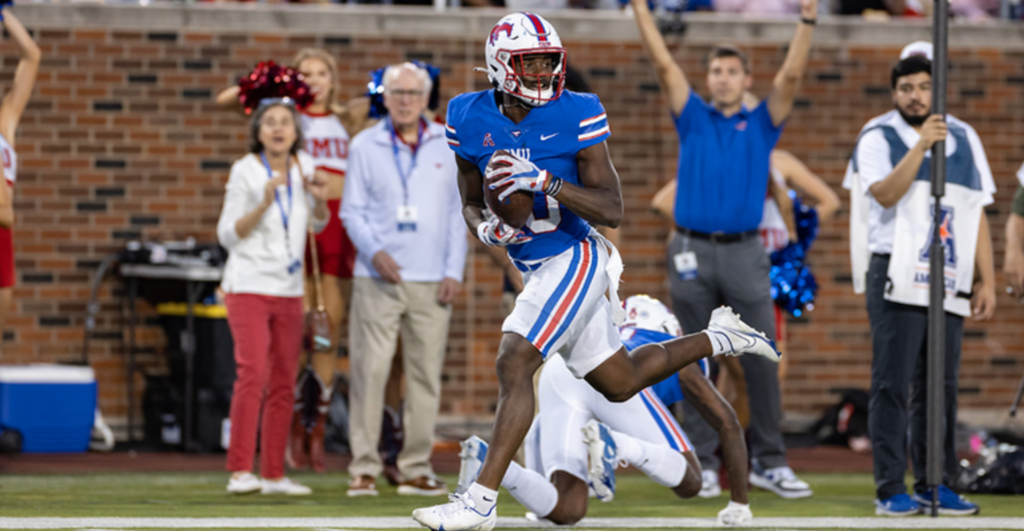 Iowa at #2 Ohio State (-29.5) (o/u 49.5)
Kickoff: Saturday 10/22, 12:00 PM EST Fox
Nate: I know what you're thinking, Nate always takes these stupidly huge spreads and hopes for a backdoor cover, and usually you're right, but I'm recovering from that particular ailment. 
Per PFF, Iowa has the second highest rated defense in college football and Ohio State fields the 12th best defense. 
The rub here is that Iowa drags the 15th worst offense in all of college football into this matchup. 
Ohio State undoubtedly has a better offense than Michigan, but they are at least comparable. Iowa managed to hold the Wolverines to 27 points in their game together, and I can envision something similar happening here. 
On the reverse side, I'm not sure Iowa can score at all. Their game against Michigan went well under this total and I can envision something similar. 
This game feels ripe for a blowout and I don't trust the Hawkeyes to score more than a couple times. Take the under here and pray that the Buckeyes don't run up the score too much. Pick: Under 49.5 total points.
Jack: Nate can have this one. I went 1-5 last weekend in this dubious column. There is mono way I'm digging into a 29.5 spread and a silly points total. When you go 1-5, don't pick the screwy games. No Pick.
I love my Hawkeyes but this is too funny. #iowa #hawkeyes pic.twitter.com/39IfZsVTut

— Vikesman20 (@JasonPaterson20) October 18, 2022
#7 Ole Miss at LSU (-2.5) (o/u 67)
Kickoff: Saturday 10/22, 3:30 PM EST CBS
Nate: I've been laying off of Ole Miss games to give Jack some measure of relief that he only needs to write about them for his exceptional breakdown of every Ole Miss home game, The Only Man in the Stands. 
But this isn't a home game, and this is an absolutely massive spot for the Rebs. Jaxon Dart has been underwhelming and I can't tell whether or not Lane Kiffin just doesn't trust him, if he's just content to rely on the stellar rushing attack, or if Dart just isn't very good. 
At any rate, he's taken a backburner to the other members of the backfield who have excelled at moving the ball on the ground. 
The problem for them is they are facing a rushing defense that grades out at 14th per Pro Football Focus. 
This is going to be a strength on strength battle. LSU has weaknesses in their secondary, but he's shown very little ability to this point in the season to effectively exploit it. 
This total feels like it's shaded towards the memory of typical pass-happy and explosive Lane Kiffin coached teams, but this iteration just performs differently. The total just looks entirely too high here for two teams that would prefer to run the ball, especially given that run defense is a relative strength of both squads. Pick: Under 67 total points. 
Ole Miss Woes
Jack: I have been relieved up to this point that Nate hasn't forced me to pick Ole Miss, my alma mater, where I'm a season ticket holder and a perennial Rebel hater. 
I've seen Ole Miss do this so many times before. Eli's atrocious game against Memphis in '03. Eli's slip that same year against LSU, which cost a chance to go to the SEC Championship. The loss to Steve Spurrier's Gamecocks on a Thursday night in 2009 when they were ranked 4th in the country and forgot to give Dexter McCluster the ball for the first three quarters. The overtime loss to Jacksonville State in 2010. The fourth and 25 overtime two point conversion against Arkansas. I listened to that game on the radio as I was helping Nate move and chucked my phone off the balcony when Arkansas somehow found the end zone.
The loss to TCU in the Peach Bowl. The loss to FSU to begin the season. The list grows. 
Nate is right here. Ole Miss doesn't throw the ball much. In fact, they rank 127th in passing play percentage. What people don't understand is that Lane Kiffin has never wanted to be a pass-first team at Ole Miss, even with Matt Corral. He likes to use an efficient run game with multiple backs to set up big pass plays that go for major yardage. Kiffin is an offensive genius who shifts his offense every year to fit his personnel. It's not that he doesn't trust Dart, it's that Quinshon Judkins is better. 
I don't think LSU's vaunted rushing defense has seen a scheme or a back like Judkins. I'm hoping that we utilize the pass a little more to expose some of their secondary and take control of the game early. This is the week that Ole Miss either proves they are for real or starts to skid and stutter. I'm taking the Rebs. Screw Nate for making me pick this game. Rebs by three. Pick: Ole Miss +2.5.
Texas A&M at South Carolina (+3) (o/u 44.5)
Kickoff: Saturday 10/22, 7:30 PM EST SEC Network
Nate: Let's get one more SEC game in here. Everyone is thinking about how Jimbo's squad hung around with Alabama and that's why people think they might be good. Those people are wrong. 
Texas A&M is not a good team. South Carolina, on the other hand, has been a pretty solid team. They aren't great, but they are competitive and capable of a frisky performance. 
They had a nice upset against Kentucky and they have to be hungry to follow up on that. Texas A&M is enduring woes at quarterback with Max Johnson injured and some uncertainty as to who is the best person to replace him. 
I can't help but wonder if the Aggies will be looking forward to a more high-profile showdown with Ole Miss next week and if this game may not warrant their full attention. Gamecocks have been playing well recently, and I'll bet on them to keep it up. Pick: South Carolina +3
Jack: South Carolina's upset against Kentucky may have more to do with Kentucky's injuries than the Gamecocks' ability to pull upset after upset. A&M is a good SEC team with some serious questions at quarterback, but a loss to South Carolina would throw their entire season in jeopardy.
I think they have to be feeling good about the Bama loss. They're 1-2 in the conference and a good coach will keep them focused on the game at hand. I don't trust South Carolina enough to pull another upset, even if they are at home. I'll take the three. Pick: Texas A&M -3. 
South Carolina leads #13 Kentucky 24-7 late in the fourth quarter 👀 pic.twitter.com/lrAWfzvZwJ

— CFB Kings (@CFBKings) October 9, 2022
Minnesota at Penn State (-4) (o/u 44.5)
Kickoff: Saturday 10/22, 7:30 PM EST ABC
Nate: Jack has been high on Minnesota for quite some time, and I'm ready to join him on the bandwagon. 
Did they underperform last week? They sure did. 
Are we ready to abandon our red hot takes after one down week like cowards? Absolutely not. 
In the only game Penn State has played against a real rushing attack, they got absolutely mauled. 
Michigan put up over 400 rushing yards in a violent effort en route to routing the Nittany Lions 41-17. 
Minnesota isn't at that level (Michigan has the best rushing attack in the country), but it is definitely the strength of their team and they rank 5th nationally in that statistic. 
Penn State has felt like a smoke-and-mirrors CFP contender since the beginning of the season. I feel even more strongly about that opinion after they got exposed by Michigan. I think Minnesota gets their groove back this week and Penn State's front seven gets punished for their second consecutive week. Pick: Minnesota +4. 
Jack: This line would be -1.5 if my favorite Big Ten team, the Golden Gophers, had played up to their potential last week against the Illini. But I overlooked Illinois. They have the best defense in the country right now in terms of total yards. I have not been a Penn State believer this year and we saw what happens when they play an elite team. They are revealed as a paper tiger. 
Is Minnesota the Michigan of the Big Ten West? No. But 4 points is too much to lay on a shaky Penn State offense and a defense that can't stop the run. I'm not getting off the Gopher train just yet. I'll take my lumps if they can't cover…again. And then I'll bet them next week! Let's go Gophers! Pick: Minnesota +4.