Jack's ex-girlfriend gifted him exactly one season ticket to the Ole Miss Rebels 2022 football season. Six months later, she dumped him. In a panic-induced fury, Jack placed a sizable bet on the Rebels to win less than 8.5 games. Forced to haunt the stadium like a specter, Jack will attend every home game this year, secretly rooting for the Rebels to win exactly eight games. 
Part Two: 4-0
Life as an Ole Miss Rebel is good. Here's the cut: the Rebs are 4-0. These games have featured some statement victories over undersized opponents like Troy and UCA. Their most impressive game came in Atlanta, where the Rebels rode their newfound quarterback, Jaxson Dart, to a 42-0 win.
Their latest triumph came in a too-close-for-comfort squeaker in Oxford against the mighty Tulsa Golden Hurricane. (The mascot name is not plural for some reason.) There aren't a lot of Hurricanes in Tulsa, but there's some decent football for some reason.
The Drive to Ole Miss
I spent the morning on the couch awash in Fritos and bean dip. I tried to watch some of the early games and keep track of my wagers, but other duties loomed: the dishes, my ultra hyper hound dog in the corner, the grass. (There's nothing fun to do in Cascilla, but cut the grass.) So I made a late start to the game.
I arrived in Oxford about an hour before kickoff and decided to stop for some gas and snacks before entering the stadium.
I found a Diet Coke and a bag of peanuts for a reasonable price and waited behind a man about my age with a strong jawline, an overactive striped shirt, and deck shoes.
You going to the game? I asked
No, he said.
He grabbed his Copenhagen off the counter and walked out of the store.
Hotty Toddy, I said.
The checkout clerk shook her head.
I parked in the office facility directly off the highway and walked with a smattering of Rebels fans to the game. I did not talk to anyone. The group overheard a middle aged woman dressed inappropriately exclaim that she managed sixty Airbnb properties in Oxford. A child commented that she must be rich. The entire group agreed. She laughed. She drank whiskey. We carried on.
The Stadium
The reported attendance for the game was 60,641, but it felt more like 60,643. The place rocked until everyone left in the third quarter.
Some of my friends texted to see if I wanted to sit with them. They had spent ample time before the game in the grove and their seats were further up than my one season ticket, so I elected to find my spot on the bleachers in Section 5 and enjoy the game from there. I purchased a Miller Lite. I found my seat lodged between two older women, who spent most of the game on their phones.
We scored on the first drive, so I tried to make conversation.
Go Rebels, I said.
Woo! They said.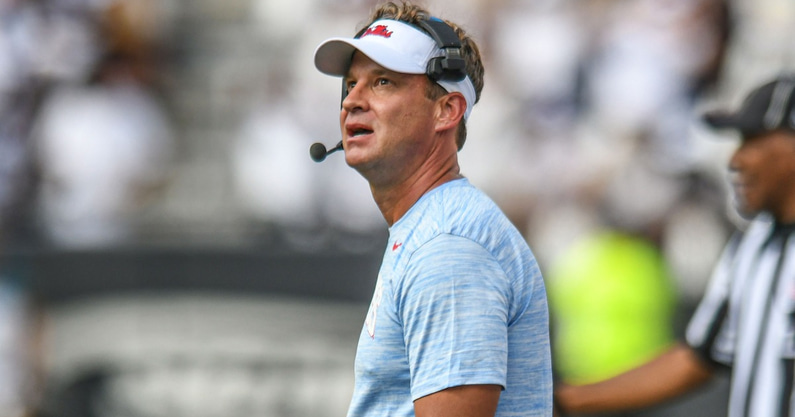 The Defense
Much of the excitement drained from my section after the first drive. The Ole Miss defense looked confused for a large portion of the game. Davis Brin started at QB for the Golden Hurricane. He executed his offense with some real efficiency, completing 7 of 13 for 112 yards and 1 TD before leaving with an injury. Braylon Braxton stepped in and struggled early, but pulled it together in the second half, going 9 for 21 with 83 yard, 1 TD and 1 INT.
On the first couple of drives, the Rebels secondary had trouble communicating. They bit on a lot of pump fakes and seemed to be too eager to play the run. This opened up the Golden Hurricane offense to some big play potential. While the secondary seemed to pull things together near the end of the game, they struggled to shut down either quarterback.
I was also less than impressed with the defensive line. Tulsa's O-line was able to create major holes in the middle of the field that allowed their running backs to get moving. Things exasperated when Braylon Braxton subbed in for the injured QB Davis Brin. Braxton's ability to move outside of the pocket kept the Ole Miss defense on their heels in a bend-don't-break mentality.
Still, the Rebels came up with some big stops when they needed them. They rushed three all game, which tells you they weren't worried about Tulsa's ability to score at will. They didn't show any real blitzes for Kentucky to catch on film. I get the sense they'd like to tighten up the secondary, but that they are going to rely heavily on an effective linebacker room to run the defense.
As you can see, when the Rebs do get pressure, good things happen.
Coverage + Rush = INT@iamAustinK_ x @AJFinley1
🖥 https://t.co/3xOaIvd1CQ pic.twitter.com/kJQqQtObwl

— Ole Miss Football (@OleMissFB) September 24, 2022
Halftime
When halftime sounded, the Rebels found themselves up 35-17. I went to use the restroom and asked my new friends if they'd like me to get them anything.
Where are your friends and family?
I don't know.
After I finished in the restroom, I purchased my second Miller tallboy from the same vendor I'd seen before. My ex hated Miller tallboys. The vendor seemed to like them. I thought we shared a connection, so I went for it.
Do you like Miller Lites? I asked.
I made sure to motion my tallboy towards her so that she could be very clear on the brand of beer I referred to.
She looked at the beer, looked at the line of folks behind me.
No.
I stood next to the railing and watched a sea of tipsy undergrads shuffle past and out of the stadium. These undergrads are hard to characterize. They wore gigantic shirts with Air Jordans and Air Force Ones. Everyone carried four beers. Everyone hit from the same vape.
I watched an undergrad tell his friends' dad a joke. Then he dropped his beer. He picked it up and fell over. I bet he likes Miller Lites.
The Offense
I decided to focus on the offense in the second half. This was a mistake, because we didn't score a point the rest of the game.
Lane Kiffin is known for his exotic play calling, aggressive style, and gambler's mentality. He displayed none of this during the second half.
The middle aged fans around me grew irate when it became clear that Lane was content to call dinky screens, draws, and quick slants. I think part of the reason for this was that he felt the game was in hand and didn't want to put anything on film for Kentucky. I tried to explain this to them.
That's not it, someone said.
Holding! another man said.
The Playmakers
Quinshon Judkins, Jonathan Mingo, and Michael Trigg should be your favorite things about this Ole Miss offense. Judkins is an actual stud. He hits holes with ferocity and he's difficult to take down. He has NFL-level speed and a good feel for the field. If Ole Miss is going to bust my under bet, it's going to be with Quinshon.
Mingo and Trigg are a force in the passing game. I worry that without Trigg, defenses would double up on Mingo and force Dart to throw into coverage. Trigg keeps the defense honest and is a legitimate second option for Dart. These guys are real weapons for Kiffin to use in his offensive scheme and, so long as they learn how to pull in difficult catches, they should be on the slate to make some big plays next week against the Wildcats.
Watch Mingo's sick sideline juke here.
That sideline juke giving us @1kalwaysopen_ vibes. 🤩@ogmingo1k | #HottyToddy
🖥 https://t.co/3xOaIvd1CQ pic.twitter.com/eZsz9vVJ2C

— Ole Miss Football (@OleMissFB) September 24, 2022
I worry about the offensive line. They seem to create enough room for Judkins to run, but their pass protection leaves much to be desired. The pocket collapses for Dart too often and he's forced to make a bad decision or take off with his legs.
Dart is going to make bad decisions this year. That comes with the territory. He's good, but not great. Be patient with him as he progresses throughout the year. I guarantee he will lose us one game. It might be because the O-line can't protect him. Or it might be that he throws a pick six. All I know is that our front seven and our QB are not ready for SEC play.
Ole Miss Friends
I tried to explain this to my new friends in Section 5, but they were way too busy blaming the referees for our problems and complaining about the play calling. Still, I think I made some headway with them. I really need some friends.
Why are you here? One of my new friends asked.
My girlfriend bought me one ticket.
That's weird.
I know.
Part Three Coming Soon
Stay tuned for Part Three after the Kentucky game on October 1. Meanwhile, enjoy Lane's press conference.