NFL Week 8: Picks and Predictions for Every Game
NFL WEEK 8: PICKS AND PREDICTIONS FOR EVERY GAME – This feels less like a recap and more like a resignation letter. Thoughts like, "things just didn't go as we planned", and like "thank you for the opportunity" and "I am not even thinking about the $100 million golden parachute." 3-10. THREE AND TEN!!!
If you faded me last week you could re-do the Louisiana Purchase. You could own actual states! Nebraska could be all yours!
I don't even think SBF could blow through money this quickly.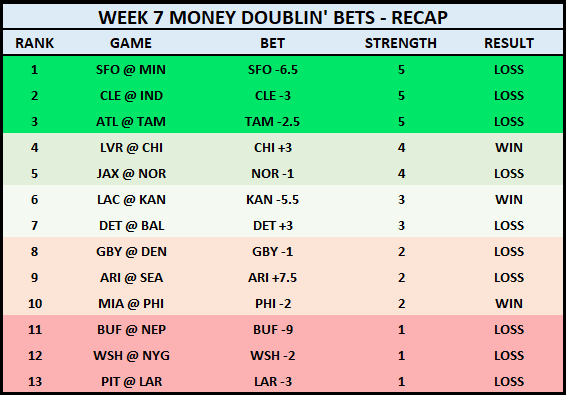 ---
Week 6 All Games: 3-10
All Games Season Total: 51-54-1
Week 6 "Green" Games: 1-5
Green Games Season Total: 21-26
This is just catastrophic. I must have meant to write "Money Destroying" bets. Obviously, I need to make some adjustments, but at the same time I can't just blow things up to re-create games that already happened.
One adjustment is putting the guardrails back up – i.e. there are maximum values for how good teams can be at something and also minimum values for how much they can suck. Second is to adjust strength of schedule impacts, and third is to take another look at home-field advantage. I have generic home field advantage at 4 points, however some teams have a stronger home/away split than others.
I've noted the Dolphins advantage numerous times and they unsurprisingly came out with the biggest home/away split since 2015 (excluding 2020), at just over 8 points. So when they go on the road to say Philadelphia, you may want to fade them a bit. For reference, league average for a team is about 1.5 points better at home offensively and 2 points defensively (so 3.5 total) than on the road.
So from there we can see some outliers. Dome teams, for example, generally have bigger offensive home field advantages, as Dallas (3rd), Detroit (4th) and New Orleans (7th) are in the top 10. Looking at the bottom, the only dome teams in the bottom third are the LA teams, Arizona and the Raiders, and both the Los Angeles teams and Las Vegas have a very small sample size as they've only been in these digs for two seasons that I am counting.
Pittsburgh is surprisingly number 1 (and really, the number one best bet you can possibly make statistically is Mike Tomlin as a home underdog). You've gotta sort through some noise, as for example the Jets are 4th and the Giants are 26th despite playing on the same field. This is probably due to Jets road games being in either the arctic or in a tropical rainforest, while the Giants get to play in domes about twice as often as the Jets do along with the sterile environment in Washington.
Oh, and they also get to face the Commanders there. But I'm looking for trends.
Defensively the trend is clear – homefield advantage is a bit more impactful here, and it seems to be even moreso due to the weather. The Florida teams are all in the top 3rd, along with Green Bay (Green Bay at home is the number one home/away factor by magnitude – the Packers are almost 7 full points better on defense at home than on the road), Kansas City, Cleveland and Chicago. Now, is a lot of this likely due to Green Bay playing two division road games each year in domes? Yeah, absolutely.
Some dome teams also sprinkle into the top half, particularly Indianapolis and their famously pumped-in crowd noise. Sterile domes like Dallas and the aforementioned LA/LV teams are near the bottom but oddly the lowest number is that of New Orleans. Not sure why that is.
Kansas City has the worst home-field offensive split, by the way, and it's likely because they play most of their road games in much better weather conditions, but it's something to note when betting on their games. Perhaps the 19-8 win over Denver shouldn't have been as surprising as it was.
All right, enough excuse-making; let's do an autopsy on a few of these games.
49ers @ Vikings
I'm not sure what is going on with the Niners, but for now I'm just writing it off as random nonsense that happens during NFL seasons. I'm still going to bet on them in Week 8.
Browns @ Colts
This one was nuts – Deshaun Watson clearly has significant problems with his shoulder that massages cannot fix, and the PJ Walker-led offense is not one that I want to be betting on. That being said, this was the number one defense in the entire NFL by light years coming into this game, and Gardner Unitas just diced them into pieces. My numbers still suggest that the Browns should be a good value going into Seattle this week, but with the QB situation I just cannot confidently bet on their games.
Falcons @ Bucs
I don't know what this was. The Falcons are an absolute mystery box of a team that I never want to bet on or against ever again, and I'd much rather take the Bucs as underdogs rather than favorites.
Jags @ Saints
This one went from a Jags blowout late, to suddenly the Saints having the ball on the ten and their tight end dropping the game-tying TD pass. The Saints were my number one STs/Conversions team going in and then they converted like a hundred fourth downs to keep this game within reach. I am completely out on Derek Carr by the way; not sure what excuses will be made for him after this year given that this team was an actual good offense last year with Andy Dalton leading it, but I don't want to hear them.
At least put Jameis in and make this team fun.
Lions @ Ravens
I had the Ravens as the better team last week but faded them due to their previous game being in London; they must have used the LIV golf plane on the return trip because they were on fire from the opening kick in this one. I still think the Lions are good but there was way too much "best team in the NFL?" stuff leading up to this one. Jared Goff is famously one of the most weather-affected QBs in the league and he was defeated handily by a crisp fall afternoon.
Packers @ Broncos
Jordan Love is probably not good. In fact, he appears to be bad.
Commanders @ Giants
I was assuming Daniel Jones would be back under center for the Giants. As long as Tyrod Taylor is playing, they will be at least competent offensively. Daniel Jones will almost assuredly take 9 sacks and lose two fumbles whenever he returns.
Week 8
Alright. Clear eyes, full hearts, empty wallets. On to week 8. 
Week 8 Projections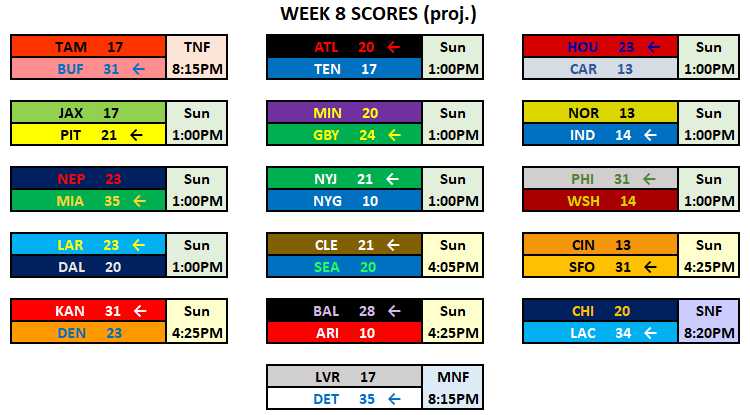 Week 8 Best Bets Ranked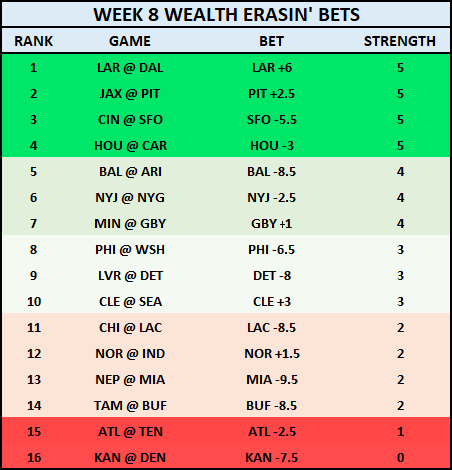 Maybe I shouldn't have lessened the weight of the spread predictions, as that method would have had me at 7-6 last week. Still don't want to overcorrect so I'll just use them as a guide this week.
Week 8 Power Rankings
 
Note that power rankings do not account for injury and do not directly factor into score projections.

Who's Up? Who's Down?
The Niners remain number 1, however their chokehold on the top spot has slipped dramatically as Baltimore is breathing down their necks, and Kansas City has also gotten within striking distance. Denver claws their way out of the bottom spot as they narrowly squeaked out a win against a team struggling to complete a forward pass, while the Bears and Tyson Bagent (?????) absolutely annihilated the Raiders. Things are not exactly going well for Josh McDaniels in his second (and almost certainly final) HC stint.
TIER ONE GAMES
LA RAMS +6.0 @ DALLAS
Power Ranks: LA Rams 10th, Dallas 7th  
Projected Result: LA Rams 23 – Dallas 20
This is a weird one, as you wouldn't expect this game to be part of the early window but it is indeed a 12pm noon local time kickoff. I think that may be weird for both teams. Dallas is slightly ahead of LA in pure performance metrics, however I give LA a massive coaching/schematic edge and that's enough to push them ahead in my projections.
But as 6 point underdogs? I think Dallas should only be a slight favorite and so I'm all over this one.
JACKSONVILLE @ PITTSBURGH +2.5
Power Ranks: Jacksonville 9th, Pittsburgh 20th  
Projected Result: Pittsburgh 21 – Jacksonville 17
As I mentioned earlier, the number one possible bet you can make statistically is to bet on Mike Tomlin as a home underdog. You want no part of his Steelers as big favorites, but until they show that they can complete a 10 yard pass you won't have to worry about that. As a home dog, however, Tomlin's teams are 15-4-3 against the spread.
That seems to jive quite well with their home field advantage, which is the biggest in the NFL in the last 8 years offensively and 3rd largest overall. Meanwhile, the Jags have one of the biggest disparities between their defensive home and away performances, and they have been quite stagnant on offense outside of Travis Etienne. I would note however that they have played a tough schedule of opposing defenses.
The "weird bounces" metrics also favor the Steelers. Easy #2 bet for me this week.
CINCINNATI @ SAN FRANCISCO -5.5
Power Ranks: San Francisco 1st, Cincinnati 23rd
Projected Result: San Francisco 31 – Cincinnati 13
I don't love this projected result and this is a clear level below the top two bets for me, but I still have the 49ers as being good and the Bengals as being bad. Plus SF has a significant home split which should help them get back to blowing teams off of the face of the Earth.
HOUSTON -3 @ CAROLINA
Power Ranks: Houston 14th, Carolina 29th
Projected Result: Houston 23 – Carolina 13
This one surprised me a bit, but it's the classic "decent team vs. terrible team" matchup that I'd like to take advantage of.
TIER TWO GAMES
BALTIMORE -8.5 @ ARIZONA
Power Ranks: Baltimore 2nd, Arizona 26th
Projected Result: Baltimore 28 – Arizona 10
I want to have this in my top tier, but I just can't get completely behind Baltimore covering this spread on the other coast in classic "letdown" spot. I know they finally put it together last week against Detroit, but that only brings them to 1-5 in "putting it all together".
NY JETS -2.5 @ NY GIANTS
Power Ranks: NY Jets 17th, NY Giants 30th
Projected Result: NY Jets 21 – NY Giants 10
Not sure who the QB is going to be for the Giants and thus I can't put this one higher but even if it's Tyrod Taylor, the Giants "improved" offense is still scoring like twice a game and the Jets defense should absolutely suffocate them.
MINNESOTA @ GREEN BAY +1
Power Ranks:                Green Bay 22nd, Minnesota 15th            
Projected Result:         Green Bay 24 – Minnesota 20
I should just delete a model that continues to tell me to place bets on Green Bay, right? This team is addicted to putting up 12 total yards in the first half before rallying like mad to make their game look respectable. But they are playing at home and the weather looks like it's going to be similar to the weather from week 17 last year that cost everybody rostering Justin Jefferson their fantasy championships.
This is your last chance, Jordan Love.

BORDERLINE BETS
PHILADELPHIA -6.5 @ WASHINGTON
My numbers love it but I just hate this game for whatever reason. That being said, Sam Howell is atrocious, but he keeps doing just enough of a 2015 Blake Bortles garbage time act to keep his numbers respectable and get fans defending him with stats. Unfortunately, the Giants couldn't score enough to create the garbage time situation that Howell needs in order to excel.
LAS VEGAS @ DETROIT -8
I also have a weird feeling about this game but it is a favorable situation for the Lions, at home where they excel and hosting the worst team in the entire galaxy. Vegas may have Jimmy Garoppolo back which could elevate them to 3rd worst team but the Lions are still a top 10 squad and I wouldn't fault you if you bet them to win by 10+.
MIAMI @  PHILADELPHIA -2
I'm predicting that this game is going to be an absolute barnburner. I just don't want to bet on either side of it.
CLEVELAND +3 @ SEATTLE
If it weren't for Cleveland's QB injury issues, I would be all over them in this game. As it stands, however, I can't confidently pick them with Deshaun Watson or without him.
THE REST
I suggest that you save your money. However, if you think it's too environmentally unfriendly to simply burn it, feel free to bet it on these games. Gun to my head picks are in green text.
CHICAGO @ LA CHARGERS -8.5
Sure, Tyson Bagent and the Bears blew the Raiders off the field last week but Bagent didn't really do much beyond hitting some 5 yard passes. We're just not used to much out of the Bears. The Chargers, however, are always a threat to Charger.
NEW ORLEANS +1.5 @ INDIANAPOLIS
I predict that this game is completely unwatchable. That being said, I have the Saints as the slightly better team and I'll take them to win this one straight-up. I just wouldn't bet anything of significance on Derek Carr.
NEW ENGLAND @
MIAMI -9.5
New England @ Buffalo was my 2nd highest likelihood of a weird upset and that's just what we got, though it was more about the Patriots looking surprisingly good on offense while living up to their defensive hype rather than any weird happenings. That being said they are easily number one in that regard this week (Washington over Philly is 2nd and Cincy over SF is 3rd).
That being said, all that is doing is keeping me from recommending this game, as every other metric screams Miami. They are best home team in the NFL (as compared to their road performances). It's not stiflingly hot here in Miami anymore but it should still be quite warm on Sunday afternoon when Miami puts New England directly in the sun.
And one of the best bets you could make in previous years was Miami hosting New England. Sure, those games were typically ones that featured a sad-sack Dolphins team as massive underdogs, but the general effect should still remain. I can't fault anyone who takes the Fins to destroy the Patriots in this one.
TAMPA BAY @ BUFFALO -8.5
This would possibly be a game I'd highlight in most cases, however it is the Thursday night game this week, so who knows what effect that will have. Plus, it looks like this week will be the last of summer trying to hold on in Buffalo. Should be downright nice in Western NY for this game.
Tampa has slipped quite a bit in my rankings, but I'm still not too thrilled about taking the Bills laying 8.5 this week.
ATLANTA -2.5 @ TENNESSEE
I absolutely want no part of this awful game. Atlanta is the Tennessee of the NFC and vice versa. Both of these teams should be banished by Executive Order.
KANSAS CITY -7.5 @ DENVER
Man, are there really no byes this week? That seems quite odd but do your thing NFL. Kansas City is notoriously bad at covering big spreads so I am not going to bet on them doing it here.

Both of my survivor entries have lost so I'm done with that segment, as who would want to listen to it?
Buckle up though as we're going 16-0 this week.