UGA 2023/24 Season: Five Reasons Georgia Won't Repeat
UGA 2023/24 SEASON: FIVE REASONS GEORGIA WON'T REPEAT – It's that time of the year where I'm just desperate for college football to start. I'm rewatching old games, and looking back at players who are stepping into a larger role for this season. That provokes feelings of excitement, and wonder at who the next star at UGA will be.
UGA 2023/24 season outlook
Let's be honest, few teams have it as good as UGA right now. Only two or three teams can match Georgia's talent, and they should make quick work of most of their foes this season.
However, the standard aim at UGA is now competing for a National Championship. So what are the five things that may keep Georgia from winning a third straight title?
1. Defensive line drop off
Last year, Jalen Carter played a massive role in every important game that Georgia played.
When he returned to action from injury against Tennessee, Carter used his game-breaking abilities to pressure Hendon Hooker and make key plays. He was the one who hit Hooker in the end zone forcing a fumble that should have resulted in a safety. Instead, Georgia fielded a punt inside Tennessee territory and hit Ladd McConkey on the next play for a touchdown. Carter's play led to a momentum swing that Tennessee never recovered from.
Carter also famously picked up LSU's Jayden Daniels with one arm for a sack in the SEC title game. The bottom line is every time Georgia needed a big play from Jalen Carter, he delivered. He simply had the talent to turn it on whenever he needed to, and many times he was the catalyst in Georgia getting a key stop on defense.
Not only that, but Georgia has put multiple defensive linemen in the first round of the NFL draft the last two seasons between Devontae Wyatt, Carter, Jordan Davis, and Trayvon Walker. That kind of D-line production has fueled Georgia's defense for the last 3 years, and is now gone.
Nazir Stackhouse is next in line to make an impact in the interior, UGA lacks the star power it has relied upon for years. Warren Brinson and Tramel Walthour bring plenty of experience to the role, just not the high ceiling that Carter and company have.
No room for heroes?
Georgia strongly prefers to pressure QB's up the middle and contain them on the edges, but this year they won't have that person who can single-handedly disrupt a play. If Stackhouse gets hurt, UGA is in big trouble on the interior d-line. In a preseason interview, Smart acknowledged his fears, stating: "I would say end, tackle, and nose, all in one, concerns me in terms of depth."
Clemson found a stretch of success from 2016-2019 in large part due to exceptional quarterback play and multiple players with top NFL talent along their defensive line. Once their line talent dropped, so did their success. Georgia is susceptible to the same problem this year, even if current outrights make them clear favorites for glory.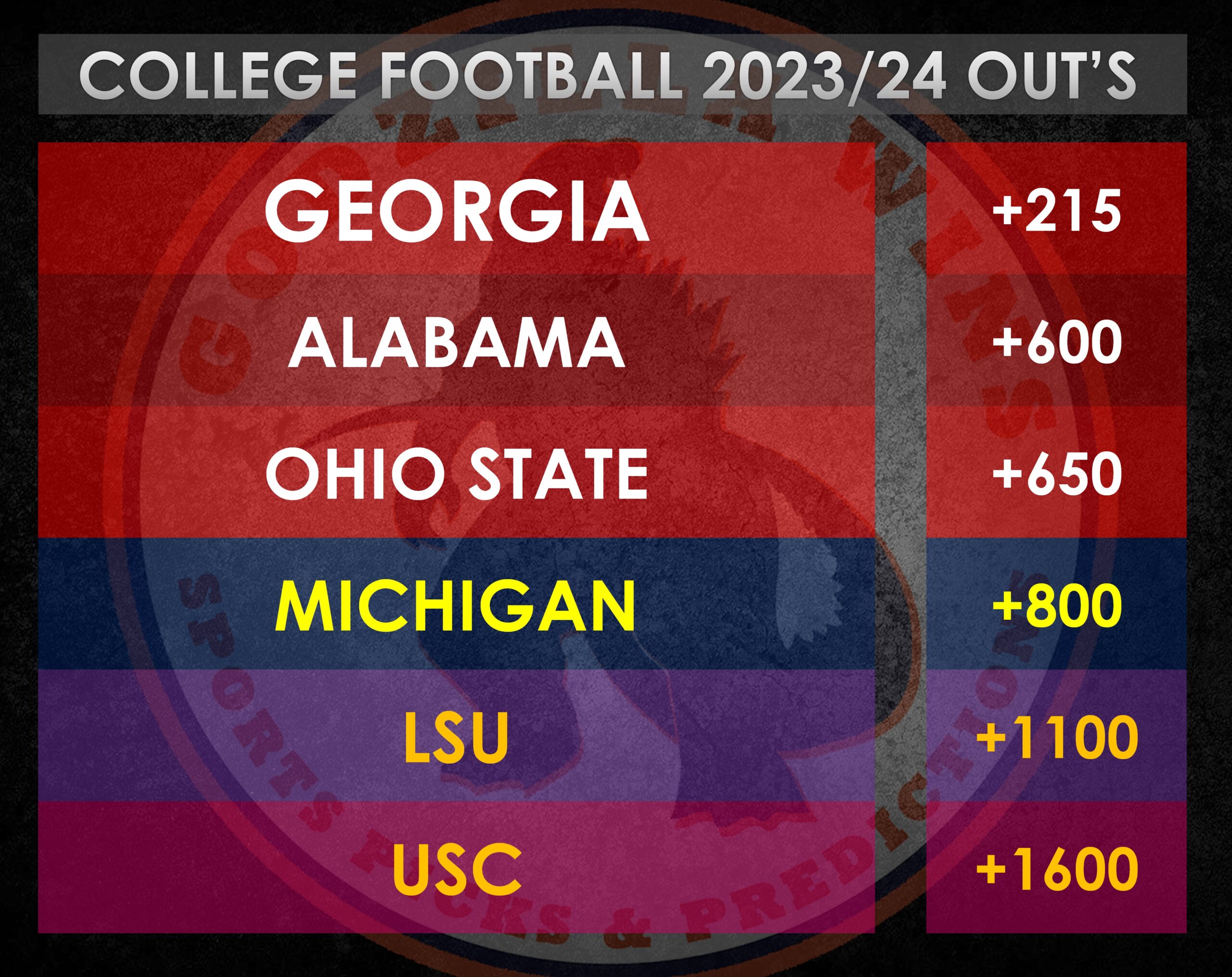 2. Carson Beck is unproven
I absolutely believe that Beck will be the starter this season and that he will have a successful year at quarterback for UGA. He may even end up as a Heisman finalist as he runs the offense behind a top 3 offensive line in the nation and with arguably the best tight end and receiver corps in the country. Any QB worth his salt should thrive in Georgia's offense this year.
The question that remains about Beck is his ability to deliver under pressure. My suspicion is that we'll miss Stetson Bennett this season for two key reasons. The first is his ability to extend plays with his feet. Secondly, his ability to deliver in key moments is a major asset.
Bennett's 4th-quarter against Alabama in the National Championship in '22 was close to perfect. His 4th quarter against Ohio State in the semi-final, and his performance in the championship against TCU, were immaculate. There were times where Bennett would go off script or seem asleep at the wheel during games. And yet, every time UGA really needed a clutch throw, the Mailman delivered.
Carson Beck may be a great QB, but to win a natty, he'll need to also be as clutch as Stetson without having the benefit of starting for a year before truly being relied upon.

3. Georgia has an unfavorable schedule
UGA shouldn't truly be tested until November when they face Tennessee, who are likely to have one or more losses by the time they face the Dawgs. A home game against South Carolina on Sept. 16th shouldn't pose too much trouble. Kentucky seems to play the Dawgs close but never put up enough points to threaten them. Ole Miss has the chance to upset UGA ahead of the game against the Vols, but Georgia ultimately is far more talented than any team they'll face.
The problem is Georgia won't really know what they are made of until the regular season is close to being over. And if they find out they lack physical toughness, focus, or discipline, it may be too late to correct. Even though I think UGA would blow out Oklahoma if they had played to open the season, it would have been an important test and a high-profile game to start the year off.
Georgia has set the tone the last two runs to the national championship with key wins in week 1. Now they have 5 of their first 6 games played at home. The schedule isn't the cakewalk that some make it out to be, but it may not be enough to keep the back-to-back champions locked in.

4. Georgia doesn't have a reliable running back
For the first time in what seems like a decade or more, UGA's running back room doesn't strike fear into the hearts of anyone. Kendal Milton is a star who can't remain healthy. His history of hamstring issues make the likelihood of him contributing significantly this season minimal. He's already aggravated his hamstring in fall practice leading up to the season, but details on how severe the injury is have yet to be announced. And Kirby won't tell the whole story anyway.
Branson Robinson is coming off of a significant foot injury and is expected to miss the first several weeks of the season. The Dawgs likely won't be able to really get him up and contributing until the latter part of the year. The sophomore RB still needs reps and improvement in pass blocking but won't be able to get valuable reps against the lighter opponents on the front half of the schedule.
While Daijun Edwards is a talented back, he doesn't have the top end speed or physical power that UGA is used to seeing from starters at running back. He moves well in tight spaces between the tackles, and is only decent at receiving out of the backfield. Andrew Paul is another backup who is coming off of an ACL injury. He's completely untested in college ball so far.
So if Milton's injury is severe, Georgia will be looking at Edwards, true freshman Rodrick Robinson, and walk ons Cash Jones, Se'vaughn Clark, and Len'Neth Whitehead to carry the load early on. If Edward can't stay healthy, things get bleak for the Dawgs at RB in a hurry.

5. Questions remain in the secondary
Georgia was picked apart through the air against LSU and Ohio State. When facing teams with accurate QB's and multiple talented receivers, UGA has struggled even while having dominant defenses.
Marvin Harrison Jr had his way against the UGA secondary in the first half of the semifinal game. While he was locked up in the 3rd quarter before being knocked out of the game, Emeka Egbuka was tearing up the UGA defense when Harrison was not. LSU had a host of receivers getting open as well, but it happened when the game was already gone.
UGA have also lost #1 Kelee Ringo and safety Chris Smith to the NFL. Meanwhile, Javon Bullard is moving to a new position at safety and will need time to settle in. His coverage skills weren't the best, but he was great at creating havoc. UGA has yet to settle who will fill the open corner spot on defense. However, Kamari Lassiter will have to step up.
Georgia has as much talent in the secondary as I can remember. However, two of the 5 DB spots are uncertain and the one that returns will still be a part of a susceptible secondary.
Even if one or more of these concerns rear their heads during the season, the Dawgs may still win it all. It doesn't mean that UGA won't or can't figure out how to play at an elite level. After all, they showed only last year that it takes more than just talent to win the whole lot. It also takes luck and some breaks.
And Georgia are favorites for a reason. So I'll also be coming out with 5 reasons that UGA repeats as well. Watch this space!