UFC 68: Lewis vs. Spivac Main Event Odds and Prediction
UFC 68: LEWIS VS. SPIVAC MAIN EVENT ODDS AND PREDICTION – Rescheduled from a main event that was canceled on fight day back in November, Derrick Lewis and Serghei Spivac hope to settle their score this weekend when they headline UFC Vegas 68 this Saturday night with the prelims kicking off on ESPN+ at 10 p.m. E.T. and the main card following at 1 a.m. ET. 
The reason for the late start is due to this card initially being scheduled to go down in South Korea. After the UFC already stacked the deck with a plethora of Asian talent, they decided to keep the start time the same even though the event is now taking place back in Las Vegas.

Lewis will be looking to bounce back from a tumultuous two-fight skid where he got knocked out both times.

Spivac hopes to add onto his two-fight winning streak and stretch his run to 6-1 over his last seven fights.

Will the 'The Black Beast' unleash his destructive power once again, or will 'The Polar Bear' reign supreme with his grapple-heavy style? Read on to find out the best way to bet this fight and how it will go down.
DISCLAIMER: Godzilla Wins is for entertainment purposes only. Must be 21 or older, and reside in states where sports wagering is legal only. If you or someone you know has a gambling problem, call the Problem Gambling Helpline at 888-532-3500.

Serghei Spivac

After starting his UFC career 1-2, Spivac has really turned things around. His only loss in that span came to hot prospect Tom Aspinall, a fight he took on short notice.

Spivac has moved his entire training camp to Xtreme Couture since the pandemic hit and he is benefitting from the high-level coaching and training partners he now has access to. He utilizes a solid wrestling game to ground his opponents and do damage from on top or find a submission.

He turns 28 in a couple days and is likely getting closer to his prime. With a little more grooming and experience, Spivak can turn into a serious heavyweight contender given his style. His striking is starting to come together, but still needs some work. If he can perfect the striking aspect of his game, he will be able to blend his wrestling much better and he'll be able to implement his game more effectively than just desperately trying to get the fight to the ground.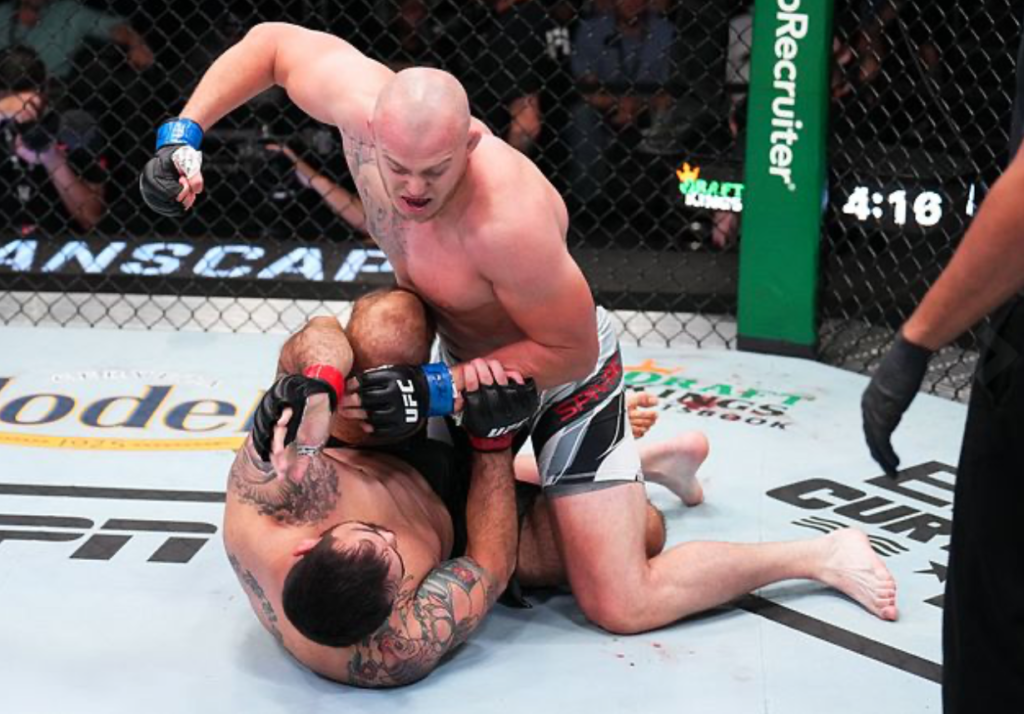 Derrick Lewis
Fights involving Lewis are a tough nut to crack. He is always at a skill deficit, but his god-like power keeps him in fights.

It does seem as though the constant injuries he has will nag him even more as he closes in on the end of his career and it may cause that power not to land as often anymore. The main injury he's been dealing with in the latter part of his career is his back issue.

Lewis does tire pretty badly as fights go deep. As long as his opponent can remain disciplined, they will be able to get Lewis out of there, similar to Ciyrl Gane. When taken down, his get ups have no technique but he is able to just muscle his way up whenever he can gather the energy to do so. 
His calling card is his big power, if he can't land it on you, there is very little chance he can get his hand raised.

He's a character, he delivers fun knockouts, but I believe his time is coming to a close. This year may be the last that we ever see him in a main event and possibly even in the UFC.
The Pick
When they were first scheduled to throw down in November, I had a gut feeling that Lewis would find a way to pull it off. 
Now, a couple months later, I've changed my stance and gone with the fighter who has more paths to victory.
It's Spivac's time to make a run to the top of the division and a victory over a guy like Lewis will do a lot for his confidence. I think Spivac can evade Lewis' big shots and either counter or change levels and get this fight to the ground. 
Once on the ground, Spivac is very good with keeping opponents there and eventually finding a finish. 
It may take a little work and grind, but I think he can get Lewis out of there by round 3, especially as takedowns become easier and the resistance from bottom starts to dwindle.
Tommy's Pick: Serghei Spivac to Win (-225) and Inside the Distance (-170)