UFC 68: Three Best Moneyline Bets
Hyun Sung Park (7-0) vs. Seung Guk Choi (6-1)
UFC 68: THREE BEST MONEYLINE BETS – This fight serves as the Road to UFC flyweight tournament final and I think we have a very promising prospect on our hands. 
Click here to read my main event analysis and pick for UFC: 68.
Park has a solid all-around game with a very patient and methodical striking approach. He uses a combination of speed and athleticism to time his opponent's strike and he counters very effectively. He disposed of his first two tournament opponents in the first round, just showcasing how talented he is.
With three wins by knockout, three wins by submission and one by decision, you can see how comfortable Park is in all aspects of mixed martial arts.
Seung Guk Choi
His opponent, Choi, trains under the UFC fan favorite, Korean Zombie.
Choi's striking game mainly centers around kicks targeted on his opponent's lead leg. The gist of Choi's game revolves around takedowns if he doesn't feel comfortable in the striking realm.
He's been able to grind out a couple of his past opponents by sticking to them like glue and doing a great job of controlling them.

I'm not certain that will hold up against a higher level of opponent, like Park. As fights start to drag deeper, Choi's striking defense really starts to lack.
I think we'll see this fight be a little close early, but as it starts to drag on we'll see Park start to take over with his speed and striking.
If this fight hits the mat I think Park has a better Brazilian jiu jitsu game which will keep him out of trouble and get him back to his feet where he will be more effective. I wouldn't be surprised to see Park finish this late.
The Pick: Hyun Sung Park -180
DISCLAIMER: Godzilla Wins is for entertainment purposes only. Must be 21 or older, and reside in states where sports wagering is legal only. If you or someone you know has a gambling problem, call the Problem Gambling Helpline at 888-532-3500.

Jeong Yeong Lee (9-1) vs. Zha Yi (21-3)
Taking place in the featherweight division and serving as the final for the Road to UFC tournament, we have South Korea vs. China.
Although Lee will lack the experience compared to his foe in this matchup, I think the striking advantage and movement of Lee will be too much for Yi. 
At times Lee lacks the output that you'd like to see from a fighter you are backing, but he is very calculated with his approach and stings his opponents with his counters. He maintains his range very well which allows him to get in and out of the pocket without eating too much damage.
Zha Yi
Yi, on the other hand, prefers to drag his opponents to the mat and grind on them. He doesn't seem the most comfortable in the striking realm, but he has done a decent enough job thus far in his career to close the distance to drag opponents to the mat.
The downfall to his grapple-heavy style is that if he can't get a finish and his opponent is able to work back to their feet, they can easily nullify the control time by landing big shots of their own in the striking realm. The grind will work against a certain level of opponent, I don't think it will cut it in the UFC, though.

I believe the distance management, speed, and striking advantage that Lee will enjoy is going to be too much for Yi. Lee will see the takedown attempts coming from a mile away, which will allow him to counter effectively and pivot back off into space where it will be harder for Yi to get to him.
If Lee is taken down, I've seen him be aggressive enough off of his back to cause reversals, submission opportunities, or better yet a stand up so he can get back to his handy work. Look for Lee to find a finish around the mid-point of this fight.
The Pick: Jeong Yeong Lee -240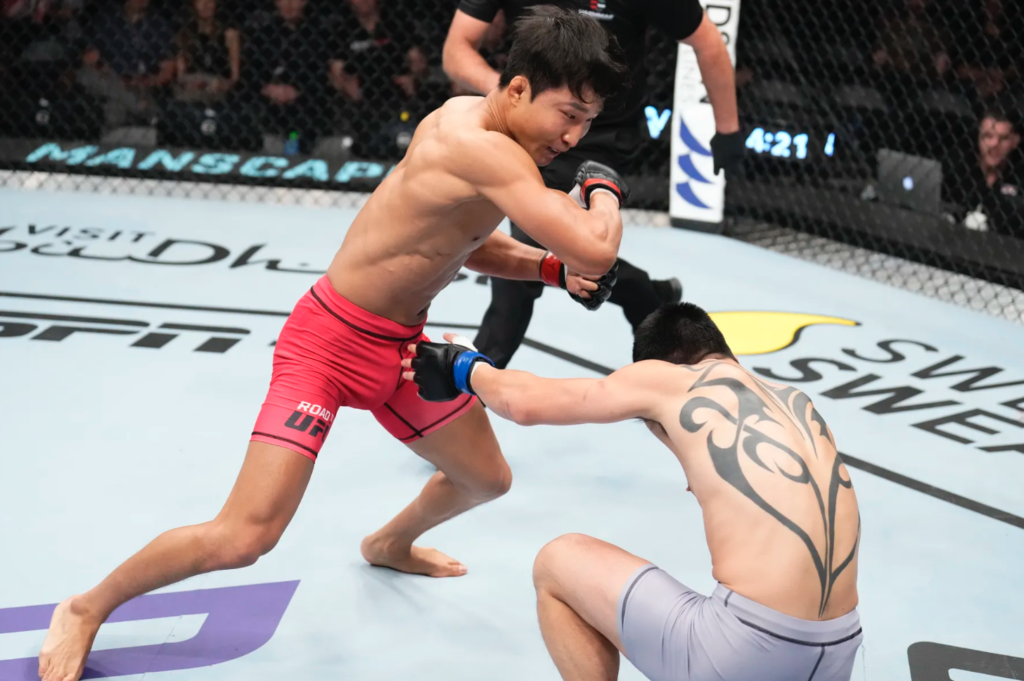 Marcin Tybura (23-7) vs Blagoy Ivanov (19-4)
Going for his second straight victory in a row as well as six in his last seven, Tybura is hoping to get himself as close to title contention as he has ever been.
Tybura had a tumultuous start to his UFC career but has managed to hone things in as of late. He is one of the rare breed of heavyweight who can go a solid 15 minutes if need be. Tybura is not amazing at any part of MMA, but he's above average at all aspects of it.
From his striking and movement, to his grinding wrestling pace, Tybura is a tough out for most opponents. He pulled off a big upset in his last bout as a nearly three-to-one underdog over the highly touted Alexander Romanov. He utilized his veteran IQ, knew the first round was going to be tough, but managed to rally back in rounds two and three to outwork his opponent to a decision victory.
Blagoy Ivanov
Blagoy Ivanov holds a .500 record in the UFC right now, but he has faced some very stiff competition in his six trips to the Octagon.
He is a pressure fighter with solid boxing and a deep sambo background. The path he chooses in most of his fights are boxing his opponent with combinations and grinding them on the fence. He has a sneaky takedown game if he needs it, but I love how he implements his pressure with forward movement and mixes up his targets when throwing punches. 

I still have some question marks about Tybura's durability and I think we'll see it crack once again this weekend. This will likely be a close fight early, but, as it starts to drag on, I think we'll see the pressure from Ivanov start to catch up to Tybura. Tybura may be able to stick and move early, but it will get harder and harder for him to do that as he'll always be on his back foot, dealing with the big power coming his way from Ivanov.
I also wouldn't count out the possibility that Ivanov looks to drag this to the ground at certain points to grind out Tybura from that top position. Look for a slow, grueling, grinding battle between these heavyweight with Ivanov either finding a late knockout or a decision victory.
The Pick: Blagoy Ivanov +115