UFC 290: Volkanovski vs. Rodriguez Main Event Prediction
UFC 290: VOLKANOVSKI VS. RODRIGUEZ MAIN EVENT PREDICTION — Jose Aldo, Conor McGregor, and Max Holloway. For a long time, those three names were at the top of the featherweight G.O.A.T. discussion. Until Volkanovski arrived.
With wins over two of those three previously mentioned names, and an undefeated run at 145lbs, Volkanovski is now cementing himself as the greatest featherweight to ever step foot in the Octagon. This weekend, a new challenger tries to test himself against the best the UFC has to offer.
Will Volkanovski push his UFC featherweight winning streak to 12? Or will Rodriguez pull off a giant upset and unify the titles? Read on to see how these featherweights match up and if there is any value on the big dog.

Get the latest UFC 290 Main Event odds on DraftKings.
Tale of the Tape
Volkanovski is looking to bounce back from coming up short after looking to secure champ-champ status by challenging Islam Makhachev. He now returns to his normal weight class to take care of business. Yair Rodriguez secured the interim title back in February, lining himself up for a shot at greatness by dethroning a seemingly unbeatable featherweight champion.
Alexander Volkanovski
Volkanovski went into 2023 unbeaten in almost a decade. But that streak ended in February, when he went up a weight class and fell short against Islam Makhachev for the lightweight title.
However, although Volkanovski closed as nearly a 3-to-1 underdog that night, he still defended more takedowns than people expected.
Volkanovski also memorably ended the fight by pounding on the champion from top position. So it seemed like a controversial decision back then – but upon rewatching it, I agree that Makhachev rightfully got his hand raised.
It's worth remembering that Volkanovski is not a wizard at any one martial art, but he is a master at mixing them together and executing a game plan. He very rarely ever puts himself in danger, yet always finds a way to land 30-40 significant strikes per round.
Usually standing at a height disadvantage, he makes full use of his 71-inch reach with his jab down the pipe and his foot work. His ground game is high-level, but I think it's his fight IQ in terms of when to strike, when to evade, and when to counter that sets him apart from so many others.
His cardio is elite-level too, which allows him to be competitive for all 25 minutes of a championship fight. Lastly, his determination and will to win is like no other. Need proof? Just watch the Brian Ortega fight and you'll see what I mean.
Yair Rodriguez
It's been quite a rocky road for Rodriguez. Once upon a time he was the darling of the MMA community. However, after the Frankie Edgar loss, he seemed to have lost favor with the masses. A fight with Magomedsharipov fell through, and there was behind the scenes drama that saw him get cut from the UFC but eventually resign.
It seemed after the Max Holloway fight that people started to respect him again, even though he lost that fight. Now after winning two straight fights and earning the interim title, the stars seem to be aligning for him to reach the pinnacle of the sport.
It's always been about flashy striking and an aggressive style from Rodriguez that made him so difficult to deal with. Within his first six UFC fights he defeated guys like Dan Hooker, Andre Fili, Alex Caceres, and BJ Penn. He utilized great footwork, powerful striking, and unorthodox movements to throw off his opponents.
His jiu jitsu has improved a lot, as people would try dragging him to the mat to get the better of him. His cardio still seems to be a bit of a concern at times, but if he gets into his groove with his striking, he has a real chance.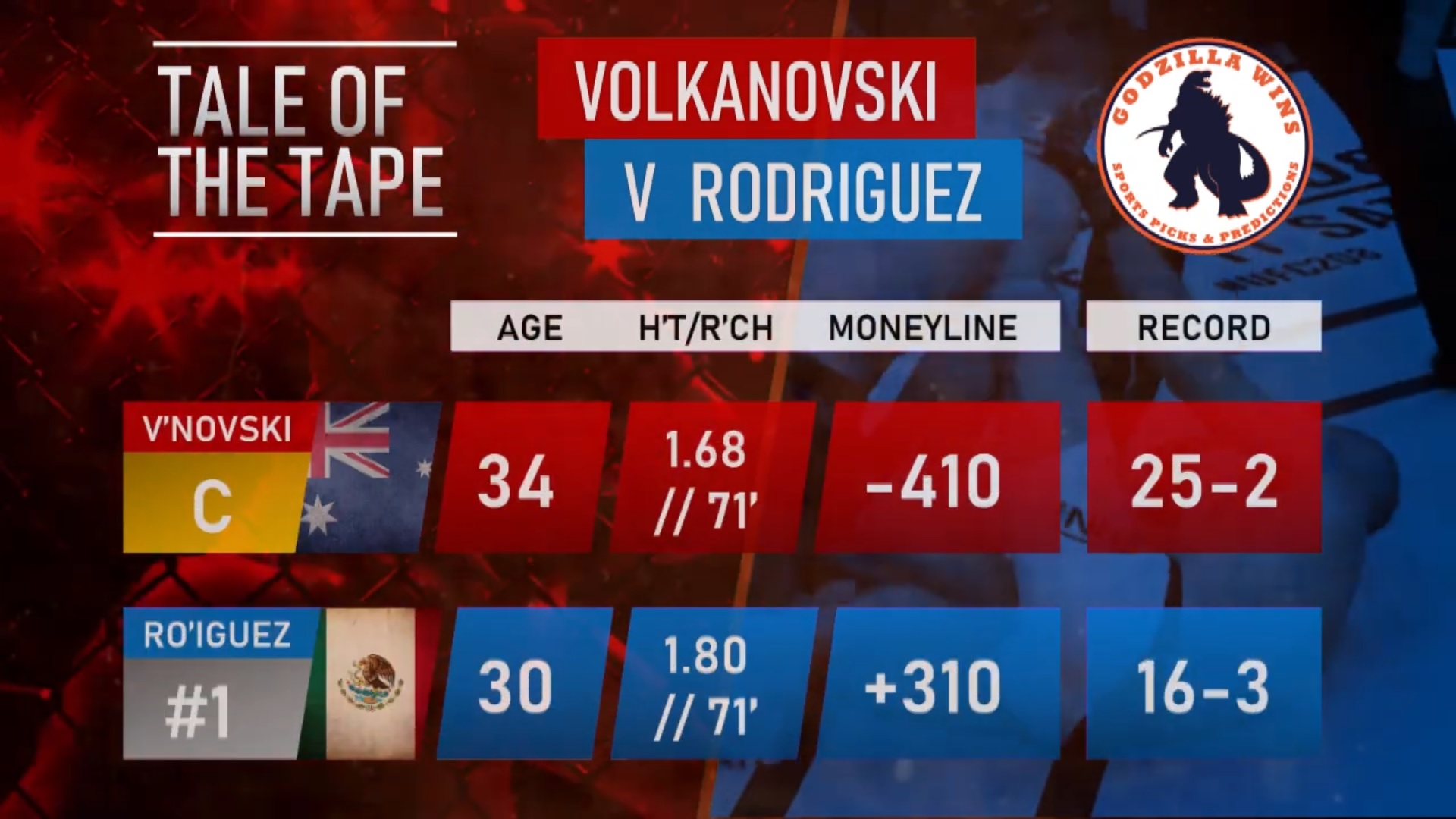 The Pick
It's tough to come up with a solid enough reason to bet against someone as great as Volkanovski. We are getting a decent enough price tag on Rodriguez to do it, but it's hard to be confident.
Volkanovski likely has the perfect game plan to thwart the power kicking style of Rodriguez and I also think he has a big enough wrestling advantage to get the fight to the mat and wear on Rodriguez. Thus, the only way we can try to extract some value out of this fight is the total or a prop.
I feel as though Rodriguez still may have some quit in him but could be dangerous enough that Volkanovski takes his time.  The Australian does solid work from on top to bank each round.
This whole week I've been bouncing back and forth about how to attack the fight and I think I've settled on Volkanovski winning by decision. He will have to play it safe to avoid the flashy striking and on the mat. But I think Rodriguez can do enough good work to retain guard, and run down the clock.
I'm completely fine with people throwing Volkanovski into parlays. However, I feel most comfortable with going for the decision prop if playing this fight straight.
Prediction: Volkanovski via decision +125
See also: Trent's three prop picks and DFS lineups!