UFC 290 DFS Lineup
UFC 290 DFS LINEUP – There are two mainstays to play DFS for UFC 290; DraftKings and FanDuel. Each has its own scoring rules and variations, but they are similar. Here are DraftKings' scoring rules and FanDuel's scoring rules.
MVP Pick
I will always list fighters I think should be selected as MVP at the top and will use DraftKings budget to model my projections.
Jack Della Maddalena $9,700
Though a skilled fighter, Della Maddalena's opponent is entering the bout on short notice, which is likely his ticket to the UFC. Josiah Harrell would have earned a chance to fight in the promotion anyway, but accepted this fight on short notice to earn the respect of the matchmakers.
Della Maddalena will have a five-inch reach advantage and the striking advantage, and is therefore hugely fancied (-300) to win by KO/TKO. He should be able to get the finish early and make quick work of Harrell on the feet.
Also worthy of consideration is the simple fact that his last four fights have all ended in first-round victories.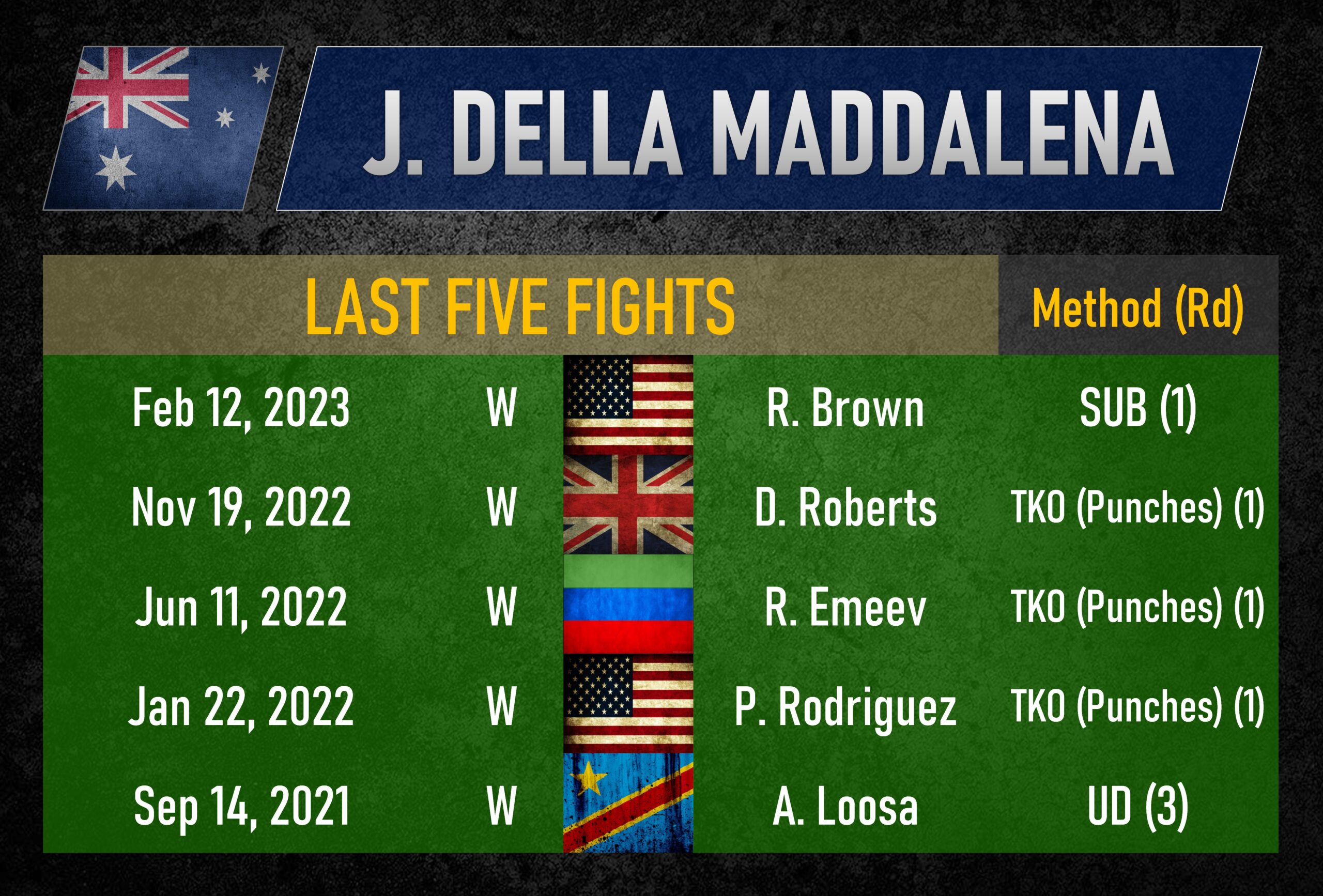 Other Picks
Amongst my other picks is the favorite for the UFC 290 Main Event, but first comes a man with a perfect professional record to date.
Tatsuro Taira $9,600
Tatsuro Taira was supposed to fight a couple of weeks ago, but his opponent missed weight, and the fight got canceled. Now he will be fighting Edgar Chairez in a catchweight bout. Chairez is 10-4 and is making his UFC debut against a good prospect.
Meanwhile, Taira is 13-0 overall and 3-0 in the UFC. He has more experience and better grappling too (he is -225 to win by submission), which should allow him to take control and find a choke.
Alexander Volkanovski $9,200
Alexander Volkanovski has an advantage on the mat in this bout, but may be facing the most dangerous striker in the division. Yair Rodriguez has only defended 63% of takedowns and does not offer an offensive wrestling threat. He wants to land heavy kicks and fight at range.
Rodriguez is also expected to throw weird and unpredictable strikes, which could give Volkanovski trouble.
Volkanovski's 71-inch reach will help him negate Rodriguez's range and land straight punches. It is a tough test, no doubt. However, DraftKings favorite Volkanovski is the pound-for-pound best on the roster and should be up for the challenge.

Robbie Lawler $7,300
Robbie Lawler is fighting Niko Price, who is a great matchup stylistically. Niko Price lands 5.48 significant strikes but absorbs 5.57 significant strikes per minute. He will push forward and walk into the punches of Lawler. Both men use their durability to withstand the damage and land their strikes. The difference between them is the power of Lawler.
Even though Lawler is 41, he still packs a punch despite losing some speed. Price does not have great power and tries to land more volume. It is supposed to be Lawler's retirement bout, and he will want to leave it all out there. It would not be surprising if this wins the fight of the night bonus.
Dricus Du Plessis $7,100
Dricus Du Plessis has made a name for himself by being involved in exciting fights. He will be taking on Robert Whittaker, who only has two losses since 2014, both to the champ, Adesanya. Du Plessis will have a three-inch reach advantage, which should help him as he pushes Whittaker.
He is not the best striker in the world, but he makes up for it with heart and determination. With a win over Whittaker, he would earn a much-desired shot. And while wanting it more may not be enough against Whittaker, Du Plessis only needs to land one power shot to turn the lights off.

Denise Gomes $6,900
Denise Gomes is a 3-to-1 underdog against Yazmin Jauregui, but has a chance because of her toughness. Jauregui is 10-0 in her career and 2-0 in the UFC, while Gomes is 7-2 and 2-1 in the promotion. Both girls do not have much experience, which should help Gomes.
Gomes also has five knockout victories in her career and has power for the division.
Jauregui looked solid against her first two opponents, and may be getting too much hype coming into this fight. Gomes has a chance to stop the hype train, especially if the bout is close and the judges get involved.