Toby's Week Eight NFL Betting Recap and TNF Pick
TOBY'S WEEK EIGHT NFL BETTING RECAP AND TNF PICK – Up is down. Left is right. Nothing is real. What are we even doing here? Just spinning aimlessly around the sun, and for what? We are but specks in the universe. Nothing truly matters.
Sorry, looked at my record last week and forgot where I was for a minute.
I get that the NFL is generally unpredictable but I would like to predict it better than a coinflip. Unfortunately, I am losing to quarters, nickels, loonies and any other coin you could find on this planet.
Every bettor has ups and downs but man, I can't remember being down this bad in years. No exaggeration – I haven't had to reload my DraftKings account in about 2 years, but that's about to change. I went FedEx style and bet what was left of my bankroll on the Rams and Steelers, and those games weren't even close to hitting.
Fortunately, it has come in the first year that I am presenting my picks for public consumption on Al Gore's big beautiful internet. Just gotta hope my luck turns, I guess. Anyway here's what happened to my wallet last week: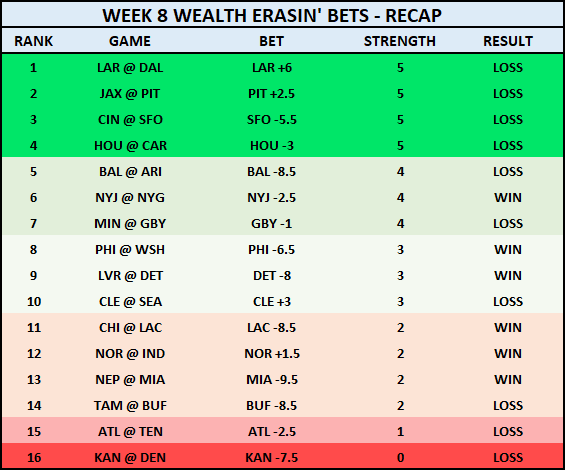 Week 6 All Games: 6-10
All Games Season Total: 57-64-1
Week 6 "Green" Games: 1-6 (!!!!!!!)
Green Games Season Total: 22-32
I bet the NSA is wiretapping me just so they can fade my picks.
Alright, the statistical model is clearly not working right now, and while I do have a plan to tweak it by weighting individual weeks, that's going to take some time and may be an offseason project. And given that injuries are starting to make week 4's passing metrics irrelevant, teams like say Minnesota are just not going to be predicted properly by a purely statistical model.
I'm still going to pick every game, but I'm leaning more on feel this week than in week's past. I'll be saying things like "the Redskins play the Eagles well" or "the Packers are a green and yellow uranium fire" or "whoa, Mitch Trubisky might actually be on the field taking snaps." That stuff matters. The games aren't played by computers, nerds! 
So what exactly is my excuse this time?
Week Eight Post-Mortem
Bucs @ Bills
You know – I actually feel like I was pretty close on this one, and for awhile it looked it may actually hit the predicted score of 31-17. Buffalo however seemed to lose interest in playing offense and decided to allow Tampa to march down the field for a clock-killing back-door cover that took about 7 minutes off of the clock and required a few 4th down conversions and some penalties to do it. I don't know what either team was doing here, but a loss is a loss.
Falcons @ Titans
I didn't watch a second of this one. I am excited to bet against Will Levis this week in the Thursday night game.
Texans @ Panthers
I imagine this game was as boring as the score indicated, with Bryce Young "outdueling" CJ Stroud 15-13. The Panthers move to 1-6 but should still lose enough games to draft Bryce Young's replacement while the Texans have cooled way off and are playing closer to what you would expect from a team with 4 good players on its roster.
Jags @ Steelers
This game was not nearly as close as the score indicated and really had no shot of covering once Mitch Trubisky got on the field. The Steelers can complain about the refs all they want; this is the 20th straight week where they've had like 4 yards in the first half. Also note that this team cannot stop the run and depends wholly on creating turnovers defensively.
Vikings @ Packers
I'm done with Green Bay. This team is the NFC version of the Steelers.

Saints @ Colts
The Saints are the most unpredictable team in the NFL this year, it seems. All of my metrics say they are good despite their continued employment of Derek Carr, however, if they continue to let Taysom Hill run around like a maniac their offense they'll at least be fun.
Patriots @ Dolphins
Hey look I got one! Yay!
Jets @ Giants
This is a prime example of being wrong about a game but getting a lucky win. The Jets needed OT to beat a half of Tyrod Taylor refusing to throw and another half of Tommy DeVito doing whatever it is that…wait who? WHO TF IS TOMMY DEVITO AND HOW DID THE JETS ALMOST LOSE THIS GAME???
Zach Wilson is absolutely unplayable, man. Like, this is bad. This is like the Chargers keeping Ryan Leaf and starting him through his entire rookie contract. He has absolutely positively zero pocket presence, runs into huge sacks, and was able to get the Jets in position for the game-winning field goal by underthrowing a deep ball so badly that the Jets accidentally got a pass interference call.
Check out the Giants QB stats. Tyrod Taylor – 4/7 for 8 yards, looking like his worst Buffalo self after a few good weeks in a row. Tommy DeVito: 2 for 7 for -1 yards. NEGATIVE ONE. And they still should have won this game if it weren't Coach of the Year Daboll continuing to manufacture losses. What a fall from grace.
These teams should never play again for as long as Zach Wilson lives. But hey, they covered the 2.5 point spread!
Eagles @ Commanders
Another example of being wrong but getting the win. The Eagles just squeaked out a win here but were able to do so by a full TD, just covering the 6.5 point spread. Washington always seems to play Philly tough.
Sam Howell even looked good! I was at a bar watching, telling a Commanders fan next to me how much I hate Sam Howell, and Howell was balling. Balling!
Jahan Dotson even got out of witness protection for this one! But then Howell reverted and made me look like I know what I'm talking about. Running pointlessly into sacks, pirouetting and misfiring because he's not throwing from a good base, all that good stuff.
From the early third quarter on, you just knew the Eagles were going to pull this one out. And seriously, why are the Commanders so afraid to move on from Ron Rivera? It's over.
Just hit the reset button and start over.
Rams @ Cowboys
I was ALL IN on the Rams this week and Dallas just beat the absolute piss out of them for the entire game. Set the tone for my week early on.
Browns @ Seahawks
I wasn't all that off on this one, as the Seahawks just barely covered the 3 points. I was afraid of the Browns QB situation and for good reason.
Bengals @ 49ers
Wow, yeah I was way off here. The Niners just went from the best team to the worst team over the last month. They are the anti-Drake.
Chiefs @ Broncos
Alright, if you tell me "Toby, the Broncos play the Chiefs well, I would bet on them to cover this spread," I'd say yeah man I get it, that makes sense. However if you said that you expect the Broncos to win by 16, I'd report you to the future police.
Ravens @ Cardinals
Didn't watch this one but it looks like the Ravens must have just sleepwalked to a win in Arizona. And it makes sense, because that's exactly what most people move to Arizona to do.
Bears @ Chargers
No way, Tyson Bagent may not be good? I'm stunned.
Lions @ Raiders
McDaniels's magnum opus, as he not only fails to take the win the Lions were desperately trying to give him – his sad-sack offense couldn't even cover the 8 points! The Raiders must be paying a billion dollars to coaches that don't work there anymore.

TNF Pick
---
I'm not going to be able to get week 9 picks out until Friday, however I do like the Thursday night game so I'll put that one here.
TENNESSEE @  PITTSBURGH +3
Projected Result:         Pittsburgh 21 – Tennessee 13
I hate both of these teams, but I hate Tennessee more. Will Levis may actually be good, but I'm pumping the brakes a bit on the hype and giving the Steelers a chance to redeem themselves after an awful week. Kenny Pickett will be playing, which is generally not a big deal because he's certainly not good, but he's also not Mitch Trubisky.