NFL Week 9: Picks and Predictions for Every Game
NFL WEEK 9: PICKS AND PREDICTIONS FOR EVERY GAME – Hey, what do you know! Starting off 1-0 this week as the Steelers showed just enough 1996-style offense to cover the spread against Will Levis and the Titans. I was petrified that they were going to get called for a safety on the game-sealing pick to allow the dumbest back-door cover in years.
Sweating bullets there for a bit.
Hopefully I can carry this into the weekend and actually win some bets for a change.

Week 9 Projections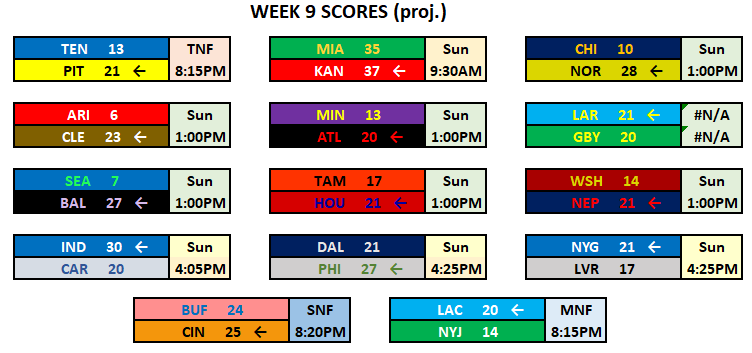 Week 9 Bets Ranked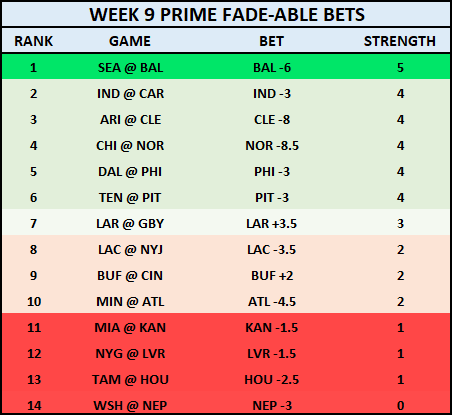 Upset Alert?
Before I start, what games do I have highlighted under upset alerts?
CHARGERS @ JETS
The Jets suck but do the minutiae well. The Chargers are the travelling across the country and are the Chargers. I would not be shocked if they blow this game.
And….that's it. None of the other ones jump out like this one.
TIER ONE GAME
SEATTLE @ BALTIMORE -6.5
Projected Result: Baltimore by 2+ scores
This is a weird one to be my consensus favorite bet this week but that's how good I think the Ravens are. On top of that, Seattle has to travel across the country to play the Ravens at 9:00 am Pacific. At less than 7 I love this bet.
TIER TWO GAMES
INDIANAPOLIS
-3
@ CAROLINA
Projected Result: Indianapolis by 10
The Panthers are bad. The Colts are merely not good. I'll take not good to go into a sterile environment and pummel bad.
The Panthers are riding high off of their NSFW 15-13 win over Houston last week, so maybe they will be in for a letdown. Kidding, their entire season is one big letdown.
ARIZONA @ CLEVELAND -8
Projected Result: Cleveland by 14+
Deshaun Watson is practicing, which generally doesn't mean anything in 2023, but when it's Watson or PJ Walker it becomes significant. The Cardinals meanwhile are starting something called Clayton Tune. I couldn't name that Tune if I hadn't just read it.
Even with PJ Walker, I would take the Browns in this one.
CHICAGO @ NEW ORLEANS -8.5
Projected Result: New Orleans by 14+
I hate betting on this Saints team. Something about Derek Carr-led teams just being weird makes them unpredictable. I love betting against the Bears, however, and the luster has worn off of Tyson Bagent after they got destroyed by the Chargers last week.
I think they get destroyed again this week.
DALLAS @ PHILADELPHIA -3
Projected Result: Philadelphia by 6
I like this one much less than my metrics but no matter how much I adjusted things, the Eagles came out on top. Dallas also is known for playing poorly against good teams however I don't know if that applies against divisional opponents.
TIER THREE GAME
LA RAMS +3.5
@ GREEN BAY
Projected Result: Rams by 1
Even if Brett Rypien ends up playing for LA, I'm done with Green Bay. This team is atrocious and I do not want to lose any more of my money betting on them.

THE REST
I suggest that you save your money. However, if you think it's too environmentally unfriendly to simply burn it, feel free to bet it on these games. Gun to my head picks are in green text.
LA CHARGERS -3.5 @ NEW YORK JETS
All of my numbers scream LA but everything about this game screams Chargers finding a way to lose. I don't want to touch it.
BUFFALO +2 @ CINCINNATI
Cincinnati plays Buffalo well but given how good both of these teams are, I'll just take the points. Actually I won't take anything but if I had to bet it I'd take the points.
MINNESOTA @
ATLANTA -4.5
I should like this one more – the Falcons finally replaced Desmond Ridder and the Vikings are starting Jaren Hall. Yes, Jaren Hall, who apparently is a person. I am probably going to throw some money on the Falcons.
KANSAS CITY -1.5 vs MIAMI
This one is in Germany so no true home team. In my gut I like Miami, but my numbers slightly prefer KC and the Dolphins don't seem to play all that well against good teams.
NY GIANTS @ LAS VEGAS -1.5
This game should not be allowed to happen. Do we really need to watch this? I guess we're getting Daniel Jones back this week, so the resistable force will clash head-on with the moveable object.
I can't believe it but I guess I'm riding with Aidan O'Connell and the Raiders. Seriously what is this and why is the NFL allowing it?
TAMPA BAY @ HOUSTON -2.5
I used to like both of these teams but that has worn off in the last month as they've combined to score like 40 points. This is another game I won't watch between two boring offenses, played in a boring stadium.  I will break the TV if this game is shown.
WASHINGTON @
NEW ENGLAND -3
My numbers still love New England's defense and hate Washington's, well, everything. My head though wants nothing to do with the Patriots and thinks Washington will win this game. My wallet is not participating.
Need a quick 13-0 to get me back on track. I got this. Time to liquidate the college funds! Sorry, kids!