Toby Wreathway's NFL Week 1 Recap
TOBY WREATHWAY'S NFL WEEK 1 RECAP – "What a wild week 1!", all NFL writers are I believe contractually obligated to say. Yeah, some wild things happened, but wild things always happen. Plus, we're contrasting actual results in a small sample size with projections rather than previous results – ie we're comparing the Giants not to last week but to what we guessed they might be – so don't overreact.
Yes, make some adjustments, but don't blindly bet against the Giants and Steelers next week just because they looked like CFL teams last weekend. That being said, let's see how I did.

Week 1 Recap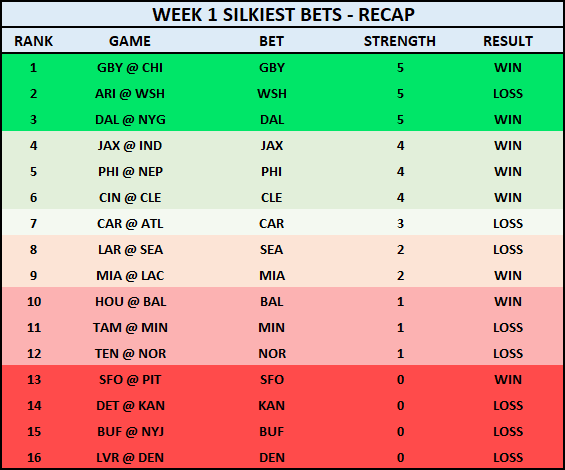 Well, I was 8-8 overall, but 7 of those 8 losses came on games that I didn't like. On the bets I liked, which I will call the "green games", my picks were a robust 5-1, with only Washington letting me down. We can count Carolina in that, as I did decide last minute to bet that one, so I'll say 5-2.
Going forward, I'll be more clear about what I'm recommending and what I'm just predicting to make record-keeping a bit more straightforward.
Week 1 All Games: 8-8
Week 1 "Green" Games: 5-1
One thing to note is that my scoring projections were wayyyy too high, which is something I try to remember EVERY YEAR but never do. I'm going to turn scoring down a bit when I run week 2. I projected 10 of the 16 week 1 games going Over, and then 12 of them ended up going under.
So many QBs were just terrible in week 1, but that should get smoothed out by October.
Week 1 Prediction Accuracy
As a last aside, my betting predictions based are based on "line value."  For instance, say I predict that Team A should be favored by 3 points against Team B; then the actual line comes out Team A -5.5 and I pick Team B (because I think they should only be +3) as a "value" pick. Well, those went 12-4 last week.
I did note these in my predictions but didn't really harp on them. Probably just an anomaly as over time I think the two methods ebb and flow but it's something to keep in mind going forward.
I'll note it when it's egregious.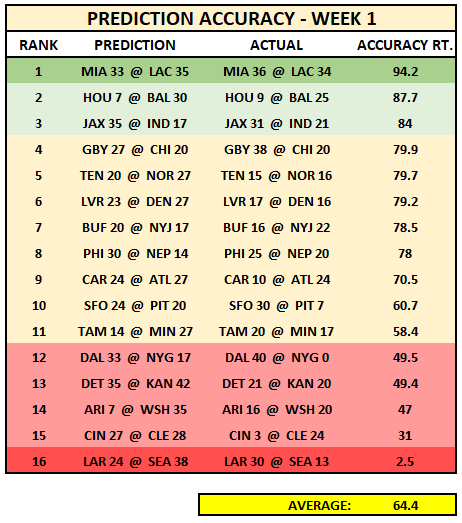 What is the "accuracy" rating? I don't know man, it's just a formula I made up. It's tough to deal with the outliers, like Dallas blanking NYG, so while I consider my prediction for that game generally pretty accurate, my formula sees that I was off by 20+ points. It was definitely a better prediction than my Tampa @ Minnesota pick, even though the formula likes that one because the total point value was close even if I didn't, you know, pick which teams would be scoring them.
Back to the drawing board.
Looking Ahead to Week 2 
I'll get my week 2 predictions together in the next day or two. As I mentioned at the top, don't overreact, but do make some adjustments where necessary. I don't begin to incorporate season data into my picks until week 4 at the earliest, so these are still based on "vibes".
Here are the major adjustments that I'll be making:
     

Atlanta Falcons: I don't have Atlanta's defense valued highly enough, particularly their pass defense. They are getting a significant boost for week 2. Their passing game, however? It's already low but I don't think it's low enough. They were just plain atrocious.
     

Detroit Lions: I think Detroit's defense may be legit, or at minimum not the absolute sieve that it was for much of last season. They are getting a boost.
     

Green Bay Packers: I was optimistic about Green Bay this year, as evidenced by my picking to win outright in week 1 and making them easily my #1 bet. I still had some caution in my rankings, so I'm going to give their passing offense a slight boost.
     

Indianapolis Colts:  I assumed that Anthony Richardson would struggle mightily. The Colts' offense was super conservative and he might if they are forced to open it up, but I'm going to move them up a slight bit.
     

Kansas City Chiefs: I definitely think this was more of a blip but I am concerned enough to take their passing offense down from last year's heights to merely "really high".
     

LA Rams: I am not the biggest Matt Stafford fan, but he is certainly a fringy top 10-ish QB when healthy. I have been operating all year as if he's not healthy and probably never will be again with his arm issues, but at least for now, it appears that I was very wrong on that. With Stafford and McVeigh, they are a league-average pass offense at worst as long as Stafford's arm holds up, and that's where I'm going to move them to.
     

NY Jets: Aaron Rodgers' Jets career (or at least his 2023 season) lasted all of 5 plays, and the Jets are once again actively committing the war crime of forcing Zach Wilson onto our collective eyes. This is unforgivable and their passing offense is going right back to the cellar.
     

Philadelphia Eagles: I was probably too high on their pass defense. It's still going to be rated highly, but not as high as it was.
     

Pittsburgh Steelers: Pittsburgh's offense is just as bad as it was last year, and my optimism appears to have been quite unfounded. The defense as a whole is also going to be downgraded.
 

Seattle Seahawks: Going to drop their overall offense a bit as well.
 

Tampa Bay Buccaneers: Tampa still sucks, but their passing offense is at least near-competent.
  Washington Commanders: Washington's is not. How on Earth can you almost lose to Josh Dobbs???
Back to the lab and look for the week 2 picks on Thursday.
Adios muchachos.