The Miami Dolphins face off against the Cincinnati Bengals in Week Four's Thursday Night Football. Your crack team of incoherent idiots has come back to the altar of the NFL. After an absolutely scorching hot week, where I went 5-2-1, I'm all in on Thursday Night Football with this major matchup between the slippery Dolphins (3-0) and the leaky Bengals (1-2). 
This game promises to be close and you might even be able to watch it on Amazon Prime if your bandwidth doesn't crap out while your kids catfish strangers in the basement. Let's roll.
For anyone who's interested, here are our analyst standings through Week 3 against the spread. The Godzilla still stinks. 
The Standings
| | | | | |
| --- | --- | --- | --- | --- |
| Thru Week 3 Records | Wins | Losses | Push | Winning % |
| Nate | 16 | 11 | 1 | 57% |
| Jack | 14 | 10 | 1 | 56% |
| John | 17 | 26 | 1 | 39% |
Miami Dolphins at Cincinnati Bengals (-3.5)
Thursday, 9/29 at 8:15 pm EST on Amazon Prime
Jack: This line is influenced by the Tua Tagovailoa injury. He's going to play, but he should probably be in concussion protocol. The square bettor looked at his injury and the absolute mess of cramps at the end of the game last week against Buffalo and loaded all their money onto the Bengals.
The other square bet is to ride with Miami. Just because they're an underdog on the road against a team that has underperformed through three weeks of the NFL season doesn't mean they're prime for a big win. 
To recap: Bet the Dolphins, you suck; bet the Bengals, you suck. 
Where does this leave us?
Miami Dolphins Pass Rush
The key to this game is the pass rush. We saw how the Cowboys used an effective defensive front on Monday night to create pressure on Daniel Jones and force him to make bad decisions with the football. 
The Miami Dolphins love to blitz. They play that weird Cover 0, which can confuse a QB, and, according to Pro Football Focus, they mix in the blitz 41% of the time they're on the field. That ranks the 3rd most in the NFL. However, they're 19th in generating pressure. Either the Dolphins are going up against elite offensive linemen every week (no) or they can't cash in on their aggressive scheme (yes). Still, look for the Dolphins to blitz constantly tonight against an atrocious Bengals offensive line.
III. Highest Ball Hawk Rate

Finally, here are the top five who have specifically made the highest percentage of plays on the ball when targeted, shown as ball hawk rate. This statistic is simply the proportion of plays a defender defended a pass or snagged an interception. pic.twitter.com/e55OsX5vkP

— Next Gen Stats (@NextGenStats) September 26, 2022
Bengals or Bungles?
The Bengals have struggled on offense this season. Pro Football Focus has the team ranked 25th in the league on offense. The offensive line has been so notoriously bad that Joe Burrow spends most of the game avoiding sacks. This forces them to use RB Joe Mixon to control the game and give Burrow a break. Mixon has 58 rushing attempts for 168 yards and no touchdowns. That's 3 yards per attempt. None of this is encouraging news for the Bengals. 
I don't like this line and I don't like putting big dollars on big question marks like Tua's health and the Bengals offense. I think the Dolphins will blitz a ton, but will have difficulty breaking off for explosive offensive plays with an ailing QB and a banged up Waddle. The Bengals have a solid defense and should stifle the Dolphins enough to give their offense a chance to score, but the Bengals O-line will remain an issue with that aggressive Dolphins pass rush. Take the under. This game is going to be a grind. Pick: Under Total Points +/-47.5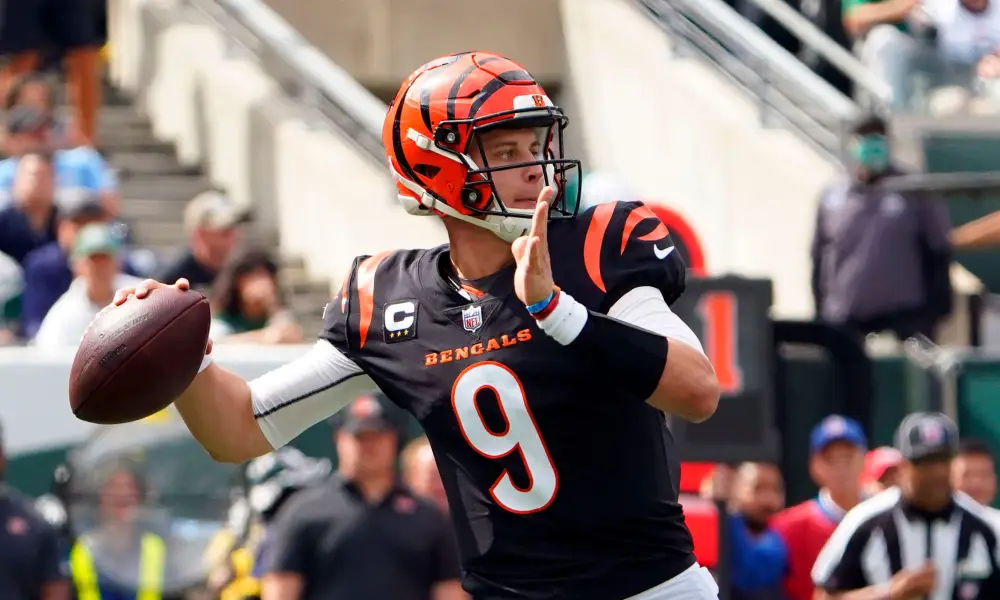 #WhoDey
Nate: I played this at -2.5 last Sunday, and I'm a little shocked to see it move to -3.5 for Cincy given that Miami Dolphins victory over Buffalo. But here we are.
Jack is right in assuming that sportsbooks and bettors alike are worried about what Tua will look like in this game after getting banged up by Buffalo. His ankle and back injuries likely aren't going to be fully healed in the last four days, so he's going to be playing through pain.
Miami Dolphins Realtalk
The problem with the Miami Dolphins is that they've been lucky to go 3-0. They had a ridiculous comeback in Week 2 to beat the Ravens, and judging by the box score, should've lost to the Bills after getting outgained in yards 497-212.
The reason I like Cincy is because the Dolphins defense just isn't good. They rank near the bottom in quite a few metrics. Buffalo ran 90 plays against this defense and racked up almost 500 yards of offense. Miami is recovering from a brutal exertion on a 90 degree day on a short week. No, thank you.
Cash In
The Bungles looked better last week after shifting the offense to do what it does best: pass the damn ball. The receivers were more active and Burrow was given more opportunities to let it fly. This is in contrast to earlier games where they relied on a crappy run game way too much.
The Bengals are showing glimmers of the team that rolled all the way to an appearance in the Super Bowl last year. Miami is banged up and the players have to be exhausted, which leads me to think they won't be able to get much pressure on Burrow. Give me the Bengals. Pick: Bengals -3.5
.@minakimes' one word for Joe Burrow: "Fearless"

Game Preview | @kia pic.twitter.com/Bfy6q3ojpD

— Cincinnati Bengals (@Bengals) September 28, 2022
What's Wrong with the Miami Dolphins?
John: I'm not sold on the Bungles. The Jets coughed up the football four times last week, leading to 13 points off those takeaways for Cincinnati. That's not a repeatable game plan.
Will a banged up Tua turn it over 4 times? Not likely.
The Bungles O-Line is a patchwork sieve I could drive my SUV through. Poor Joey Burrow is running for his life. Their defense is worse. Who will cover Tyreek and Waddle?
The Bungles rank dead last in the NFL in yards per play (4.5), while Miami is tied for the second-highest yards-per-play mark in the league with Philadelphia. Ouch! Pick: Fish + 3.5
Square Bet City
We'll leave you with your crack team of analysts discussing the Godzilla's Miami pick.