Underdog Alert
Your crack team of uninhibited analysts has returned after a late night World Series victory to serve up the most delicious NFL takes for Week 9. The Godzilla called us at midnight, screaming into the phone after Kyle Tucker caught the last out and sealed the Houston Astros second World Series championship in franchise history, so we have no idea where he is this morning. Then he popped up this morning and published his picks without us. Alas. 
We'll trudge on without the Godzilla for our six best picks of the day, including a slew of underdogs that are sure to provide some serious value. Don't worry, Phillies fans, we'll give you all the action you need to distract yourself from setting an MLB record 71 strikeouts in the World Series. Whoops. Let's roll. 
Standings
| | | | | |
| --- | --- | --- | --- | --- |
| Thru Week 9 Records | Wins | Losses | Push | Winning % |
| Jack | 40 | 29 | 1 | 57% |
| Nate | 36 | 29 | 1 | 55% |
| John | 52 | 57 | 3 | 46% |
Picks
| | | |
| --- | --- | --- |
| Game | Nate | Jack |
| Bills at Jets (+10.5) (o/u 46) | Under 46 | Jets  |
| Vikings at Commanders (+3) (o/u 43) | No Pick | Commanders |
| Packers at Lions (+4) (o/u 49.5) | Packers | Lions |
| Chargers at Falcons (+2.5) (o/u 49.5) | Falcons | Falcons |
| Raiders at Jaguars (+2.5) (o/u 48) | Raiders | Raiders |
| Seahawks at Cardinals (-1.5) (o/u 49) | Seahawks | Seahawks |
Odds courtesy of DraftKings as of 11/6
Buffalo Bills at New York Jets (+10.5) (o/u 46)
Kickoff: 1:00 pm EST
Nate: This line has been all over the place after once reaching as high as 13. I can't really say I'm all that interested in backing the Jets in this spot, even though I am (or was, when they had Breece Hall) a little bit of a sneaky fan. 
The one angle that I think is worth a long look here is the under. We all know how the Bills defense has been performing, but the Jets have really picked it up lately this season, and the passing defense is particularly strong. I'll take the under for two reasons: Zach Wilson looked like junk last week and the Jets should be able to slow down Josh Allen and the Bills passing game. Pick: Under 46.
Jack: Nate is scared of the Jets defense in this spot and respects Sauce Gardner enough to take the under against the best offense in the league. I'm with him here. According to Football Outsiders, the Jets are a top 10 defensive unit with the 8th ranked pass defense in terms of DVOA. They have an incredible group of young defensive backs who can lock down any receiver.
The loss of Breece Hall puts more pressure on Zach Wilson to control the offense. That could be a problem for the Jets, who will almost certainly be playing from behind. He's ranked 26th in terms of DYAR, which measures his value to the offense. For context, Kenny Pickett is 27th. I'm praying he doesn't throw 3 picks against a nasty Bills D and the Jets can keep it close enough to cover. The line has moved toward New York, so the pros like the big spread. We'll see. Jets: +10.5.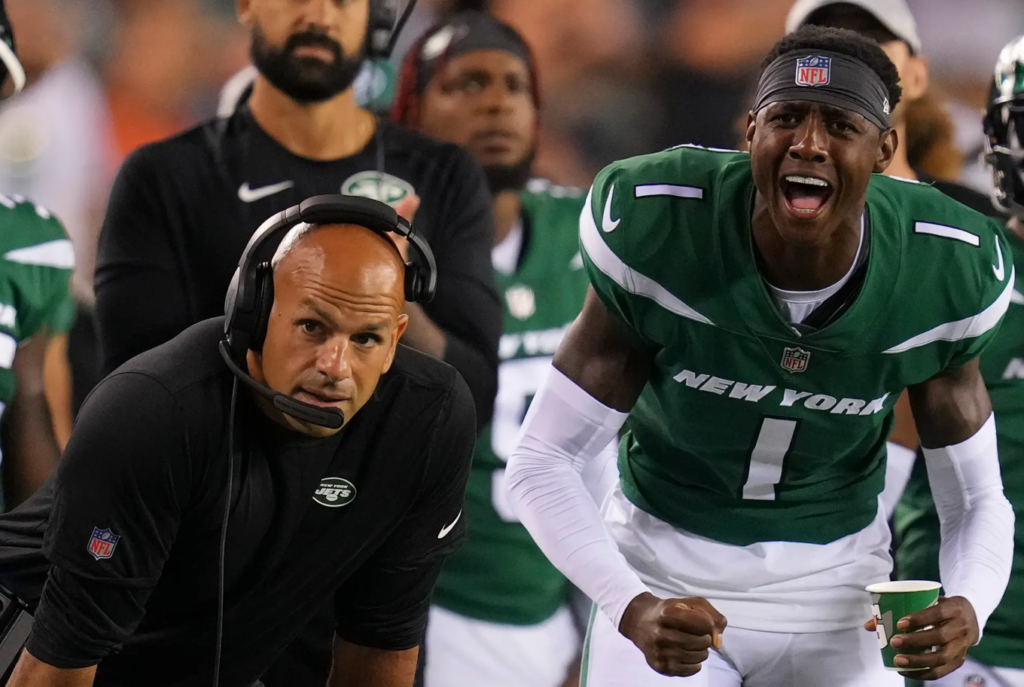 Minnesota Vikings at Washington Commanders (+3) (o/u 43)
Kickoff: 1:00 pm EST
Nate: I don't know why we're talking about this game, but Jack must have his reasons. This is kind of a weird matchup for the Vikings in this game just because the Commanders have a fairly decent run defense, which should be able to slow the Vikings down on offense. 
The Vikings feel like a little bit of an overrated 6-1 squad, and I don't think that they are that much better than Washington. I don't want to suggest anyone lay their hard earned money on this, but I think the right side of this is the Commanders if you must. No Pick. 
Jack: Be a man, Nate! Pick the game. On our radio show yesterday, which you can listen to here, I pontificated about the Vikings and their dominance on the field. They were my pick to win the NFC North and they seem to be well on their way to clinching that bad boy. I picked the Vikings on the show and told you to take the under if so inclined. 
I changed my mind.
The Vikes are 3-4 against the spread and the Commanders have a solid defense. This game is going to be close. The Vikings should be able to pull it out at the end, but I like catching three points with a pesky Washington unit that hangs around for too long. Go Commanders! Pick: Washington is For Sale +3.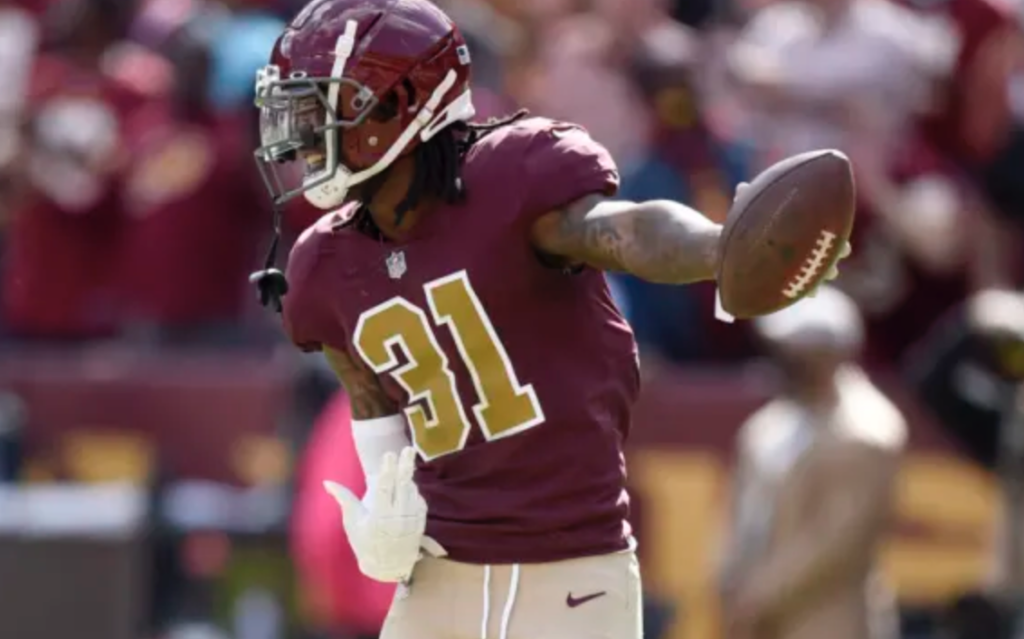 Green Bay Packers at Detroit Lions (+4) (o/u 49.5)
Kickoff: 1:00 pm EST
Nate: I cannot quit Aaron Rodgers. This just looks like a great spot to take a team that pretty much everyone is writing off. The Packers so far have beaten some bad/mediocre teams: Buccs, Pats, Bears. And they've lost basically everyone time they've played anyone fairly competent. 
The good news for the Packers this week is that they are playing a bad team. The Lions trot out the worst defense in the league. They absolutely can't stop teams from passing the ball and they are only marginally better against the run. The Packers, in theory, should be able to execute whatever kind of offensive game plan they'd like against the Lions.
The Packers will give up some plays on the ground, this much we've come to expect. But the Lions are going to have a hard time keeping up with Aaron Rodgers and Co. Pick: Pack -4
Detroit, Detroit, Detroit
Jack: I'm going absolutely bananas with the underdogs today. Nate's analysis is sound. The Lions' defense couldn't stop water if they froze it. It's bad up there and the offense has been trending in the wrong direction. 
Here's the problem. These teams are just too evenly matched for me. The Lions rank last in total defense in terms of DVOA, but the Packers rank 22nd. The Lions rank 9th in total DVOA in terms of offense. The Packers rank 8th. The game should be high scoring and the Packers are not blowing anyone out right now. 
Nate is an institutionalist. He expects Aaron Rodgers to pick this team up at some point and carry them towards the finish line. He can't do it alone. The Lions stink too, but I can see a scenario where they lose by 1. Pick: Lions +4.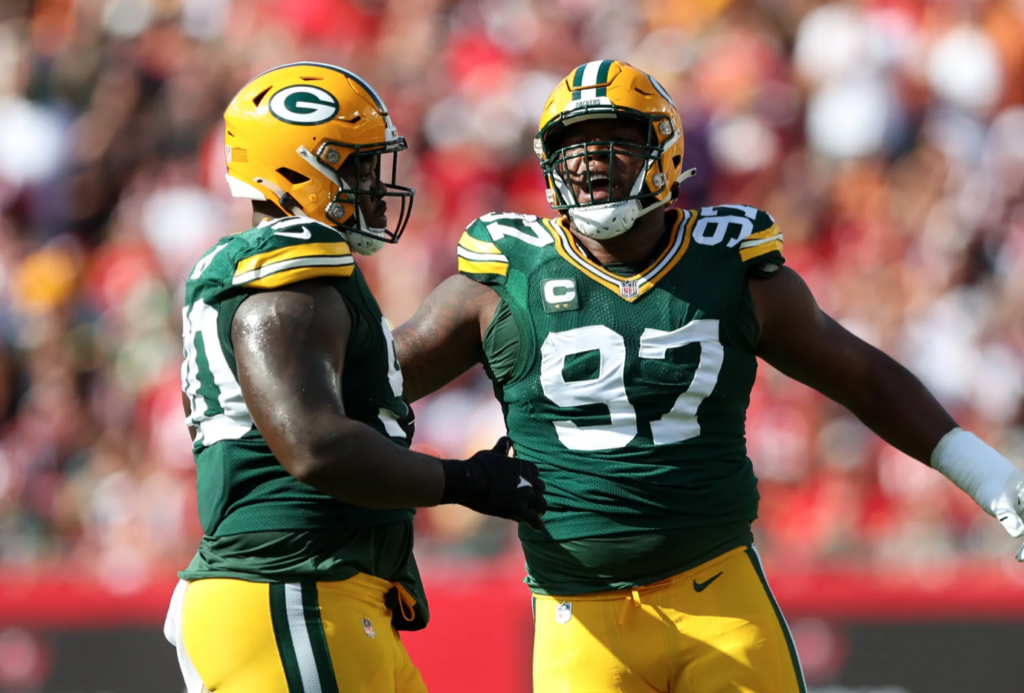 Los Angeles Chargers at Atlanta Falcons (+2.5) (o/u 49.5)
Kickoff: 1:00 pm EST
Nate: We are a Falcons family and longtime holders of futures for them to win the NFC South. The weakness right now for the Falcons is injuries in the secondary. The good news of the week is that the Chargers still can't get healthy and are missing their top two receivers, which should help to neutralize the galring Atlanta weakness.
It looks like Patterson is back, which is great news for the offense. I think Atlanta wins this game outright, but take the points if you'd like. Pick: Falcons +2.5
Jack: On Sundays, we bet the Falcons. The Falcons activated Cordarrelle Patterson this week from IR. Before his injury, Patterson was the most valuable player on the Falcons offense. That's horrible news for a Chargers team that ranks 23rd in DVOA for rushing defense. The Falcons have also been getting Kyle Pitts involved in the offense more, making them even more dangerous.
Yes, yes. The pass defense has been bad for the Falcons. I'm worried about it too. I'm less worried about it if Arthur Smith runs the ball 50 times and the Chargers have no clock to waste a tired Atlanta secondary. The Chargers get a lot of love, because of what Herbert can do, but it's obvious he's playing through an injury. The wrong team is favored here. Pick: Atlanta +2.5.
Did we scare ya? pic.twitter.com/4qCAsKQ8KK

— Atlanta Falcons (@AtlantaFalcons) October 30, 2022
Las Vegas Raiders at Jacksonville Jaguars (+2.5) (o/u 48)
Kickoff: 1:00 pm EST
Nate:I am officially abandoning ship on the Jaguars. I just can't figure out why they are so bad, but here we are. 
The Jags have just been playing like trash during this losing streak, and I don't think that coming back from London is going to help anything. 
The trends in post-London games suggest that the defenses return and are especially gassed, which is good news for an improving Raiders offense (last week was really weird and not indicative of their overall trend this season).
I just don't trust the Jags to win anything, so I'll lay the small number with Vegas. Pick: Vegas -2.5
Jack: Since 2003, teams off a shutout loss are 63-48-5 (56.8%) against the spread. The Raiders lost in embarrassing fashion 24-0 against the Saints last week. I expect them to have righted the ship enough to score some points and be competitive against the Jaguars. 
This website has been high on the Jaguars all season because they are DVOA darlings. They rank in the top ten in most advanced metrics. They're efficient on both sides of the ball. They have given themselves a chance to win a lot of games. But they can't seem to close them out and that scares me. 
Neither of these teams have a particularly potent offense, but the Jags are trending in the wrong direction. Vegas may have looked miserable last week, but over their last three games, they have an 80% touchdown rate in the red zone and that's with the 0% they clocked last week. 
Raiders figure it out. Pick: Raiders -2.5. 
Seattle Seahawks at Arizona Cardinals (-1.5) (o/u 49)
Kickoff: 4:05 pm EST
Nate: The decision here is simple. If the Seahawks are a 'dog, we take the Seahawks around here. We've been pontificating about their unique brand of weird greatness for weeks and we aren't stopping now, particularly as the defense continues to round into form to compliment the miracle of Geno Smith. 
Seattle have been dominant lately, winning their last three games by double figures. Seattle just played Arizona three weeks ago and dominated them without having their best effort as a team. 
The Seahawks continue to improve and soon the secret will be out that this team is for real. I will back them as an underdog from now until the end of the season. Pick: Seahawks +1.5
Jack: This is one of my favorite games of the week. I grabbed the Seattle at +2.5 when the line opened last Sunday night and I hammered them again at +2 later in the week. The line keeps moving towards the Seahawks, because the wrong team is favored and I can't figure out why the line was so bad in the first place. My best guess is either Vegas is trying to lure those of us who are bullish on the Seahawks into laying large money on a flawed team or the wise guys are waiting for Geno Smith to regress to the mean. 
This isn't the Geno Smith we were expecting and I don't expect him to regress. He has been accurate, consistent, and mistake free. It has made the Seahawks offense dynamite to watch and they've emerged as a sleeper choice to win the NFC West. 
The only question mark for Seattle has been the defense. But Pete Carroll's squad has been improving all year. According to Football Outsiders, the Seattle defense ranks 11th in total DVOA. They are a little worse against the pass, so expect a few big plays from Kyler Murray and Co., but I don't think it will be enough to put Seattle away. I'd even take the money line if you're feeling frisky. Pick: Seahawks +1.5.
GodzillaWins Podcast