She Take My Money
Let me introduce you to the Kent State Gold Diggers…ahem…Golden Flashes. This feisty MAC conference program has one of the more interesting business models in college sports. The idea is simple: sacrifice your football team to the college football elite in order to fund other sports in your athletic department. Yep, Kent State will rake in a $5.2 million in guaranteed money this year by scheduling teams like the Oklahoma Sooners, the Georgia Bulldogs, and the Washington Huskies.
They have been scheduling three major programs each year in their non-conference schedule since 2018 in an effort to pay for their football program, which in turn allows the school to fund their other sports. Next year they face UCF, Fresno State, and Arkansas for an almost $4 million dollar payout. Top schools paying lesser programs is nothing new, but no one is scheduling them like the Flashes. 
No better place for @FouLceph to celebrate #NationalDanceDay than in the end zone! 42-10 Flashes#TheHUNT🐺 | #BeTheA1pha🦅 pic.twitter.com/JELrzcNTGI

— Kent State Football (@KentStFootball) September 17, 2022
The Coaches
Head Coach Sean Lewis is dealt a tough hand each year with the hardest non-conference schedule in football. Yet, he takes it all in stride. "Externally it's holy cow, coach, there are only 5 teams in the country that have won 65 games over the past 5 years, and you play two of them this September," notes Lewis. "I stay very neutral in my thinking about it all. It's not good, it's not bad, it's OK. As we go through it, we're either going to win or we're going to learn. Let's lean into the work and let's go do it." 
You can read more about Sean Lewis' remarks here. 
Georgia is paying Lewis and his team $1.9 million to lean into being 45 point underdogs, and to say cool things like Georgia's team is, "the greatest collection of talent ever assembled." Kirby Smart called the Golden Flashes a "good team." You can really sense the respect Smart has for Lewis and his program, including forgetting the he played against them during his tenure as a safety for the Dawgs. Seriously though, the Golden Flashes may not be the pushover team you'd expect.
Kirby noted how closely they played some of their superior opponents for long stretches of their games. Kent State is 1-2 so far this season, having already lost to the Washington Huskies and Oklahoma Sooners. Their lone victory is a blowout win over Long Island University. They kept the first half against Oklahoma close, going into the break down 7-3 before coughing up 24 points in the 3rd quarter.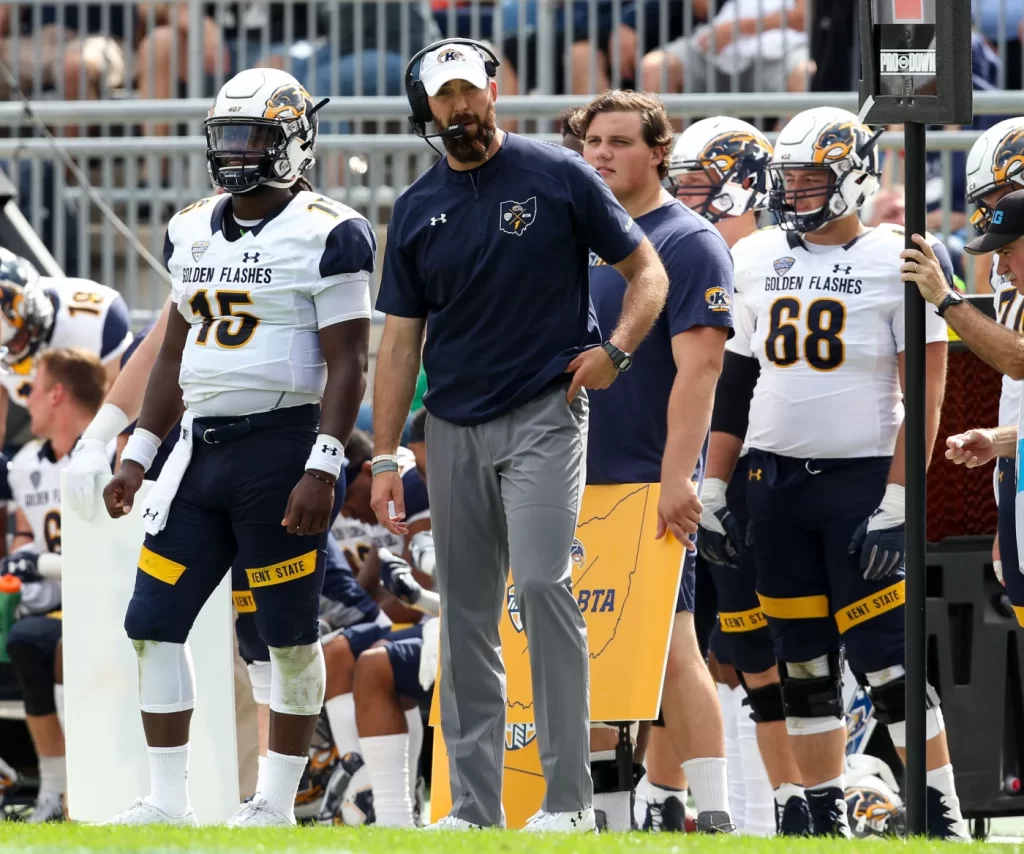 The Quarterback
Redshirt Junior QB Collin Schlee has thrown for 508 yards and 3 touchdowns this year. He is the team's second leading rusher, averaging 7.4 yards per carry. Legitimately, he may be one of the better quarterbacks that UGA sees this season. He measures 6'3, 213lbs and is a former three star prospect. Receivers Dante Cephas and Devontez Walker are the top two options to make plays on the outside. Three of their four leading tacklers are safeties, so the Flashes must give up some big plays. 
Georgia is Grooving
While the Georgia Bulldogs are flying high right now after a statement win against South Carolina, we need to slow down the rat poison coming from Coach Lewis. UGA is a really strong team who hasn't faced another quality opponent yet. They may be the best team right now, but that may not be the case at the end of the season. Kent State actually poses an interesting challenge with a unique offense and defense. I'm going to say something that may shock you, but I expect the Golden Flashes to score more than any other team has so far this year against Georgia this week. 
Georgia will still score as many points as it pleases. Maybe Todd Monken calls off the Dawgs in his play calling and keeps things fairly vanilla. If so, expect Georgia to score a little less. If not, the Dawgs will hang plenty of points up. Just don't be shocked if Kent State.
Getting better every day!#GoDawgs pic.twitter.com/QMZZkBYm8R

— Georgia Football (@GeorgiaFootball) September 22, 2022
Keys to Success for the Georgia Bulldogs
For Georgia, there's a few things to keep your eye on this week. First, how much does DL Jalen Carter play? I expect him to be limited once again this week, if he plays at all. Secondly, how does Georgia respond to a lesser team? Yes, the played Samford and won easily, but they failed to execute in the red zone and they only scored 3 second half points. Fans will hope that Georgia puts this away early and continues to pile on the points in the second half. Lastly, keep your eyes out for WR AD Mitchell. I don't expect him to play this week, but Coach Smart said he's hopeful he'll play. 
Prediction: Georgia Rolls
Lastly, don't expect the Georgia Bulldogs to cover the 45 point spread. Kirby's Dawgs have yet to do so when they are favored by more than 38 points.