By: Brian Butcher, Contributor
UGA 48-South Carolina 7
Georgia traveled to Colombia to face off against the South Carolina Gamecocks in their first SEC matchup and first away game of the season. Coming in as 25 point favorites, the Dawgs nearly surpassed that in the first half. Carolina failed to sell out this game and fans fled by halftime, as if they knew what was about to come. After outscoring the Gamecocks 21-0 in the 3rd quarter, the Dawgs cruised in the second half. SCAR only scored with under a minute to go in the game against the second and third string defenders. This performance was utterly dominant by UGA. Here's what I saw.
Things I liked
Kirby does't like Shane Beamer. Beamer coached special teams at Georgia for only one season before moving on to another role. In his time at Georgia, Beamer famously didn't sign a single recruit. Not only did Kirby continue to pour on the points in the second half, he was noticeably celebrating after stopping Carolina on a 4th down in the first half. He signaled for a first down for the Dawgs and said some choice expletives directed toward Beamer's sideline. I loved it.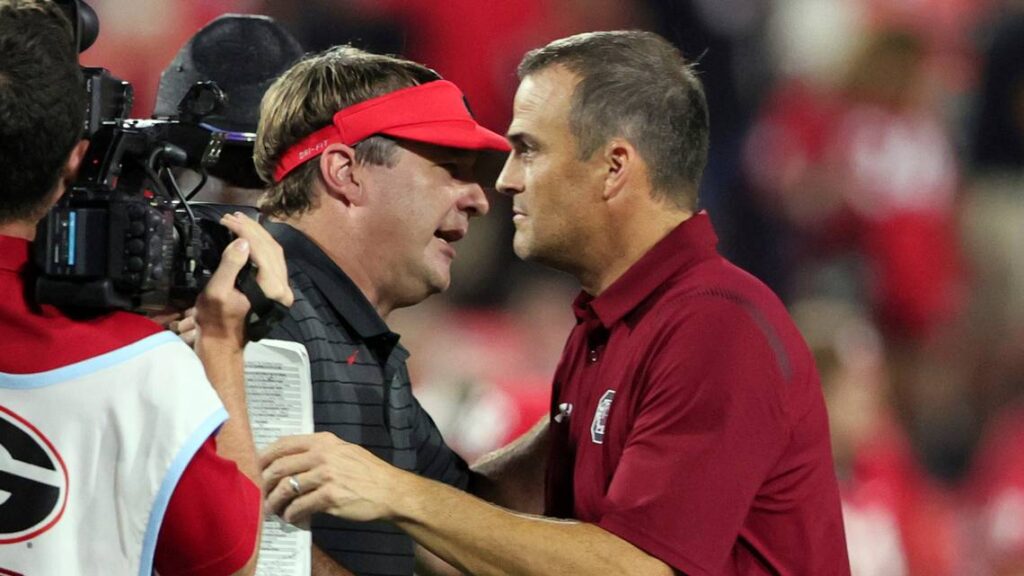 Stetson Bennett had a Heisman-worthy performance. He threw 284 yards in 16/23 passing. He added 36 yards on the ground with a total of 3 touchdowns. He hit a SCAR defender with a dead leg move that will be a part of his Heisman candidate reel in the coming weeks. Perhaps most impressively, Bennett threw a touchdown and puked right afterwards. Kirby said he was too hydrated. Whatever you say, Coach. Stetson and backup QB Carson Beck carved up the Carolina defense through the air, totaling 339 yards. Bennett is the first quarterback to throw for 250 yards and run for a touchdown in his first three games of the season since Patrick Mahomes. 
Defensively, the Dawgs forced 3 turnovers, all interceptions. Spencer Rattler threw 2, Luke Doty threw the final one. Freshman safety Malaki Starks stopped a promising drive from Carolina with a first half interception, his second of the season. Later, Safety Dan Jackson hauled in a ball thrown into double coverage for an interception. ILB Trezman Marshall got what has to be his first career interception in the 4th quarter. The Dawgs prevented Carolina from converting a 3rd down in the first half, and held them under 100 yards rushing for the game. 
.@StarksMalaki 𝑺𝑨𝑽𝑨𝑮𝑬 🔱#GoDawgs pic.twitter.com/Xnix5SFdpU

— Georgia Football (@GeorgiaFootball) September 17, 2022
TE Brock Bowers had an incredible game, scoring 3 touchdowns. He caught a pass over the middle, faked out two defenders and ran in for a 78 yard touchdown. That was after he Moss'd a guy on a fade for his first touchdown. In his 5 targets, he caught 5 passes for 121 yards. He added 5 yards on the ground for a touchdown. 
THIS CATCH FROM BROCK BOWERS 🔥🔥 pic.twitter.com/Bf6FAvlz2e

— SEC Network (@SECNetwork) September 17, 2022
Freshman running back Branson Robinson had himself a nice game. He ran for 32 yards on 6 carries, but showed flashes of brilliance during the game. But what I really love happened before the game. Kirby told his team that their "composure muscle" had not been flexed yet. Robinson, an impressive athlete, stood up, flexed his bicep and and said, "This is what a composure muscle looks like." Georgia flexed that muscle today. 
Georgia, despite having their star defensive lineman Jalen Carter limited today due to an injury, managed to get 9 quarterback pressures. It's okay we aren't getting lots of sacks as long as we continue to pressure quarterbacks and force them to make mistakes. Spencer Rattler went 13/25 for 118 yards and 2 interceptions. I think if the defense held him to a QBR of 26, they are doing their job regardless of the number of sacks. 
ILB Jamon Dumas-Johnson seems like he continues to gain confidence in his role. Each game his play continues to improve. He led the team in tackles today and added two QB pressures. He's beginning to show signs of Nakobe Dean-like performances last year. JDJ is not as fast, but he hit hard and plays as aggressive. 
Things I did not like
I want RB Kendal Milton to succeed. I really do. Great kid, impressive athlete. Injuries have plagued him for two years and today he got 10 carries to make an impact. Unfortunately, he averaged under 4 yards/carry, sometimes because he failed to make proper reads on his blocks. He has a tendency to cut inside too early when it appears he needs to push it out wide. He committed this mistake last week, and it cost him a touchdown. He continued to make that mistake again today. However, I think he is still not 100% healthy.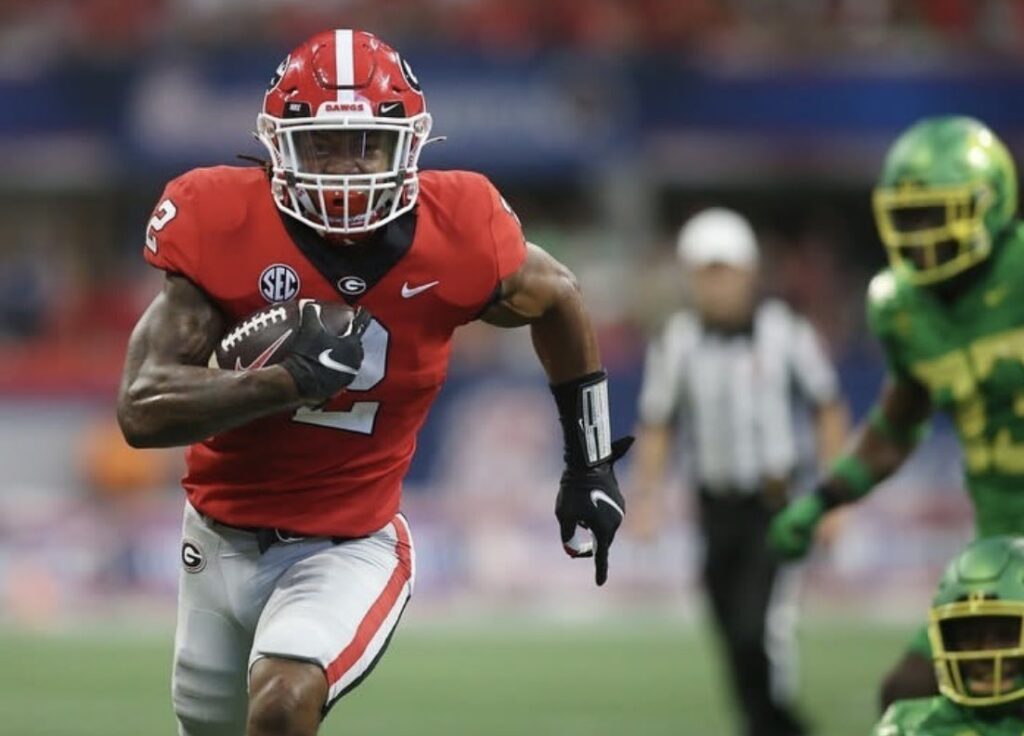 Jalen Carter picked up an injury which held him out of practice some this week. He played a little during the game, mainly on third down. The Dawgs will almost certainly hold him out this next game if his injury lingers at all. Speaking of injuries, did Kenny McIntosh get hurt? He only had 4 carries and I didn't see him hardly at all in the game. 
CB Kamari Lassiter probably had his worst game of the year. He still did fine, but had moments where he struggled. He likely will continue to get picked on by opponents. 
TE Arik Gilbert and CB William Poole did not travel with the team. Both are dealing with personal issues. This is not the first time Gilbert has been held out for these issues. Both players are fighting for playing time, but are not the first or second option at their position. 
Additional Notes
Freshman TE Oscar Delp caught his first career touchdown from a throw from Carson Beck. Delp's family hoped he would play for South Carolina, but Coach Todd Hartley recruited Delp much sooner than Carolina did. Delp one of the top players at his position, ended up a Dawg. 
UGA has outscored opponents 130-10 through 3 games. 
For the first time since 1954, UGA has held opponents to 7 or fewer points in each of their first three games. 
Freshman receiver Cole Speer caught his first pass for 12 yards. 
Back up kicker Jared Zirkel made his first career field goal in the 4th quarter. When the backup kicker is in and it's not due to an injury, you know the game has gone well for your team.
My new favorite walk on, Cash Jones, was able to run the rock a couple of times as well. 
Final Thoughts
Georgia has trounced everyone. It's time fans consider the possibility that Georgia sent 15 players to the NFL draft and is just as good, if not better, than last year's team. The team is the similar, but now a different side of the ball is a generational team. Last year's defense was remarkable, with a top 10 offense that many overlooked. This year's team may be the best offense in the nation with an underrated defense. If you're a Georgia fan, take in every second of these years. This is as good as it gets. And even then, college football is so unpredictable that any week Georgia could be off and lose the game.The key now is to get and remain healthy, until later in the season where the Dawgs face several physical SEC opponents in a row. Kent State provides the opportunity the Dawgs need to gain more experience on defense and allow some guys to heal up. Beamer ball is busted, South Carolina needs to improve their line play before they'll compete consistently in the SEC. Dawgs on top. 
Press Conference
Watch Kirby's presser below.