John Fredericks: MLB Moneyline Wagers for Friday, July 14
JOHN FREDERICKS: MLB MONEYLINE WAGERS FOR FRIDAY, JULY 14, 2023 – We're back and we are live through September 9th in our suite at the finish line at Colonial Downs Raceway in VA!
We finished the first half of the 2023 MLB season on a blistering hot streak with a  +$2,500 run, taking us to plus +$475 for the season! When I get hot — it's Katy, bar the door! So let's roll!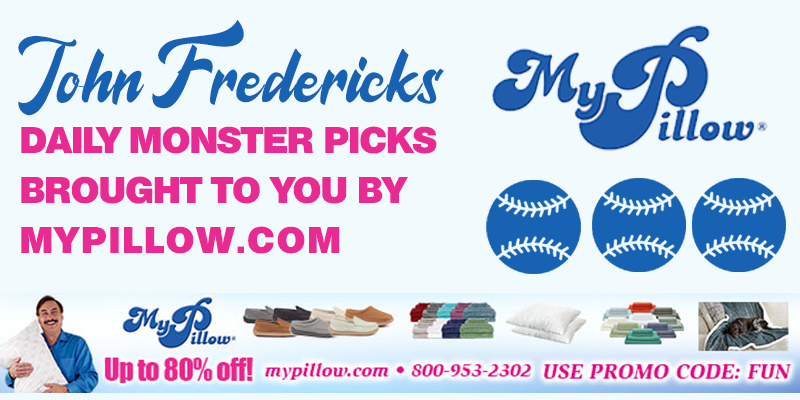 2023 MLB Godzilla Season Stats
200-161-1, +$475
*Based on all wagers at $100 per game at money or run line odds as specified in Draft Kings. Note: If money line is -$150, we are laying $150 to win $100, etc.  If we take +$130 and we win, we win $130 for our $100.
Gambling Problem? Call 1-800-Gambler
July 14, 2023
Padres (Even) at Phillies 
I have been waiting for San Diego to wake the hell up and start winning. If they lose this first series after the break A.J. Preller, their GM is going to fire manager Bob Melvin. It's now or never. Will Yu Darvish start the turnaround tonight?
Pick: Padres (Even)
Arizona at Toronto (-178)
Jose Berrios has been on a tear, and I like him tonight with extra rest. Toronto is another team that has to get out of the doldrums and start winning. Is Arizona for real? We'll find out.
Pick: Jays (-178)
Brewers (-115) at Reds
The Reds are over-valued as their pitching metrics remain in the bottom three teams in the MLB. I'm a Reds fader until they turn this around. As I said before the break, they are not going to score 10 runs a night.
Corbin Burns has been solid for the Crew. Brewers roll.
Pick: Brewers (-115)
Boston at Cubs (+125)
Cubbies! The Bosox have averaged 4.2 runs on the road per game, hitting .234 as at team. Oddly, the Cubs bullpen has been really good at home this season. Chicago's starter Kyle Hendricks has been very effective, with a WHIP of 1.03 and an ERA of 3.04. Good numbers. Good price. He's not an ESPN favorite, but he's a grinder who wins games.
Pick: Cubs (+125)
Houston (+145) at Angels
Ohtani has been overvalued at Vegas all season. His stats are good but not shut-down.
The Angels are fading into baseball oblivion. Astros need a big second half.
Pick: Astros (+145)
Yankees (-195) at Colorado
The Rockies are just a very bad team. They are a tough bet, home or away.
The Yankees have been a first half flop.
They canned their hitting coach and hired Sean Casey. Losers of four of five, they need a turnaround. With all of the Yankees problems, they still hit 129 homers on the year, which is good for 5th best. Now they go to Denver where the air is thin.
Even though Colorado plays half their games at Coors Field, they still only rank 26th in overall home runs at 81. New York needs to wake up, too, and turn this season around. Bronx Bombs in Denver?
Pick: Yankees (-195)