John Fredericks: MLB Moneyline Wagers for Saturday, July 15
JOHN FREDERICKS: MLB MONEYLINE WAGERS FOR SATURDAY, JULY 15, 2023 – We are like a box of cherry bombs on the 4th of July! We're hotter than a red-hot chili pepper. Another 4-2 winning night on Friday got us +$150 on the day. This brings us to plus +$625 on the season with W-L record of 204-163-1. None too shabby! Let's go! 
2023 MLB Godzilla Season Stats
204-163-1, +$625
*Based on all wagers at $100 per game at money or run line odds as specified in DraftKings. Note: If money line is -$150, we are laying $150 to win $100, etc.  If we take +$130 and we win, we win $130 for our $100.
Gambling Problem? Call 1-800-Gambler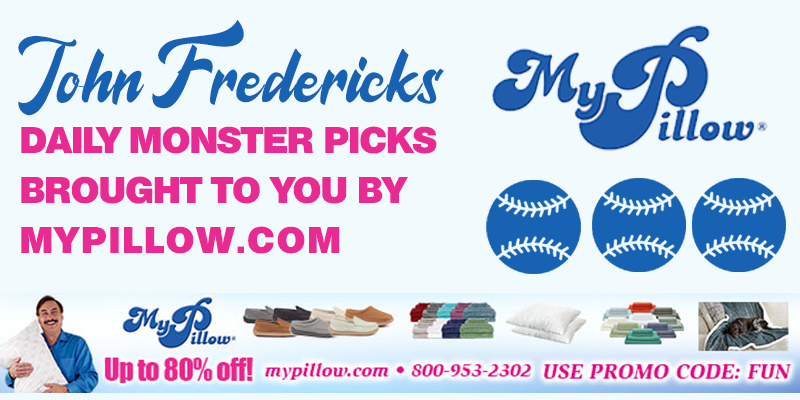 Houston (-145) at Angels 
The Angels are a dumpster fire, they've lost 10 of 11 and Ohtani took the loss last night. He's going to get traded by August 1. It's the ghost of Joe Madden. The Astros are winning with half a team. This bunch has grit, and they are grinding out wins. 
Framber is back on the bump for Houston after getting six days rest. He's been golden for the Astros. 
Pick: Houston (-145) 
Arizona (+110) at Toronto 
I'm taking a shot with first place Arizona tonight as a dog in Toronto. 
Zach Gallen has pitched solid this season with an ERA of 3.04, a WHIP of 1.05 with 125 strikeouts. Over his last five starts, opponents are hitting .185 against him and his ERA was 2.91. The D-Backs need to win the game on the road their ace pitches. 
Pick: D-Backs (+110) 
Brewers (+120) at Reds 
I'm fading Cincinnati in the second half until they get another starter. Getting +$120 with Milwaukee is crazy town. The Crew has won four of five and nine of 11. 
Andrew Abbott got swatted like an old fly by these same Brewers in his last start, yielding six earned runs. At 24 and a rookie, how will he respond to a disaster outing his very next time out? We'll find out today.

Pick: Brewers (+120) 
White Sox (+300) at Atlanta

This is a protest bet. Why is any team in baseball an over 3:1 favorite on any game, ever? Atlanta is -$325!! 

Lance Lynn is a former All-Star pitcher who has had some good starts this season. As sad of a season as Chicago has had, this is major league baseball team that is 8.5 games out. This line is a disgrace, and I'm taking 3:1, which is unbelievable. 
Go White Sox, and send a message to Vegas. 

Pick: White Sox (+$300)! 
San Diego (-160 Game 1) San Diego (+125 Game 2) at Phillies 

What better place for the Padres to make their move than in the city of brotherly love? 
San Diego (-160 Game 1); San Diego (+125 Game 2) 

Dodgers at Mets (-120) 

How many games can the Mets lose? They have to stop embarrassing themselves. This is complete clown show. The Dodgers never win as an underdog. I have no earthly idea why, but the stats are stunning. They have lost a ton of games as a dog this season. They are 42-73 as road dogs back 105 games. 
Go figure, but I still believe in math and science! 
Mets (-120)
Yankees (-160) at Rockies
Ate you kidding me? Colorado hasn't won two games on a row over a team with a winning record since 1998!
Yankees (-160)