John Fredericks: Best MLB Wagers for Wednesday, May 31
JOHN FREDERICKS: BEST MLB WAGERS FOR WEDNESDAY, MAY 31, 2023 – Back in the winners circle! We went 2-1 yesterday, winning two doggie value plays that netted us +$135. Going into June we are a smooth 28 games over .500 and plus +$455 on the season. I'll take it.  
2023 MLB Godzilla Season Stats
112-84 +$455
*Based on all wagers at $100 per game at money or run line odds as specified in Draft Kings. Note: If money line is -$150, we are laying $150 to win $100, etc.  If we take +$130 and we win, we win $130 for our $100.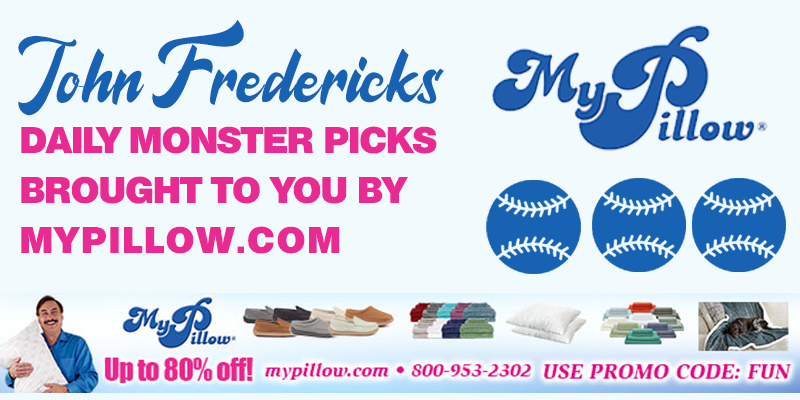 May 31 2023
Atlanta (-1.5 runs, -130) at Oakland 
It's getaway day and the Braves have been embarrassed two nights in a row at the hands of the worst team in baseball. Look for an offensive explosion today to avoid a disaster trip to the Bay Area and a really terrible airplane ride. 
Pick: Atlanta (-1.5 runs, -130)
Tampa (-135) at Cubs 
The Rays have feasted on left handed pitching! Tampa has averaged 6.7 runs per game against lefty starter's this season while hitting .300 as a team with an on-base percentage of .359. Wow!
The light hitting Cubbies have averaged 2.6 runs per game over their last seven games hitting .203 as a team. 
The Ray's Eflin is coming off a quality start where he allowed just one earned run over seven innings against big bats Toronto.
Get this nugget: opponents have hit just .195 against Eflin in day games this season —with an ERA of 2.43 in six day game starts. And…this is day game! Eflin loves day games! 
Chicago's Steele got his clock cleaned in his last start, allowing 10 hits and five earned runs over 3.2 innings of work. 
Pick: Tampa (-135)
Twins at Houston (-165)
Astros and Hunter Brown look to win the rubber game at home. The Astros are hitting now with Altuve back and Brown has been solid in every start.
They won't blow another game out of the bullpen like they did on Monday. See ya Twinkies, land of 1,000 K's!
Pick: Houston (-165)