John Fredericks: Best MLB Wagers for Friday, June 2nd
JOHN FREDERICKS: BEST MLB WAGERS FOR FRIDAY, JUNE 2nd – I went 2-1 on Wednesday and I took a break on Thursday as I was traveling to an event at Hofstra University.
Wednesday netted us +$35 bananas. My late father, Sam, always said: "There are only two kinds of tickets: the one you cash and   the one you trash."
This puts us 114-85 and plus +$490 on the season. In the words of the late, great Al Davis: "Just win, baby."
2023 MLB Godzilla Season Stats
114-85 Plus+$490
*Based on all wagers at $100 per game at money or run line odds as specified in Draft Kings. Note: If money line is -$150, we are laying $150 to win $100, etc.  If we take +$130 and we win, we win $130 for our $100.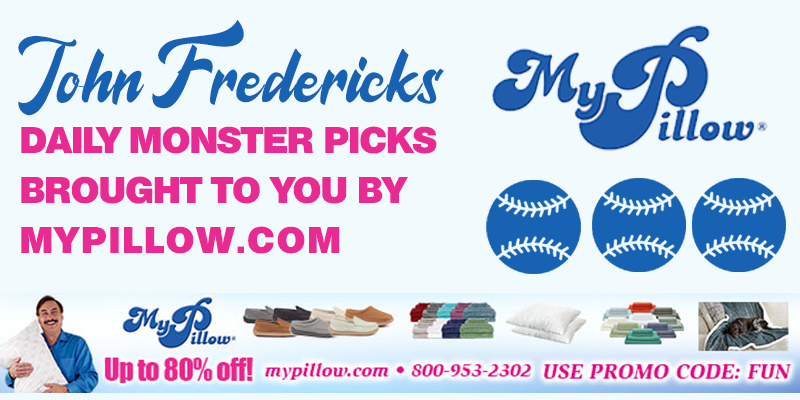 June 2, 2023
Cards (-140) at Pirates
St. Louis has got to get on a run to get back on track. Jack Flaherty has been on and off this season, but his last start may be the turnaround catalyst: seven innings and one run. Flaherty needs to be the Cards elixir.
Pick: Cards (-140)
Cleveland at Minnesota (-130)
Twins go home after dealing the Astros a 2-1 series loss at Minute Maid. Minnesota is hitting and they have a legit closer throwing 104 mph who just got a day off. It's the land of a thousand rakes in this eight inning game.
Pick: Twins (-130) 

Atlanta at Arizona (+115)
Atlanta limped out of Oakland while Arizona has won five straight and seven of ten, vaulting them into first place in the NL West. Remember, I said this was going to be the surprise team in the NL.
I'm riding with the D-Backs.
Pick: D-Backs (+115) 
O's at Giants (-160)
I like Logan Webb at home tonight and some of Baltimore's early shine is coming off the apple. Giants dropped their two and Webb is their stopper.
Giants (-160)
Toronto (+125) at Mets 
Father Time has caught up with Justin Verlander. He's struggled this season giving up six earned runs in two of of his last three starts overall.
Verlander has an ERA of 4.85 at home this season and an ERA of 5.04 in night game starts this season.
Blue Jays (+125)