John Fredericks: Best MLB Moneyline Wagers for Friday
JOHN FREDERICKS: BEST MLB MONEYLINE WAGERS FOR FRIDAY – I am sure glad it's FRIDAY! TGIF! We had a budget busting two nights. Here's the good news: We weathered our first losing streak of the 2023 MLB (2-8) season and we are still up +$47 coconuts. Time to get us back in the winners' circle
Godzilla MLB Record 2023 
63-43
+$47 for the Season  
*Based on all wagers at $100 per game at money or run line odds as specified in Draft Kings. Note: If money line is -$150, we are laying $150 to win $100, etc.  If we take +$130 and we win, we win $130 for our $100.
May 5, 2023
Here we go!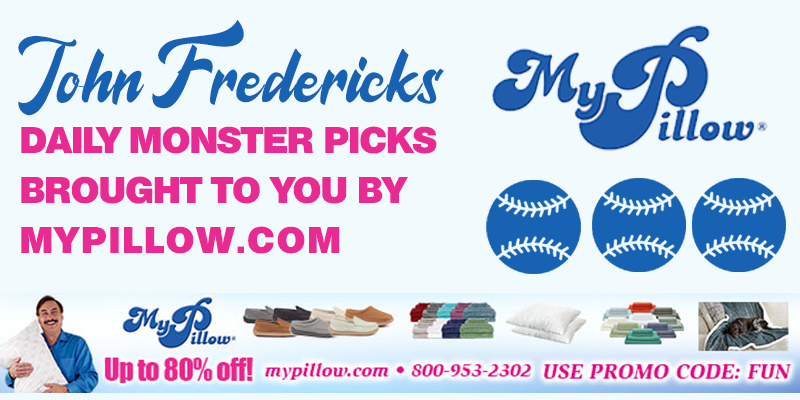 Boston (+150) at Philadelphia 
The Red Sox have won six straight and are now clicking on all cylinders. Chris Sale has been getting better every game and this a nice value play. Boston is hitting like crazy and if Zack Wheeler can't cool their bats it's going to be bash-ball on 1-95. 
Pick: Boston (+150) 
Twinkies (-120) at Cleveland 
When the weak hitting Guardians aren't hitting…things go south in a hurry in Cleveland. That's where this team is at right now. 
The Twins have been clobbering homers at a record pace, and their starter tonight has decent stuff. I like the Twinkies to get their hitting shoes on tonight and do an old fashioned bash party. 
Pick: Twinkies (-120) 

Dodgers (-115) at Padres 
L.A. is finally on the winning streak we all knew would come. Winners of six straight, they also get up for their cross-town rival. Clayton Kershaw hates the Padres, which makes his 5-1 record and 1.89 ERA that much more imposing. 
Yu Darvish has been solid this season, so this is a tough game. Why L.A.? They are hot right now. Ride the Blue-Train!
Pick: Dodgers (-115) 
Brewers at Giants (+110) 
Milwaukee is the epitome of a streaky bunch: Bet them when they are hot, fade them when they are not. Losing of four in a row, they are not. 
The Giants just beat Houston two of three on the road after getting smoked in Mexico. I'm going with S.F. at home…they need to win and cheer the Bay's residents after losing to A's and Raiders to Vegas, and Whole Foods and Nordstrams and Walmart…and Walgreens…yikes! 
Pick: Giants (+110)