John Fredericks: Best MLB Moneyline Bets for Saturday, May 20
JOHN FREDERICKS: BEST MLB MONEYLINE BETS FOR SATURDAY, MAY 20 -Well we went 1-2 yesterday, losing two big doggy picks by one run each. That cost us another -$100 melons, bringing our season totals to 91-62 and plus +$850 for the season. Enough whining! There is no crying in baseball!  
91-62
+$850 for the Season  
 *Based on all wagers at $100 per game at money or run line odds as specified in Draft Kings. Note: If money line is -$150, we are laying $150 to win $100, etc.  If we take +$130 and we win, we win $130 for our $100.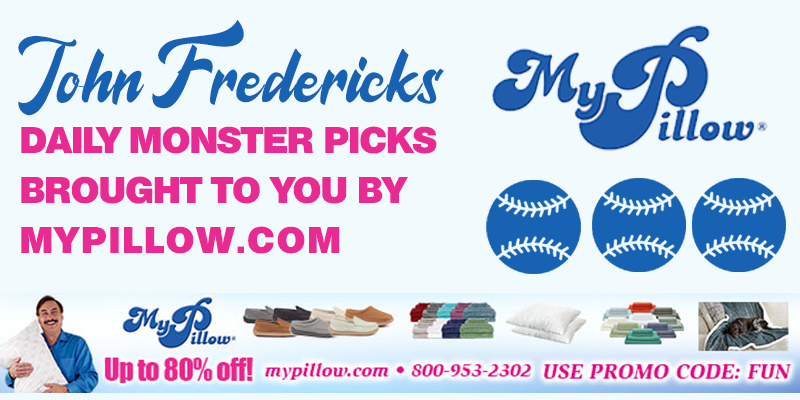 May 20, 2023
A's at Houston (-1.5 Runs -140) 
The Astros are finally putting things together. Winners of five in a row, they have made a living the past four season beating up on Oakland. Jose Altuve is back and Jake Myers has finally caught fire. Add to this mix Jose Abreu, who looks like he just might be coming out of his nightmarish slump to start the season and the champs are cooking.  
Brantley is still wondering if he'll ever comeback so the Astros have to plan on winning without him. Look for a seven-inning outing from rookie Hunter Brown today before their lights-out bullpen takes over. 
'Stros stay hot.  
Pick: Houston (-1.5 Runs, -140) 
Bo-Sox at Padres (-125) 
Eventually Joe Musgrove has to round back into form. Tonight may be the night. His last start showed signs of life, and San Diego has to start winning at home before the Dodgers leave them in the rear view mirror again. They start the night on a three game losing streak and 8.5 games back. It's now or never. They have to learn to win without Manny Machado, out with a fractured hand for a week or so.  
Pods manager Bob Melvin is on the hot seat and a sweep by Boston at home will leave him seeking employment elsewhere. It's do or die right now for the Padres.  
Pick: Pods (-125) 
Baltimore at Toronto (Under 9.5 Runs -110)
The Birdies have averaged four runs per game over their last seven games, while their foes have scored just 3.6 runs a game.  
Both bullpens are solid. The O's ERA in the pen is 3.01 and the Jays are even better with an ERA of 2.45.  
I'm also counting a big game from Toronto's ace Alex Manoah who got lit in his up last start.  
Baltimore has not fared well against Monoah – hitting .204 against him lifetime. 
Toronto is not hitting and so I can't bet on them right now.  
This is a tight game and 9.5 runs is just too many, there is good value in the under here.  
Pick: Baltimore – Toronto Under 9.5 Runs (-110)
Royals at White Sox (-195) 
As bad as Chicago has been this season, the Royals are worse.  
KC starter Jordan Lyles is 0-7. He's on pace to lose 20 games.  
On the flip side, the Sox Lucas Giolito looked dominant against Houston last weekend, and he has the stuff to go on a roll.  
Pick: White Sox (-195) 
D-Backs at Pirates (-150) 
The Pirates are back to winning and I like Mitch Keller here at home with his 2.38 ERA and 1.02 WHIP. We won a lot of money fading Pittsburgh the last few weeks but now they look like the Pirates of April. D-Backs are a good young .500 team, nothing less, nothing more. They're the Tigers of the National League. They win a game, they lose a game.  
Pick: Pirates (-155) 
Mariners at Atlanta (-140) 
Seattle is losing every day now on the road, while Atlanta has been pounding the baseball in Cobb County. The Braves are another streaky bunch with their bats—when this club starts hitting, look out – it becomes contagious.  
The M's have so far been a disappointment. They are six games out of first, two games under .500 and they've dropped three straight. All hat, no cattle. Another team that blows a lot of smoke up your butt and then whines about Houston.  
Pick: Atlanta (-140)