The Scoop
John: Sure, I'm 11-20 ATS but I'm about to go on a historic winning cash carnage buster binge never experienced in VEGAS or the NFL! So look out, folks: The Godzilla is ready to rock and roll!
Joining this NFL season for picks is my oldest son Jack Fredericks – he's live on Sunday at the 1st Jackpot Casino in Tunica MS. And lest we forget my other surrogate son Nate—now part of our family. Nate's live on Sunday at the CAL-NEVA Casino in Reno, NV.
Jack: I'm 9-8 through two weeks of the NFL season. I'm also the only analyst on this crack panel of shoddy degenerates to hit the TNF game. That makes me 10-8. Unlike the Godzilla, I take the time to watch the games on Sunday, think critically about the outcomes, and analyze the personnel. The Godzilla watches one game: the Titans. Then he calls me to tell me they suck. When I agree with him, he hangs up the phone. This is why he's 11-20. Scroll past his picks and read mine. We're about to get hot. 
Nate: I'm still vomiting over missing the under 40.5 points bet from Thursday that I lost after a ridiculous fumble touchdown. These things happen every year, but somehow I never get less sick over them. The only remedy is some winners on Sunday. 
NFL Week 3: Here we go!
 Sunday, Sept. 25th
 All Lines: Draft Kings 1:00 PM Sept. 23rd
This season's NFL action has been downright crazy and DraftKings Sportsbook – an Official Sports Betting Partner of the NFL is ready to roll for week three! We're talking touchdowns, big plays, and even BIGGER wins. New customers can bet just FIVE DOLLARS on any NFL team to win and get TWO HUNDRED DOLLARS in FREE BETS if they do!  BOOM! 
If that's not enough, EVERYONE can boost their winnings with DraftKings STEPPED-UP SAME GAME PARLAYS! 

Right now, for every leg, you add you can boost your winnings up to ONE HUNDRED percent! With payouts bigger than ever, why bet on football anywhere else? 

To make things even sweeter, you can throw down on Stepped-Up Same Game Parlays once per game day, all season long.
Download the DraftKings Sportsbook app NOW and use promo code GODZILLA to get TWO HUNDRED DOLLARS in FREE bets if your team wins when you place a five-dollar bet on any football game! That's promo code GODZILLA—only at DraftKings Sportsbook—an Official Sports Betting Partner of the NFL.  Must be 21 or older, in states where it's legal only. Bonus issued as free bets. 1 boost per eligible game. Opt-in req. Parlay and wagering restrictions apply. Eligibility and terms at https://sportsbook.draftkings.com/football-terms. If you or someone you know has a gambling problem, call the Virginia Problem Gambling Helpline at 888-532-3500.
Chiefs at Colts +5.5
John: I'm sorry folks but the Colts are this season's second train wreck—along with Tennessee. Matt Ryan looks finished. He tossed up another three picks last week, his legs are more like jellyfish and he has the mobility of a postage stamp. 
Last week the lowly Jags stacked the box against Jonathan Taylor, and Ryan couldn't move out of his own way. The Colts need a QB and fast. Indy is a mess right now. I have a hard time seeing them even keeping it close against the Chiefs. Where is their defense?
The Chiefs once blew a huge lead during a playoff game in Indy. That won't happen again. This is a blowout. Pick: Chiefs -5.5
Jack: The Colts burn me every week. I watch a lot of Colts football. I have a friend who's a Colts fan. He doesn't pay for Sunday Ticket so I have to live text him updates of the Mat Ryan Traveling Comedy Tour faster than his Safari browser can refresh. 
Here's what I know about the Colts: if Matty Ice can get back to any semblance of an NFL QB, they will begin to win games. The O-Line has not helped the situation and the defense has been susceptible to explosive play. But the biggest problem is that the QB can't move the offense down the field 
This game feels a lot like the Titans/Bills on Monday Night. I wanted to pick the Bills. Every iota of emotional logic in my body told me to pick the Bills. But the little NFL devil in my head said, The Titans can't be this bad…can they? Maybe the Titans are, but I'm not ready to give up on the Colts. Let's roll! Pick: Colts +5.5
Mahomes is ridiculous but watch #Chiefs LT Orlando Brown Jr. casually sitting down Khalil Mack on this play. Absolutely shuts down his counter. pic.twitter.com/khQklnsRV6

— Devin Jackson (@RealD_Jackson) September 16, 2022
Bills at Dolphins +5.5
John: Wow. What a matchup. The Fins pounded out four touchdowns in the fourth quarter on the road in Baltimore last week. At the end, their speed seemed to gas the Ravens' secondary. I was stunned at that collapse. Harbaugh looked like he saw a ghost in that post-game press conference. It was surreal.
The Bills have run two opponents out of the stadium to open the season. Their utter thrashing of the Titans last week was hard to comprehend. Someone has to beat this team for me to bet against them. Miami is 2-0, but are they in this class?
The Bills defense won't collapse in the last fifteen minutes as the Ravens did. As much as I'd like to take the points with the Fish, this Bills team is hot right now. It's like the old movie: "Catch me if you can." This week, the Fins meet reality in the NFL. The Mafia wraps the fish and sends it to Sonny Corleone. "Luca Brazi sleeps with the fishes." Pick: Bills -5.5
Jack: There is a lot of respect in this line for a leaky Dolphins defense that benefitted from an epic Ravens meltdown in Baltimore last week. If Tua had missed a few of those throws, the odds would be eight and I'd be screaming at you to take the Fins. 
Instead the odds are +5.5. This is a bad line for a Bills team that looks like they'll win 15 games. We don't know who the Dolphins are yet. No Pick.
Could watch Christian Benford play the run all day #Bills #BillsMafia #GoBillspic.twitter.com/okuK7OQzbx

— Anthony Cover 1 (@Pro__Ant) September 20, 2022
Eagles at What-Evers ¯\_(ツ)_/¯ +6.5 
John: Breaking up is hard to do—unless you're the Eagles and you kicked Carson Wentz to the curb after winning you a super bowl. Are you kidding me? Did anyone watch the Birds' performance on MNF?
Now Philly goes to Maryland to do the ex-jilted girlfriend dance. Like this matters? The Philly media is dubbing this "Wentz Week." They need to take the Zoomer's approach when breaking up with a girlfriend. You ask about them the next day and their answer is: "Who?" It's the cold-as-ice generation. I learned this from #JoeyIce himself firsthand.  
Eagles head coach Nick Sirianni is doing what all Gen X'ers do with their exes: creepy stalking pawned off as genuine caring. He's calling around to former NFL coaches and asking anyone that will talk with him about want went down with the dumping of Wentz.
No matter, dude. You are now married to Jalen Hurts. And he has a lucrative prenup. The Eagles are looking like this season's team of destiny. Meanwhile, the What-Evers  ¯\_(ツ)_/¯ are just that. I'm sorry I can't find a dog I like. Pick: Eagles -6.5
Nate: I hate myself for suggesting this, because I despise the Washington Commodores, but here we are. They are not good, but I think this line is an overreaction to the recent success of Philly. Carson Wentz has been quietly competent and this is a team that Washington knows well. This line opened at -4 for Philly and has climbed to -6.5. That just feels like too much of an overreaction after a solid win. Washington isn't helpless and they're at home. Take the points here and pray. Pick: Commodores +6.5
NFL Best Bet #1
Bungles at Jets +6
John: Oh my, how bad is this Bungles team? After a rough first couple of weeks, the Bungles season is on the line against a Jets team with a dreadful defense. The Stripes are a desperate bunch, and remember the Jets upset them last season. I look for Joey B to light up the Meadowlands scoreboard early and often. This game is a must-win for a team that went to the Super Bowl eight months ago. Throw the ball, Joe.
If I lose this pick, I'm a flying trolley car. This is my best bet. It's a blowout with no scoop and scores. Pick: Bungles -6
J-E-T-S!
Jack: The Godzilla has been off this Jets team all year. I'm not sure why because all they do is cover. Then again, the Godzilla hates picking teams that cover. 
The Bengals O-Line is atrocious. Burrow is constantly under pressure back there, which forces him to make quick decisions. Sometimes they don't work out. Look for Jets D-lineman, Carl Lawson, to have a big game against this wimpy Bengals front. I think Sauce Gardner locks up Jamar Chase enough to guard against the big play. Jets cover. Pick: Jets +6
Nate: I'm all in on the Bengals. It feels gross, but this is my biggest bet of the year this season. I bet them early in the week, then I went back for more. The Jets are a paper tiger with a ridiculous comeback win that is a fluke, at best. New York doesn't have the defensive line to wreak havoc on Joe Burrow like their previous opponents. The Bengals have to get a win and they have to do it this week. Give me all the action on the Bengals. Pick: Burrow and the Boys -6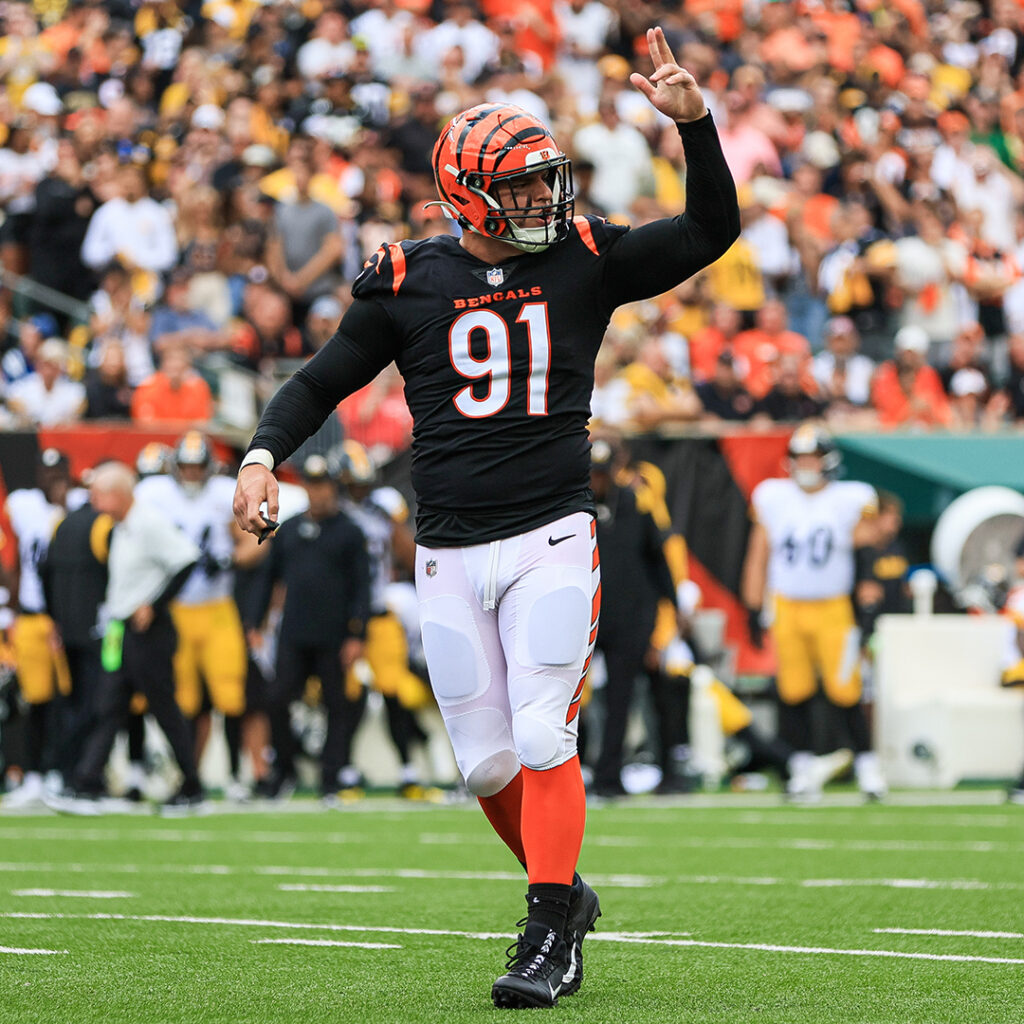 Lions at Vikings -6
John: Ever see an NFL game where you get the feeling that whoever you bet will lose? 
This is one of them. Here is my take: the Vikes are better than we saw Monday night, and the Lions are managing to hang around – and they actually won a close game.
This has become somewhat of a great rivalry, with two nail-biters in 2021.
I tell my wife all the time: when in doubt, do nothing. 
In NFL gambling lingo, this translates into when in doubt, take the points. This is your classic back-door cover. Pick: Lions +6
Nate: This is a division rival game, so my first look is always at the underdog when the line is this high. The truth is, the Vikings stink on defense, and while the Lions have their own problems on that side of the ball, their offense looks like a legitimate threat. I don't love it and haven't played it myself, but I think the Lions can probably score enough to stick around here. This is basically two good offenses against two bad defenses. Pick: Lions +6 
NFL Best Bet #2
Ravens at Pats +3
John: Here's what I say to my company sales director on a regular basis (we fight on the phone a lot – it's a sales thing): "You think we're fighting—but I think we're talking!"
Now, folks, we're starting to talk. The Pats were lucky to win that game last week. The Steelers are really pitiful. Baltimore's epic meltdown in the fourth rivals my infamous Oilers coughing up a 35-3 playoff lead at Buffalo in the second half with a backup quarterback. It stings for years. It actually ran us out of Houston.
This is revenge time. It's the Ravens' day of redemption. I would not want to be in New England this week. 
Lamar Jackson is playing some of his best football right now, and he'll cruise here to a very suspect Pats bunch. This is my second-best bet.
New England's offense is slow-footed and plotting. They get behind early and mail it in. Pick: Ravens -3
Raiders at Titans +2
John: Both teams come in 0-2. Both are staring down the barrel of a loaded shotgun. Chances of making the playoffs after starting 0-3? Zippo.
The Titans are the early season's farce. Their offense coordinator, Todd Downing, is a complete and utter incompetent moron. This guy couldn't change a light bulb with a step ladder and a toolbox. His play calling is worse than cold oatmeal without sugar. Vrabel needs to man-up and run this dipstick out of Nashville. If he auditioned for the movie Dumb and Dumber, he couldn't make the cut: too dumb.
Catch my drift?
But why are the Raiders favored in this game? They suck, too! They blew a 20-point lead in Vegas! We both suck!
I'll take the Titans at home and take a stiff four fingers of expensive vodka at 1:00 pm to get through this game. If they lose, I'll fall asleep anyway, like I did during Monday night's debacle.
It's all good! Joe, wake me up for the Bucs game. Pick: Titans +2
Raider Nation
Jack: The Titans looked miserable on Monday night. Interceptions. Muffed punts. Derrick Henry is a year older and it seems like he's lost ten steps. The O-Line has no real difference makers. Their vaunted defense is 26th in the NFL. They give up over 400 yards a game. 170 of that is on the ground, which is the second worst in the league. 
The Raiders haven't shown us much on offense, especially on the ground, where they average 72 yards per game. Their passing game is much better, as it should be, and they score a lot of points. That can't be good for an atrocious Titans defense. 
This is a game where you have to decide which team shouldn't be 0-2. Before Monday Night, I would have given that edge to the Titans, but that game will forever stick out in my mind as an absolute franchise-changer. Titans are toast. They'll be playing in London by 2030.
I'd rather take the Raiders here. They could easily be 2-0 and I think they win big. Pick: Raiders -2. 
Titan-Up!
Nate: The Titans could not have looked worse on Monday night. I don't think either of these teams are as bad as they've looked through two weeks, but I'm inclined to take the underdog just on principle. These are teams that feel like they are allergic to winning despite the talent on their rosters that suggests they should. Because of this, I'll take the points. I don't love it, but I don't know how you can lay points with the Raiders traveling halfway across the country here. Pick: Titans +2.5
Titans muff a punt 🥴

(via @BuffaloBills)pic.twitter.com/FeQFYsw59t

— B/R Gridiron (@brgridiron) September 20, 2022
Saints at Cats +2.5
John: Baker Mayfield looks sick, lost, pathetic. His attempt to come back in the fourth quarter last week was a sight to behold. This young man who had so much hype and promise is just not an NFL-caliber quarterback. The Cats are more like kittens chasing the shining light around. My cat, Sammy, should be their mascot – he sleeps most of the day and eats during the rest of it. Fitting.
The Panthers' rebuild just hasn't taken off under head coach Matt Rhule, and he's running out of time to turn things around. This is another college coach who just can't cut it in the NFL. I was a believer in his Charlotte turn-around. No more. He's gone by Thanksgiving.
The Saints are no super team but they should win this game. Pick: Saints -2.5
Nate: This feels ridiculous because I trash the Panthers all the time in this space, but I think they're the better NFL team here and I can't believe we're getting points. The Panthers cannot be in any other mode than pure desperation. This season could get out of hand fast if they don't win soon. Notably, their horrible coach, Matt Rhule, needs to show something quick before he finds himself unemployed and out of the NFL. Give me the better team with their backs against the wall in this matchup. Pick: Panthers +2.5
Texans at Bears -3
John: The Bears actually gave the Pack a more spirited fight than the score indicated. While the Chi-fense play callers seem petrified to put the ball in Justin Fields hands, he can scamper for some decent yardage.
Houston on the other hand, has nothing that even remotely resembles offense. I'll take the Bears at Soldier Field. The Texans surprising tie with Indy looks less impressive than it did two weeks ago. To win, you have to score points. Houston has an aversion to opposing end zones. Pick: Bears -3
Jack: The Texans should be favored in this game. This is a good example of the Godzilla's inability to read anything about these teams before he writes this column. Two game changers on the defensive side: Jaylon Johnson and Roquan Smith are out for the Bears. They don't have a very effective defense to begin with and this figures to make things worse. I'm on the Davis Mills train until the Texans stop covering. This is another loser for the Godzilla. Pick: Texans +3.
NFL Best Bet #3
Jags at Bolts -3
John: BOLTS. Are you serious? I'm only laying a field goal with backup Chase Daniel and that offense against an AFC South bottom feeder? 
The Jags won a game by beating the collapsing Colts. This is the underlay of the year. It was 7.5 before news of Herbert broke. This is the trap game of the week. Jacksonville is going to the Left coast to play a hungry Chargers team that simply has more talent. I'd lay the 7.5 with Herbert, and I have no problem here giving 3 with Daniels. Lightning can strike on the ground, too. Godzilla rule #1: bet against the public. Pick: Bolts -3
Jack: The Godzilla mentioned that the line is screwy here because Chase Daniel is starting for the Chargers. We all know Daniel is not a complete mess. He's famous for making millions as a highly valued journeyman backup. 
This game hinges on how good you think the Bolts are without their difference maker at QB. I'm willing to bet that there are enough holes in the Chargers defense to enable Trevor Lawrence to be at least somewhat effective. 
The AFC South is the worst division in the NFL and I just took the Colts, Texans, and Jags. What a world! Let's go, Jags! Pick: Jags +3
Rams at Cardinals +3.5
John: The NFC West looks wide open right now, but in this big game I like the Rams to make a statement that they're still the best team in the division. I can't bet the Cards here. The Rams' defensive front is not the clown show the Raiders put on last week. The Desert busters are a one-dimensional team whose fortunes rest on one player to scramble around and make plays. Not a long-term plan. The Rams have completely dominated Arizona since Sean McVay arrived as head coach. House of Cards are frauds. Collapse in the desert. Pick: Rams -3.5
Nate: Arizona is garbage and this is an overreaction to a team that had a good comeback against a mid-pack NFL team that loses out of habit. Their defense sucks and the offense isn't much better. 
The Rams look like they found themselves a little against Atlanta while leading comfortably for most of the game. Sometimes, it's just coaching and the reality is that Sean McVay owns Kliff Kingsbury historically. I see no reason why things will be different this time around. Pick: Rams -3.5
Cinco. Called. Game.

🔒 @jalenramsey pic.twitter.com/kjtqCXJkro

— Los Angeles Rams (@RamsNFL) September 21, 2022
NFL Best Bet #4
Pack at Bucs -1
John: Tampa Bay has the best defense with the best QB in the NFL. They're play at home against a somewhat evolving Packers team. Rodgers is still searching for receivers who are worthy of "coming into my huddle." While I believe the Packers will get better as the season slogs on, this is not a position they want to be in for game 3. 
The Bucs D is absolutely fun to watch play as they are suffocating offenses to death. If this was a playoff game in January, it might be different. But it's Tampa in September. Pick: Bucs Defense -1
Jack: Tampa Bay has an incredible defense, but the Bucs struggled to get much going on offense against the Saints last week. Everyone seems to think that that has to do with Dennis Allen's scheme and Brady's struggles in the Superdome. I think it could be a sign of more to come. Julio Jones has been explosive at times, but Brady doesn't have much else around him and seems to be frustrated with his offense's performance.
I don't know who the Packers are yet. It's likely that they're a Super Bowl contender with a bad team and an incredible QB. That means you don't know if you're going to get the Jekyll or Hyde show in Green Bay. Stay away from this game. No Pick. 
#NateNeedsHelp
Nate: Loyal readers will know that I am diving all in on the Packers. This looks like a sleeper Super Bowl team to me, and I think it starts this week. Tampa Bay is dealing with all sorts of personnel issues between the Mike Evans suspension and a myriad of injuries all over the roster. 
Tom Brady has been pedestrian so far this season, to put it mildly. Green Bay is a team that will get better, and the Tampa roster is continuing to get worse. Buy the team that's on the upswing and don't let Tom Brady fool you. This is a massive game for Green Bay and should have all their focus. They win here. Pick: Pack +1
ACS at Hawks -1
John: It's the 0-2 Atlanta Clown Show (ACS) vs. The Pete Carrolls and Geno's Rag-Time Band. I couldn't give a rat's ass. I'll watch I-Carly reruns. This is the biggest stinker on the card. The Maestro of the Clown Show goes up against the Geno of the Northwest. It's the battle of the washed up-back up QBs! Are fans in Seattle paying for this egg beater? Hold my beer. No Pick
Jack: The Godzilla is scared of this game because the Falcons burned him up last week and he took the  Seahawks and lost. I'm proud of him for staying away from this one because he's square bet central whenever he sees these two teams on the slate. 
Atlanta did not dominate the line of scrimmage against the Rams. They struggled to run the ball, which I knew would happen in L.A. Their defense gave up some big plays early in the game, but came away with a key turnover at the end and seemed to tighten up as the game went along. 
Our biggest problem with this Falcons team is also our biggest weapon: Marcus Mariota. The guy opens up the offense to much more versatility. He isn't afraid to make the big throw. He's good with his legs. The problem is, he's made two horrible end of game mistakes: a fumble against the Saints and the dumbest interception in the world against the Rams. If you're going to ride with the Falcons, drink some antacid beforehand because Mariota is going to make one maddening mistake per game. Let's hope it's early enough for the Dirt Birds to recover. Pick: Falcons +1
NFL Best Bet #5
49'ers at Broncs -1
John: Hey guess what, SF? If you score more than 10 points you win! Guess what else? Jimmy G is better than Trey Lance, which means the 49ers have a better chance of winning in the short term!
The Broncos are mangled up in uncertain play calling and their offense is a scrambled mess.
SF has an elite roster. Denver does not.
Now that the quarterback situation has been resolved, look for the 49ers to begin to really come together. The team chemistry is back, and most SF vets believe in the steady hand of their consistent if not flashy play caller. This team likes to grind. Pick: SF -1
Nate: This is a game that I pretty much couldn't care less about. The Russell Wilson Experiment has not been going well in Denver, and the Niners are back to where they started a couple of years ago with Handsome Jimmy. I think the SF defense gives some trouble to the struggling Denver offense, and that will be what determines this game. Nathaniel Hackett looks overmatched for every game he's coached and I don't think one week changes all of his terrible decision-making. It's not sexy, but the Niners are the play here. Pick: SF -1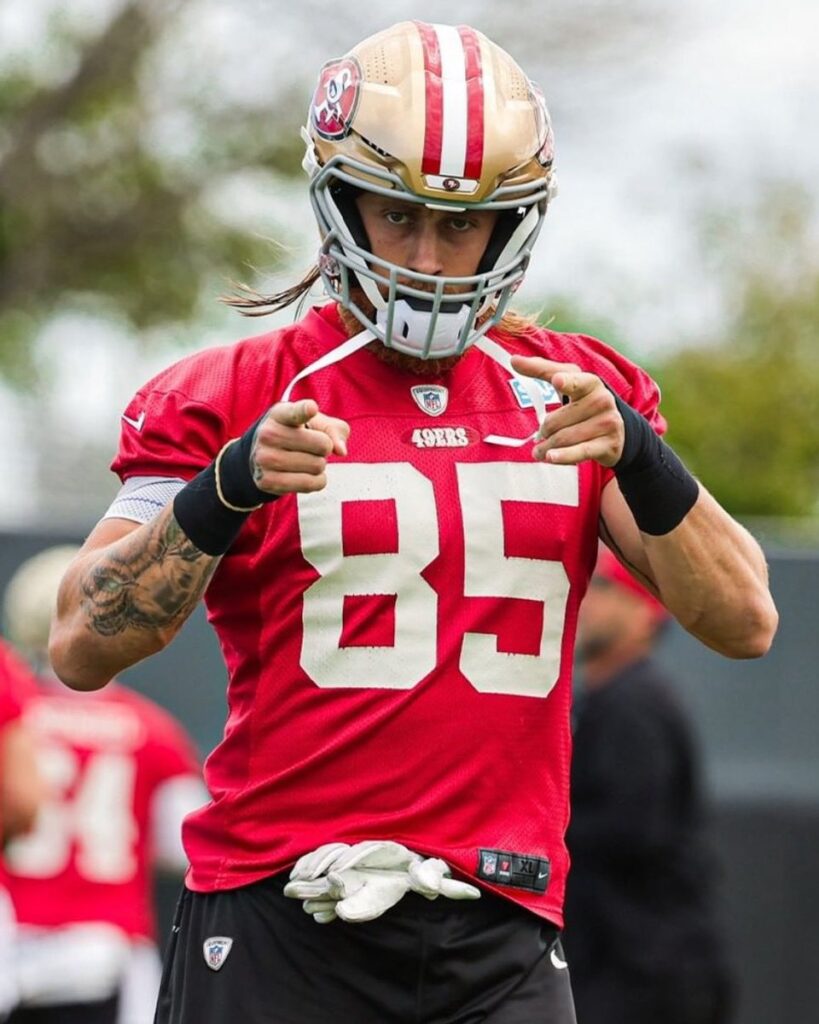 Cowboys at Giants -1
John: What do you mean, you're not on the Giants bandwagon? C'mon they are 2-0 and the new media darlings of a fawning ESPN press. Now that the Colts have collapsed, they need another team to drool over. Enter: Giants!
The Cowboys' defense has been very effective in generating pressure and no QB has been pressured more after two weeks than Daniel Jones. You pressure Jones and the wheels come off. Giants are one-dimensional with one playmaker. Stop him and you win. Some 0-2 teams are due to win. Some 2-0 teams are due to lose. This is one unimpressive 2-0 team. Cooper Rush did fine last week. Why not bet the Cowboys on the road on Monday night as a doggie? Pick: 'Boys +1
Jack: This is my take. The Giants have to lose at some point. This is a divisional game. Both teams show up. I'm willing to bet that in a primetime spot, Daniel Jones throws about 7 interceptions. Cowboys roll. Pick: 'Boys +1
Nate: How 'bout them Cowboys! They showed everyone a ton of heart last week taking it to Cincinnati with Cooper Rush leading the offense. The Giants are 2-0, but that record is a mirage. The Cowboys are a better team, even without Dak. Go ahead and take the Cowboys to the bank here. Pick: Cowboys +1
ADVERTISEMENT
Download 
DraftKings Sports-Book APP
 now and use PROMO CODE GODZILLA when you sign up! GODZILLA gives you the best deals in America!  Must be 21 or older, Virginia only. Bonus issued as free bets. 1 early win token is issued at opt-in, money line bets only. Deposit and wagering restrictions apply. Eligibility and terms at DraftKings.com/football-terms. If you or someone you know has a gambling problem, call the Virginia Problem Gambling Helpline at 888-532-3500.