PHOTO: JALEN HURTS
By: John Fredericks (Godzilla), Jack Fredericks (Mississippi Marxist), and Nate Perry (#NoPickNate)
John: My first week 5-10 ATS nightmare is in the rearview mirror. 
Forget week one, I'm about to go on a rampage. 
I started Thursday night off with a big win: Chargers +4. I love to get a head$tart on Sunday! 
Joining this NFL season for picks is my oldest son Jack Fredericks. He's live on Sunday at the 1st Jackpot Casino in Tunica, MS. And lest we forget my other surrogate son Nate, the prodigal—now part of our family. Nate's live on Sunday at the CAL-NEVA Casino in Reno, NV. 
Jack: The Godzilla is in the cellar after he laid a combined 250 points on every favorite in a Week 1 disaster. Meanwhile, his more careful counterparts went 5-3 (me) and 7-5 (Nate). The Godzilla bets winners about as often as he uses the correct pronouns. He's back to another week of eating at the Favorites Buffet. #QuitLayingPoints. You're better off throwing your money onto the barbecue with a few vegan field roasts than picking winners with the Godzilla. Stick with the Mississippi Marxist and you'll find yourself ahead of the game in November. 
Nate: It's NFL Week 2, which means we have everyone overreacting to their team, John despairing, and a bunch of massive lines. Last week showed how much parity there is in this league, yet there are still a ton of bigly favorites on the board. Let's work our way through some of this and keep winning.
Week 2: Here we go! 
Sunday, Sept. 18th
All Lines: Draft Kings (DraftKings) 1:00 PM Sept. 18th 
The NFL's opening week was action-packed and it's just getting started! Get ready for Week Two of touchdowns, big plays, and even BIGGER wins with DraftKings Sportsbook – an Official Sports Betting Partner of the NFL. This week, new customers can bet just FIVE DOLLARS on any football game and get TWO HUNDRED DOLLARS in FREE BETS INSTANTLY!
Want more action?

EVERYONE

can experience the thrill of DraftKings

EARLY WIN PROMOTION

! 

It's simple. This Sunday, bet on any NFL team to win. If your team leads by ten at any point during the game, you get

PAID INSTANTLY.

Even if your team loses!

Download the DraftKings Sportsbook app NOW and use promo code GODZILLA to get TWO HUNDRED DOLLARS in FREE bets INSTANTLY when you place a five-dollar bet on any football game! That's code GODZILLA—only at DraftKings Sportsbook—an Official Sports Betting Partner of the NFL.  
Must be 21 or older, states where it's allowed only. Bonus issued as free bets. 1 early win token issued at opt in, money line bets only. Deposit and wagering restrictions apply. Eligibility and terms at DraftKings dot com slash football terms. If you or someone you know has a gambling problem, call the Problem Gambling Helpline at 888-532-3500.
Pats at Steelers +2 
John: The Patriots looked pathetic last week in Miami. Matt Patricia's offensive game plan was worse than Todd Downing's. This team has a multitude of problems. They looked sick, confused, outmanned and outgunned. Truth be told, it's a lack of talent. Will Mack Jones play? Who knows. The Steelers needed a full overtime and a whopping five turnovers to total just 267 yards and 23 points against a pedestrian Bengals defense. Let that sink in. 70 minutes. 267 yards. Yikes. 
In the words of Dennis Green: Mitch Trubisky is who we thought he was: a backup quarterback. Oh-oh: TJ Watt is out and Najee Harris is hobbling around on one leg. The Patriots were embarrassed last week. They are not very good. Problem is: neither is Pittsburgh. Pick: Patsies -2
Jack: I can't recommend playing a game where we know nothing about either team. T.J. Watt played a major role in the disruption of Burrow's offense in Week 1 and he's sidelined with an injury. We know Tomlin is about even with Belichick in terms of coaching. We watched Mac Jones get waxed down in Miami. This is bizarro NFL where the stinkers are 1-0 and the would-be-greats are 0-1. Look away. No Pick. 
Nate: I'm traveling this week and didn't get a chance to throw down much money I like since my major focus was on college, but this is one that I did. The argument is essentially the same last week when I told everyone to lock in the Steelers and to not be surprised if they won outright. Pats looked terrible last week on both offense and defense and Mac Jones is already banged up. Mike Tomlin continued to be an absolute giant killer as an underdog. I'm not willing to step off this trend train quite yet. Pick: Steelers +2
Cats at Giants -1.5 
John: This is why I'm a beast. The Titans gave away a game to the Giants who should have been down 28-0 at the half. They won by default, as Tennessee decided to stop playing pro football in the second half and instead drew up silly school house trick plays in the dirt on third and one's. The Giants are a 4-13 team who were handed a gift on Sunday. Stop Saquon Barkley and you win. 
Baker Mayfield needs to win this game. Carolina is on the ropes early. They came out flat as a pancake last week. Look for a fast start by the Panthers and they'll never look back. The Giants boo-birds will have a lot to grouse about this Sunday in the Jersey swamplands. Remember, these are the same Giants fans who pummeled Santa Claus with snowballs from the stands. Ouch. It's more like Caturday, not Sunday. Pick: Cats +1.5 
Jack: John is not a beast. He is 5-10 and he's on the wrong side of another game. The Giants surprised the square bettors who pay attention to zero offseason moves and figure that every time a good team plays a bad one, the good team covers. News flash, buddy: the Giants would have covered even if the Titans hadn't bungled the game on a shovel pass. Daniel Jones is a backup QB. Facts. But that doesn't matter if they can ride the run (Tannehill, anyone…). The Panthers looked lost last Sunday. They're playing on the road. Their D-Line is a stinkeroo. Lay the points. Pick: Giants -1.5
Nate: Giants barely squeaked past the Titans, but as we all know by now, the Titans have a lot of problems. I'm not willing to buy in on the Giants on the strength of a win against a mediocre team that they only barely edged. I don't particularly care for either of these teams, but I'm more inclined to take the points between these two, ultimately I can't recommend either. No Pick.
Jets at Browns -6.5 
John: Holy Lake Erie, the Brownies are for real! Their suffocating defense impressed me in Charlotte last week! Plus, the Browns are poised to start 2-0 for the first time since '93! The Jets are still the raging dumpster fire we thought they were. Playoffs? How about win a game? Turnpike Joe Flacco is stink-O!  
Here's real deal-breaker: The Brownie The Elf mid-field logo is good for at least a touchdown. I love that logo. The angry elf! When will the woke mob who stole the Indians say its insensitive to angry elves and non-inclusive? The double-maskers in imported SUV's are coming—Chardonnay in hand! Until they get there, the Browns keep winning. Pick: Angry Elves -6.5 
Nate: This game is going to be weird. Both teams want to run the ball a ton and both teams are exceptional at defending the run. I'm having a hard time seeing how these teams score many points, which is why I think the Jets have to be the play-catching 6 points. Pick: J-E-T-S +6
Colts at Jags +3 
John: The Colts played worse than Tennessee last week and limped out of hapless Houston with an underwhelming tie. Matty Ice is suddenly Matty No Dice. He looked old and immobile. This team needs to give the ball to Jonathan Taylor and get the hell out of the way. The ego-maniac Colts may have overlooked Houston. That won't happen again this week. 
As competitive as the Jags played last week, the Washington Whatevers controlled the game throughout. Jacksonville has a long way to go under Pederson to become a real contending team. Indy can't come out of the first two games with division bottom feeders and not get a win. Pick: Colts -3
Jack: This game hinges on your willingness to gamble that the Colts mail it in for the second week in a row. The Jags are exactly what we thought: mediocre. Sure, they'll cover a game here or there, but you won't have much fun watching it happen. T-Law looks not to have made much of a jump from last year. The Jags' defense is a joke. The O-Line is the Ship of Theseus. And yet: the Colts tied with the Texans. I'm willing to bet the Davis Mills train keeps rolling in Houston, which means the Colts played a potential divisional leader (you heard it here) last week. Colts should cover. Pick: Colts -3
Nate: This is pretty much a must-win for Indy as their schedule after this game is pretty brutal. Yes, the Jags have had their number for a while, but I'm not willing to buy into that too much. Jags look like they're still figuring things out and the Colts have to win here to avoid getting deep in the hole with their record. Count on them to do it. Pick: Colts -3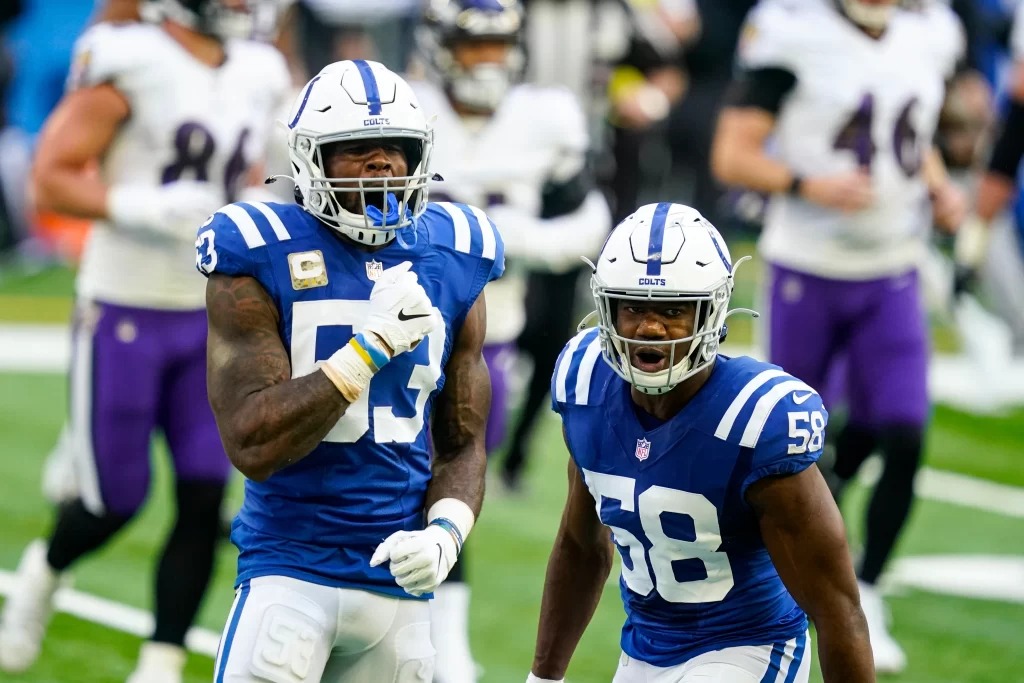 Fins at Ravens -3.5 
John: Give me the Angry Birds with a pissed-off Lamar Jackson in their home opener in the nest. This a nasty Baltimore team who has underperformed in the clutch three seasons in a row. Sure, the Fins looked solid last week against a sad sack Pats bunch in the fish bowl, but this is nightmare scenario for their game two. Last year, the Dolphins exasperated the Ravens offense by punching eight in the box. Harbaugh will be ready for it this time. He doesn't get fooled twice. Pick: Ravens -3.5 
Jack: Our resident Ravens fanatic has an incredible take on this game. I urge you to read that instead of our lousy picks. You can read it here. Mr. Peter Kriebel has convinced me that Isaiah Likely is going to have a big day. Unfortunately, our friends at DraftKings have no odds on Isaiah Likely. However, Peter points out that Rashod Bateman is going up against all-pro corner Xavien Howard. That's enough for me to play the under on Bateman's receiving yards (45.5). Pick: Rashod Bateman Under 45.5 Receiving Yards (-115)
Nate: Baltimore should have the answer for Tua throwing the ball all over the place with their strong secondary. Meanwhile, Ravens are getting healthier and should be able to establish the run, which Miami's defense struggled with last week against New England. I think laying the points is probably the move here. Miami's win wasn't that impressive and I'm not willing they're for real yet. Pick: Ravens -3.5
Bucs at Saints +2.5 
John: Frankly, I don't give a skinny rats ass how many times the Saints beat Brady. I don't care that Brady has five injured receivers. I don't care that the Saints are at home. I don't care about New Orleans cuisine. I don't care about their woke loser mayor who flies first class on the taxpayers' dime. I don't care about Byron Leftwich's offense schemes. 
The Bucs defense is unbelievable. If you don't let the other team score, you win. When somebody scores a touchdown on this team, let me know. In the meantime, I'm betting Tampa. This is the no-brainer bet of the week. Pick: Bucs -2.5 
Jack: I'm your NFC South Guru. Here's what I know: Panthers cover about as well as frozen butter. The Falcons might be good. The Saints have a lousy O-Line. The Bucs have the best defense in the NFC. Saints have to match up against another bitter divisional rival in as many weeks. That O-line, y'all. It's bad. Cesar Ruiz can't even block his ex's text messages. The Bucs defense is going to put a lot of pressure on Jameis, who will most likely toss a few pick-a-roos. Go with the GOAT and lay the points. Pick: Bucs -2.5
Washington Whatevers (WW)
¯\_(
ツ
)_/¯
at Lions -1
John: Wow. The Lions fought their hearts out last week against the Eagles. Sooner or later, they will learn how to win a game. The Whatevers ¯\_(ツ)_/¯ almost spit the bit last week against the Jags, after leading the whole game. The team with no name is a truly sorry bunch. This is the first time the Lions have been favored in over a year and a half. Their fans have waited what seems like a life-time for a competitive team. It's time to win a game. Pick: Lions -1 
Jack: The Lions tossed me a solid win last week in a home opener, where they slid a backdoor cover into their resume. Too bad we have a short memory at Jack's Home for Wayward Degenerates. This line is an over-reaction to Week 1 and a tease to all the square bettors like the Godzilla who react instead of think. The Washington Commandos have the most explosive offensive weapons in the league. They just also happen to have Carson Wentz. No matter! Washington cruises to an easy victory and, hey, you get a point in case the Lions try any of that backdoor cover nonsense again. Pick: Washington +1
Nate: Detroit sucks and they were lucky to cover last week against Philly. Washington is fine and I think they're worth a bet as an underdog here. Pick: Washington Cronies +1
Clowns (ACS) at Rams -10 
John: The Atlanta Clown Show (ACS) brings the traveling big tent to the left coast. The Maestro Mariota actually played well last week. Watch this week as he gets sacked by Aaron Donald, gets a stinger, puts a hoody over his head on the sidelines and turns into a wet rat before your very eyes. Do you think the Rams go 0-2 with two losses at home to start the season? I didn't think so. Pick: Rams -10 
Jack: Your NFC South Guru is back for more. This line has been moving pretty well towards the Dirty Birds, which means that the smart money is on the Falcons to cover. My money is on the ten points too. Ten is always too much for me to stomach in an early season game. The Falcons offensive line (which isn't really that special) dominated the line of scrimmage all game last week. Mariota's legs have opened up the offense in ways that Falcons fans haven't seen since Vick. The defense did its job for three quarters. Patterson is an absolute stud carrying the rock. Yeah, yeah. Rams, Rams, Rams. No home field advantage in L.A. Take the dogs…er…I mean, the Birds. Pick: Falcons +10
Welcome to ATL Marcus Mariota. pic.twitter.com/QuRn5SHc2v

— Atlanta Falcons (@AtlantaFalcons) September 11, 2022
Hawks at 'Niners -8.5 
John: I'll make this easy. I cannot lay points on this San Francisco team with a rookie quarterback who tanked last week in Chicago's rain. Justin Fields 1, Trey Lance 0. Need I say more? When you lose to Justin Fields you ain't no 8.5 favorite against anybody. 
Geno Smith looked like a man on a mission with something to prove. This is his last shot. Seattle is a horrific road team, but this is an overlay, all based on the sports media's love affair with new Bay Area heart throb Trey Lance. Jimmy Jesus has put off his GQ modeling career to hang around a year. Keep the glamor shot portfolio updated, Jimmy. Next stop: Dallas. Pick: Hawks +8.5 
Jack: This is one of those square bets where the armchair baby boomers watched MNF and decided they would absolutely never, ever bet against Geno Smith again. To make matters worse, the Niners lost to the Bears. Trey Lance completed like 40% of his throws, but the Seahawks might stink. Don't pick this game. No Pick
Bungles at Cowboys +7 
John: Folks, this is your classic trap game. It looks too easy. And it is. Dallas got rode hard last week and put away wet. They basically had zero offense, and now they have no Dak Prescott. While their defense was adequate, it was not anything like the hype we were pounded with all summer. Oh, and Mike McCarthy's band of non-disciplined nit-wits had another 11 penalties. McCarthy is toast by game 6. 
Joey Burrow is coming off the worst game of his career, the Bengals coughed the ball up five times, McPherson missed a PAT, and chip shot game winner and they lost by 3 to Pitt in the final seconds of overtime. 
This is a real Cincy bounce back opportunity and what's a touchdown when Dallas has no QB? Should be a blowout, right? Who's Cooper Rush? Who's John Galt? Rush had one career start and thrown 67 NFL passes. Galt changed America (according to Ayn Rand). Rush changes nothing. This is one ugly game. Let me ask you this: why is it only 7? Because Cowboy fans have no problem parting with their money. Dallas is in for a long September. Pick: Bungles -7 
Nate: The Cowboys are dead to me and it's almost impossible to handicap how Cooper Rush handles this offense. I think the Cowboys defense probably drops Burrow enough to at least hang around, but I can't possibly recommend a bet. No Pick
Texans at Broncos -10 
John: Here are my choices during this stinker of a game: 1. Get drunk 2. Fly to Colorado and get stoned. 3. Watch the game on mute while listening to a mixing rendition of Cheech and Chong with Benny Hill.  I said in my NFL preview that the two biggest frauds this season are Arizona and Denver. So far, I'm spot on. Why lay 10 when the inept Bronco offense may not even score 10? The ghost of Earnest Byer is with them, having fumbled twice on the one-yard line. Who does that? 
Texans showed some spunk at home and Lovie Smith's beard got a little greyer. Maybe we'll send him some Grecian formula if he covers. Pick: Texans +10 
Jack: This has turned into a Texans website. I cannot believe the Davis Mills Marauders are still 18/1 to win the AFC South. Lock that in and don't look back. There's something brewing in Houston and it's not a hurricane. Pick: Texans +10
Nate: Houston goes out there and absolutely grinds. This team wants to slow down and make things ugly. Denver has no problem getting ugly, as they looked sloppy and disorganized last week. This is what leads me to think they have no business being favored by ten points here. I enthusiastically bet the Texans last week, but I'm not as thrilled here. Tread carefully on this, but #NoPickNate needs to make some picks, so here you go. Pick: Texans +10
Cards at Raiders -5 (O/U 51.5)
John: The Cardinals are an intellectually corrupt and morally bankrupt franchise having sold their soul to a little snot-nosed soy-boy who won't watch game film. It's me first vs. team first. This is what's wrong with America today. They got embarrassed last week by a real man's man at QB: Patrick Mahomes. He's a leader. Hapless Cards coach Kliff Kingsbury didn't help matters afterward by criticizing the team's practice habits. No sh*t, Sherlock. The dipstick you have at QB couldn't lead a colony of squirrels to the acorn farm. 
The Raiders put up a valiant fight in L.A. last Sunday against a very talented Chargers team. Another extensive injury list for the Cardinals includes three players out in the secondary. Derek Carr will be shooting birds in a barrel. Welcome to The Black Hole, little birdies. Pick: Raiders -5 
Jack: The Godzilla hates the Cardinals because Kyler Murray likes to play video games. He's probably jealous, since he can't figure out how to log into his Netflix account. Our Senior Raiders Analyst, Cameron Berg, foresees this game as a low scoring slugfest. Read his incredibly thorough Raiders breakdown here. Let's stick with the under here at 51.5. Root for the run game. Pick: Under Total Points +/- 51.5
Bears at Pack -9.5 
John: Hello Lambeau! Goodbye Bears. The Pack is not going to open the season 0-2 against this bunch. Yes, the Bears won a game in the rain, charging back from behind. But this is in Green Bay. This is facing a rather annoyed Packers team, with a defiant Aaron Rodgers who gave his rook receivers the stink eye and wouldn't pass to them. After the game he said they had to earn their way into his huddle. This is called leadership. Rodgers goes crazy and blows this game wide open. Pick: Pack is Back -9.5 
Nate: Rodgers gets right here. He owns the Bears and he has to be upset after sucking last week. That's all there is to it. Don't try and find a way for the Bears to hang around here. They won't. Pick: Go Pack Go -9.5
Justin Fields and the Bears slipping and sliding into the Week 1 W 🤣🙌

(via @NFL)pic.twitter.com/Tv7BSWCo7K

— Bleacher Report (@BleacherReport) September 11, 2022
Vikes at Eagles -2.5
John: It comes down to this: Jalen Hurts vs. Kirk Cousins. This isn't your Mike Zimmer's Vikings. New coach, Kevin O'Connell, has this team operating with a sense of urgency. He's building a culture of hard work. Yes, Jack, culture matters. It trumps talent sometimes. The Eagles are the team to beat in a weak NFC East, but Jalen Hurts has a long way to go. Plus they nearly blew a big lead to the lowly Lions last week. When does Detroit ever mount a 3-touchdown comeback in the fourth quarter? 
I like the revitalized Vikes on the road with a chip on their shoulder. All the pressure is on the Eagles at home Monday night. Last big game Hurts had in the playoffs, he got happy feet and coughed up a hairball. I'm going with the dog on the road, winning the whole game. Cousins wants a cheese-steak on the plane ride home. Put AJ Brown at QB and I might change my mind. Pick: Vikes +2.5  
Titans at Bills -10
John: Yes, it's true, we really stunk up the joint last week. See my Titans column on last week's game. Read Here: Titans Meltdown Sunday More than a Loss
The Titans aren't as bad as they looked in Week 1 and the Bills aren't as unstoppable as they looked in Week 1. Things settle in. We could go on and on about how incredible the Bills looked last week and, coming home, this should be a blood-bath. It's been over five years since TN was a 10-point underdog. I'm taking the points, sitting back with an ice-cold beer and hoping my nit-wit offense coordinator Todd Downing hands the ball off to Henry 50 times. If Downing's IQ went down a point, he'd be a plant. It's bad juju to bet against your team. Never do it. Pick: Titans + 10 
Jack: We have already established that the Titans suck. We know the Bills are good. Here's the problem: Monday Night. I don't want to lay 10 points on a Monday Night game, because it means I have to stay up and watch the entire game no matter if the Bills are up by 20. Hold your nose and pick the pathetic Titans. Pick: Titans +10
THE GIANTS TAKE THE LEAD LATE ON A TWO-POINT CONVERSION!

Saquon Barkley gets the shovel pass and New York is one minute away from stealing a win on the road.

🎥 @Giantspic.twitter.com/lPRfiKwyjA

— The Athletic (@TheAthletic) September 11, 2022
Tune in to the Godzilla Wins Radio Show – Saturday at 9:00 AM and REPLAY on Sundays at 10:00 AM.
ADVERTISEMENT
Download 
DraftKings Sports-Book APP
 now and use PROMO CODE GODZILLA when you sign up! GODZILLA gives you the best deals in America!  Must be 21 or older, Virginia only. Bonus issued as free bets. 1 early win token is issued at opt-in, money line bets only. Deposit and wagering restrictions apply. Eligibility and terms at DraftKings.com/football-terms. If you or someone you know has a gambling problem, call the Virginia Problem Gambling Helpline at 888-532-3500.