By Peter Kriebel, Contributor
A Cold Dish
Revenge has to be on the Ravens' mind leading into this game. The Ravens' 22-10 November defeat to Miami last season was an embarrassment for the entire organization. Offensive coordinator Greg Roman had no answers for the Dolphins' defensive scheme. I imagine that during that game, up in the booth, Roman looked like a frustrated 4th grader, getting shut out by his older brother's one-play-defense in Madden. With tears streaming down, face red, and jaw jutted, he tried his best to call anything to back the Dolphins out of their cover 0 looks. Unfortunately for Roman, like the defense he faced, his sucess was zero.
Cover 0, like any coverage has its strengths and its weaknesses. It is extremely confusing for a QB who has almost no way of knowing which of the 7+ players at the line of scrimmage will come screaming through to try and take his head off. The coverage's weakness is that all it takes is one offensive player to break a tackle and they'll find themselves in a race to paydirt. Last season, nobody on the Ravens could shake Miami's defense. Even the great Mark Andrews was held in check by the Fin's uber-talented secondary. Hollywood Brown was rendered useless because Miami's constant pressure meant he didn't have time to create downfield separation.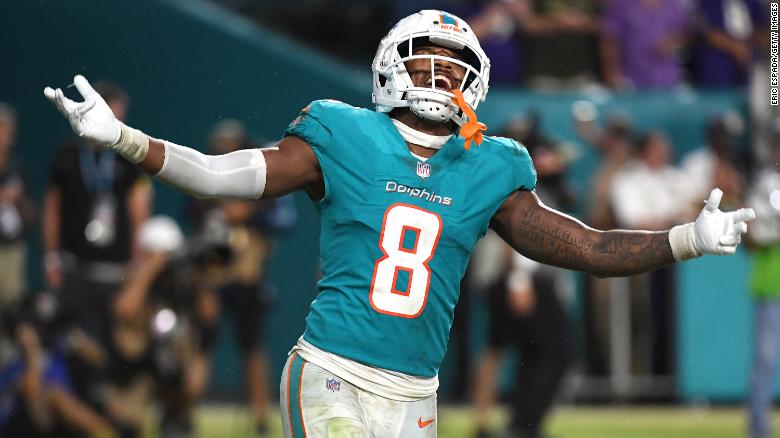 Payday
This Sunday, assuming Miami runs a game plan similar to the one they did in November, Baltimore will have to evolve to succeed. What form that evolution takes is where this gets fun. It's not so much a question of the offensive line. The Ravens could have five Hall of Famers in front of Lamar and Miami would still manage to get a free rusher just about every play. Because no matter how good an O-lineman is, he can't block two players at once.
This game will come down to Lamar's ability to process what's in front of him and his playmakers' ability to create yards after the catch. So who's going to step up? Is it Rashod Bateman vs all-pro corner Xavien Howard? Probably not. Duvernay vs Byron Jones? Maybe for a play or two, but not consistently. It won't even be Mark Andrews because of how great Dolphins safety Jevon Holland is. The player who breaks out against the Dolphins will be 4th-round rookie, Isaiah Likely. I know his performance last week left much to be desired, but I refuse to let three plays distract from an entire offseason of stellar play. Likely is going to punish the Dolphins this Sunday because his matchup is so favorable. He's faster than any Dolphins linebacker he'll see across from him, and too big and physical for any defensive back. He's the key to getting the Dolphins out of their blitz heavy attack. Look for the Ravens to go to him early and often, and watch as the confused look of "Who is this guy?" sweeps Miami's sideline.  
Isaiah Likely's stats so far:

8 catches
100 yards
1 TD

And it's still the first half. 🔥 @DaGorilla4

📺: #BALvsAZ on FOX
📱: Stream on NFL+ https://t.co/YdLdMGKZy4 pic.twitter.com/9MGBdXjx8v

— NFL (@NFL) August 22, 2022
Do the Jitterbug
Enough about the offense, because the Ravens' defense has its hands full as well, trying to corral the dynamic Dolphins recievers. It doesn't help that the Ravens already have three potential starters at cornerback on the injury report. The injuries don't appear to be serious but it's not what you want to see before facing a receiving corps full of players who run in the 4.2s. Baltimore's defensive staff knows all about Tyreek Hill, who's had some outrageous plays in the Ravens secondary. But those plays were as a Chief. Now the Cheetah's a Dolphin. Confusing, isn't it? Despite the change of scenery, Tyreek is still the same explosive jitterbug who can turn one defender's bad angle into a 70-yard score. Marlon Humphery should match up with Hill often, but he shouldn't be expected to hold up on an island the whole game. To avoid Hill or Waddle wrecking this game, Baltimore defensive coordinator Mike Macdonald will need to dial up blitzes sparingly, similarly to how the Ravens did in their win against Kansas City last season. A key aspect of this football game will be whether Baltimore's D-line success will carry over from week one. Dolphins' QB Tua Tagovailoa had the 9th highest time to throw of any starting QB last week, meaning the Ravens' defensive front has an opportunity to get home frequently. 
Most accurate QB I've ever seen pic.twitter.com/y4b46LNyk4

— Cody Tapp (@codybtapp) September 11, 2022
For a Week 2 game, this one means a lot. It's an opportunity to right last season's wrongs and prove this year's team is different. The Dolphins are a playoff quality opponent and a good test of how the Ravens stack up within the conference.
Final Prediction:
Ravens 31, Dolphins 27