By: Cameron Berg, Contributor
The Raiders endured a tumultuous 2021 season, but despite both personnel and coaching losses, they rallied to take the eventual AFC champions into the final seconds of their wildcard game. The subsequent offseason started with significant leadership turnover, and the Raiders snagged one of the most sought-after head coaching and GM candidates of the offseason. They made their presence felt with a splash trade in acquiring one of the best receivers in the game and largely turned over the depth of the roster (while simultaneously becoming Patriots West). The roster appears to be substantially improved; however, a few question marks remain as we begin the 2022 season. While the national hype for the Raiders has paled in comparison to their AFC west counterparts, Raider nation has remained optimistic that we can compete for both an AFC West title and make some noise in the playoffs.
I don't expect a fast start with McDaniels and this offense. It seems the Raiders will stay true to the Patriot way in sitting starters throughout the pre-season and utilizing the first quarter of the regular season to evaluate and integrate personnel and coaching schemes. I wish I could count how many times I had to endure hearing how Tom Brady and the Patriots were washed after they started a season 3-3, only to go 8-2 for the rest of the year and make another SB run. This wont stop the emotional toll or overreaction I will have before, during, and after every game, win or lose, but as long as this team is improving week after week in this first month, I'll feel confident going forward.
Game 1: Raiders at Chargers 
Score Raiders 19- Chargers 24
I won't delve too deeply into this game. While it was heartbreaking, I was encouraged with the 5 point difference despite the -3 turnover differential and a couple of goal line calls that went against us, which resulted in an 8 point swing. Here are my thoughts on the most impactful aspects of our opening week.
What Went Right
The Defense
I hate to say it, but I'm 0-2 when it comes to our division rivals drafting "project" QB's. I let out an audible cheer when Mahomes was drafted and again so when the Chargers "reached" for Herbert– turns out, I don't have a future in NFL QB evaluations. Herbert played masterfully in this game: our line put pressure on him and our secondary forced numerous tight window throws while dealing with injuries. I would have liked to see Chandler Jones and Maxx Crosby stay in their lanes during their rush more consistently – Herbert made a few too many plays after escaping out of the pocket. With a QB like him, I would take a pressure in his face with containment over the chance at a sack with how explosive the Chargers offense can be when Herbert is on the run.  However, with how the rules are today, defenses can only hope to make offensive execution difficult, and the Raiders defense did just that on Sunday. 
everything about this >>>>@lightningstrk12 | 📺 CBS pic.twitter.com/MX4hBQ1voO

— Los Angeles Chargers (@chargers) September 11, 2022
I like Teamers. A third string safety blanketing his receiver while the QB scrambles for his life and forcing them to link up for a back shoulder throw is great execution. Maybe from an elite corner we can expect turning his head when the receiver does, but I am more than happy with Teamer's play there.
Davante Adams
There is little breakdown required here, this man is as advertised one game in. If he stays healthy, I think he continues to dominate throughout the season. He will be the difference in at least 2-3 games this year and almost carried this team to a win in Week 1. I'll let the clip of Adams spinning Asante Samuel Jr. to the Raiders sideline do the rest of the talking here:'
Davante Adams sent Asante Samuel Jr off the screen 🤧
pic.twitter.com/w8N9ttBmBH

— PFF (@PFF) September 11, 2022
What went wrong
Carr
It's not time to freak out, and it's certainly not time for Jared Stidham, but I think it's fair to criticize Carr when he plays a below average game. He seems to have a very predictable pattern that is both the reason why he receives so much criticism, and why the team (and us fans) should be patient with him. He will be inconsistent and struggle until he thoroughly understands an offense. He has had 5 different playcallers throughout his 9 year career, and has only played his best once he has been in a system for over a year (2016, 2020 and 2021). He is switching into one of the most notoriously difficult yet adaptable offensive systems in the NFL. Carr has remarked on the difficulties of switching systems numerous times before, and the processing required from an NFL quarterback is almost unimaginable. To mentally recall a brand new set of offensive rules, route combinations, protections, verbiage, and calls while simultaneously reading a defense AND have the presence of mind to feel and move with a top 5 pass rush within a 3-4 second play is astounding. As with previous regime changes, Carr seems to have happy feet, he isn't feeling the rush as fluidly, and he is taking an extra half second to move through each of his progressions. It may feel like déjà vu all over again, because it is, but we've also seen what Carr is capable of when he has full understanding of the offense he is running. The theme of this article is patience and I'll preach it again for Carr. 
Delay in Transferring of Game
For many of you around the nation, we missed almost the entire 1st quarter as we watched two teams over 2000 miles conclude what felt like the longest game in NFL history. If I want to watch a game winning field goal go wide left because the laces were in, I'm going to indulge with Jim Carrey and Dan Marino in Ace Ventura, not Evan McPherson and Joe Burrow. 
The irony is not lost on me that these delayed transitions are because of the Raiders and the famous Heidi Bowl. But I submit that we should transition to the 2 West Coast teams instead of watching an AFC North divisional game.
QB Slides
The NFL has made it a point to protect quarterbacks, especially as mobile QBs make some must-see-TV. The protection makes sense, but what I don't get is why the entire onus on avoiding contact is strictly on the defender. Watching as the ever-growing number of mobile QBs routinely take advantage of these protections with slow ups, jukes, and abruptly turning up field as they approach the sideline as defenders enclose is disappointing. Obviously, I hold some bias here as the ticky tack call against Nate Hobbs was the difference in Sunday's game, but QBs should lose any extra protections over a normal runner whenever they make an indeterminate move in the open field and incidental contact should not be flagged nearly as strict as it is currently.
Following Games
Cardinals @ Raiders
The home opener is against an opponent that was just smoked by a division rival. With HgH-Hopkins suspended and Kyler Murray playing similar to how he did the last half of the 2021 season, this should be a winnable game for the Raiders. I do expect it to be closer than I would normally feel comfortable with against a less talented team, and don't be surprised if Carr has another below average game. The Cardinals gave up 128 yards on the ground last week and I think the Raiders will lean more on the run game as Carr continues to ease into the passing offense. Rodric Teamer and Duron Hamon were both serviceable in the absence of Trevon Moehrigs, and the Cardinals passing attack has been anemic. I expect more base defense and Ferrell to again play another supportive role to slow the ground game of the Cardinals. Both Chandler Jones and Mason Crosby will have easier tasks this week, although in true Patriot fashion, I would like to see less stunting and more in-lane rushing – keep Kyler in the pocket and force him to make decisions with containment. 
Prediction: Raiders 28-17
Raiders @ Titans
The Raiders travel to Nashville to take on the question mark that is the Tennessee Titans. The offense was already a liability coming into the season, ending last year at 15th before trading away their best receiving threat. Derek Henry has been spectacular the last four years, but punishing running backs can wear down quickly, and injuries can begin to take their toll, even if they don't keep him out of the game. This is a decent matchup for the Raiders and may be a low scoring affair as the Raiders offense is still settling in. Like the Chargers game, a couple breaks will go against them and they lose a close one in a defensive battle as McDaniels and the Raiders play it safe against an offense they know they can hold.
Prediction: Titans 14-10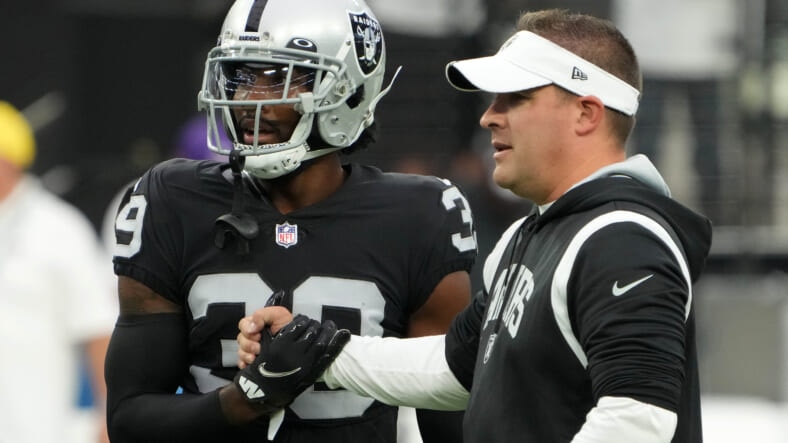 Broncos @ Raiders
Thank god for Nathaniel Hackett. Unless you're paying Justin Tucker $250 million and trading away 7 players for him, I have no idea why you're sending out your kicker in that situation. I do worry though, as these coaches with awful situational awareness and time control can easily fix it. Find any seasoned Madden player with a mathematics minor and just do whatever the hell they tell you when there is less than four minutes left in the game. I hope to god his ego prevents him from seeking any help. Onto the game, the Broncos secondary will be vulnerable with Justin Simmons sent to short-term IR, and Geno Smith was able to move the ball incrementally well against that defense. I think Kolton Miller can hold up against Chubb which allows more chips and heavy sets towards whoever may be at right tackle for this game. Wilson the last couple years has been very up and down and he appears to be stuck in playing hero-ball and refusing to take the easy check down. If the Raiders secondary holds up and the rush contains Russell Wilson, the Raiders come away with another win.
Prediction: Raiders 31 – Broncos 24
Final Thoughts
I admit some of these predictions here are still propped up from my pre-season optimism. The showing against the Chargers had a lot of positives, but obviously was not the outcome desired to start a season. I think if this team is sitting at 2-2 after the first quarter, we are still in excellent shape. Even if this team lands at 1-3, I would still hold off on the panic button as I think games 5-9 will be telling of how the Raiders will fare for the rest of the season.