Who is the Best PG of All Time – Magic Johnson or Stephen Curry?
WHO IS THE BEST PG OF ALL TIME – MAGIC JOHNSON OR STEPHEN CURRY – The greatest of all-time debates is not a new discussion by any means. And to be honest, the topic can be somewhat subjective depending on the statistics that are used within these debates.
Golden State Warriors guard Stephen Curry recently appeared on a podcast with former NBA player Gilbert Arenas. And during the said podcast, Arenas asked Curry "Are you the greatest point guard ever?". After taking a second to contemplate the question, Curry said yes. 
Now, for those NBA diehards, Magic Johnson – he of the Showtime Lakers – has always been revered as the greatest point of all time. So, with that in mind, let's look at the tale of the tape from both sides.

But before doing so, I must forewarn you that I'm not trying to fully discuss the entire list of intangibles that each player brings to the table because you would need much more than a single article to do so. But what I will do is focus on some of the numbers that make each player great. 
First, let's begin with Magic Johnson. 
Showtime
Magic Johnson came into the league in 1979. He compiled averages of 18.0 points, 7.7 rebounds, and 7.3 assists per contest. The most memorable moment that will forever stand out about Magic's rookie season was Game 6 of the NBA Finals against the Philadelphia 76ers.
Kareem Abdul-Jabbar was sidelined with an injury, which resulted in Magic playing the center position. And all Johnson did was finish with a stat line that included 42 points, 15 rebounds, and seven assists, enabling the Lakers to come away with the win as well as the championship.
Keep in mind, this is the dude's rookie season and he put together a phenomenal performance on the league's biggest stage. 
If you thought that season was a fluke, you are mistaken. Standing at 6'9", Magic literally redefined the point guard position. To see a player that size, built like a power forward, running up and down the court with jaw-dropping speed was unheard of in those days.
This up-tempo style of play earned the Lakers the nickname "Showtime" during Johnson's peak years. To put a present-day analogy for the current generation of NBA Fans, Magic was the 1980s version of LeBron James – a player with size and speed that could operate at multiple spots on the floor. And you could always depend on Johnson to get the team the best shot possible more times than not. 
Finals Appearances
Following his rookie campaign, Johnson helped guide Los Angeles to eight more Finals appearances, and the Lakers won four more titles during that span. Over the course of his storied career, Johnson's averages include 19.5 points, 11.2 assists, and 7.2 rebounds per contest. Johnson still holds the all-time lead for assists per game. So, not only was he a capable scorer but he ran the Lakers' offense with surgical precision, much to the dismay of his opponents. 
Now, we will take a glimpse of Stephen Curry. 

King Curry
Curry arrived on the NBA scene in 2009, and his rookie-season stats were comparable to Johnson's. He averaged 17.5 points, 4.5 rebounds, and 5.9 assists per outing during his inaugural NBA season. But unlike Johnson, Curry's teams did not enjoy instant success. In fact, the Warriors missed the playoffs in Curry's first four years in the league (2009-2012). 
Although the Warriors ended their playoff drought in 2012-13, they were eliminated in the conference semifinals in 2013 and suffered a first-round exit in 2014. But in 2015, Curry helped lead the team to its first title since 1975 with a 4-2 series win over the Cleveland Cavaliers. 
Like Johnson, Curry redefined the point guard position yet again, but in a completely different way. During the course of his career, Curry has become the game's most lethal shooter, and by a comfortable margin. 
The Revolution
As Reggie Miller mentioned during a recent telecast, Curry revolutionized the game from the perspective of how all the other NBA teams try to assemble their respective rosters.
The slam dunk used to be thought of as the most emphatic shot in basketball. But thanks to Curry, the long ball has replaced it. As Curry demonstrated against the Thunder, nothing is more heartbreaking than giving up a game-winning shot more than 30 feet away from the basket. 
There are a couple of other noteworthy points about Stephen Curry. He was named the "unanimous" MVP during the 2015-16 campaign – the only player to accomplish this feat in league history. That season, he averaged 30.1 points, 5.4 rebounds and 6.7 assists. Not only that, but he also shot 50 percent from the field, 45 percent from beyond the arc, and 90.8 percent from the charity stripe. Seriously?
It is also worth mentioning that Curry and the Warriors accumulated 73 wins during that season, eclipsing the 72-10 mark set by the Chicago Bulls in 1995-96. Unfortunately, the Warriors fell to the Cleveland Cavaliers in seven games despite jumping out to a 3-1 lead. That Cavs team is the only team to overcome a 3-1 deficit in a Finals series. 
I left out some of each player's stats on purpose, opting to provide you with a visual presentation instead. Here's a look at their career averages, number of titles, and regular season MVPs.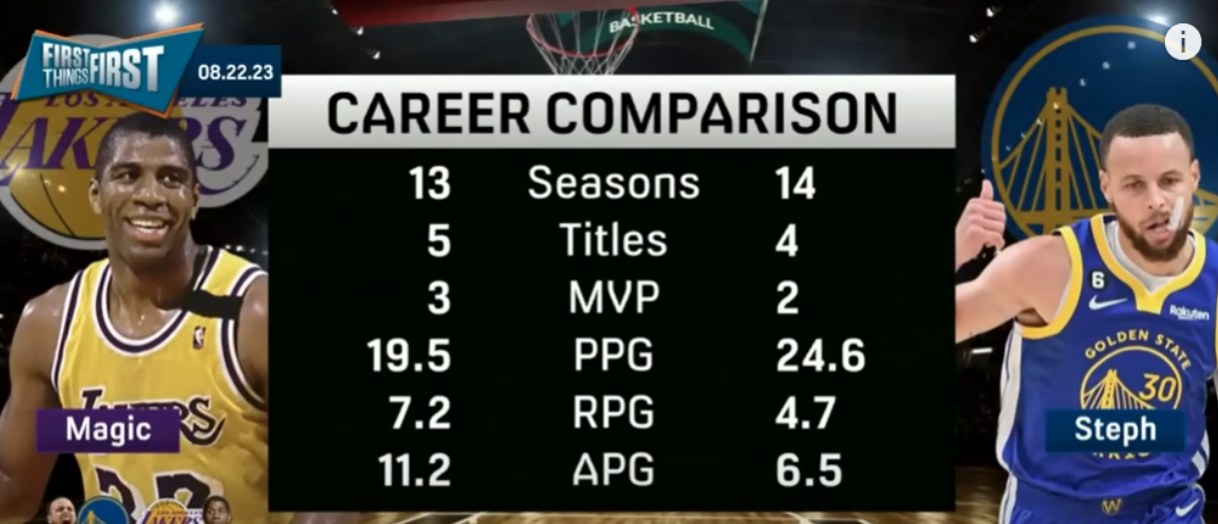 The Finals
As you can see Curry has the edge in points per game (24.6 to 19.5). But Johnson has the edge in titles, and MVPs. Johnson also averaged more rebounds and assists per contest than Curry. 
Our second visual gives a slightly different look at their careers, including All-NBA team selections, Final appearances, and Finals MVPs.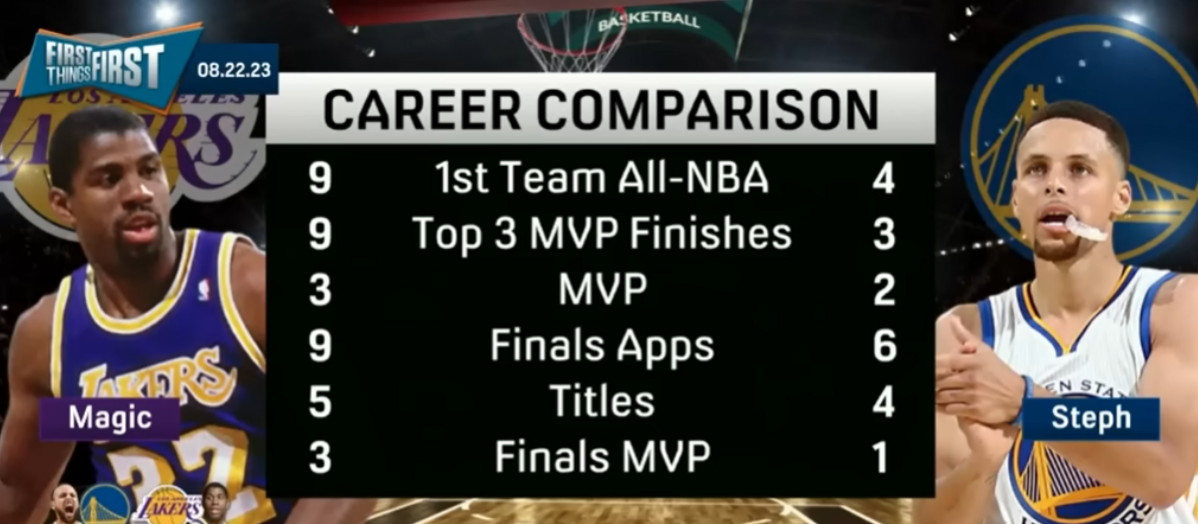 While Johnson has the edge in every category, what is most impressive is not only did he earn nine First Team All-NBA selections, but he also finished in the top-three MVP voting nine times as well. 
If you're a fan of the "Showtime Lakers" and were in awe of how a player of Magic's size could run the floor like a gazelle, then Johnson is probably your selection for the greatest point guard of all time. 
Conversely, if you're a fan of the three-point shot. If you like that nearly every team in the league emphasizes 3-point shooting when trying to decide what players to pursue in the NBA Draft or during free agency, then Curry is your guy. Another area that "may" give Curry the edge is his somewhat small stature. 
Not everyone will grow up to be 6'9" like Magic Johnson. But as Curry has demonstrated, if you constantly put in the time, energy, and effort, you CAN become a great shooter, which can neutralize even the greatest defenders. 
No matter how you choose to break down any sports debates, the topic will remain subjective. And players involved in these debates will have their fair share of supporters and detractors. But Curry did answer the question correctly because you MUST think that you are the BEST at whatever it is that you do be it sports or any other occupation.