Missed Opportunity
For the entire Behind the Hedges Series, click here. 
Last week, Missouri let an overtime win against the Auburn Tigers slip their fingers. They missed a 26-yard field goal at the end of regulation to send the game to overtime. Then, inches before reaching across the goal line to score the game winning touchdown, running back Nathaniel Peat, untouched, fumbled the ball into the end zone where Auburn recovered it for a touchback.
True to form, Auburn continues their uncanny ability to win 2-3 games they deserve to lose each season. Unfortunately, it means they're probably stuck with Head Coach Brian Harsin for a few more weeks.
OH MY GOD MISSOURI MISSED THE FIELD GOAL… #COLLEGEKICKERS!!!!!!!!!! pic.twitter.com/vVe1WSHePF

— Mr Matthew CFB (@MrMatthewCFB) September 24, 2022
The Tigers
Mizzou Head Coach Eli Drinkwitz enters into his third season with a 13-14 record. He has yet to reclaim Tiger's glory days of 2013-14 where they won the SEC East. Rather, they are just steps above Vanderbilt in the East.
They lost leading rusher Tyler Badie and two-year starter in QB Connor Bazelak from last year's team. Badie went pro while Bazelak transferred to Indiana. If your QB leaves your team to go to a bottom-tier Big 10 school, you know you have problems.
Speaking of problems, Missouri shocked the world when the nation's top wide receiver, Luther Burden, committed to them last year. Unfortunately, Burden only has 10 catches so far this season, and after last week's punt-fest against Auburn, he removed all things related to Missouri from his social media profile. While he has since committed his future to Missouri, things are amiss with their star player. He is questionable to play Saturday. UGA recruited Burden as a top priority, but he stayed home.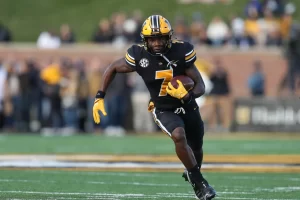 QB Brady Cook has thrown as many interceptions as touchdowns this year. He's not exactly a concern for the Dawgs, but he does have some arm talent. Receiver Dominic Lovett, donning #7, is their primary target. At 5'10, the sophomore receiver burned Abilene Christian for a 79-yard touchdown catch. He averages nearly 18 yards per reception, so keep your eye on him popping a big play during the game.
The defense is led by linebacker Ty'Ron Hopper. He leads the team in tackles, and has added a couple of sacks and an interception. He lead the defense that held Auburn to 217 yards. However, he also misses tackles on a frighteningly regular basis. The linebacker play from Missouri has been suspect this season. 
UGA
The Dawgs enter into this matchup after a eating hefty portion of humble pie last week against Kent State. Plus, they were dealt another blow as starting "star" Javon Bullard was arrested for a DUI after last week's game.
UGA already lost William Poole, a reserve player at the same role, earlier in the season for personal issues. Their list of injuries and personal issues continues to grow. One thing to pay attention to is who starts at star in Bullard's assumed absence. Does Tykee Smith get the call, or will the Dawgs move Chris Smith from the safety position? Dan Jackson can easily fill in at safety, but that will leave a walk-on and freshman Malaki Starks at the two safety spots. Or perhaps does Starks fill in the star role for now?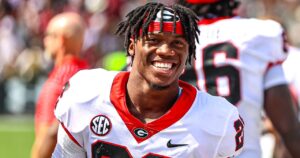 I don't expect WR AD Mitchell to return as much as he was limping last Saturday on the sidelines. In fact, if he plays before Georgia faces Florida, I'll be surprised. TE Arik Gilbert is almost certainly still out as well. Don't expect to see WR Arian Smith back in the fold yet either. 
I'm curious to see which receiver steps up in replacement of Mitchell. There has yet to be a clear favorite. Marcus Rosemy-Jacksaint is the best blocking receiver on the team, but doesn't get targets often. Sophomore Jackson Meeks has made a few plays and freshman Dillon Bell also will get his chances to shine. Something tells me Bell scores another touchdown this week, but Rosemy-Jacksaint will continue to provide key blocks on screens as someone else gets to shine. 
How does UGA Matchup?
The 2-2 Tigers got waxed by Kansas State and lost to Auburn. They beat Abilene Christian and Louisiana Tech. Georgia comes in undefeated, likely seeking another tune-up before the meat of their SEC schedule hits. 
I expect this game to go similar to the South Carolina game. It should be over by half time, and the 25 point spread will easily get passed.
The Dawgs will be locked in against a division opponent, eager to prove they are still deserving of their #1 ranking. Kirby may decide to intentionally work on some things like our run blocking or teaching Ladd McConkey to fair catch. I joke, but Kirby wants to do a few of things in this game: win convincingly, allow starters to perfect plays and technique, and get back ups valuable reps.
Georgia is 10-1 all time against the Tigers and barring total disaster will win to make it 11-1.
Prediction
Dawgs 41-Missouri 6