Reality Check
Read all of Brian Butcher's UGA Coverage Here. 
This Georgia team is not the best team in the country. In just a couple of weeks, the Dawgs have claimed the top rank in the nation following dominating performances over Oregon and South Carolina. Then a disappointing showing against Kent State was followed up by trailing Missouri for 55 minutes of the game has brought the Dawgs crashing back to reality.
I assumed Georgia would cruise through most of their regular season games after their early season dominance. And now, all I hear is Lee Corso saying "Not so fast," in my head.
Yet, top teams are able to get it done when it matters most, and Georgia took over in the 4th quarter to pull out the win on the road. 
Things I Liked Against Missouri
TE Darnell Washington had a remarkable game. He had key blocks like usual, but more importantly he made some crucial contested catches for first downs in the game. He finished with 3 catches for 64 yards but every one was vital. 
The Running Game
RB Kenny McIntosh came into the game questionable to play with a thigh injury. Yet, he finished with 11 carries for 65 yards, and had two physical runs in the 4th quarter to move the sticks when Georgia needed it.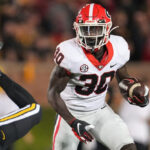 Fellow back Daijun Edwards was the back that Todd Monken decided to roll with to close out the game. His physical runs finished off the Tigers and he ended the game with 11 carries for 49 yards and a touchdown. Edwards continues to make the case for being the second string running back behind KMac. These two helped Georgia average 7.6 YPC in the 4th quarter after not being able to run the ball the entire game. 
The Passing Game
Stetson Bennett showed up in the second half, going 14/20 for 163 yards in the 3rd and 4th quarter. It was an ugly first half for Bennett who was pressured frequently. He finished 24 for 43 for 312 yards.
For the first time this year, he failed to score a touchdown. Bennett remains tied with Georgia RB Herschel Walker for touchdowns after being held scoreless in this game. Stetson took a number of shots in the game and seemed to be battling some discomfort. Yet, the Mailman delivered when the Dawgs needed it most. 
WR Dominick Blaylock has faced a long journey to return to the field after tearing his ACL two times. He added 3 catches today for 42 yards, including an important 3rd down reception where he wrestled the ball away from the defender. He has yet to drop a pass in his collegiate career, and his performance may demand more playing time in the coming games.
Marcus Rosemy-Jacksaint added 3 catches today, but continues to struggle with chemistry with Stetson. Injured receiver Arian Smith has made a remarkable recovery. That he would even dress today would be impressive, but he had his first catch of the season weeks before anyone expected him back. 
Shout Outs
Kicker Jack Podlesny has found a groove and hasn't missed a kick since week 1. He added 4 field goals today, with a longest kick of 41 yards. He is now second in the nation with 12 field goals. 
Freshman safety Malaki Starks ran down a Tiger running back after ILB Jamon Dumas-Johnson over-pursued and missed filling the correct gap. Starks brought down RB Cody Schrader at the one yard line. The Tigers went on to get a false start penalty and settle for a field goal. His effort on that play saved the game for the Dawgs. 
Things I Did Not Like Against Missouri
Turnover Deficit
After 3 turnovers last week, Georgia went -2 in the turnover battle this week. RB Kendal Milton burst through the line for a lengthy run before getting caught from behind by a Mizzou linebacker and fumbling. Later in the first half, Stetson and Daijun Edwards mishandled a read option which led to a fumble. 
Offensive Woes
The offense was completely inept for 2 quarters. Missouri completely physically dominated the Georgia linemen up front. Center Sedrick Van Pran-Grainger had the worst game of his career, giving up 4 pressures. He is UGA's best lineman, and he consistently missed on reach blocks and failed to pick up stunts and twists in this game. RG Tate Ratledge struggled mightily as well. The reality is every single lineman had a missed block, and/or a bad penalty in this game.
The team gave up 9 tackles for loss this game alone after giving up 7 the previous 4 games. 
Injuries
Championship teams have to be superior in talent and coaching but also have to get lucky. Georgia had some luck today, but there is one key area that Georgia has lacked it this season: injuries.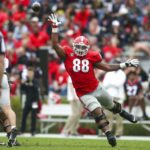 DL Jalen Carter was limited today, but came in once the game wasn't going well. Missouri immediately threw an illegal chop block on him, spraining his MCL. At the moment he is expected to miss multiple weeks. LB Smael Mondon left the game with an injury as well and his availability this week is unknown.
Stetson looks banged up after taking several hard hits. I suspected Brock Bowers is banged up as Georgia didn't use him for an entire series when they really needed his offense. Bowers was also uncharacteristically poor on his perimeter blocking today. 
The Secondary
Both CB Kelee Ringo and CB Kamari Lassiter had bad games today. They both picked up interference penalties that were unnecessary and blew assignments. Ringo got a PI on a 3rd and 17 play that was inexcusable. Lassiter makes plays from time to time, but it's clear he is the one that opposing offenses pick on. Lassiter left his assignment on a play which led to a big gain and then followed it up by getting a PI called on him. LB Jamon Dumas-Johnson was seen chewing him out on the sideline after Missouri ending up scoring. 
OC Todd Monken has done wonders for Georgia's offense over the last couple of years. His play calling during the game had me yelling like James Coley was back calling plays for us. It seemed as if the easy screens and short throws that Georgia has found so much success with this year were nearly completely absent in the first half. Georgia is much more effective when incorporating pre-snap motion with its receiver, backs, and tight ends. They hardly used any motion in the first half. 
Punter Bret Thorson only averaged 41 yards on his 3 punts today. 
Additional Notes
DB Tykee Smith got the start at Star today in replacement of suspended Javon Bullard. He had a crucial play on a third down and continued his impressive open field tackling in this game. 
Missouri was held to 22 plays in the second half.
Stetson was held without a throwing touchdown for the second straight game.
UGA was only 2-5 in scoring touchdowns in the red zone. They scored on all 5 chances, but their red zone struggles continued again. 
UGA was only 4/13 on 3rd down plays. 
Reaction
Georgia is not the team I thought they were. They give up too many explosive plays on defense and the offense has regressed over the last two games. I don't know who this team is and I'm not sure Coach Smart does either.
When the offense is executing, this team is incredibly dangerous. When it's not, this team is shockingly average.
Georgia has to clean up the offensive line play, finish in the red zone, and eliminate the explosive plays if they have any hope of competing for the conference championship. When I watch a program like Alabama, even when they struggle against lesser competition, my default assumption is that they will pull out a victory somehow. I have yet to transfer that same attitude to Georgia.
The sky is still the limit for these Dawgs. Fans need to hope that games like this mature and motivates them to reach the highs they know are possible.
Post Game Press Conference