UFC Vegas 77 Main Event: Three Best Prop Bets
UFC VEGAS 77 MAIN EVENT: THREE BEST PROP BETS – The UFC will host another card in the Apex in Las Vegas after one of the best cards in quite some time. Holly Holm and Mayra Bueno Silva will face off in the main event, and fan-favorite Jack Della Maddalena will fight too, after having his bout canceled last weekend.
There are not many ranked fights on the card, but it is full of fighters looking to make a name for themselves. The prelims begin at 7 p.m. EDT, and the main card starts at 10 p.m. EDT, both on ESPN.
UFC Vegas 77 Main Event – Tale of the Tape
Manpreet went into greater detail yesterday with his UFC Vegas 77 Main Event prediction, but Holly Holm is one of the most experienced fighters on the roster, with a 15-6 record after competing as a boxer for over a decade. "The Preacher's Daughter" is 41 years old and remains active. She is 3-1 since 2020, with her lone loss being a split decision against Ketlen Vieira.
Mayra Bueno Silva is 10-2-1 in her career and 5-2-1 in the UFC. She has been active, fighting twice in every year since 2020. She is riding a three-fight winning streak with two consecutive submission victories: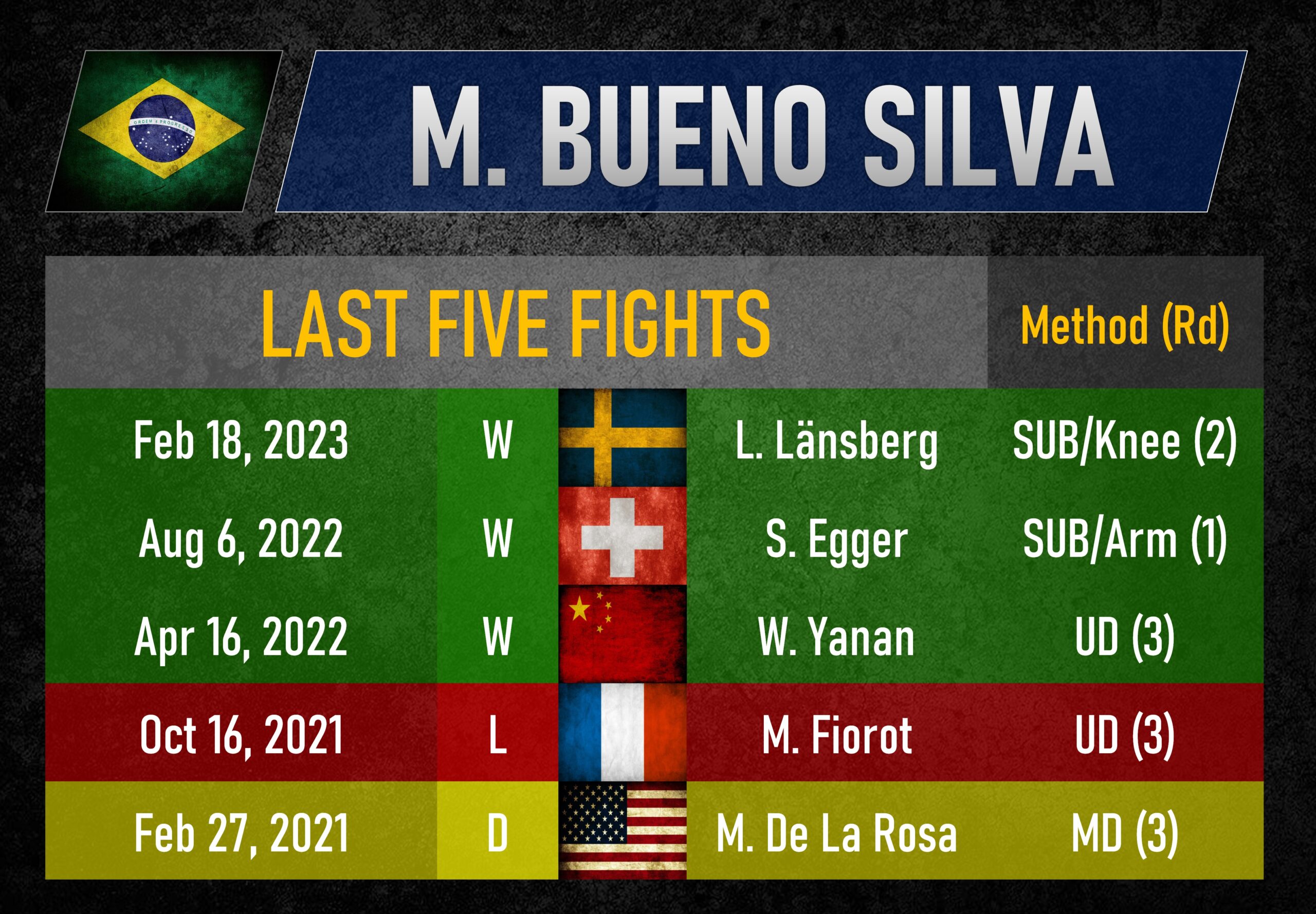 Bueno Silva to Win by Submission +350
Holly Holm has changed her fighting style to adjust to her drop in speed. She moves a lot when striking and mixes in takedowns. In her last fight against Yana Santos, Holm recorded four takedowns and had nearly 10 minutes of control time in a three-round bout. She is no longer just a striking threat. She has looked slower in her last two fights but has used her experience and wrestling to have a chance on the scorecards.
Marya Bueno Silva looked improved in her fight against Lina Lansberg. She opened the bout by attacking the calf and the body, which is a good game plan for Holm. Bueno Silva was aggressive and oozed confidence, and can carry that superior athleticism into this weekend.
At 31 years old, Bueno Silva will have a speed advantage and youth advantage. Holm has tremendous cardio but may be in too many grappling situations. That is dangerous against Bueno Silva, who has five submission victories in the UFC and excels at armbars.
On the feet, this is a close matchup, but Holm has been taking fights to the mat. This fight will be on the ground at some point, and Bueno Silva will be aggressive but patient, looking for submission attempts. Holm has only got submitted once before, but if anyone can get her, it is Bueno Silva.

Bueno Silva to Win by Decision +460
The odds for this fight to go the distance at DraftKings is -190. It likely goes to a decision, and this is the value side. Holm to win by decision is even money at DraftKings, which is too low.
It seems as if it is Holm's fight to lose, but that might not be the case. Bueno Silva has a jiu-jitsu advantage, which could make Holm hesitate when shooting for a takedown. Holm landed 154 significant strikes against Irene Aldana in 2020 but landed less in her two fights since. Bueno Silva lands solid elbows when in the clinch and on the ground.
If Holm is not active enough, it could cost her. It is too good a line to pass up for Bueno Silva to win on the scorecards.

Fight to be Won by Split or Majority Decision +450
The fight is favored to go to a decision, and judges see things differently without statistics. As such, this matchup could be a case of damage versus volume and is always subjective for judges.
It is as low as +350 at other sportsbooks, so this price is a bargain and worth a wager. Holm's fight with Ketlen Vieira in 2022 ended via a split decision, and most of the public thought Holm won. It can play out similarly.