UFC Vegas 77: Holm vs Bueno Main Event Prediction
UFC VEGAS 77: HOLM VS BUENO MAIN EVENT PREDICTION – With Amanda Nunes retiring, and thus leaving her bantamweight title vacant, the stakes have risen for this weekend's main event. On one hand we have a former champion seeking gold once again, and on the other we have a budding prospect waiting to break through.
One thing is for certain, and that is the winner will have a legit claim to be in the next bantamweight title fight.
Tale of the Tape
Holly Holm is coming off a dominant performance over Yana Santos and is showing no signs of slowing down. As for Mayra Bueno Silva, she is aiming to continue her three-fight winning streak.
Will the veteran experience of Holm notch another win for her? Or will Silva rise to the occasion and warrant a title shot? Read on to see how these two match up, and who deserves to be trusted with your dollar.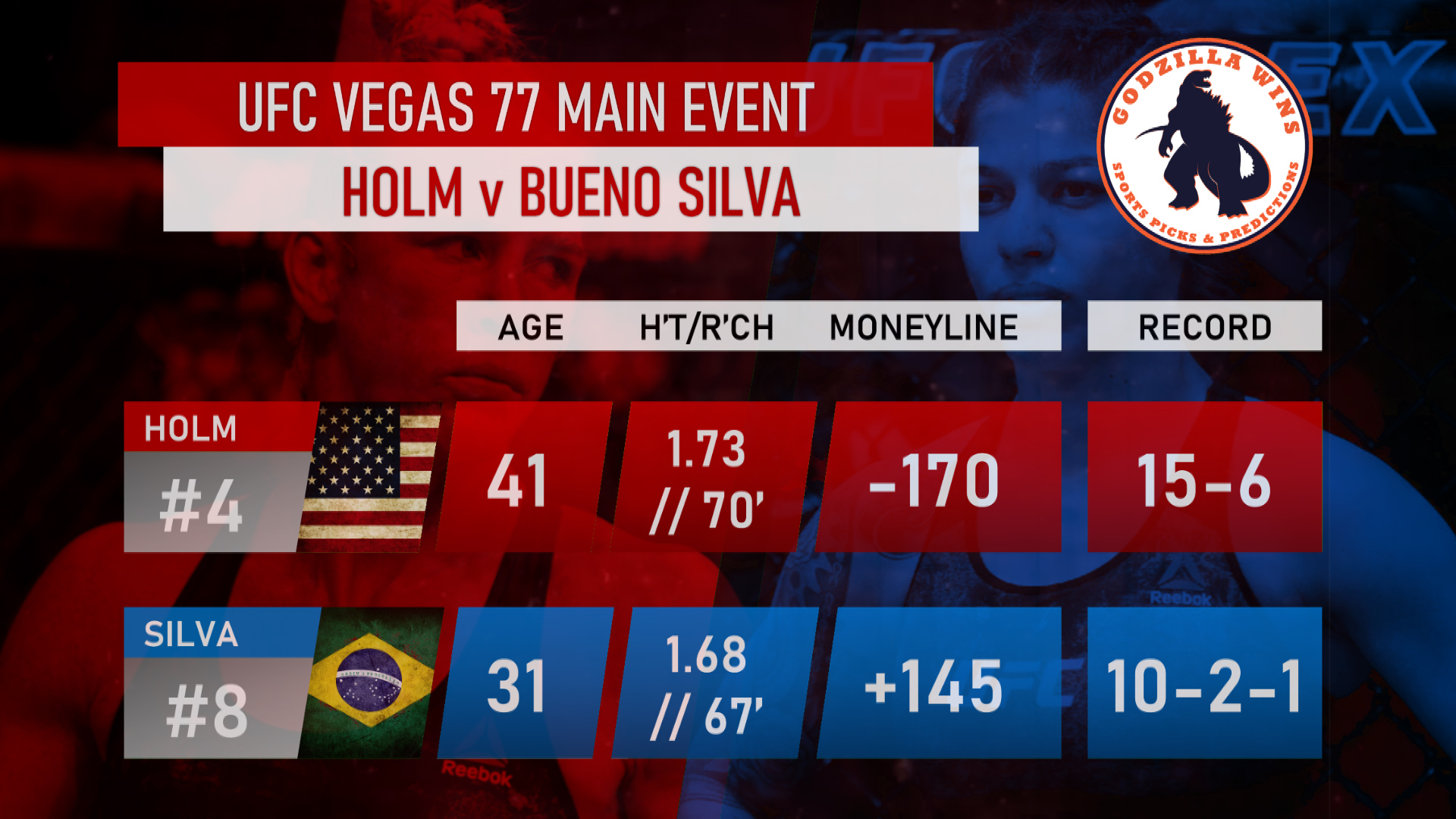 Holly Holm
Coming into the UFC as one of the most highly touted prospects, Holm picked up two wins and scored a huge upset to hand Ronda Rousey her first professional loss and to secure the UFC bantamweight title. All this happened in 2015. However, it's been a rocky road for Holm since then.
Holm went on to lose her next three fights as well as go on a 5-6 run over her next 11 fights. She could easily have ended up 7-4 in that time, if a couple wayward decisions went her way, but still a rough run compared to the potential many expected of her. That said, she is still an elite fighter in this weight class relative to her competition, but I think people were expecting a longer title reign for her.
When Holm burst onto the UFC scene, her style included a lot of footwork, combination striking, and kicks from distance. She relied on her speed, agility, and movement to keep her safe. But it's obvious a couple of those things are starting to dwindle when she cracked 40 years old. Now three months shy of her 42nd birthday, Holm relies on a much different approach to secure her victories.
Holm uses her strength, size, clinch, and grappling to get her wins. She has adopted grappling very well and it has shown over her last six fights. Before her Megan Anderson fight, she had only completed 2 takedowns. Since the Megan Anderson fight, including it, she has landed 13 takedowns.
She is one of the stronger women in the division and it shows through the way she is winning her fights now. Overall, it's a smart adjustment for her to make at this point in her career.

Mayra Bueno Silva
After starting her UFC career 2-2-1 in the flyweight division, Silva decided to move up a division. It's a decision that has paid off, rewarding her with three straight victories. A solid striking performance against Yanan Wu was followed by back-to-back finishes (vs Stephanie Egger and Lina Lansberg). Those wins have proven enough to give her this main event spot.
Although she is the B-side to this main event, Silva still provides some intriguing factors at the top of the division, given her finishing abilities. Four of her five victories in the UFC have come by finish and we know that's exactly what the UFC wants.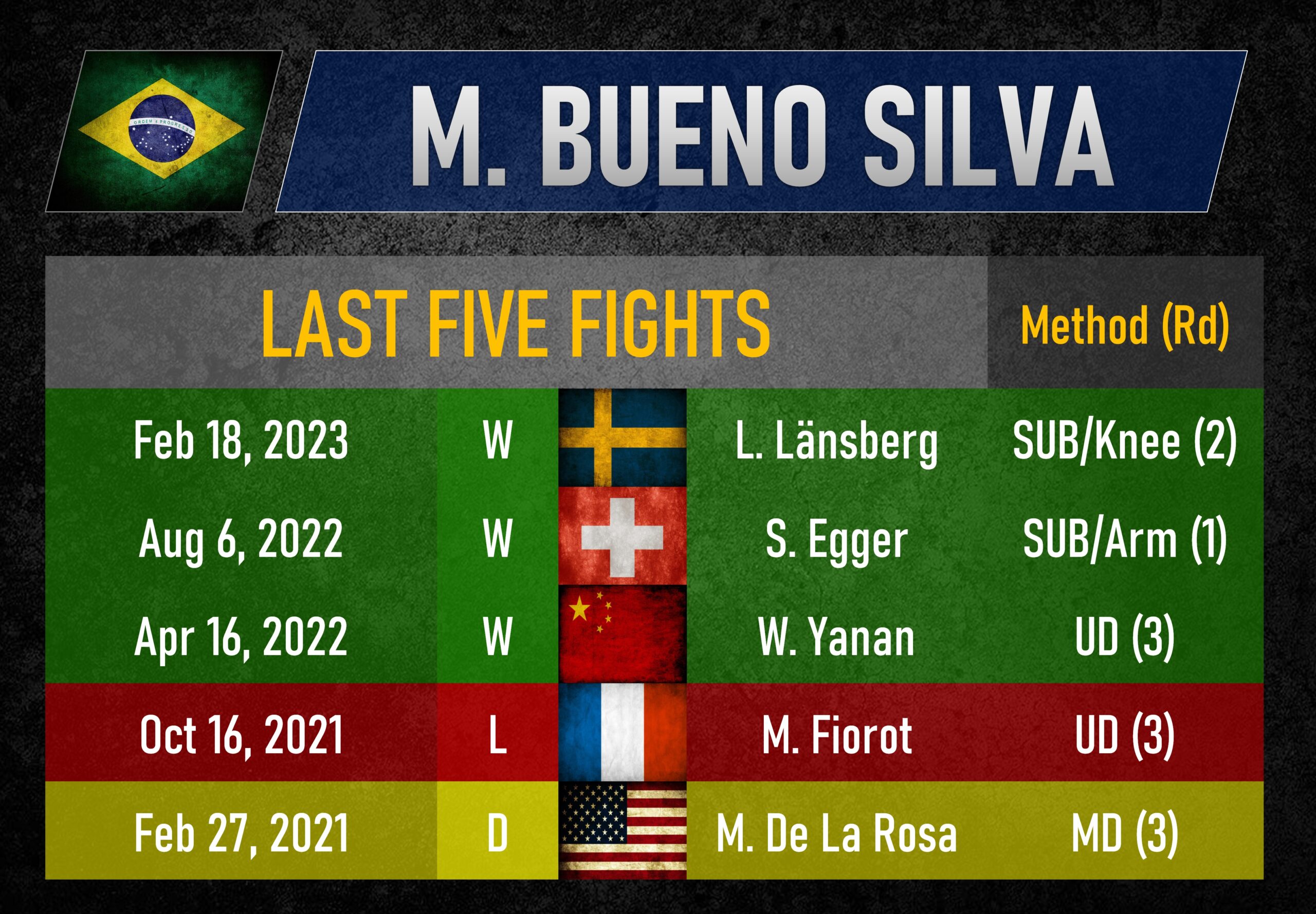 Training out of American Top Team, Silva is completely engrossed in the MMA world. Not to mention, her significant other is also a UFC fighter, Gloria de Paula. Most of all, Silva throws mean strikes on the feet, a lot of them with her kicks.
I'd say she is most dangerous on the mat when she starts flowing with her jiu jitsu game. She may be even more dangerous off her back than she is when she's in top position, especially when considering that three of her four UFC wins have come via arm bar.
Silva constantly seeks submissions, but that has occasionally eaten up a lot of clock. In turn, that tends to give the points advantage to her opponents.

UFC Vegas 77: Holm vs Bueno – The Pick
All in all, I feel Silva is finish-reliant while Holm is tough to put away. There is an easy hedge opportunity on Silva by targeting her submission prop, but at the same time, Silva could easily find herself in trouble if pinned onto the cage. As reflected by the odds below, Silva will be tough to bring down. But she can be grinded and that's what Holm is a master at.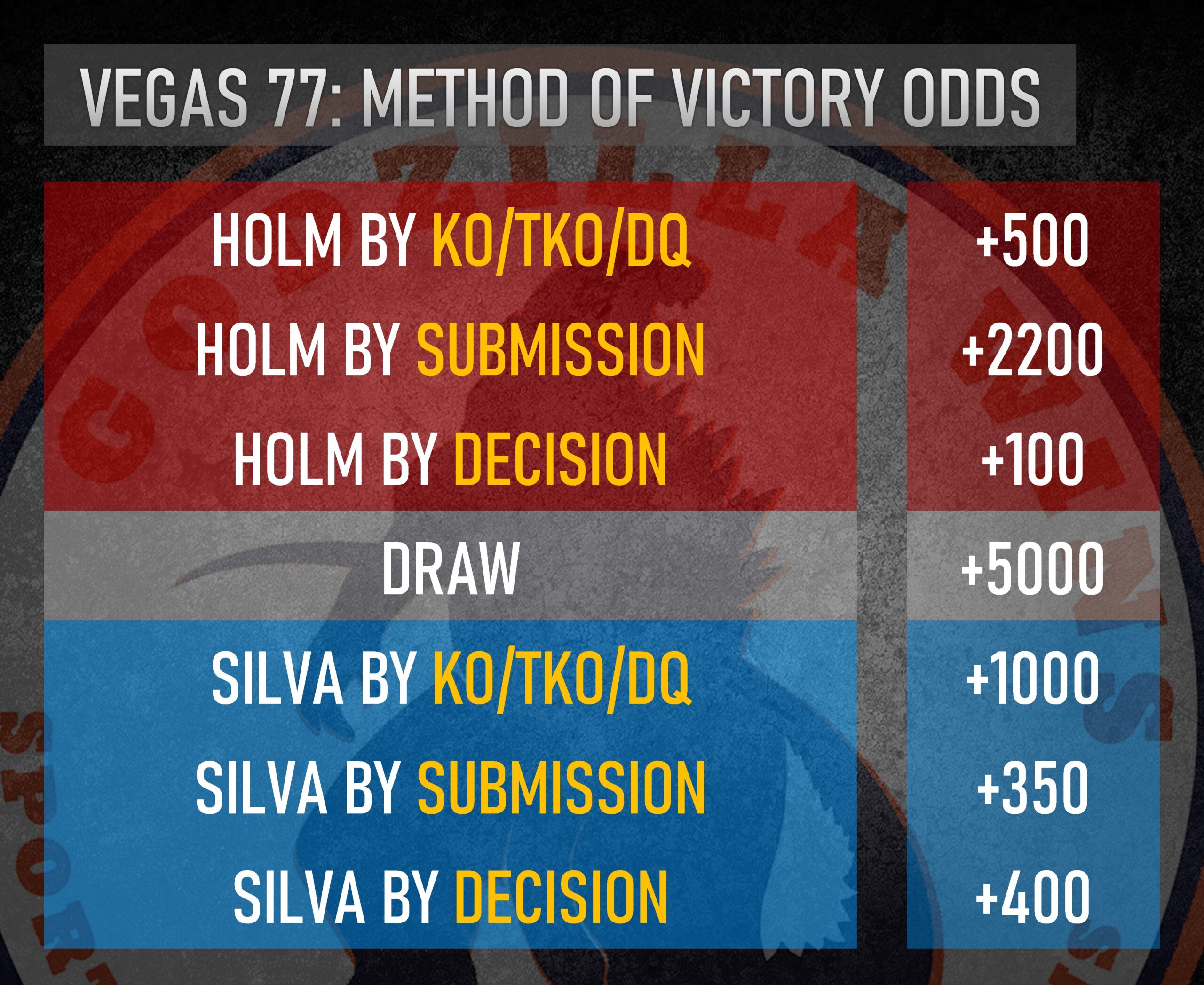 The two aspects of this fight to be focused on are Holm's durability and Holm's submission defense. I believe her durability is fine, considering it's been four years since she has been knocked out. It's also been over seven years since she has been submitted, but she also wasn't as grapple-heavy back then.
Knowing she needs to rely on her grappling, strength, and clinch game here, Holm could put herself in danger at times, but I feel she has enough veteran experience to stay safe in those positions. I also wouldn't be surprised if she chose to clinch more than look for takedowns here, as she did to Raquel Pennington in their rematch back in 2020.
Holm moneyline -175 & via decision +120