UFC Vegas 77 DFS Lineup
There are two mainstays to play with a UFC Vegas 77 draft. They are DraftKings and FanDuel. Each has its own scoring rules and variations, but they are similar.
Here are DraftKings' scoring rules and FanDuel's scoring rules. I will always list fighters I think should be selected as MVP at the top and will use DraftKings budget to model my projections.
MVP Pick
Jack Della Maddalena $9,700
Maddalena was supposed to fight last week, but it fell through due to a medical issue with his opponent. He decided to stay an extra week and book a fight because he lives in Australia and would have lots of travel. Maddalena is fighting Bassil Hafez, making his UFC debut at 31. He is 8-3-1 as a professional and has four submission victories.
His best chance of winning this fight is to wrestle Maddalena in the first round and attempt to wear him out. Maddalena will cut weight for the second time in as many weeks, which could affect his stamina. Maddalena will have far superior boxing and should be able to stuff his takedown attempts. He is a near -600 favorite and a good choice for MVP in the UFC Vegas 77 draft.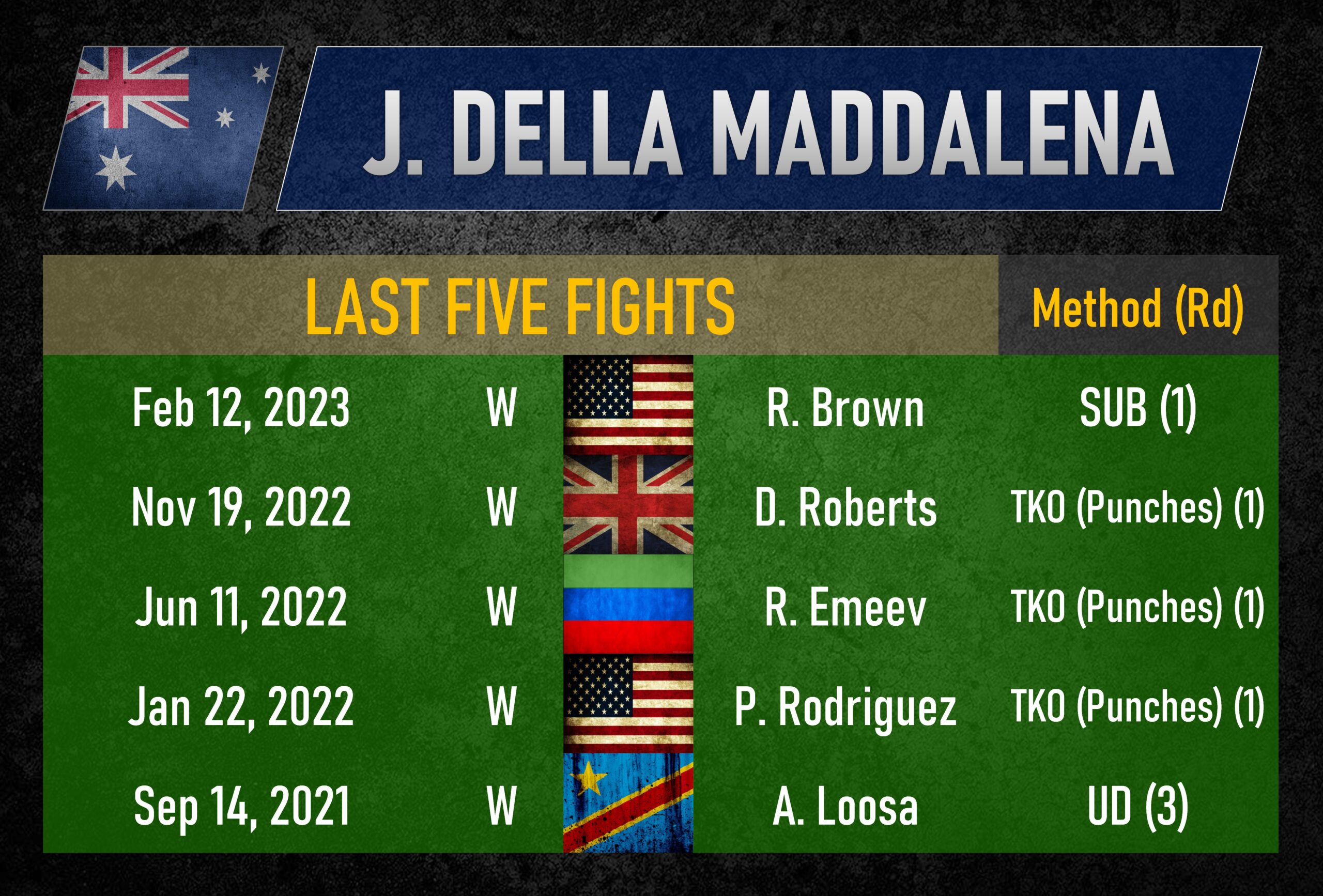 Other Picks
Melsik Baghdasaryan $9,200
Baghdasaryan is fighting Tucker Lutz, who enters on a two-fight losing streak. Lutz is a well-rounded fighter who averages 1.77 takedowns landed per 15 minutes. Baghdasaryan is a kickboxer with solid technical striking. He lands 5.63 significant strikes per minute and absorbs 3.28 strikes per minute. He is accurate and should be able to touch Lutz at range.
Lutz himself will want to wrestle Baghdasryan and have less striking exchanges. Baghdasaryan has defended 76% of takedowns in the UFC and should be able to stuff enough takedowns to win a stand-up match.
Ottmain Azaitar $8,000
21-year-old Francisco Prado will fight Ottmain Azaitar in the lightweight division. Azaitar is 33 and has a record of 13-1, while Prado's is 11-1. Azaitar lost via knockout to Matt Frevola in his last fight, which is not bad. Prado lost his debut via decision to Jamie Mullarkey and only landed 28 significant strikes.
It should be a stand-up battle, and that gives Azaitar an advantage. He lands 6.97 significant strikes per minute and absorbs 2.63. Prado's ratio of strikes is 1.87 to 3.93. He gets hit, and Azaitar lands a lot of volume.

Chelsea Chandler $7,800
Chelsea Chandler has a difficult matchup ahead of her in Norma Dumont. Dumont is 9-2 as a professional and 5-2 in the UFC. She lands 1.16 takedowns per three rounds and is an effective striker with a ratio of 3.45 to 2.07 significant strikes landed and absorbed. Dumont will test Chandler's takedown defense in this fight and is the question mark surrounding this matchup.
As for Chandler, she landed 38 significant strikes en-route to knocking out Julija Stoliarenko in the first round on her debut. She has an advantage on the feet and has more chances to win this fight than people believe.
Mayra Bueno Silva $7,600
The Brazilian is in her first main event and facing an all-time fighter, Holly Holm. She is also improving, while Holm is starting to age out of the sport. These two fighters are going in opposite directions in terms of career trajectory. Holm has lost some speed in her past couple of fights but has remained elite because of her experience and ground game. She is much more wrestling-heavy in her approach, which may be a problem against Bueno Silva.
Bueno Silva has an exceptional armbar and is an all-around slick submission artist. Holm usually has no trouble with submissions but will present Bueno Silva with opportunities if she decides to wrestle. Bueno Silva is also a talented striker who can hang with Holm in the stand-up. It is a close fight, and the value lies in the underdog.

Terrance McKinney $7,500
Earlier, our UFC expert Manpreet talked about McKinney's 'kill or be killed' approach. What more can I say? He is an exciting fighter and loves to entertain the fans. The BJJ purple belt is 13-5 as a professional, with all his wins being finishes and four of those losses coming via knockout.
His opponent is Nazim Sadykhov, who is 8-1 and won his debut over Evan Elder. McKinney lands 3.41 takedowns per 15 minutes and has two submission victories in the UFC. He also holds a four-inch reach advantage, which should help him keep his distance when he stands with Sadykhov. He is the underdog in this matchup, but it is likely closer to a coin flip than the odds suggest.